Introduction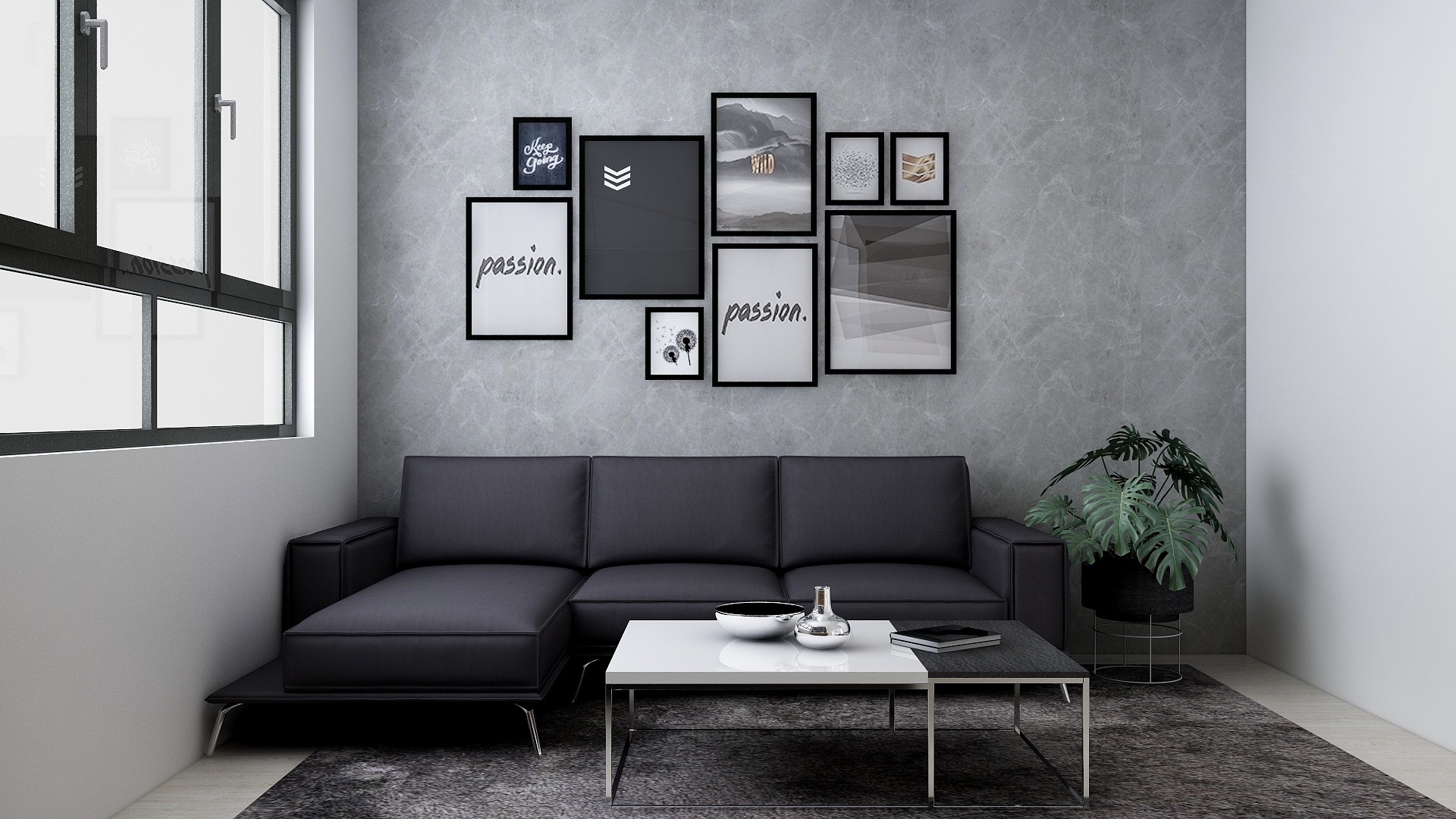 The word Contemporary means happening now. Contemporary designs in present days may look very different compared to decades ago. Rustic or futuristic, retro-punk or classical — Contemporary adopts the style of the moment to make a bold statement and achieve a stunning look.
If you ask ten designers to show you images of Contemporary style, don't be surprised if you receive ten very different pictures. There's no one blueprint to define the ever-evolving look of Contemporary style.
Through this article, you'll learn how the Contemporary style originated, why it's popular, and what are some of its characteristics. We'll also show you how to apply the style to your home and share some tips on achieving a modern interior.
Origins of Contemporary design
Contemporary style became popular in the mid 20th century. Its design philosophy piqued the interest of designers in the 1970s after World War II. Ever since then, the word Contemporary has been referred to design trends of the current day.
Contemporary was also the term to describe furniture in the modern style. Terms like Contemporary furniture became synonymous with modern furniture. 
Contemporary style will continue to evolve as it draws in the current trends. The design philosophies will unfold with time and lifestyle transitions.
Modern vs Contemporary design
Is Modern and Contemporary design the same? Well, not quite. If you're confused, you're not alone. 
To understand the difference, you'll need to know about Modernism and Postmodernism.
Modern décor emerged during the Modernism movement which took place in the late 1800s. Characterized by simple clean lines in natural colors, the design gained popularity between the 1900s and 1950s.
In the 1970s, Postmodernism added a dose of intellectual art to the somewhat bland Modern aesthetic.
The Contemporary style took ideas from Modernism, Postmodernism, and other design styles such as art deco. It formed its identity as a blend of these styles and captured what was in trend at the moment.
The Contemporary style thus became an expression of individualistic design that encapsulates what's popular and trending now. Hence, it's always changing.
Why people like Contemporary
Contemporary style is adored by homeowners who constantly adapt current trends into their home interior. There are also other reasons why people seek this style. 
Contemporary design is free from mess and clutter. The design projects a sense of spaciousness that's inviting and welcoming, particularly in today's smaller homes.
The core of its design philosophy is minimalism. The design uses simple clean lines to carve out spaces and avoids overly decorative details. The ample natural lighting in Contemporary style gives the home interior a brightly-lit and airy atmosphere. 
If the above traits have piqued your interest, then this may be your ideal interior style. 
If you still have reservations, let's figure out what style suits you best. Start by taking our style quiz.
Characteristics of Contemporary
Contemporary designs are always evolving to keep up with the times. But that doesn't mean a random collection of all the popular designs. 
There are many distinct characteristics in today's homes. We'll go through some of the key elements. From there, you'll have a solid foundation of ideas in building your own unique Contemporary interior.
Clean lines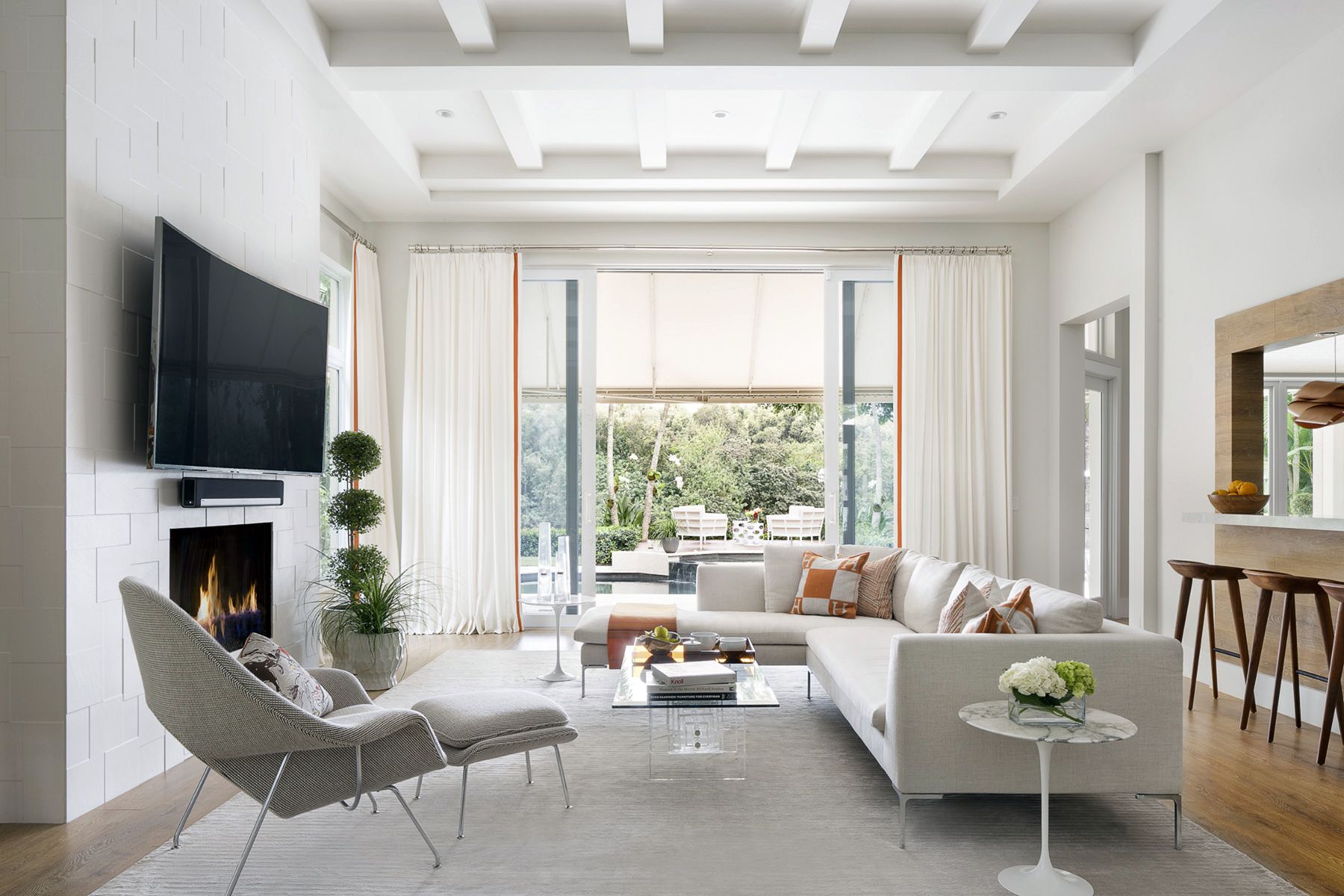 Contemporary style emphasizes the use of clean lines. Contemporary style is focused on looking sleek than elaborated. Which is why ornate designs are seldom found in the home interior. 
Straight and curved lines are combined to achieve balance. Curves are one of the best ways to inject artistic character to the home. 
Well-trimmed lines create a visually appealing space. It radiates a sense of coziness that's inviting to homeowners and guests.
Bright and well lit
Designers understand that bright homes make people happier. That's the reason why having a brightly lit space is essential in Contemporary style. 
The windows are large and clear. Curtains and blinds are used sparingly to allow natural sunlight to permeate the living space.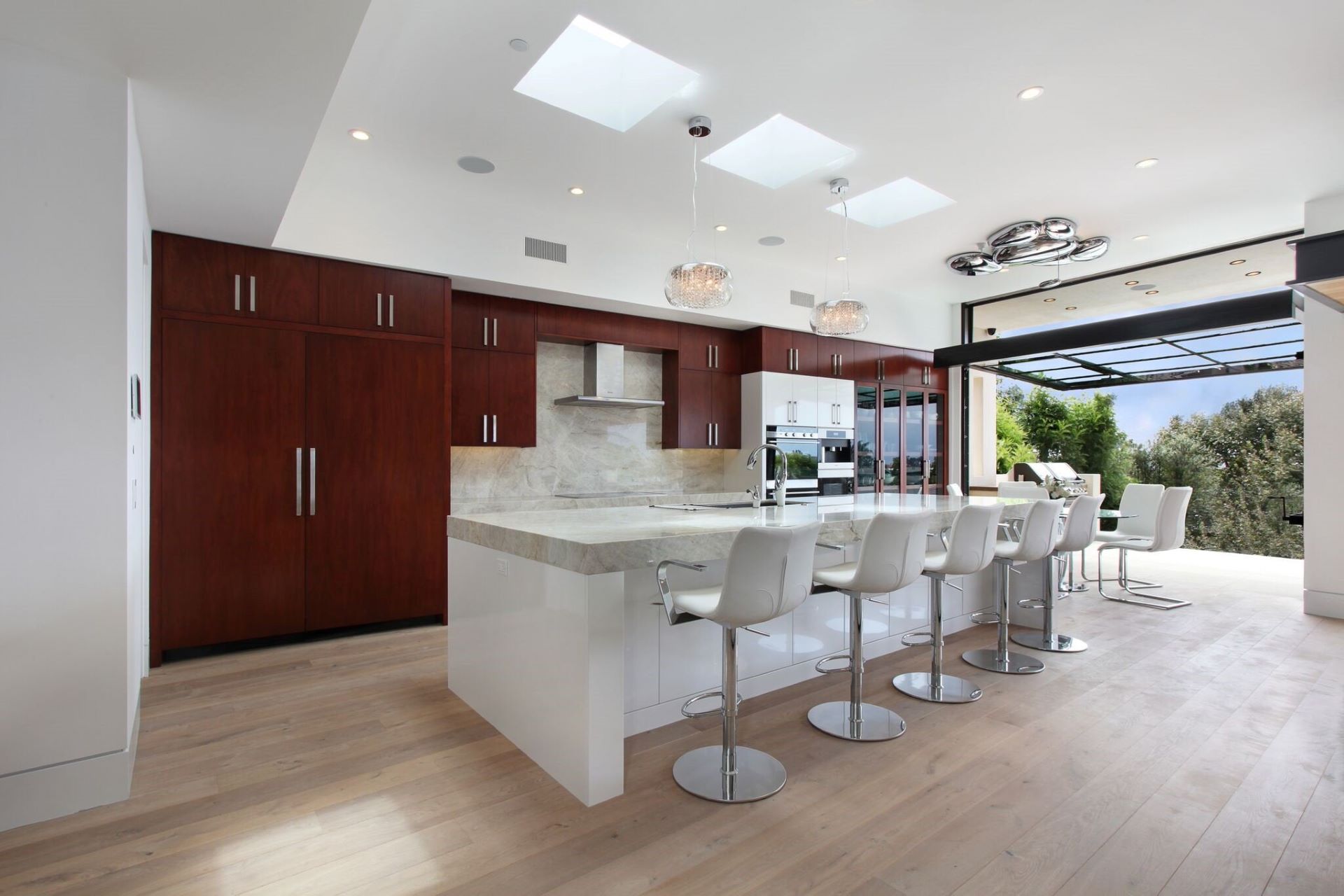 Different entrances for natural light such as clerestories or skylights are used together with regular windows. The diverse range of natural light entrances brighten the house.
Artificial lighting is used in Contemporary design too. Ambient lights brighten the whole space. Accent lights highlight certain features or decor in the room. Task lights are used for specific purposes, e.g., table lamp, reading light. 
While there are no restrictions on the exterior appearance, light fixtures typically still follow the aesthetics of clean-lined elements.
Open-floor plan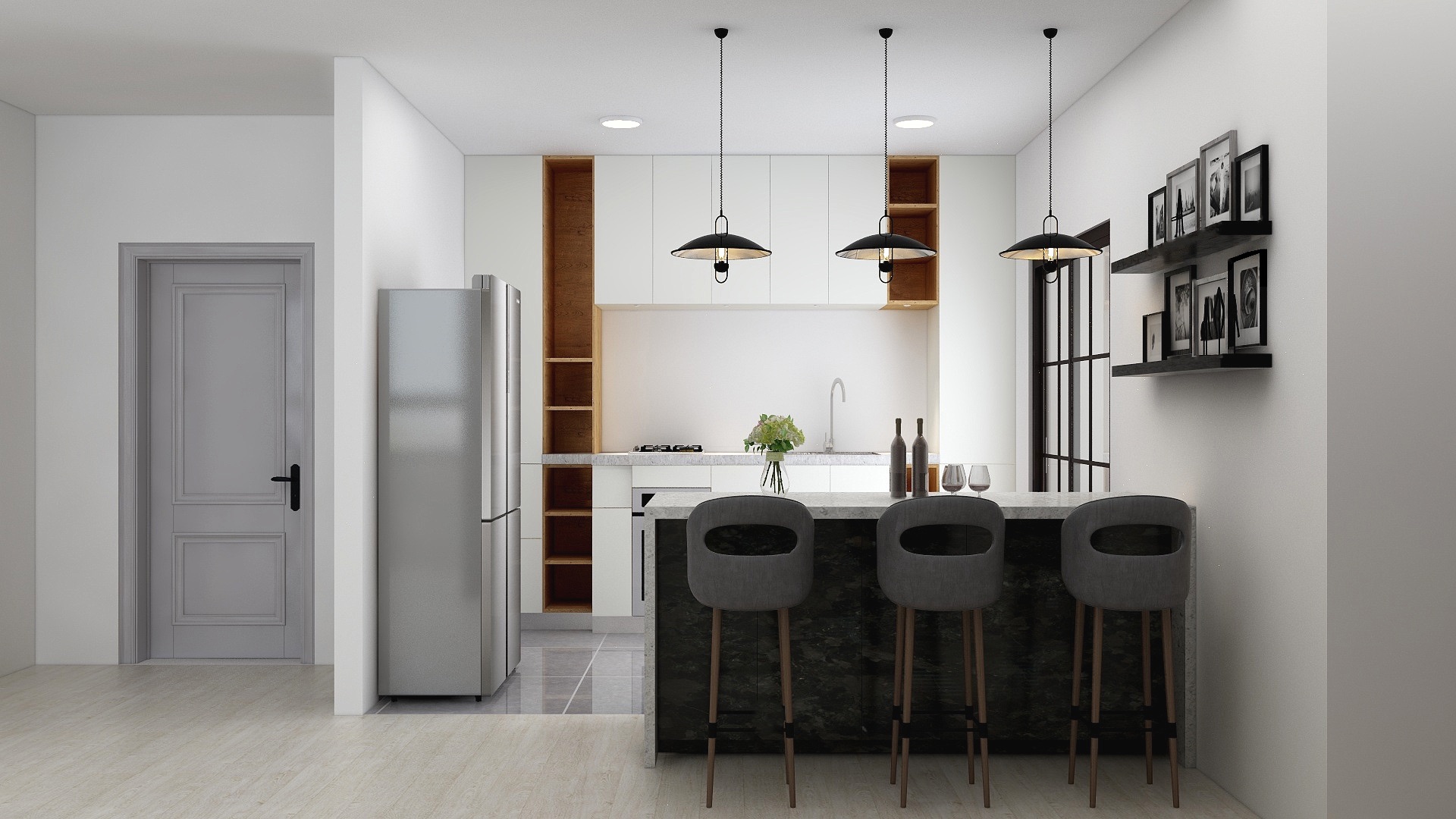 There's something liberating about open spaces. A home with an open-floor plan gives a sense of freedom to the homeowner. 
Walls are hacked away in the living room and kitchen to achieve an open-floor plan. Bedroom walls are sometimes removed, depending on the homeowner's preference. 
Having a large amount of space creates a sense of spaciousness and contributes to the minimalistic look. Living space is kept clear purposefully and furniture is fairly spaced apart.
Neutral colors

Whites, blacks, woods, and shades of grays are the neutral tones that form the color palette of Contemporary design. Commonly, one would notice that the floors, walls, and ceilings adorned with these colors.
Neutral colors may seem dull, but they allow the bold colors in the home to stand out. Artisan furniture, paintings, plants, and sculptures of neutral shades are accents commonly seen in Contemporary interior.
Unconventional furniture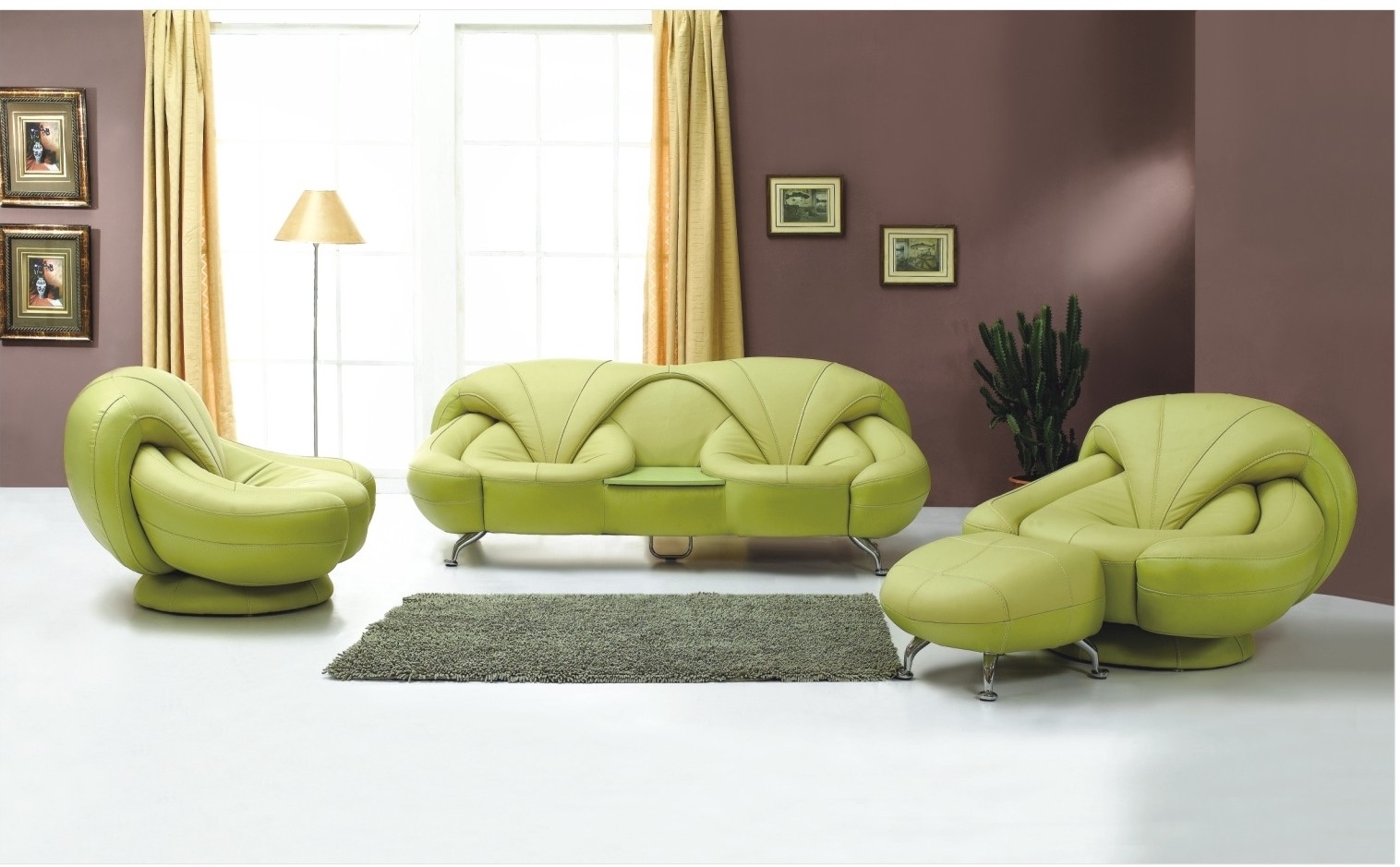 The use of smooth curved lines is a key feature of Contemporary furniture.
Geometric silhouettes are often used when designing Contemporary furniture because of its simple but pleasant aesthetics.
Contemporary furniture is upholstered in leather, wool fabric, or decorative textiles. Seat stuffings are made with Polyurethane foam due to its high resilience and ability to provide structure. Designers prefer this type of foam because it can be easily molded into shapes and designs they desire.
Today's Contemporary furniture typically features tapered legs. The intention is to reveal the floor view below the furniture piece as much as possible because it helps make the room feel more spacious.
Essentially, Contemporary furniture constantly replicates and adapts the latest trending designs.
Functional materials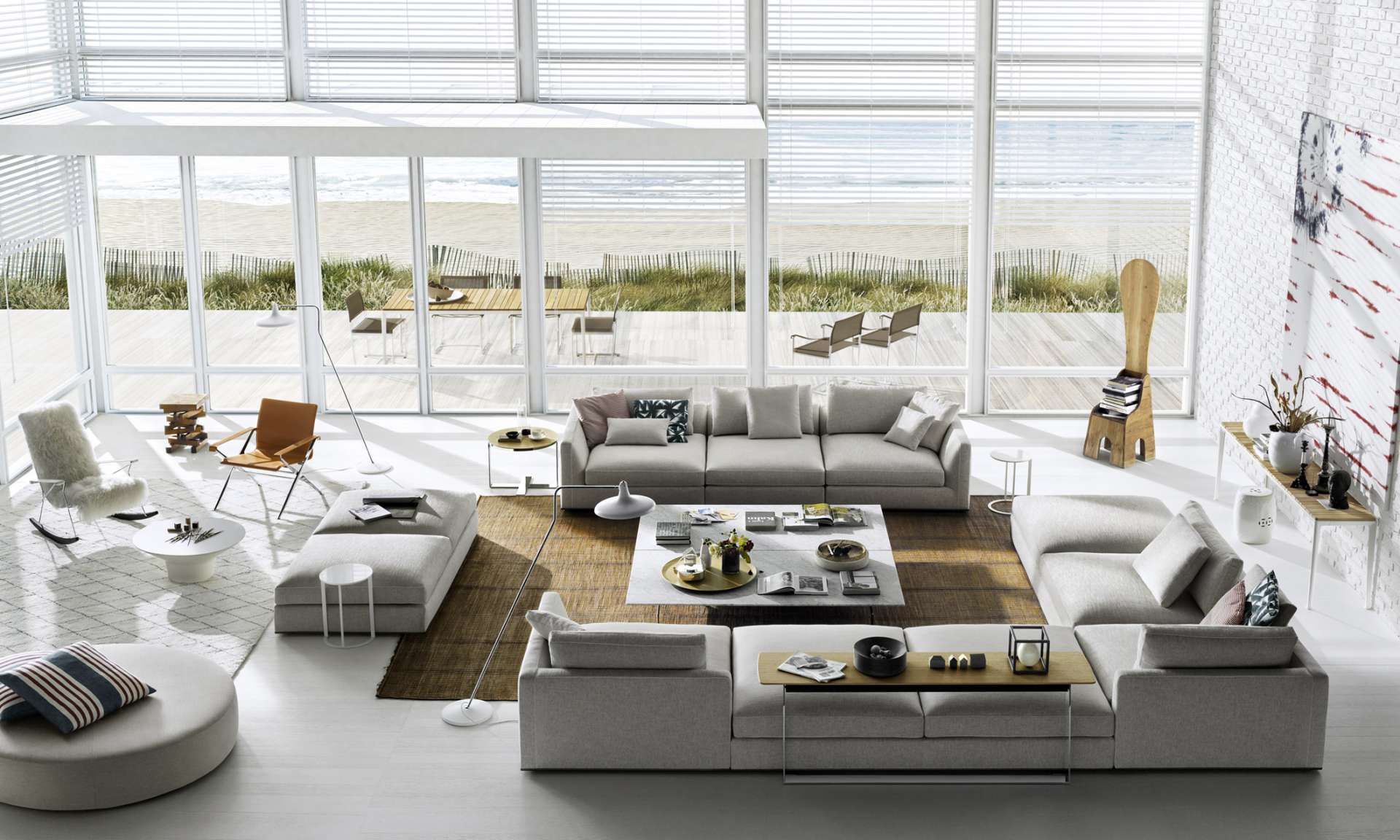 Contemporary styles use the best materials for all elements in its design. This follows the philosophy of keeping up with times. As needs change, traditional materials may no longer be able to satisfy the requirements of today's designs.
There's no fixed catalog of materials used in Contemporary design. Materials commonly used are wood, metal, stone, glass, and marble.
The latest trend now is the shift towards natural and sustainable materials because of the increasing importance placed on environmental sustainability.
Flooring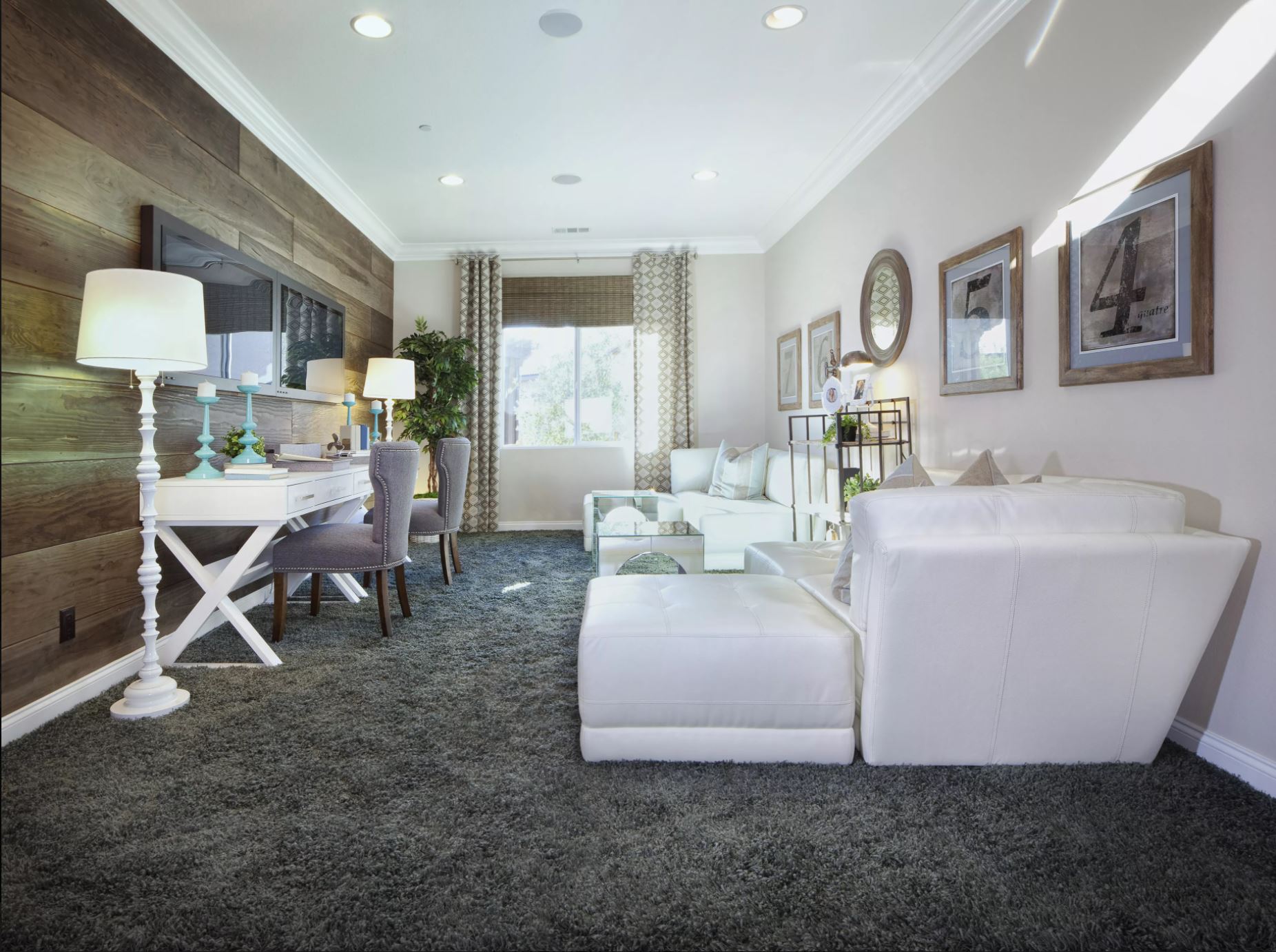 Contemporary designers like to explore the use of various flooring materials. Floorings of complementary materials and textures allow separate areas of the home to look connected. 
Wooden flooring is a versatile and popular choice in Contemporary interior because of its beautiful exterior and easygoing match with most furniture. Concrete flooring, which is often used in Industrial design, is sometimes fused with Contemporary interior to lend a rustic touch. 
Unique accessories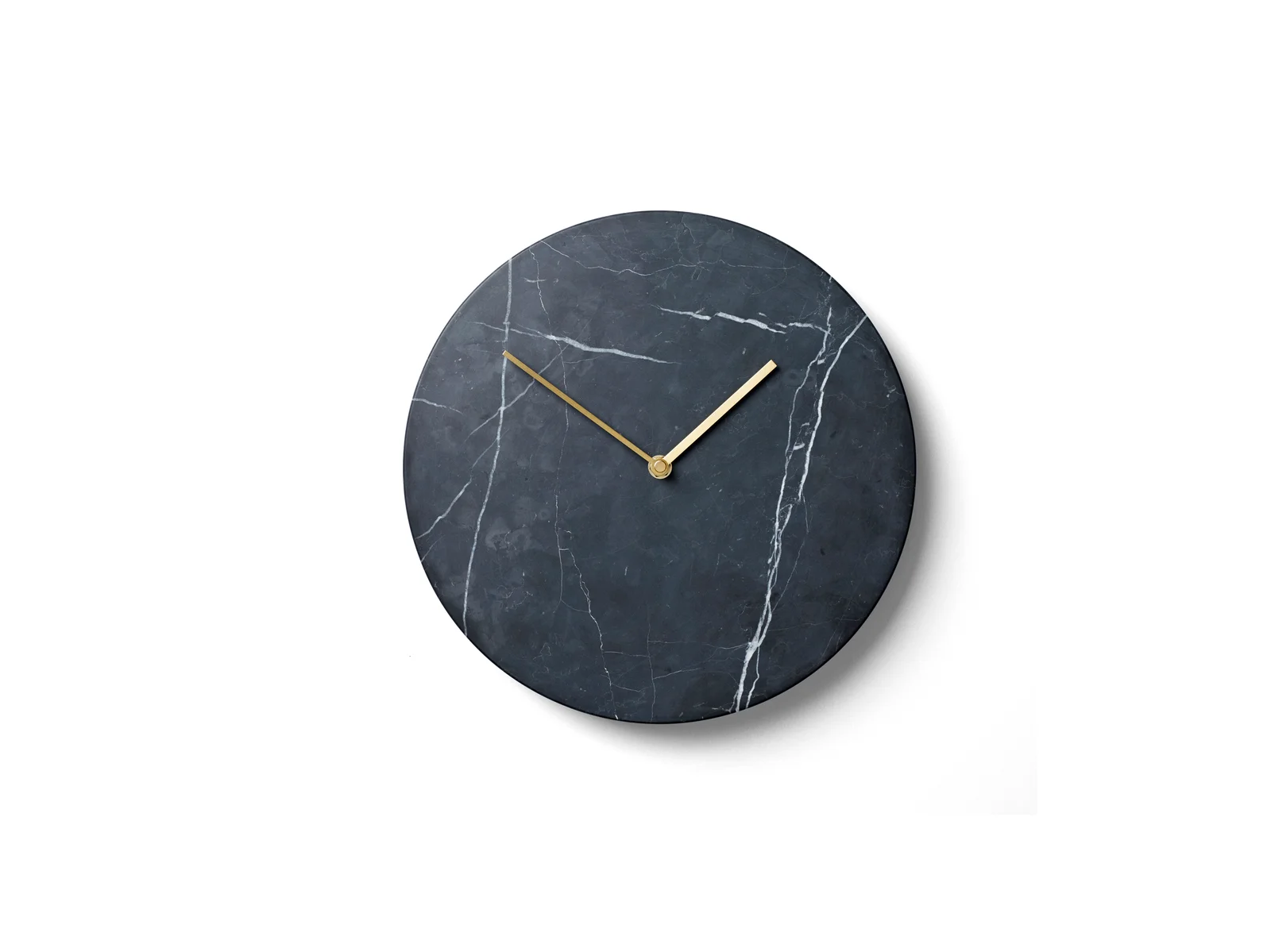 Accessories are the highlight of any Contemporary home. They can be great conversation starters among guests.
Contemporary accessories seldom follow norms. Instead, designers focus on creating new pieces that force people to view old accessories in a different light. 
A simple clock with a modern twist is enough to create a bold statement in the Contemporary space. For example, a wall clock need not be a traditional round-clock with numbers. Numeric clocks have been considered old-fashioned. Instead, the focus is on its aesthetic design. 
Applying Contemporary design to your home
Many other modern styles, such as Scandinavian or Mid-Century Modern, prioritize function over form. On the other hand, Contemporary places a much higher emphasis on form. Furniture must look good on top of being functional. 
However, this priority on form is tough to achieve in Singapore. With less floor space to work with, it would make sense to choose highly functional furniture instead. It's still possible to achieve a Contemporary look this way.
Living room
For the living room furniture, go for quality on-trend pieces made of natural materials. Polished wood is a good choice. Adorn furniture with soft throws and complement the entire room with an eye-catching floor-rug. Low-pile rugs are preferred because they fit better to a minimalist profile.
The living room is where you can maximize the impact of natural light. Keep window treatments bare and polished to allow plenty of natural light to seep through.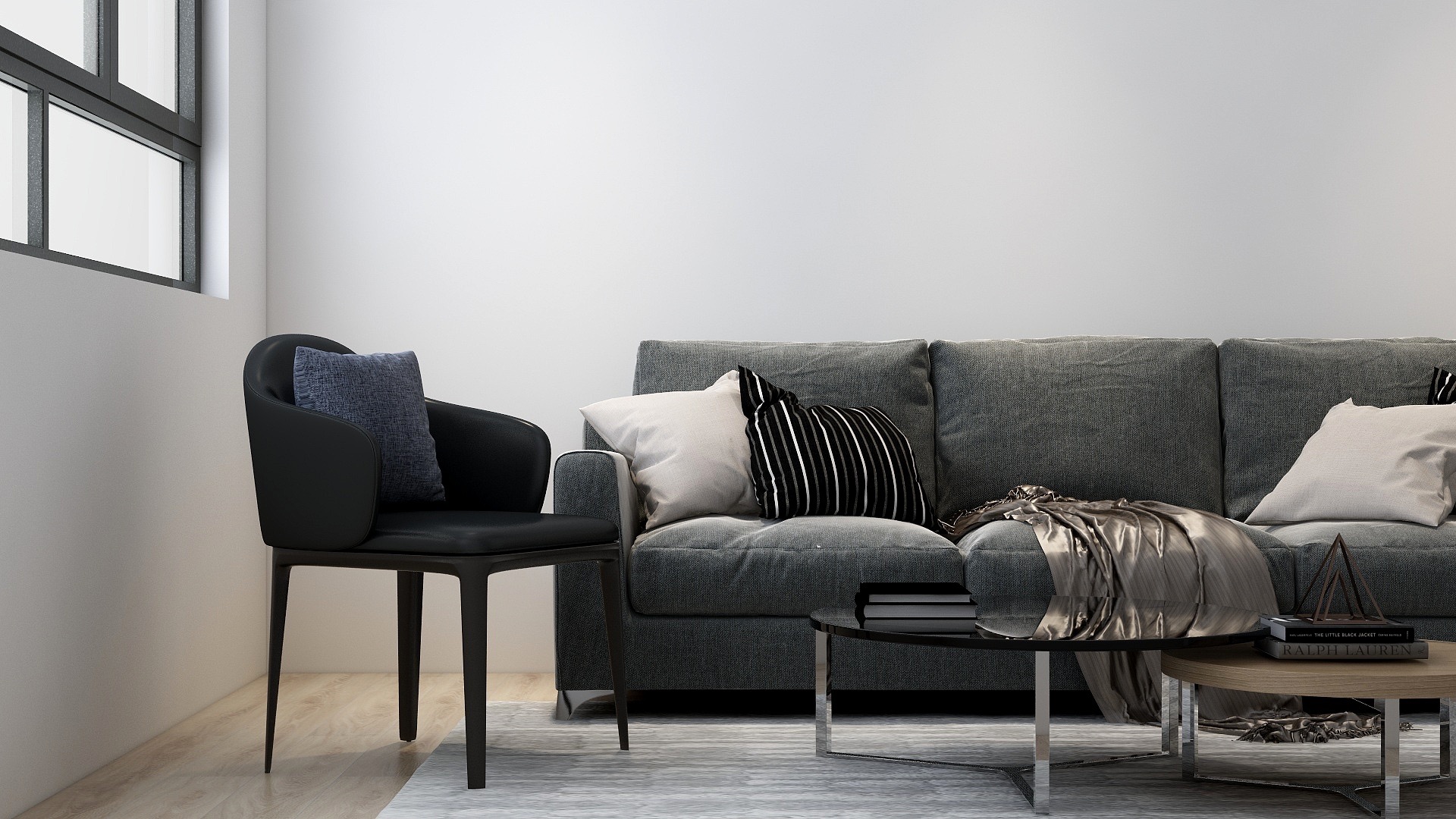 You can be flexible with the layout to suit your family needs. Open-kitchens overlooking the TV area presents a good opportunity for family bonding.
Once the lighting and layout are set, begin to work on adding colors. Use the neutral colors of Contemporary as a foundation for trendy accent colors. You may opt for decorative accessories like sculptures or indoor plants to add color.
When choosing patterns for cushions or rugs, geometric prints reflect artistic flair and modernity.  Another way for homeowners to express creativity is to add art-pieces. Anything bold, in-the-now and expressive, works well in Contemporary design.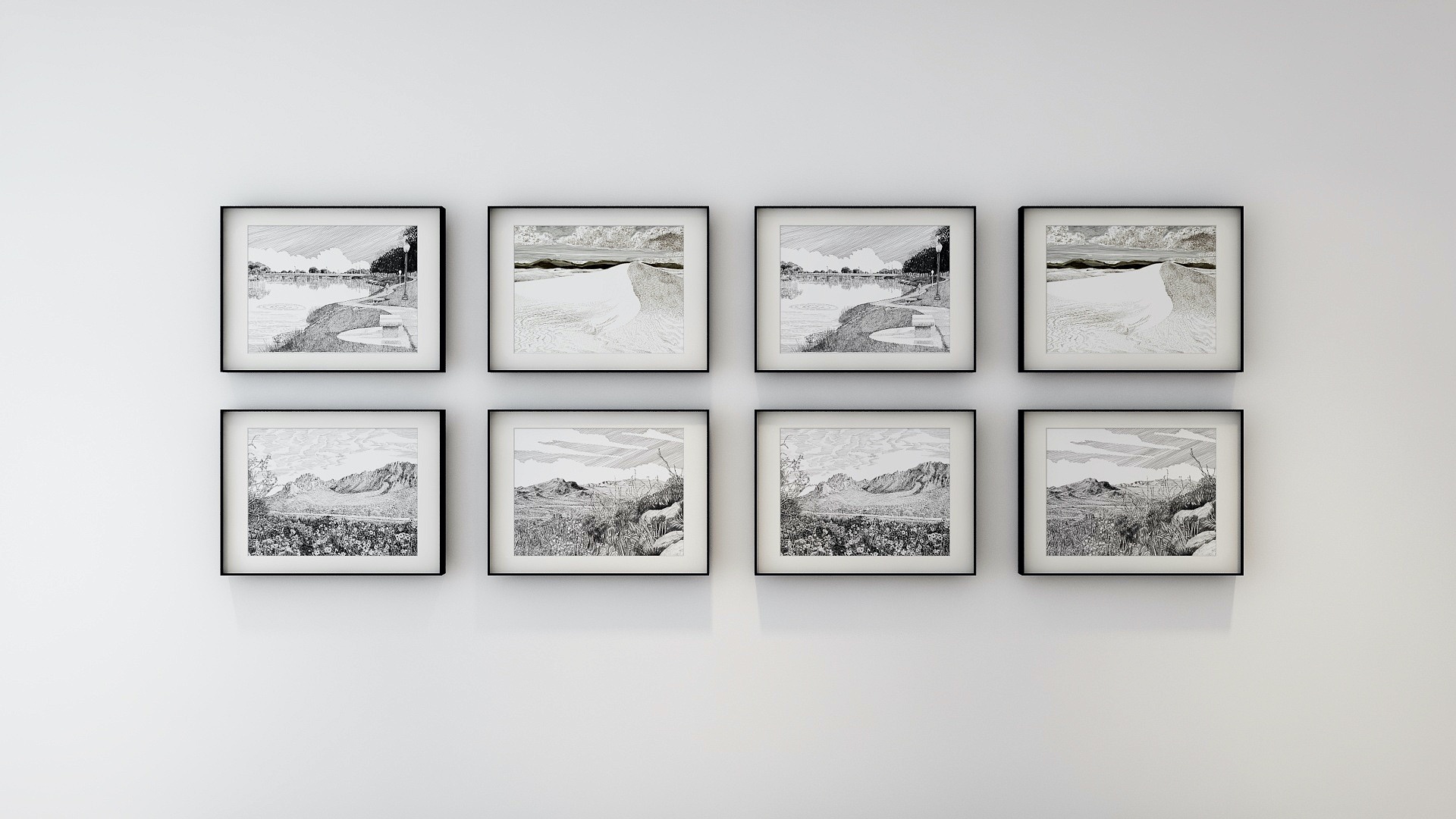 In Contemporary design, a feature wall is used to showcase a current trend. It could be new materials, colors, or textures. When used in the living room, it acts as the focal point of the room.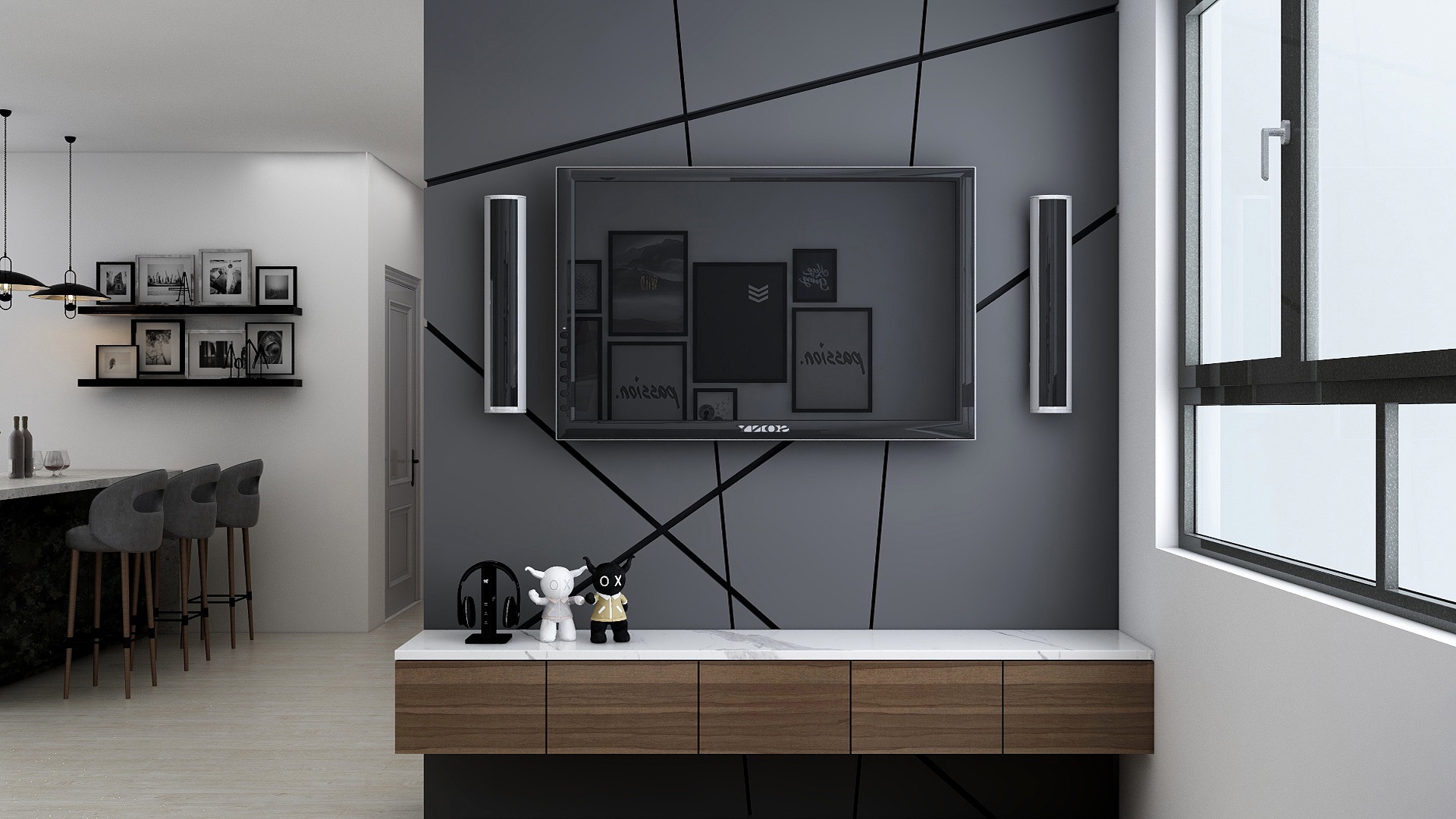 Kitchen
Consult any designers on Contemporary kitchen interior design, they'd likely tell you to keep it open, brightly-lit, and clutter-free.
An open-kitchen concept allows more focal points for light to permeate through. Connecting the living room to the kitchen allows for family activities and bonding. If the kitchen has windows, keep them clear and open.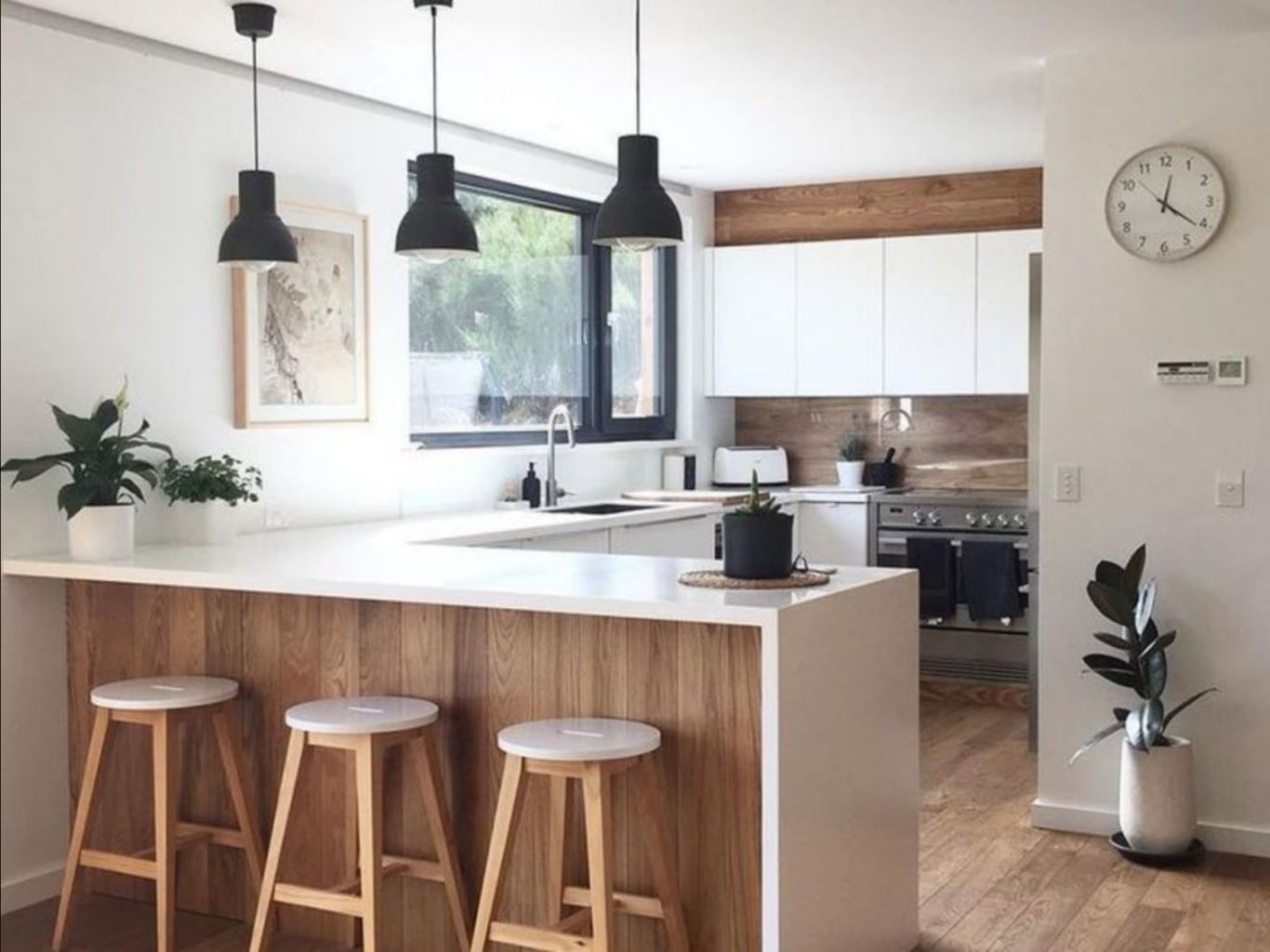 Go for multifunctional furniture with hidden compartments so that surface is clutter-free. Color use should range between light to neutral tones to complement the brightness from natural light.
You can opt for a classic white kitchen that looks sleek and clean. Pair it with a white marble countertop and dark wood cabinetry for a sophisticated contrast.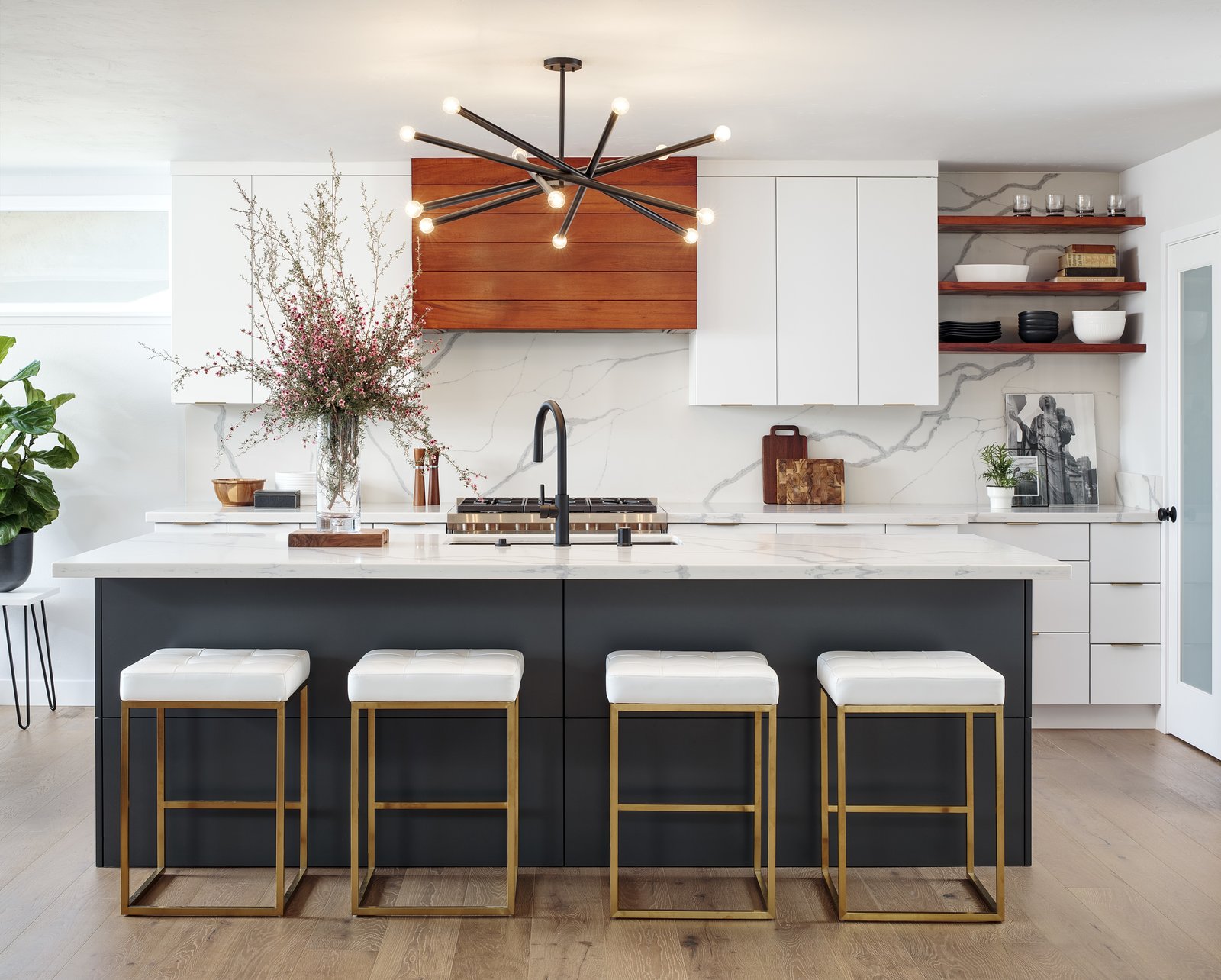 Metal finishes are used in Contemporary kitchens because they portray a polished and clean look. There's a wide variety of metal finishes. For instance, kitchen faucets made out of nickel, chrome, stainless steel, and brass accentuate a simple white kitchen space with a sleek finish. 
Bedroom
Despite being smaller in size compared to the other parts of the house, the bedroom provides endless opportunities for Contemporary design. 
Consider going for a platform bed design. This bed is both compact and functional while it serves as storage. It also makes the room feel less cramped due to its compact design. The strong visible lines from the structure of the platform bed emphasize the Contemporary feel.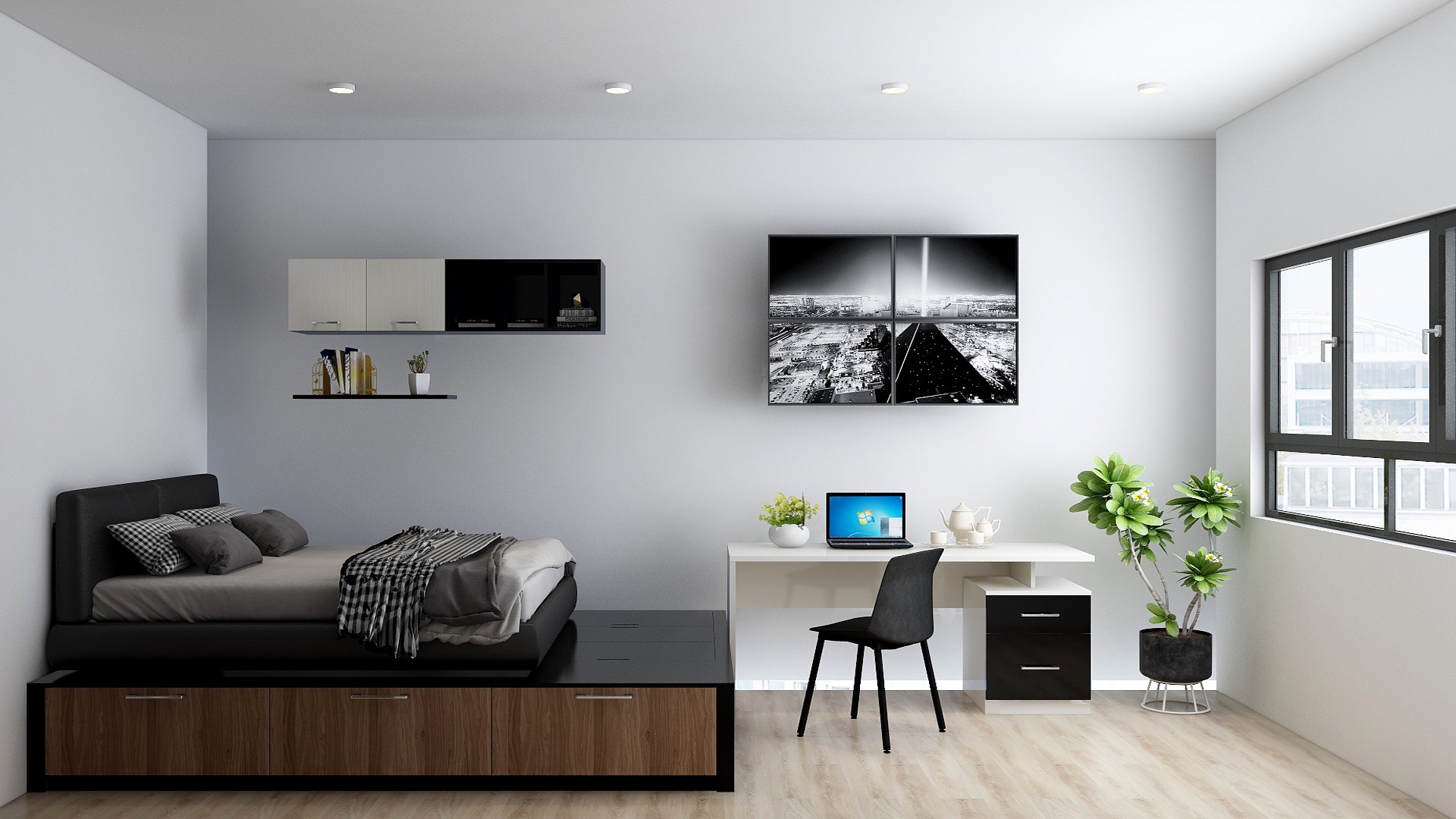 Use an open-wardrobe. Dark-colored wood acts as an elegant frame and adds a stylish touch. The wardrobe can also double as a partition for a bedroom space with a study area.
Closed-wardrobe with sliding doors is a space-saver because the doors don't swing outwards. Therefore it can be installed in any part of the room without hindering the exterior space.
Take wardrobe design one step further by adding textures to the surface of the doors. There is a wide range of textures you can use e.g., matte, metallic, or glossy.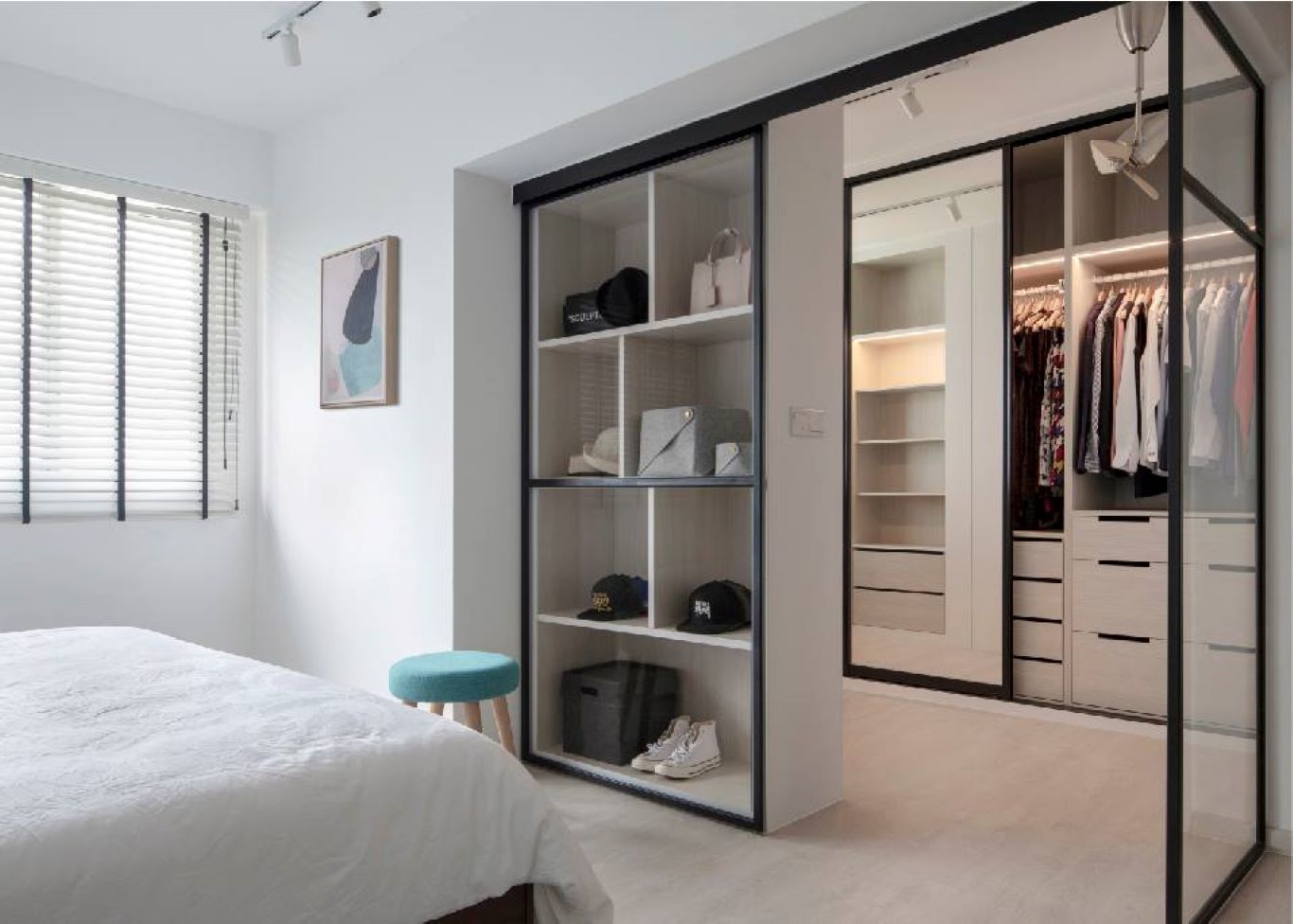 The feature wall may also be applied to the bedroom, especially if you are looking to include a TV. A wall-mounted TV is a clever way to save space in the bedroom because there's no need for additional floor space to cater for its standee.
Soft furnishings can add warmth and charm to the bedroom. Large pillows, cushions, and furry rugs add texture and interest. Make good use of your bedroom space to showcase your style and personality!
Contemporary home examples
Contemporary homeowners love the trendy and fuss-free concept of this design style. The style works flexibly with any layouts and refreshes living space anytime.
Have a look at some of the ways you can achieve Contemporary design in your home.
Contemporary HDB/condo living room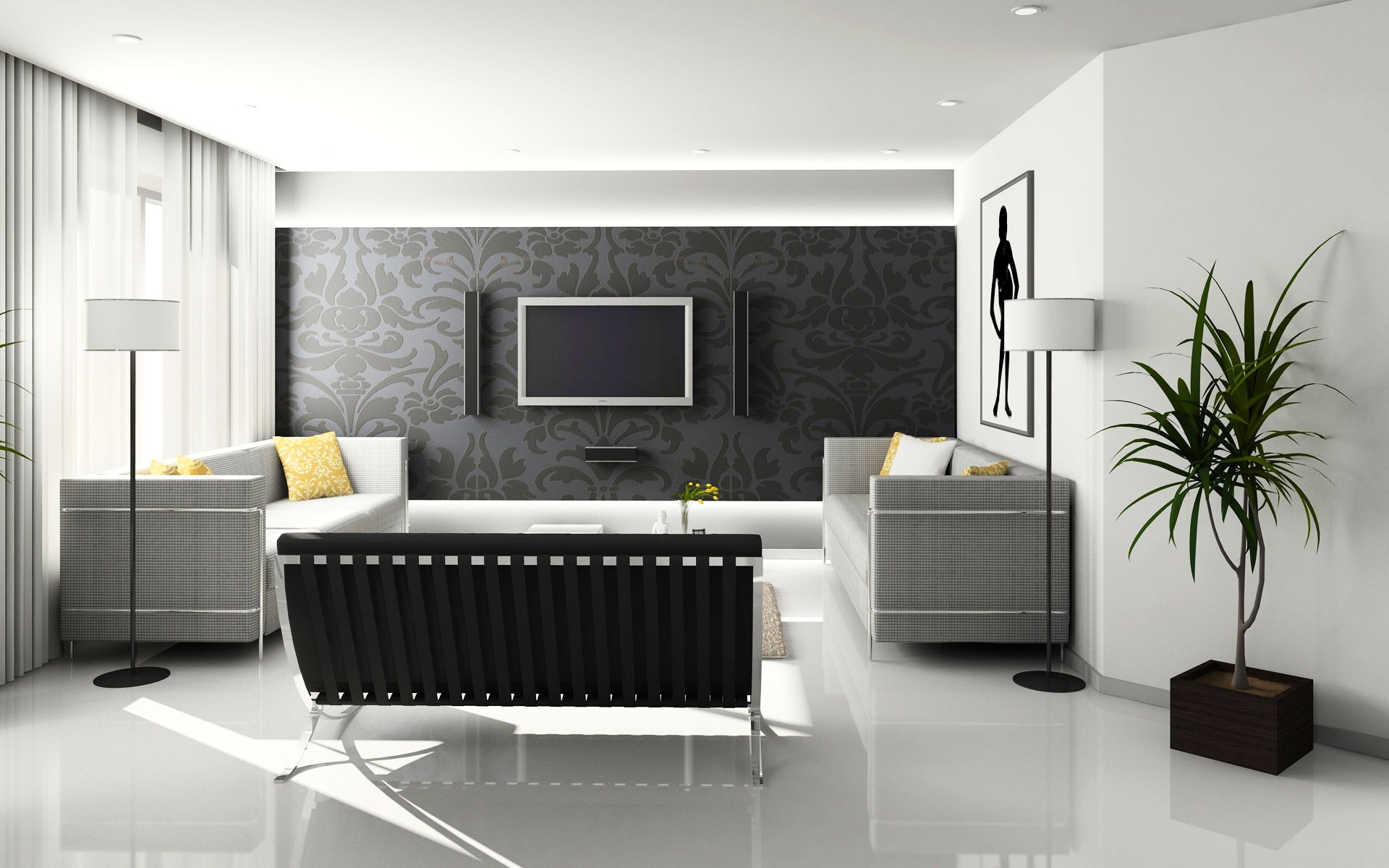 The Contemporary living room is flanked with plenty of natural light. Sleek standing lamps keep the room well-lit at night.
Light-colored polished marble flooring provides a stunning contrast against the black, patterned feature wall. 
The decor is minimalist but impactful with a single black-and-white art piece.  Indoor plants and patterned cushion-covers add a touch of color and warmth.
Contemporary HDB/condo kitchen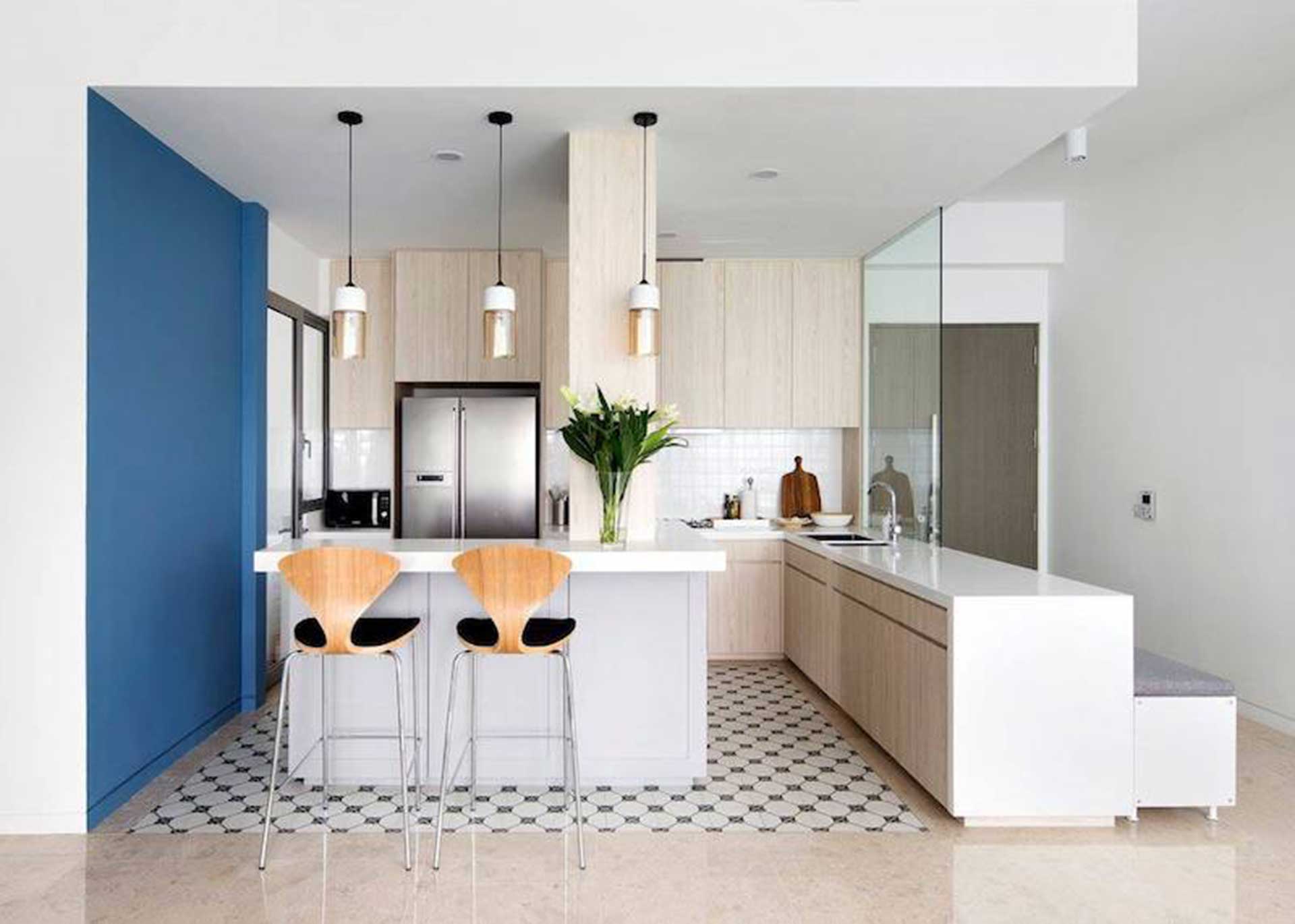 Designers use light neutral wooden cabinets to reinforce the sense of spaciousness created by the open-concept kitchen.
Splashes of bold color accents like a blue feature wall and potted plants add texture to the Contemporary look.
Contemporary HDB/condo bedroom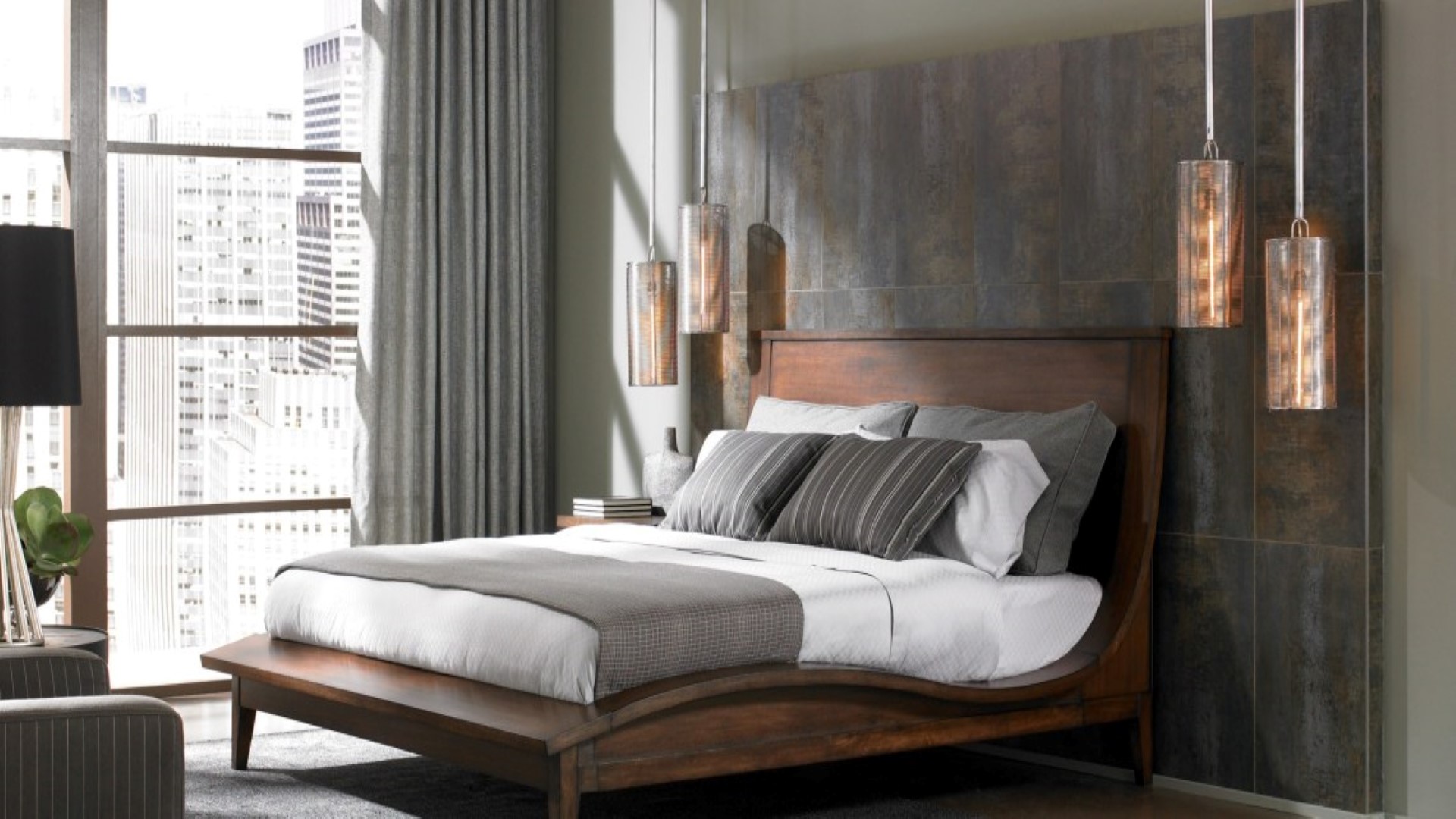 Light or mid-toned wooden flooring is the popular choice for Contemporary bedrooms. It can be complemented with any furniture, such as a wooden bed-frame or a plush sofa. 
Wood accents can be contrasted against fashionable metal lighting and voila, a Contemporary bedroom is born!
Contemporary HDB/condo bathroom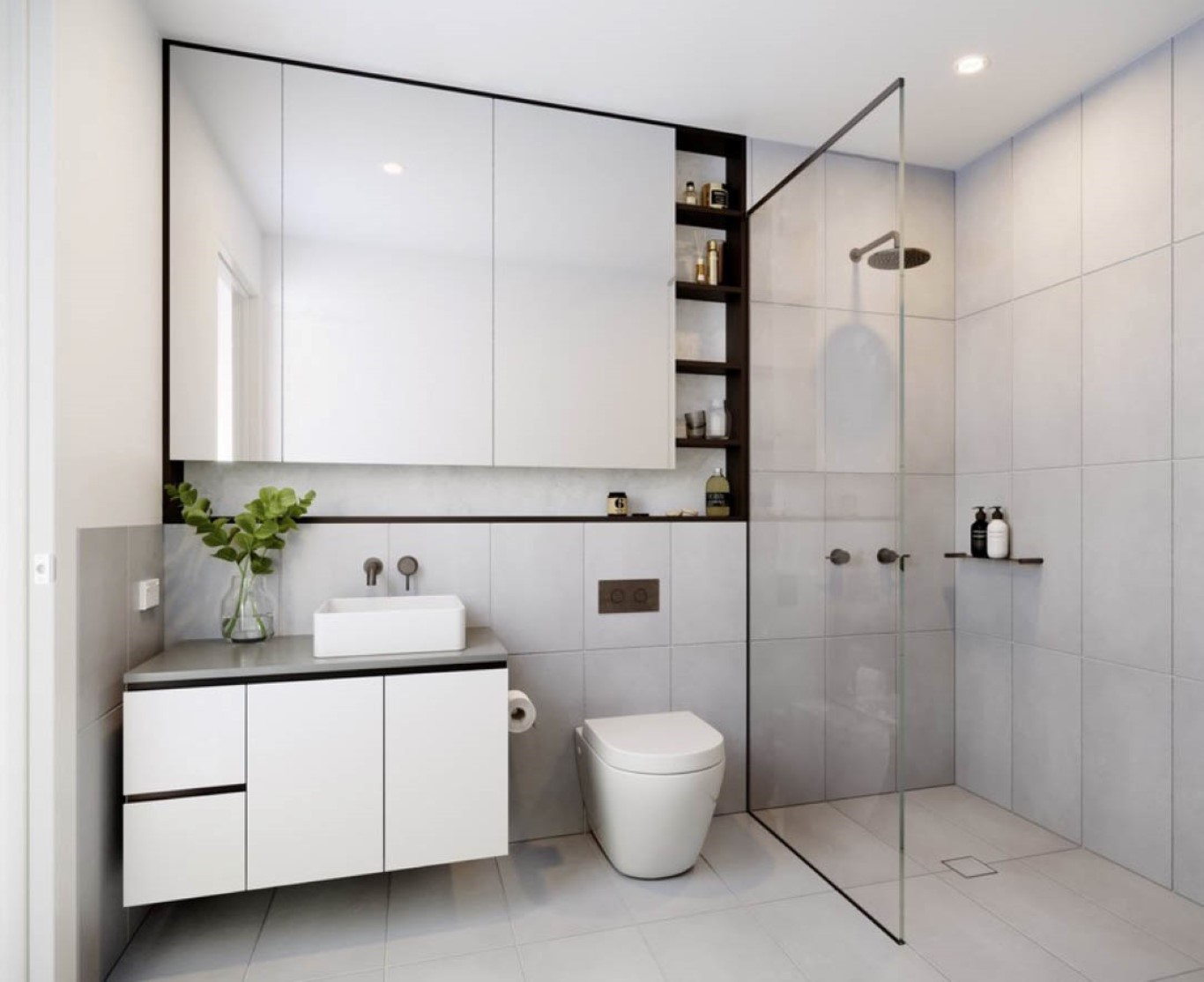 Contemporary designers believe in using minimal furniture to achieve beautiful aesthetics in the overall space. The idea of "less is more" prevails especially in a space-constraint bathroom.
Clean-lines elements accentuate the simplicity and spaciousness of the bathroom. A shower screen is used in place of curtains for a more modern look.
With all of that, the concept of minimalism naturally helps bathrooms to appear much more spacious. Instinctively, the contemporary style sits well with small living spaces, even in bathrooms.
Contemporary house living room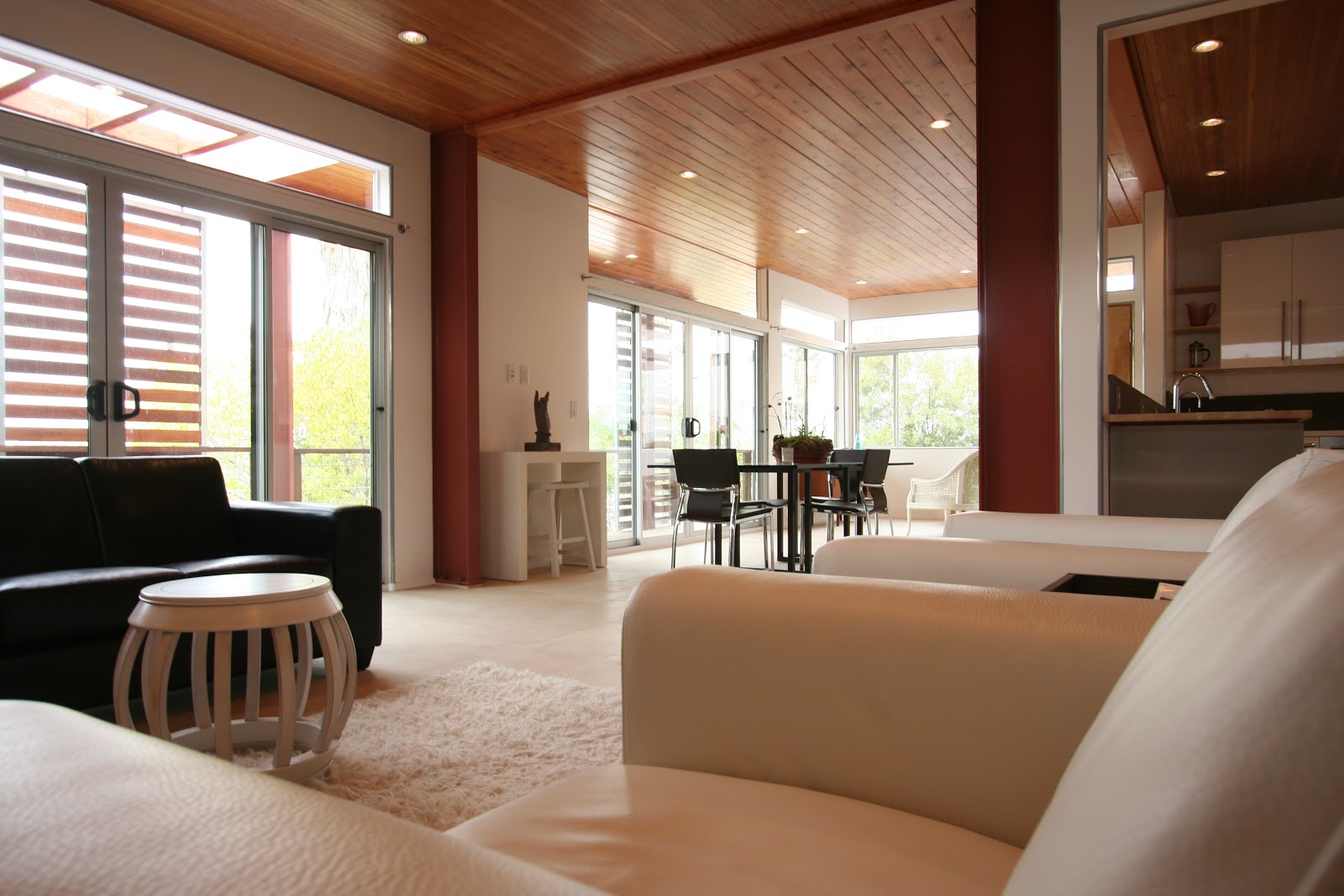 With larger spaces, there's more opportunity for natural light to permeate through. Artificial lighting is combined with natural lighting to achieve a balanced brightly-lit space in Contemporary style.
The open-space concept is widely recognized. Contemporary designers merge the living lounge, kitchen, and dining spaces into one united interior. Open-layout grants flexibility for functional arrangements in the household.
Contemporary house kitchen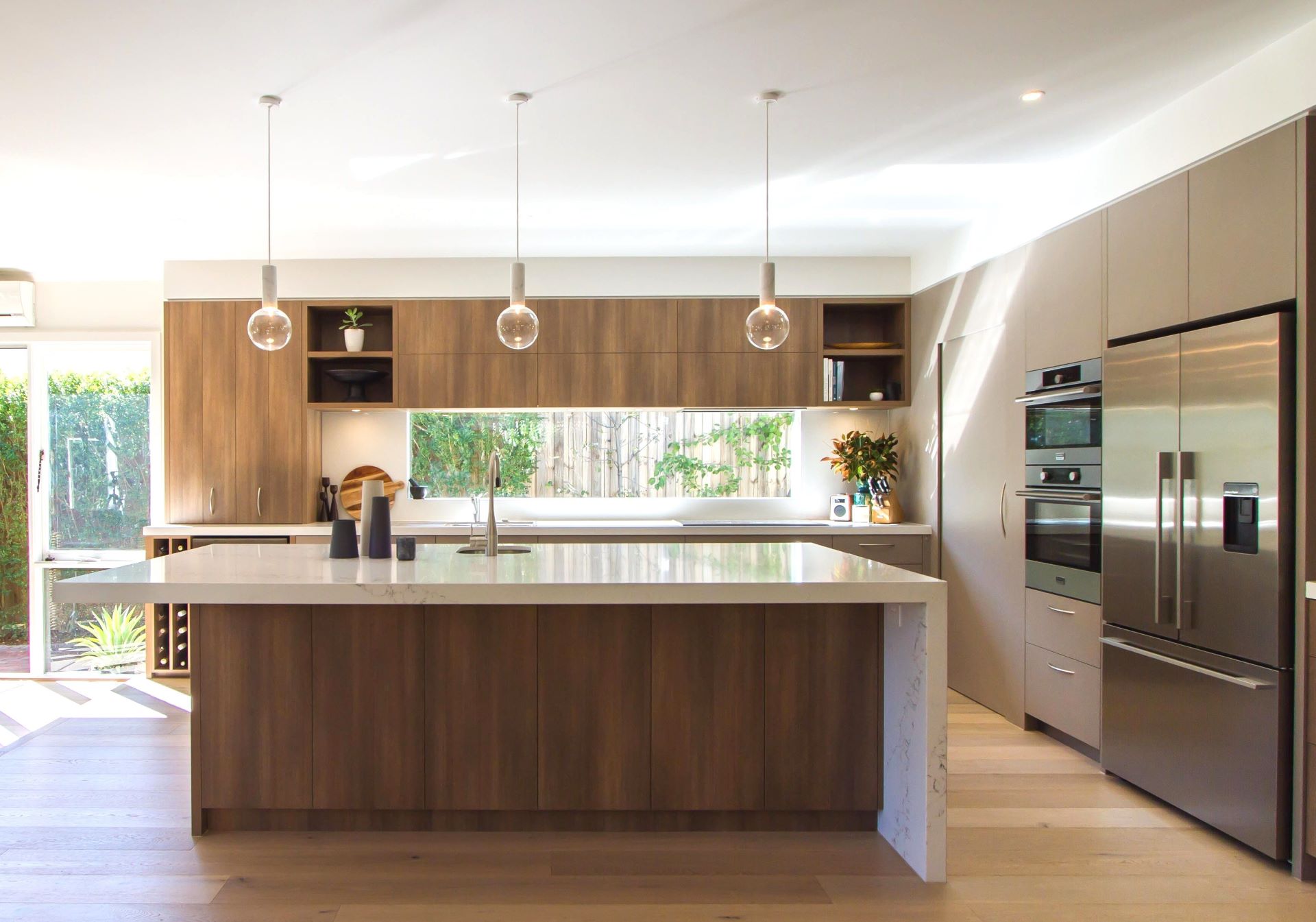 Modern glass light, wooden flooring, wood cabinetry, and metallic kitchen appliances are often used to achieve a sleek-looking Contemporary design.
Exposed kitchen shelves allow decorative pieces to be displayed openly. Potted plants or recipe books add decor to the kitchen.
Contemporary house bedroom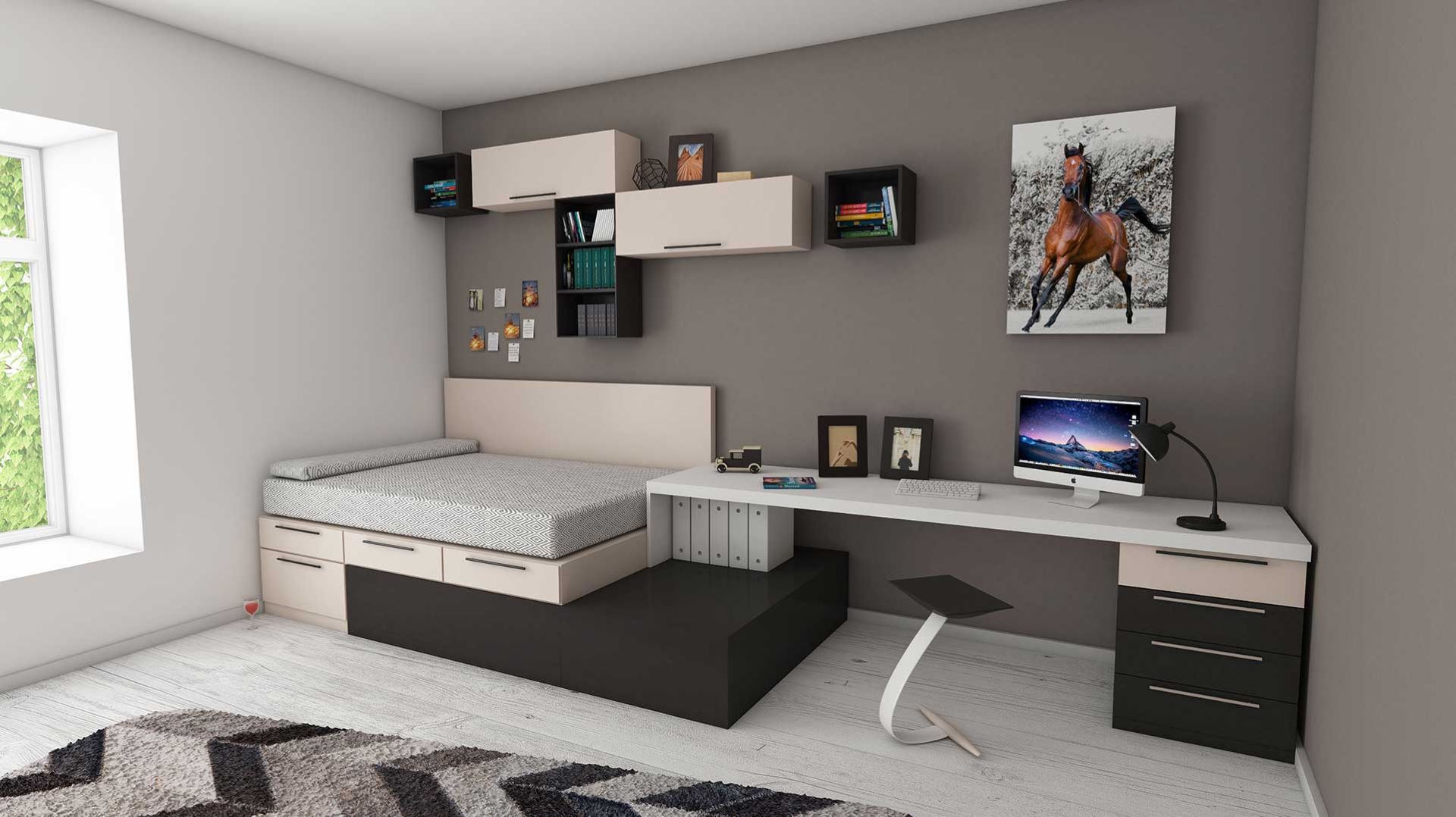 The color palette of the bedroom is mainly in neutral mid-tones. The presence of dark tones is balanced by the exposure of natural light from the bare windows.
The floating cabinet set against the wall is a piece of modern furniture that serves as compact storage. Storage areas are neatly tucked away within the platform bed as well. 
Equality between form and function is one of the essential Contemporary design philosophies to follow.
Contemporary house bathroom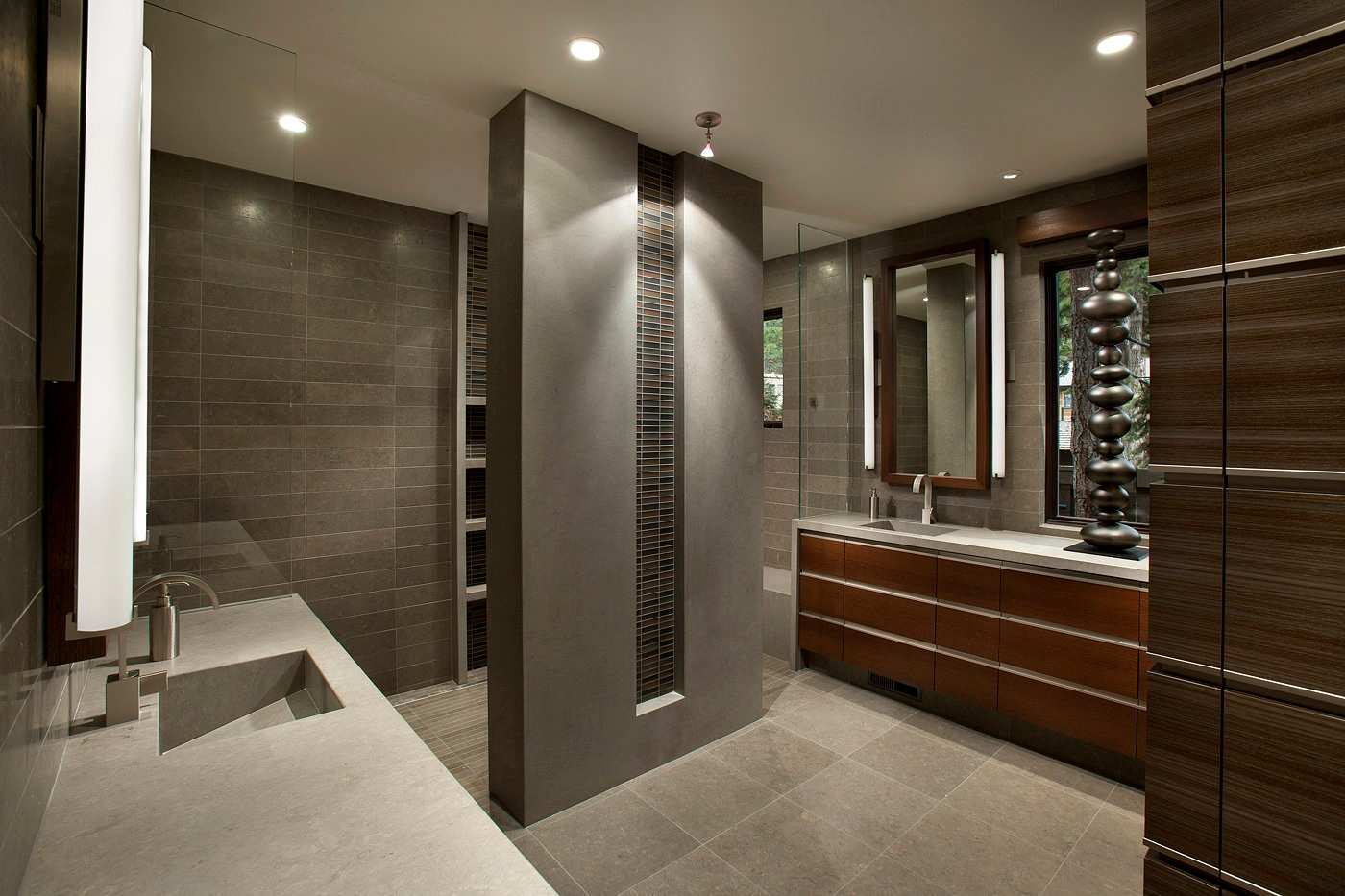 Form and function have equal priorities with the advantage of larger bathroom space.
Miscellaneous items are hidden within cabinets, leaving the countertop clutter-free. Placing accent decors in the bathroom provides a visual focal point among the bare space. For instance, a stone sculpture decor adjacent to the vanity mirror. 
A style that follows function makes the bathroom space a more pleasant and enjoyable experience for homeowners.
Fusion Tips
As a style that lives in the present, Contemporary designs already incorporate the best elements from all the existing interior styles. In that sense, it might be confusing how Contemporary and other styles are fused. 
When entering a Contemporary home fused with other modern styles, it should be easy to tell what type of style has been fused with Contemporary. Its interior would have a blended expression. Contemporary elements would stand out distinctly against its partnering style.
Combining Contemporary with Industrial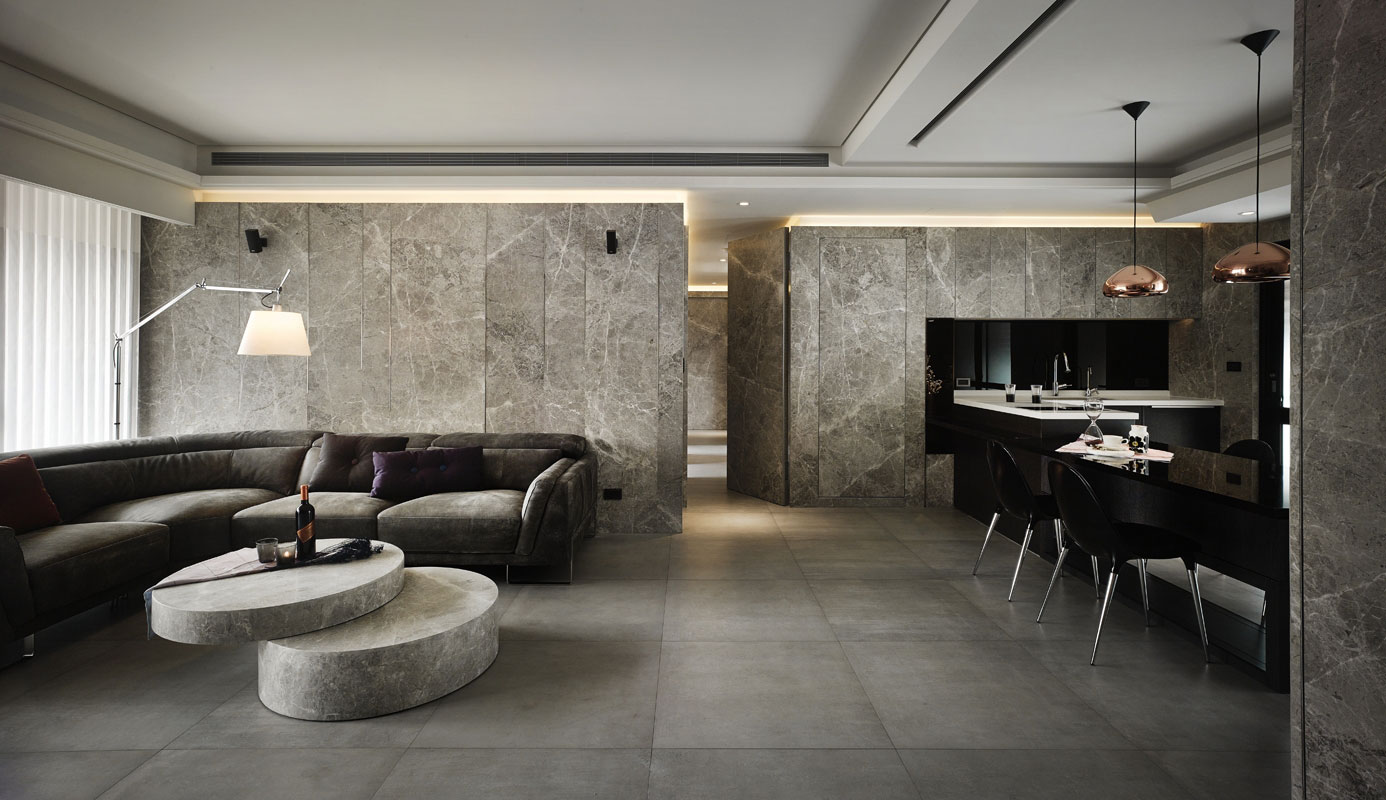 Contemporary and Industrial fusion can be described as modern and stylish. 
The Contemporary-Industrial style gives a factory-inspired look without coming off as too raw. This is achieved by placing Contemporary furniture and accessories to offset the raw Industrial elements. The curved lines in Contemporary elements stand out, becoming the visual focus of the space. 
The two design styles have many similarities too. They have a similar color scheme using blacks, whites, and grays. They also use a minimalist approach and an open-concept theme. 
This fusion style, when blended harmoniously can create a futuristic factory look.
Check out our Definitive Guide to Industrial Interior Design Style.
Combining Contemporary with Scandinavian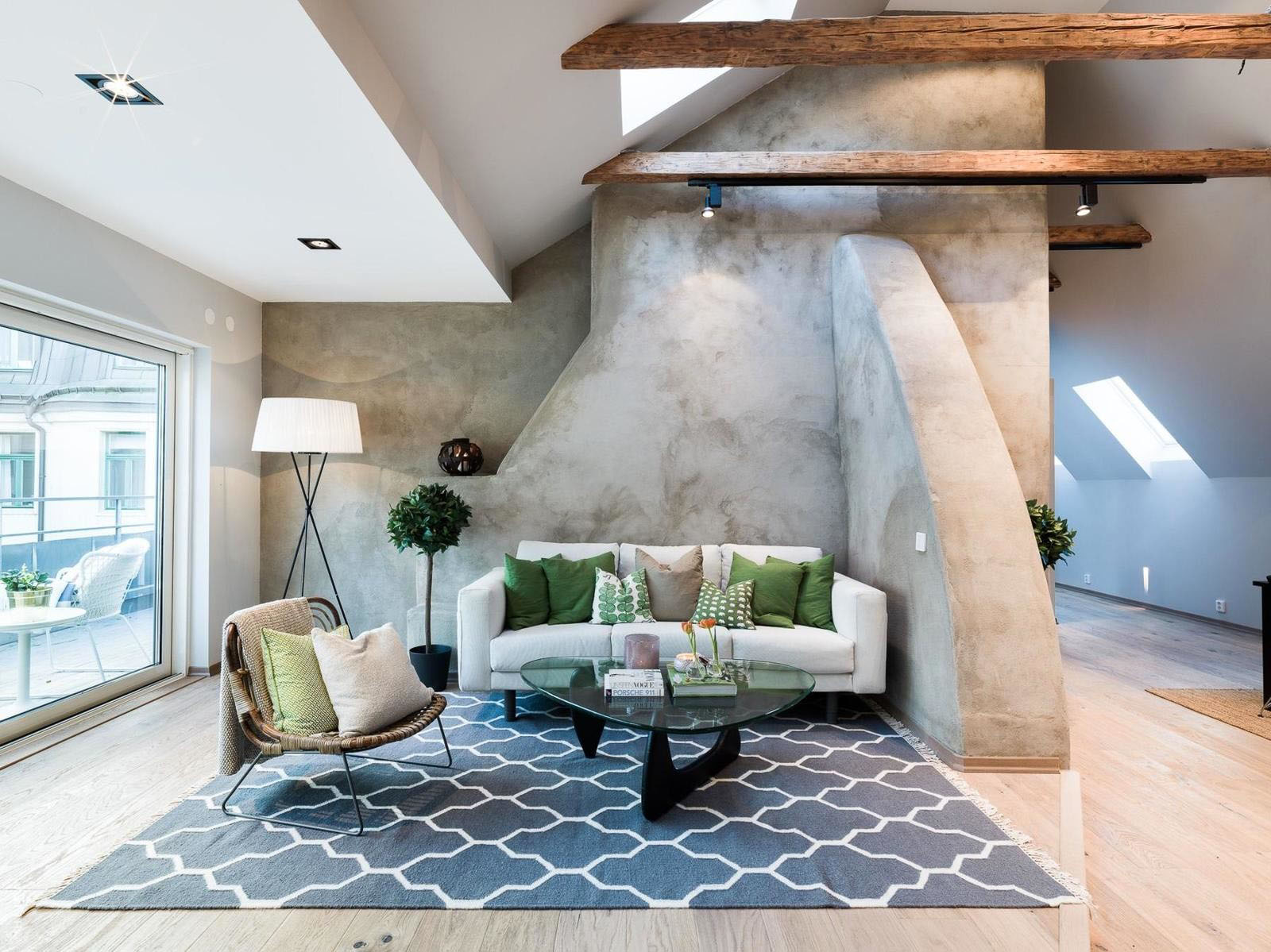 Contemporary and Scandinavian fusions typically start with a Scandinavian base. Light colors are used for the walls, ceiling, and floor commonly seen in Scandinavian homes. Furniture and decor follow Contemporary styling instead. 
Contemporary style features achromatic color, like white, black, and gray. Scandinavian style features a neutral color mainly in shades of brown. Introducing vibrant colored decoratives can further accentuate specific elements and brightens the living space. 
In essence, a balanced mix of dark and light elements deliver the uniqueness of Contemporary-Scandinavian fusion. 
Check out our Definitive Guide to Scandinavian Interior Design Style.
Combining Contemporary with Mid-Century Modern (MCM)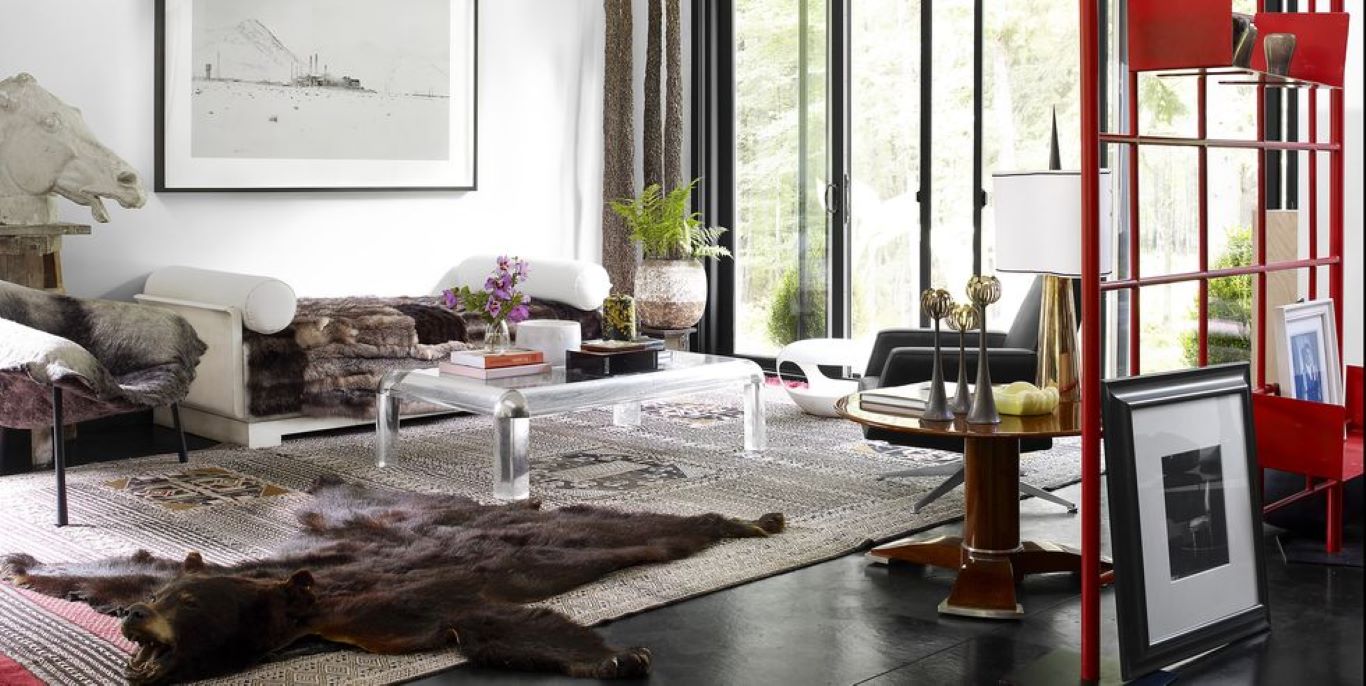 Characteristics of both individual styles should be preserved when fusing Contemporary with MCM. This fusion allows living spaces to look elegant, modern, and trendy.
Go for furniture with tapered legs. Tapered-legs furniture is a hallmark of MCM and Contemporary styles. 
However, design furniture doesn't have to be limited to MCM design principles. Furniture can also be incorporated with curved lines for a more futuristic look to the rooms.
All in all, Contemporary-MCM fusion should showcase a classic display with a twist of futuristic flair. 
Check out our Definitive Guide to Mid-Century Modern Interior Design Style.
Keeping your design Contemporary
To keep your home looking Contemporary, it should be spruced up from time to time to keep up with the latest trends. 
One great way to do this is to slowly introduce smart technologies into your home.
Biometric doors, automatic lights, and voice-controlled electronics are not only convenient fixtures in the home but also great ways to impress visitors.
These gadgets may cost more than their traditional counterparts, but they're well worth it. As technology progresses, the price of these gadgets will fall too.
Should you decide on Contemporary as the style of choice, remember to include more of these into your home. 
Summary
Contemporary is about being in the moment. It keeps evolving as new trends emerge. 
There's no strict definition of Contemporary design. However, having a neutral base helps tremendously in keeping the space flexible to adapt to new trends. 
Thanks to the equal weight given to form and function, Contemporary homes are comfortable to live in and stunning to look at. This balance is what makes Contemporary homes stand out from the other designs.
Excited to apply this style to your own home? Get in touch with our interior design consultants to know more about the latest Contemporary interior design ideas. We'd love to share.
If you'd like to know more about this style, check out our portfolio stories on how people are applying it to their own homes.
Check out the rest of our Definitive Guides here: 
Good luck with your renovation project.