Introduction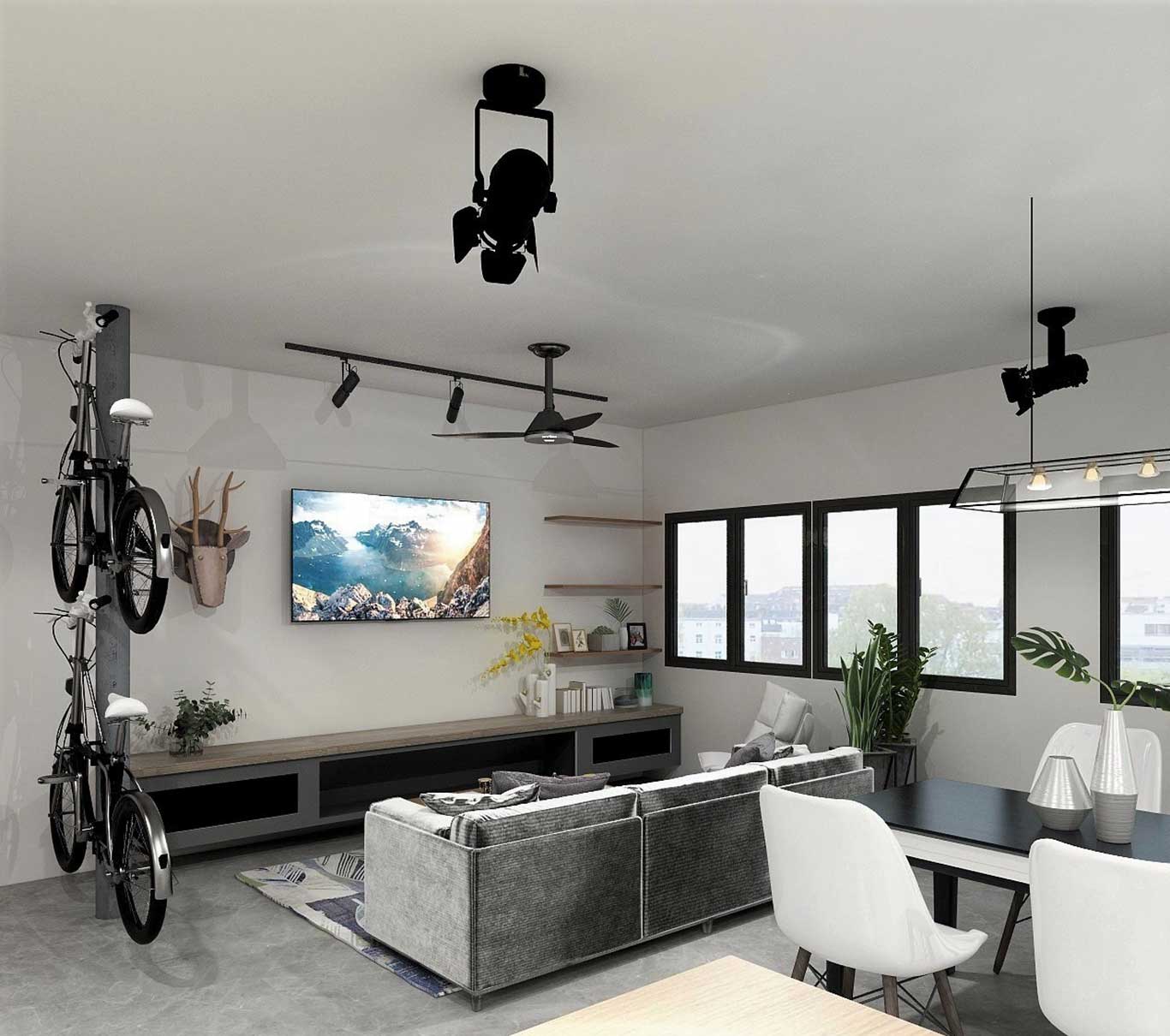 The Industrial interior design style used to raise eyebrows when it first started trending. The idea of making your home look like a factory or warehouse was mind-boggling. Even for experienced designers at the time.
The Industrial style looks raw, like an unfinished interior project. But it exudes a character and charm that is beautiful and exciting.
Today, Industrial is one of the most popular interior design styles. It's found in many upscale homes and commercial spaces. It's also a-prize winning interior concept. 
Through this article, you'll learn how the Industrial style originated, why it's popular, and what are its defining characteristics. We'll also show you how to apply the Industrial style to your home without having it look overly raw.
Origins of Industrial design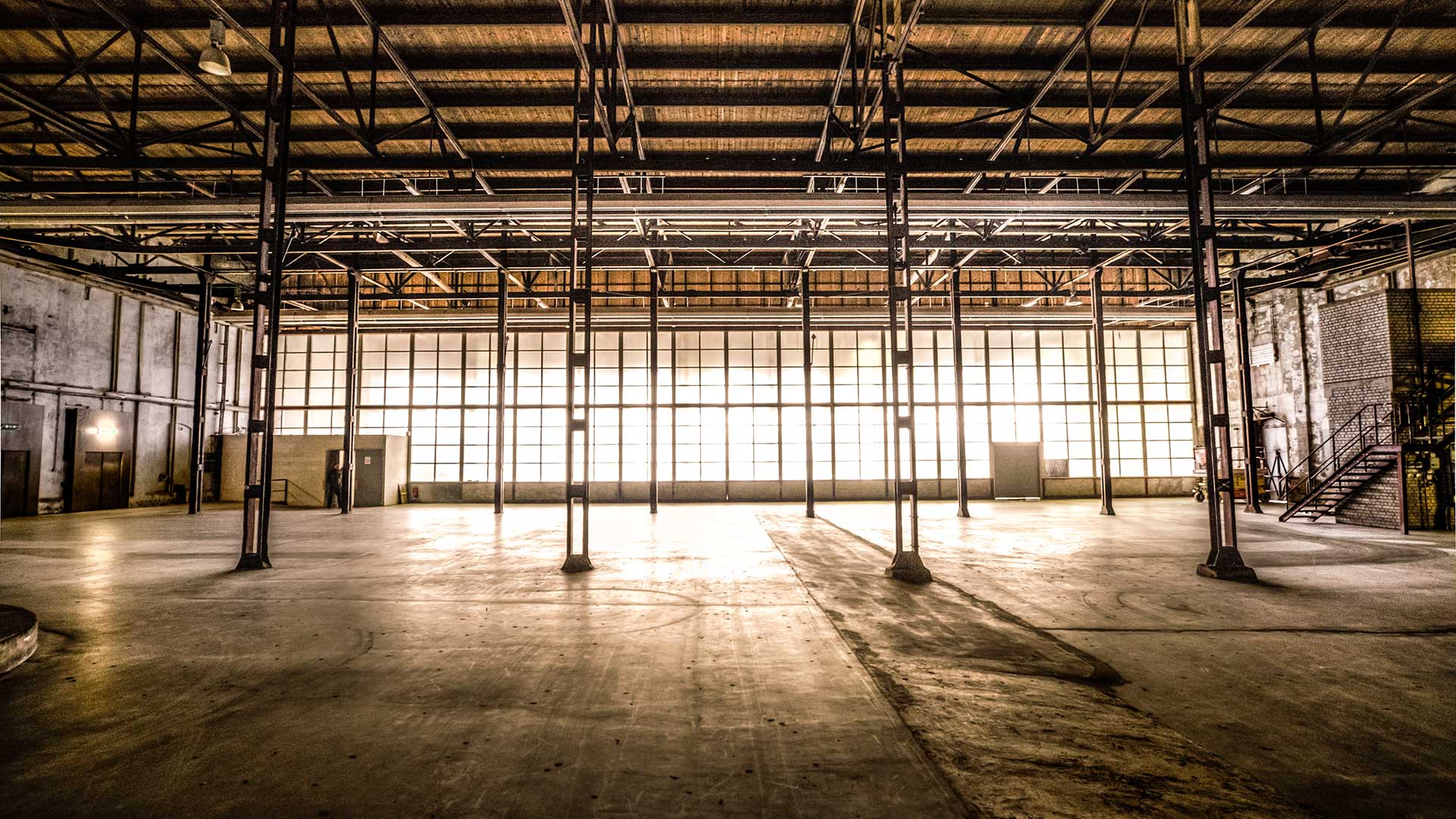 Industrial design started in the late 1960s in New England and Lower Manhattan. When the Second Industrial Revolution ended, many industrial buildings were left vacant.
Enterprising and resourceful artists saw these spaces as opportunities, turning them into studios and homes. But instead of covering up the remnants of these spaces, they kept the exposed pipes and brick walls.
Each uncovered blemish preserved a little bit of the building's history. And the raw, unfinished look and open-concept space charmed many. 
How it evolved 
Industrial interior design has humble beginnings. It started with using raw materials such as wood, metal, unfinished brick, and unpolished concrete. This gave the overall look a form of spartan ruggedness that defined many lofts and workspaces.
In today's homes, designers attempt to recreate the Industrial look in many newer residential spaces, even smaller apartments. They infuse the raw materials with a modern touch, through the treatment of bare elements.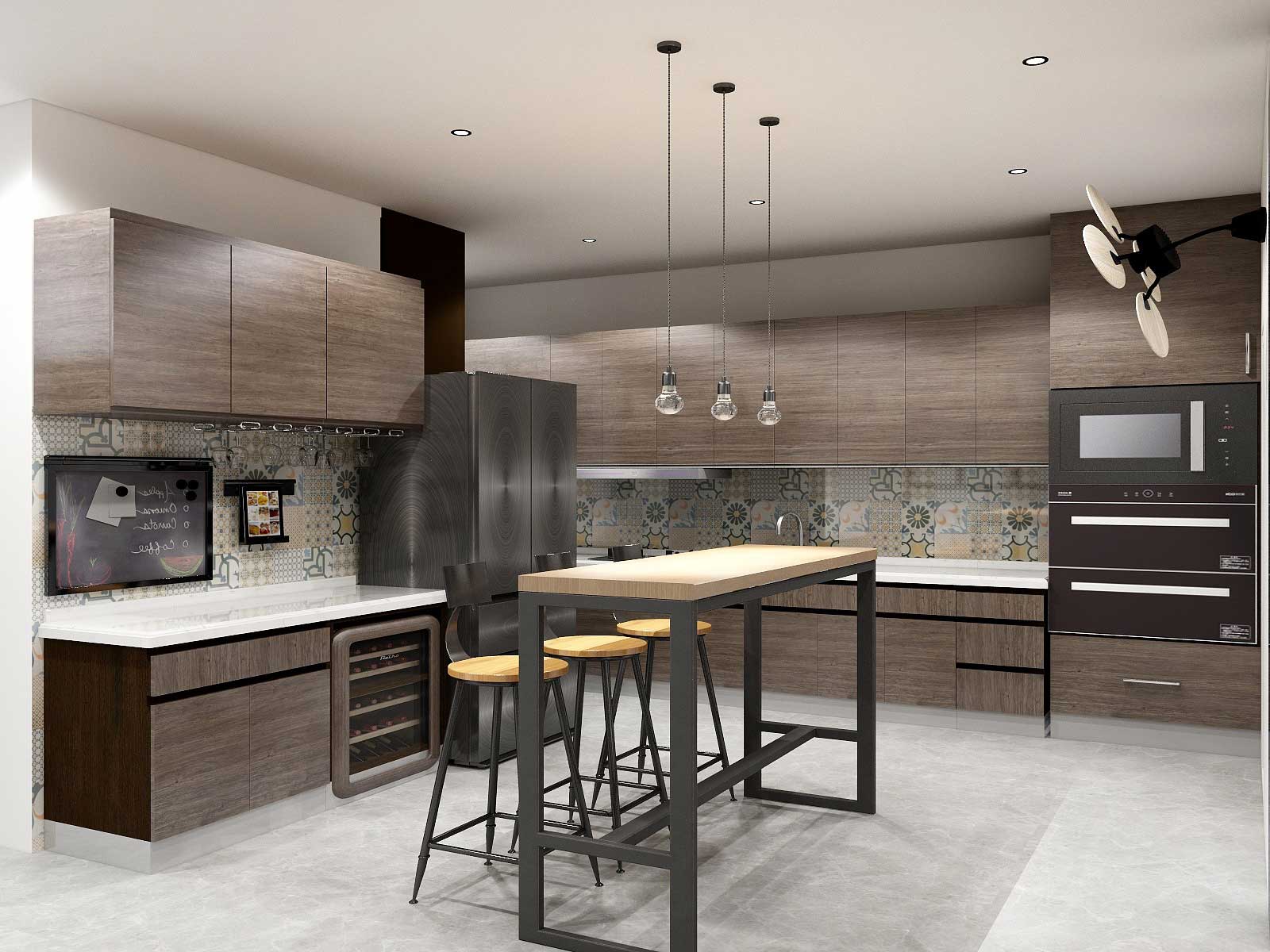 Why people like Industrial
The Industrial interior style is rich in history and portrays itself as a mix of vintage and modern design. That's why the style bears a timeless appeal to a broad audience.
Many people like Industrial design due to its unique combination of materials. The contrasting finishes of the materials used achieve an aesthetic synergy unique to Industrial design. The combination of brick walls and polished concrete portrays a sense of sophistication. The steely look of the metals is balanced with the warm and cozy effect of wood. 
There's also a bonus for environmentalists as the Industrial style can be eco-friendly by including recycled furniture and decor into the home.
The freedom to adjust it to your taste is another reason why this style is popular. Furniture is strategically placed according to the owner's needs. There is plenty of flexibility to change the layout with an open floor plan.
If the above traits have piqued your interest, then this may be your ideal interior style. 
If you still have reservations, let's figure out what style suits you best. Start by taking our style quiz.
Characteristics of Industrial
The most defining trait of Industrial design is how raw it looks. 
Industrial is very versatile, so you have many options when adopting this style for your renovation project. Let's take a closer look at its features to fully appreciate the versatility of the Industrial design style.
Distinct materials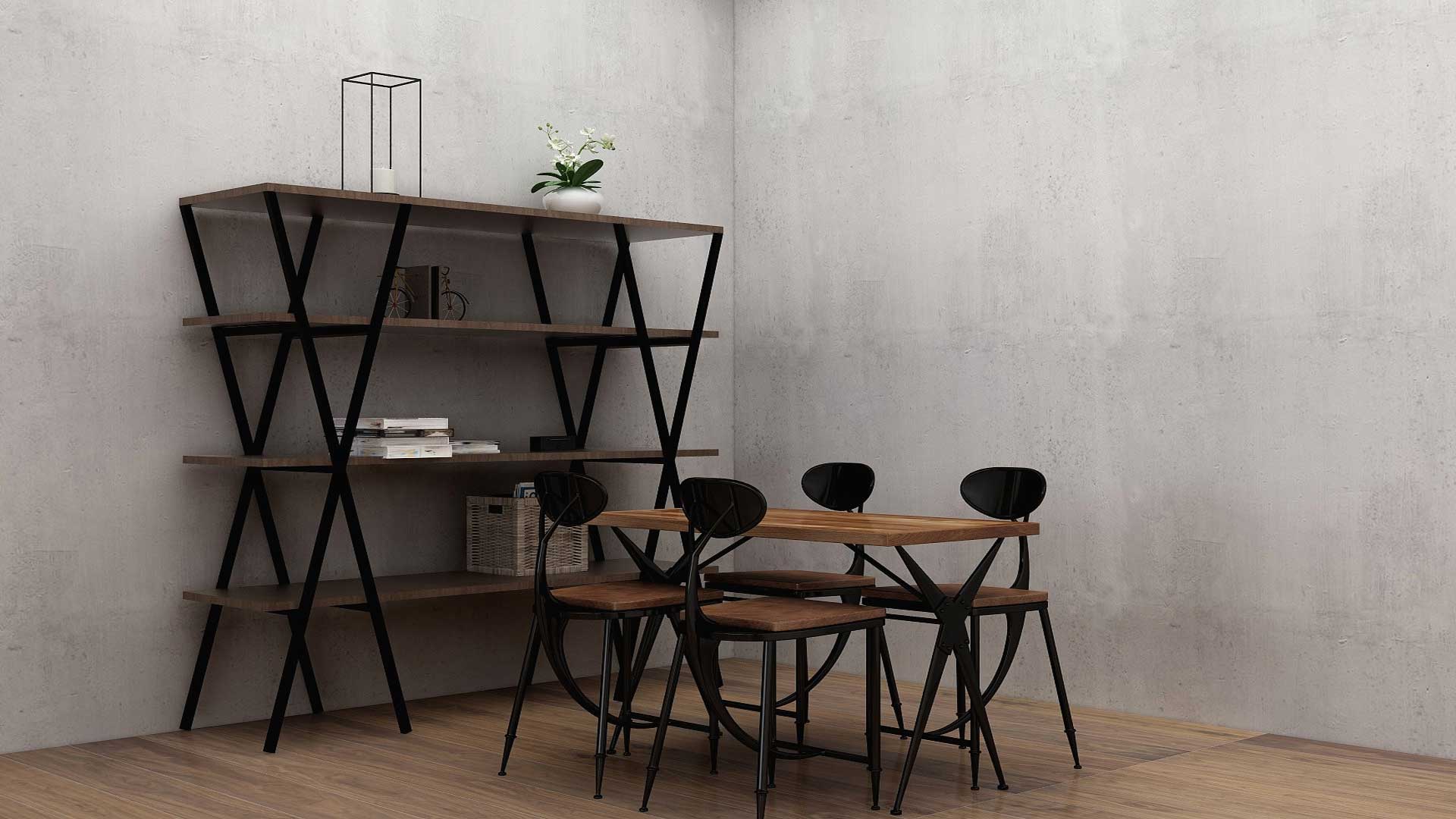 Industrial design typically uses reclaimed materials where possible, such as wood, metal, brick, and concrete. Bare finishes are preferred thus not much treatment is used on these materials.
Metals in their various forms, such as steel and wrought iron, are used to achieve the factory vibe. 
A mix of wood and metal furniture is important to achieve the Industrial-chic interior in today's homes.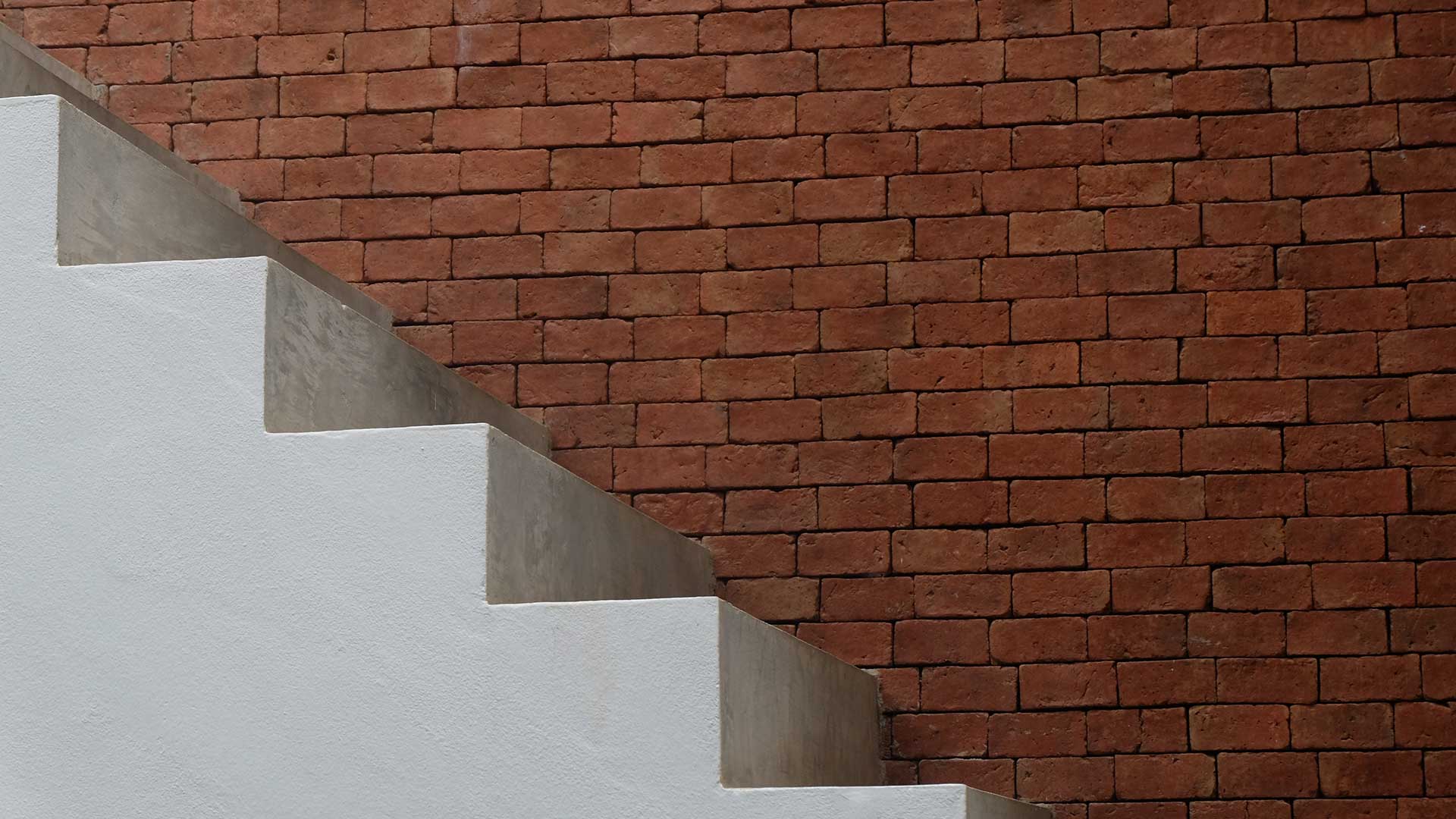 Distressed wood or polished concrete floors are used to further complement the look of wood and metal. This flooring blends seamlessly with the natural state of brick walls to achieve a natural stripped-down effect.
No matter what materials are chosen, they can be adapted to suit your preferences depending on how Industrial you are willing to go.
Exposed structures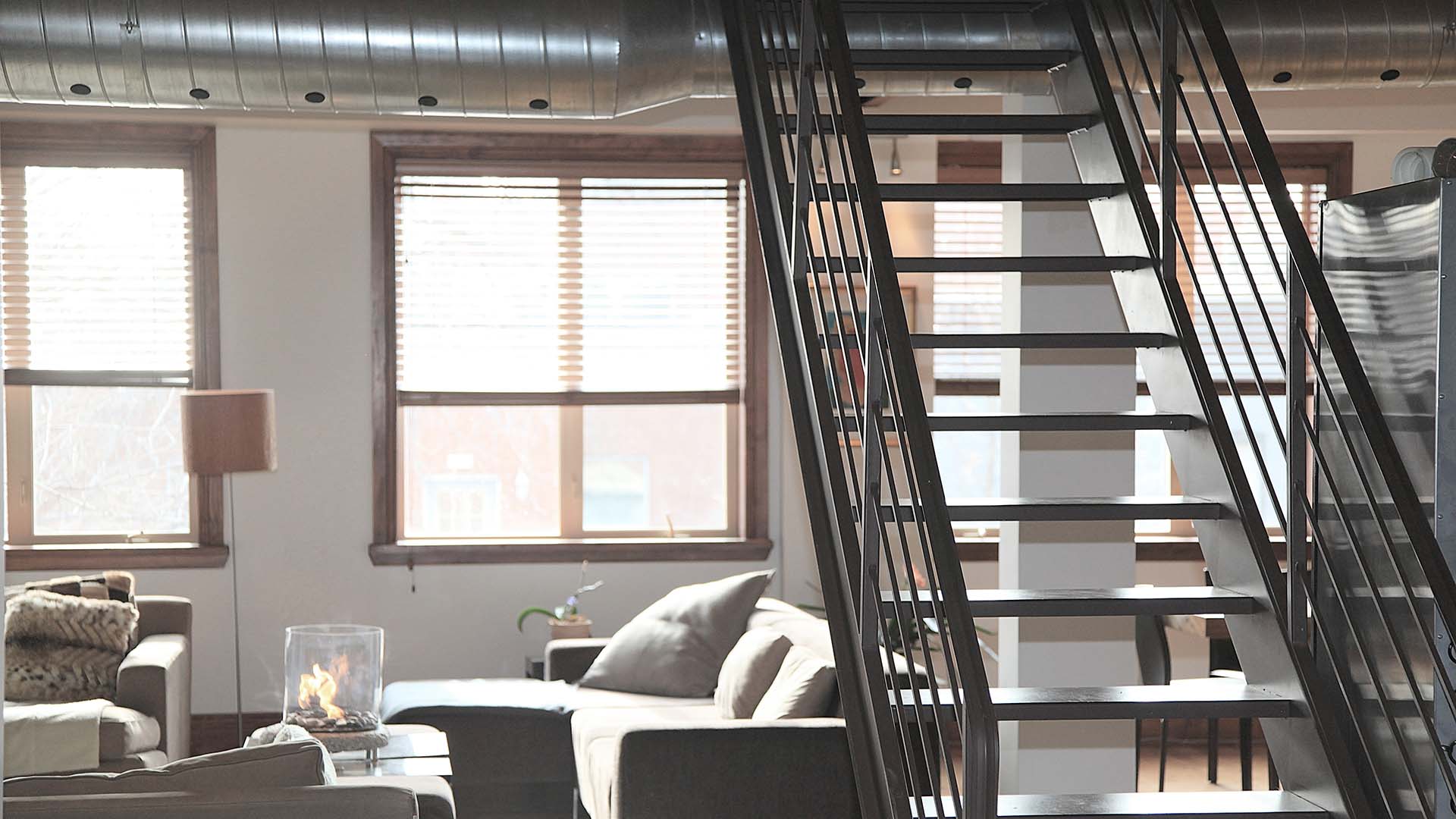 Buildings are made up of structures such as pipes and beams, which when exposed are usually unsightly. However, Industrial design philosophy believes in preserving the natural beauty of these fixtures.
In today's homes, popular adaptations such as dark-colored track lights or steel-rimmed shelves are used to mimic these structures in their natural state.
Dark neutral colors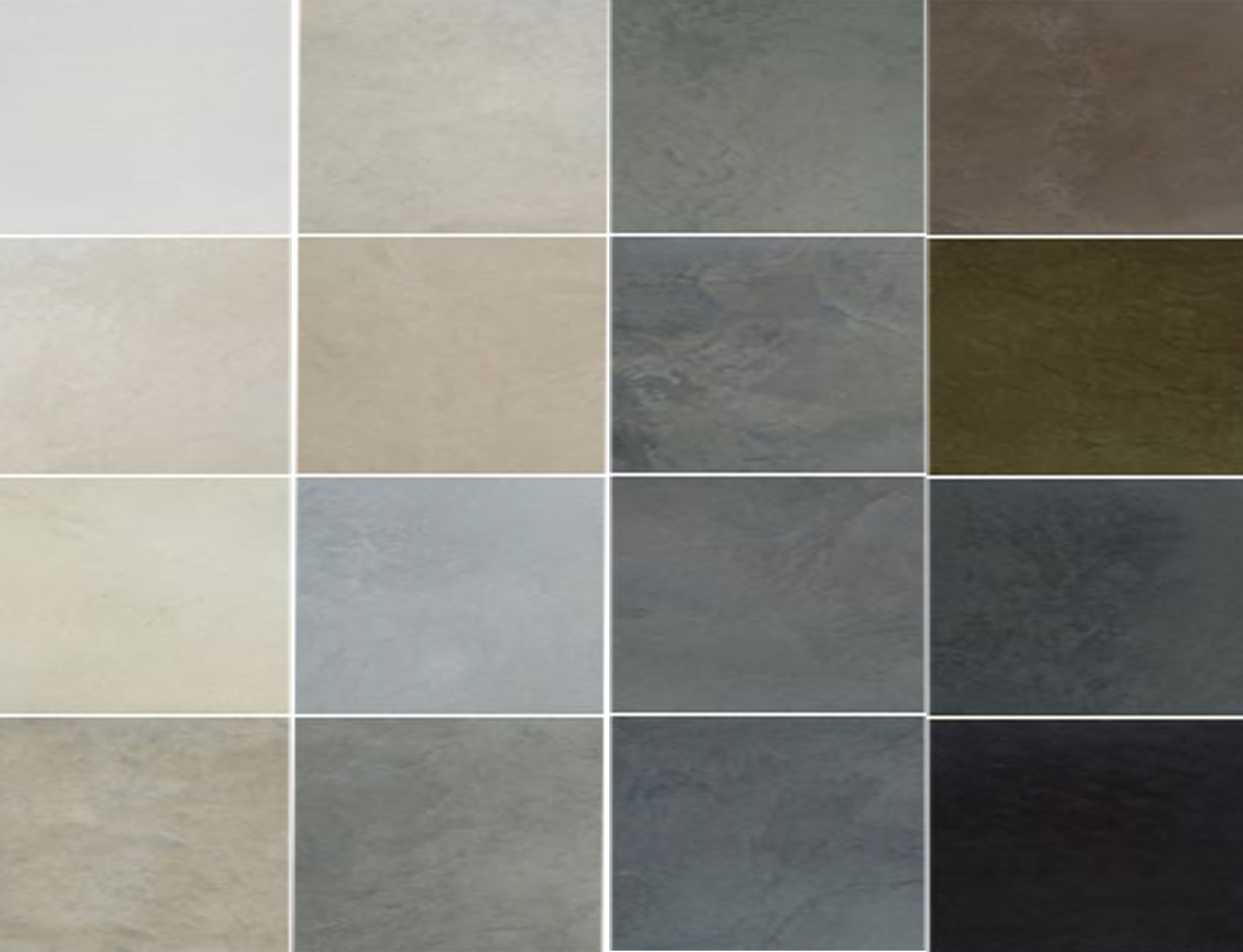 If you ask any designer what are the main colors of Industrial homes, most would recommend gray, black, and white. This isn't surprising because if you think of exposed pipes and metal finishes, colors like gray and black naturally come to mind. 
Mix in some tans and browns, and you have the classic Industrial color palette. Even if lighter colors are used, they are used sparingly.
Open-floor plan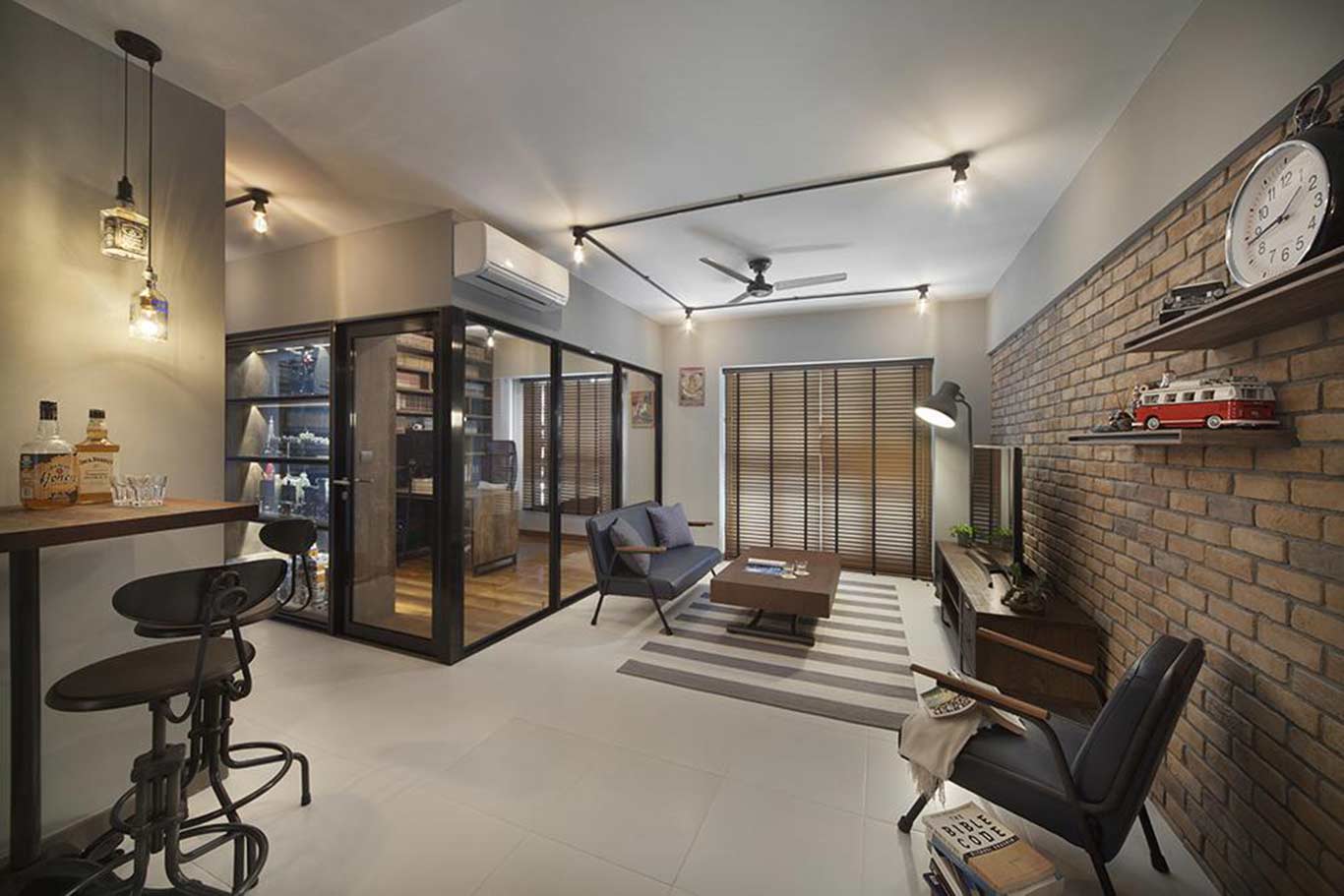 A key feature of Industrial interior design style is the open-floor concept. Homes are kept spacious and devoid of clutter. Pathways are always clear, allowing quick and easy movement from one part of the home to the other.
Walls are typically hacked away. Furniture and other fixtures are then used to section the available space.
Vintage-inspired furniture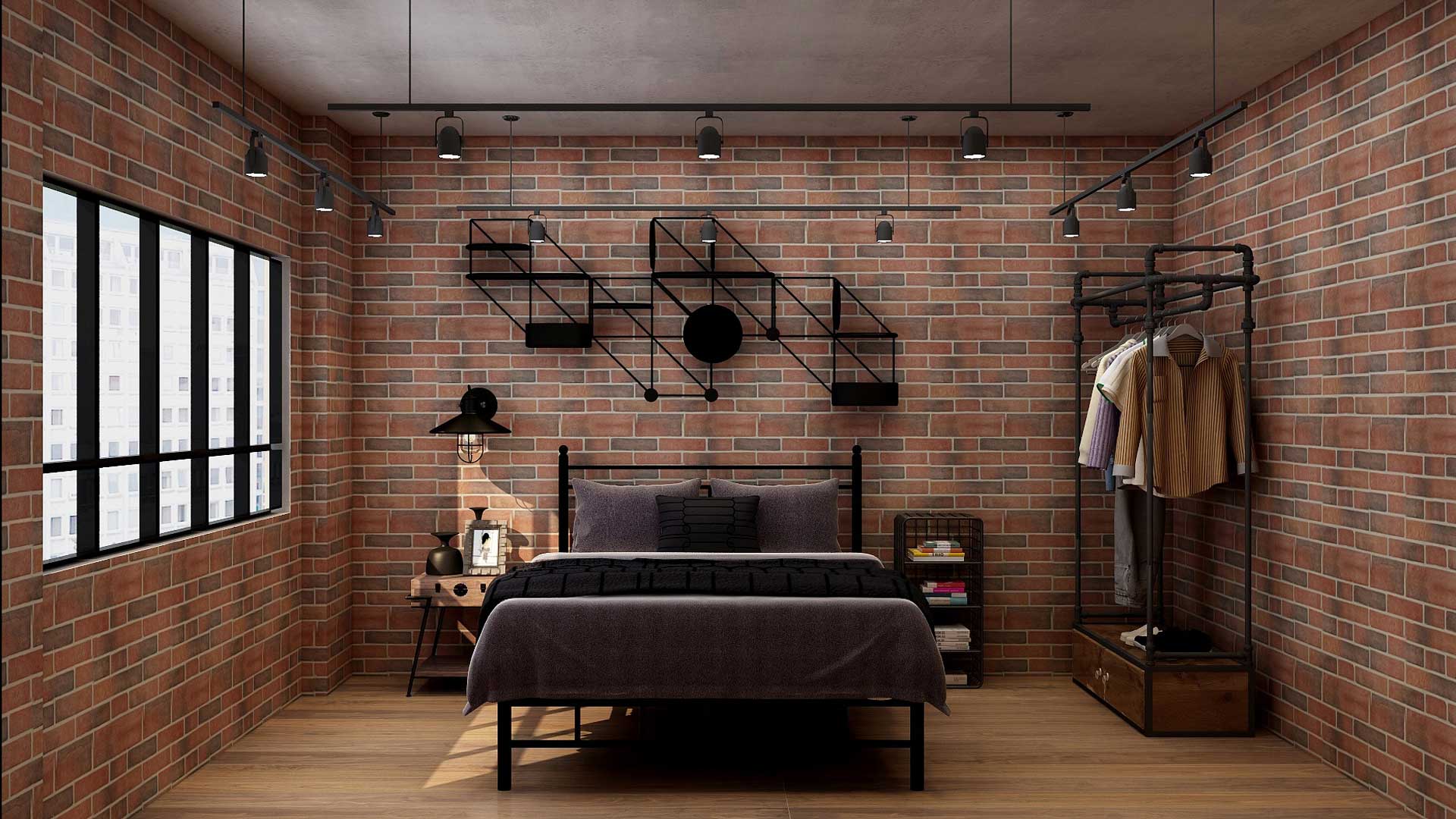 Industrial furniture is always functional and minimalistic. It's inspired by vintage Industrial pieces. More than anything, they're always sturdy and reliable. They usually look like they can take a beating, and then some!
The main materials used are wood, metal, and leather. They are combined to create a unique look in Industrial design. For example, wooden dining tables and leather chairs supported by cylindrical metal legs.
Metallic lighting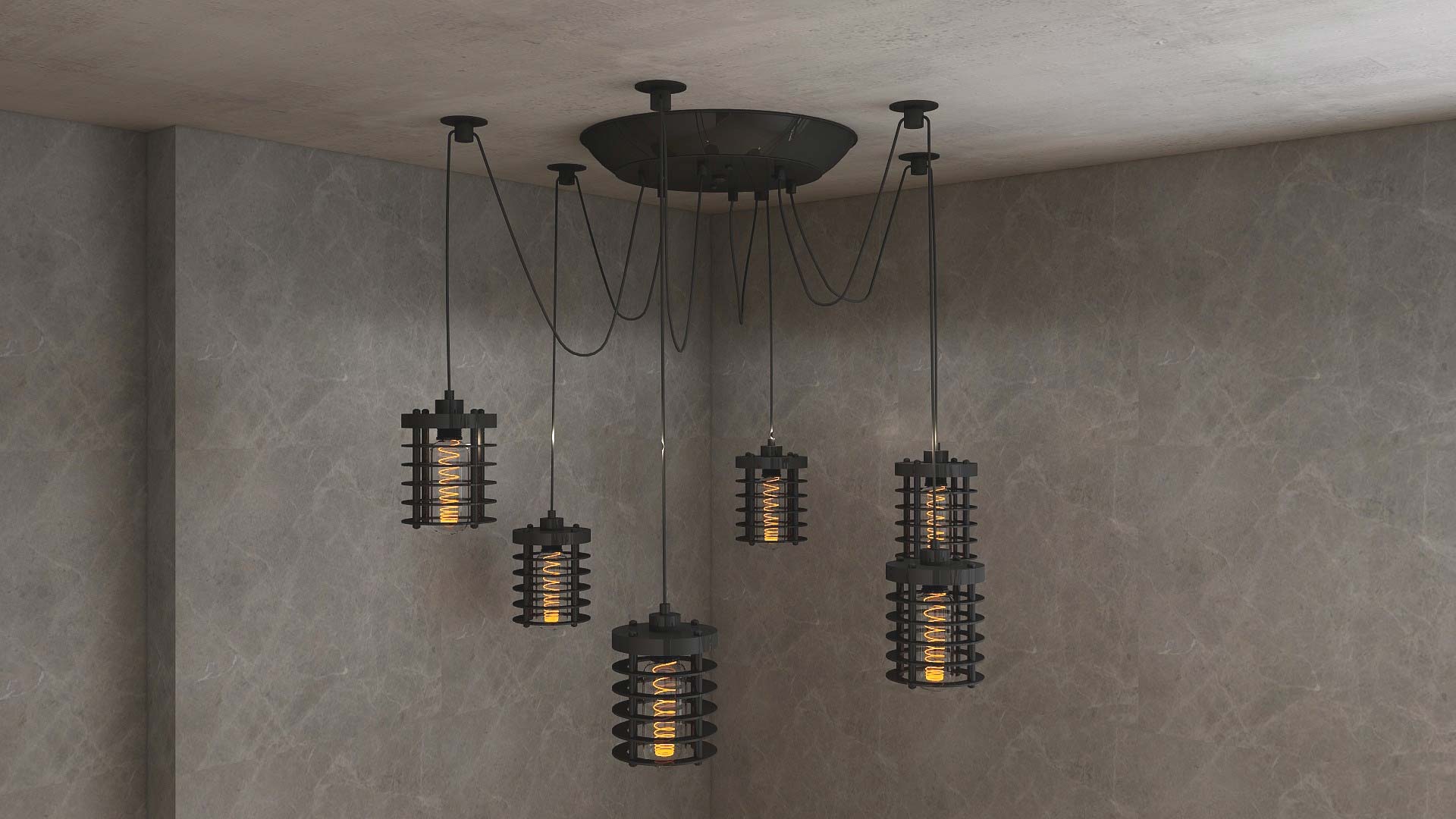 Lighting fixtures in Industrial design have distinct metallic finishes. They come in various forms, e.g., track lights or low hanging pendants. 
Metal is used because it mimics the pipes and structural beams that were present in factories. 
Minimal accessories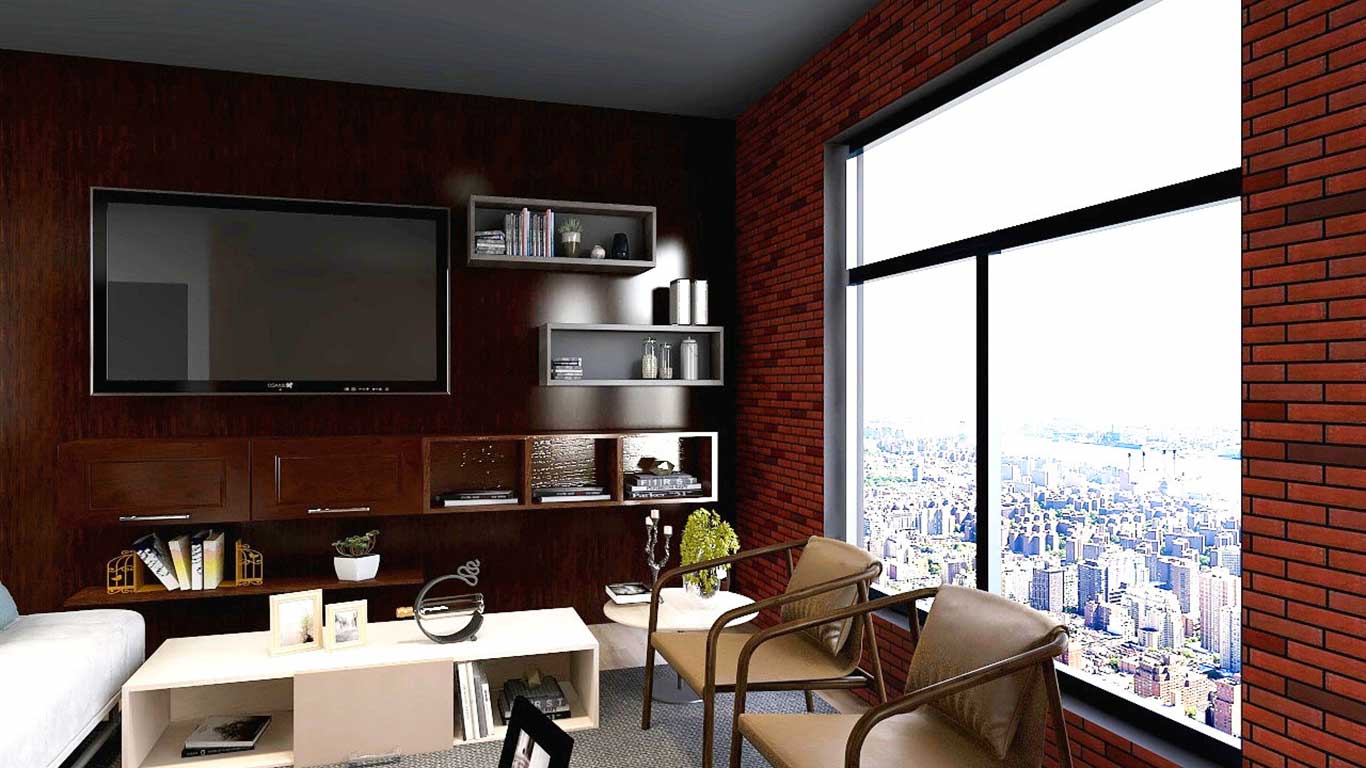 Industrial design tends to be minimalistic. Accessories are used purposefully in selected areas of the home. Only a few key pieces are needed to sufficiently decorate the space. 
Applying Industrial to your home
Living room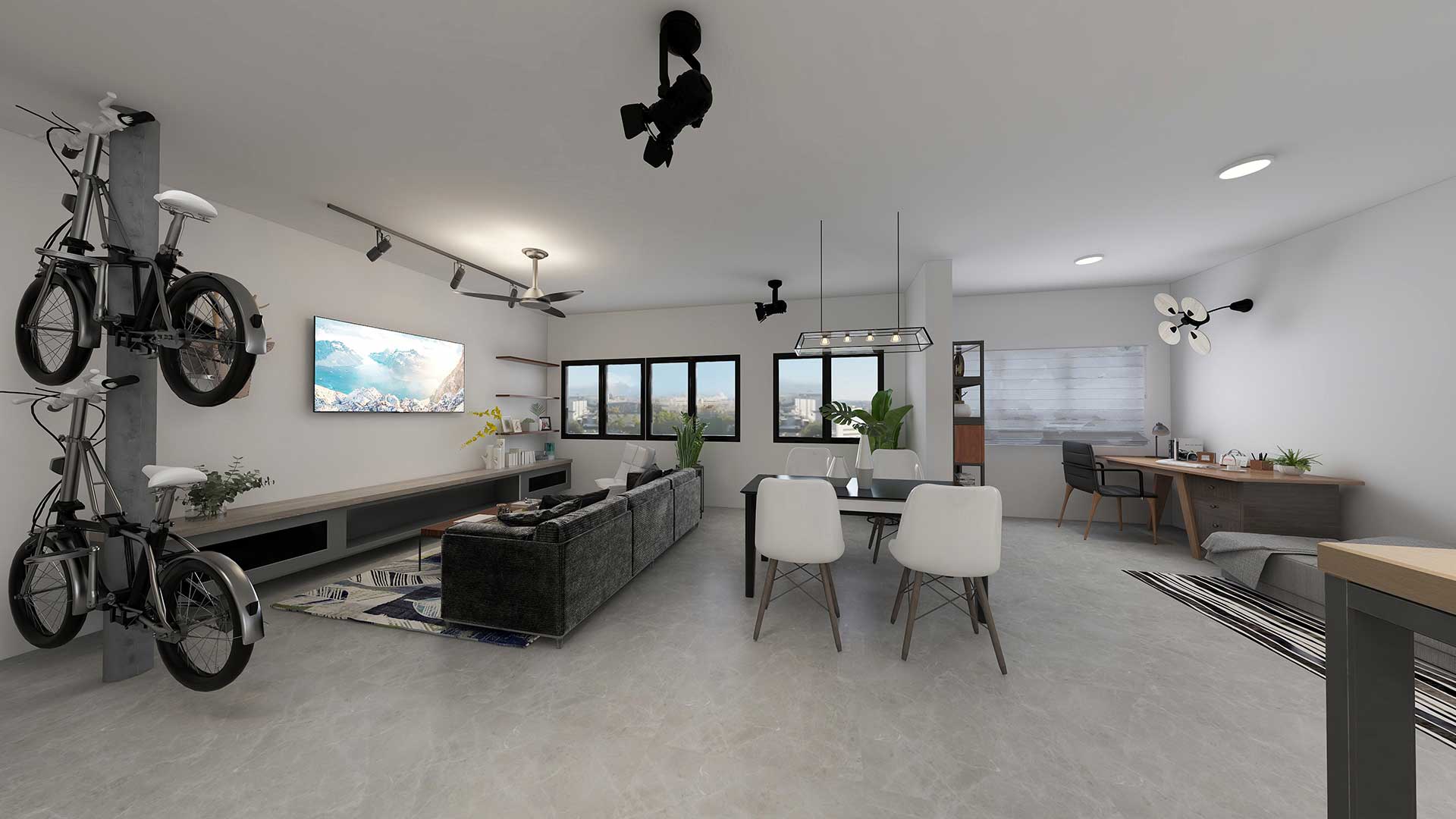 To create an Industrial living room, we suggest starting with a neutral color palette, followed by selecting materials and textures for walls and other surfaces.  
Make the most of the concrete walls in their raw state. Add a wood or brick wall feature. The wall feature would serve as the focal point in the living room, creating a bold Industrial statement.
For a consistent and seamless look, consider extending the concrete finish to the floor. Go for a polished concrete floor to create the vibe of a modern factory. 
For furniture, add a brown sofa that matches the walls in the background. Throw in some dark-colored cushions for extra warmth.
When selecting a coffee table, go for those made out of wood and metal. They can be personalized by placing your favorite decor on it such as a small plant.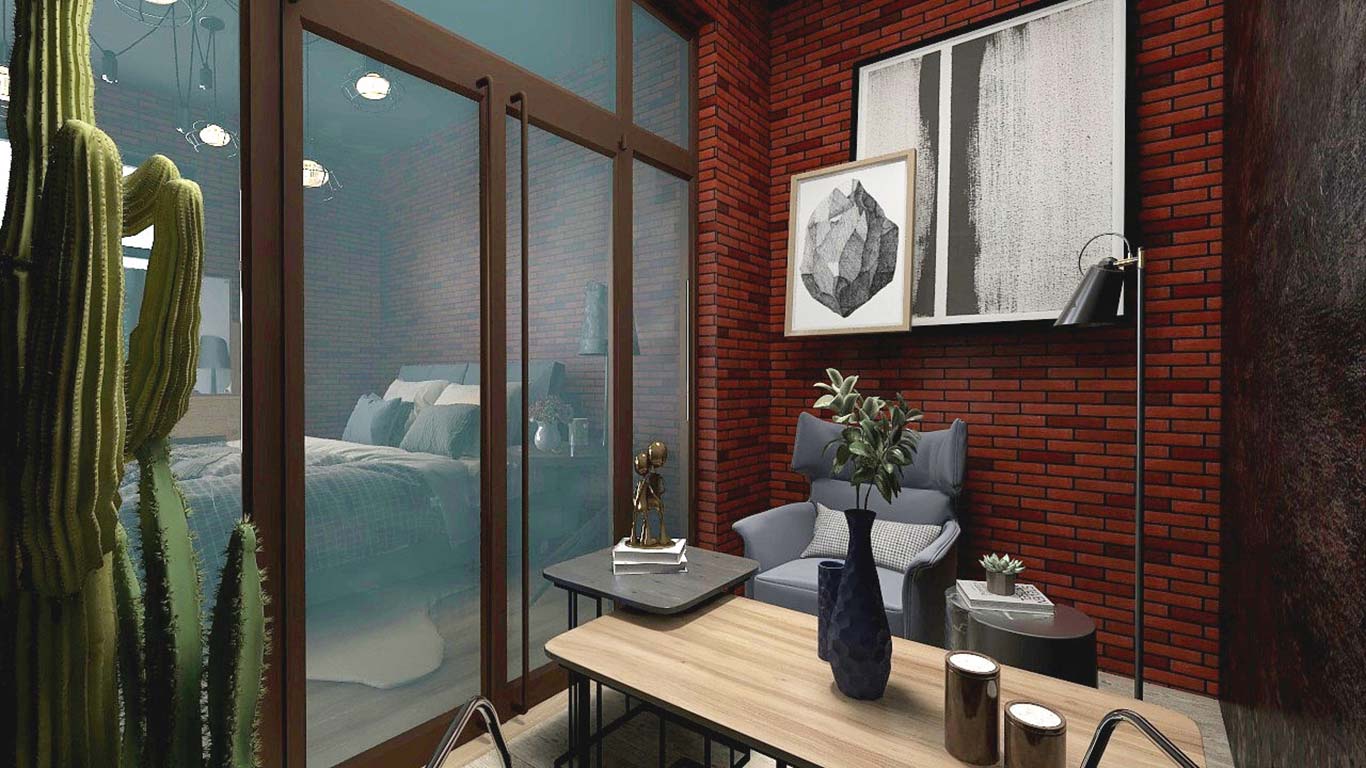 Other elements you can include are track lights and a floor rug. Metal track lights contrast against concrete ceilings. A dark-colored floor rug  adds texture to an otherwise bare floor. 
A tip to separate spaces in open floor plans is to use different rugs and flooring for individual sections of the home.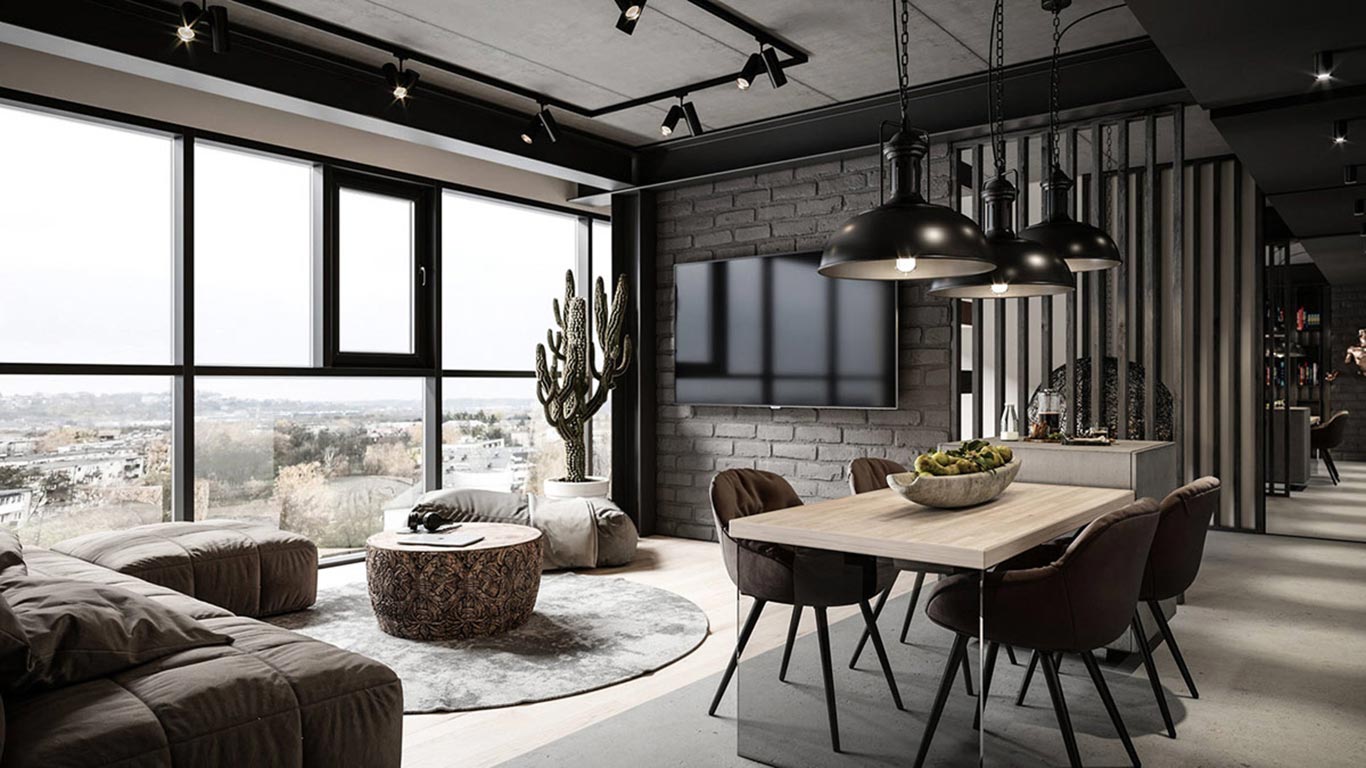 Kitchen
For an Industrial kitchen, focus on achieving a spacious and open layout. Do away with doors and walls. A kitchen island is sufficient to partition the kitchen from the living room. 
Combine dark side-finishes with a black marble countertop for the kitchen island. Place matte-finished steel high chairs by the side. You can even add low-hanging pendant lights for a chic bar vibe.
Exposed pipes and ducts can be refurbished in the kitchen as Industrial decor features.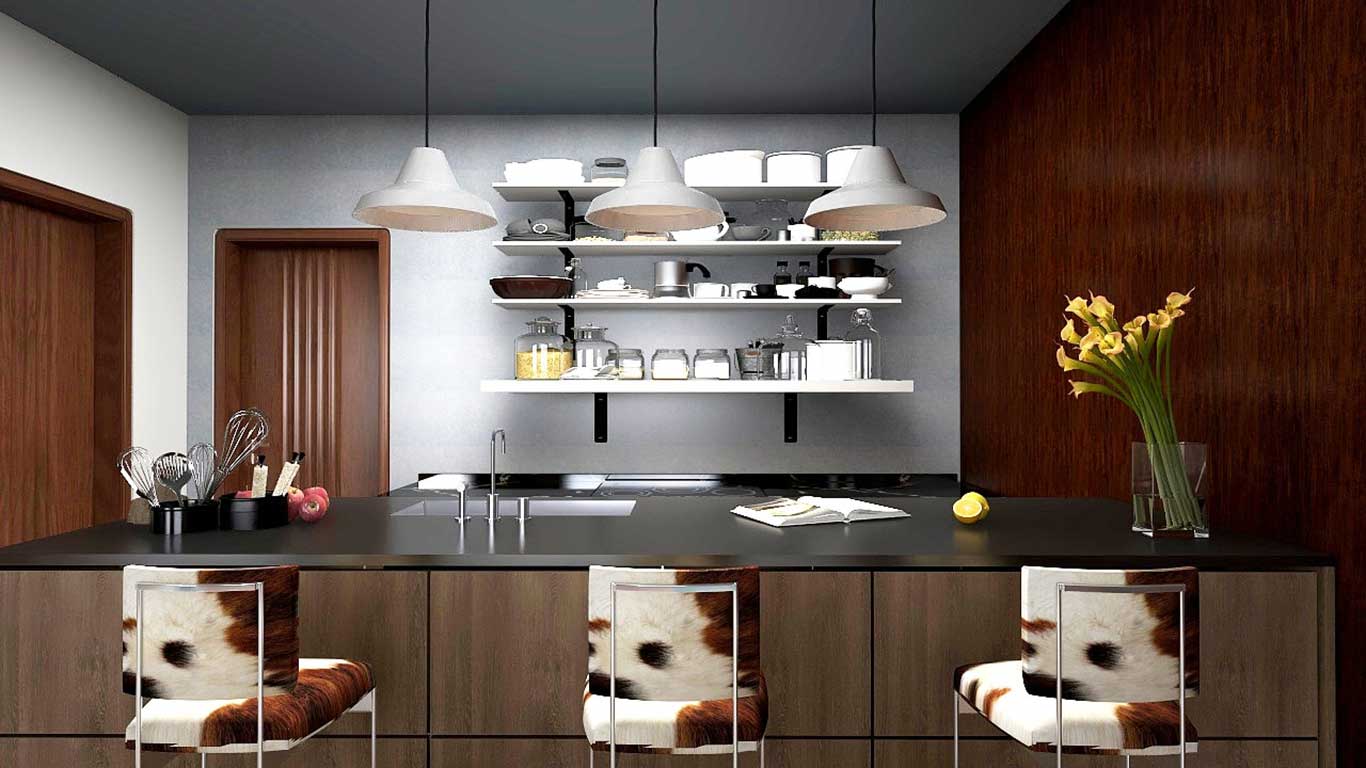 Keep in mind that kitchen appliances and refrigerators make up part of the decor, so select those with dark metal finishes to complement the dark-colored countertops. Also, use open shelves to store steely pots and pans that complement gray tones.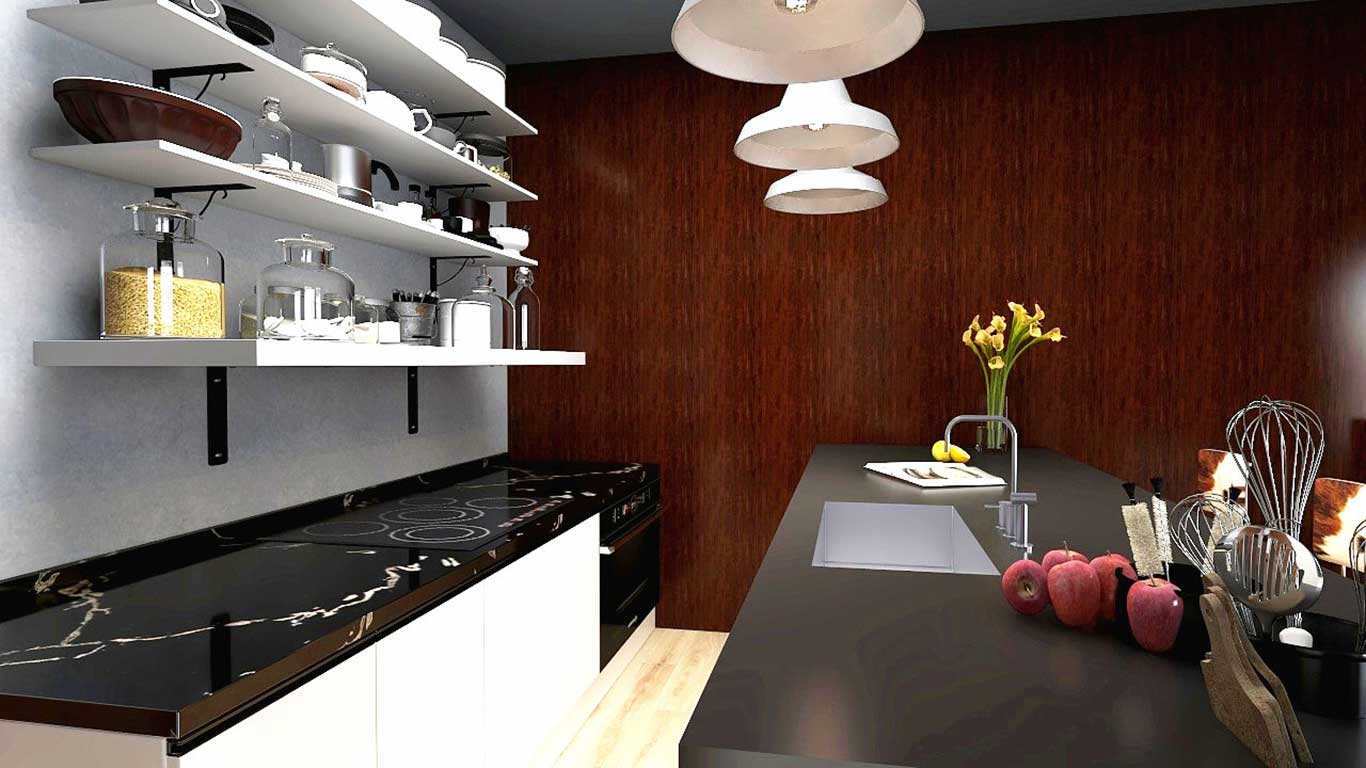 If you prefer a lighter background for your kitchen, replace dark-colored cabinets with lighter-tone wooden ones. This adds elegance to the room.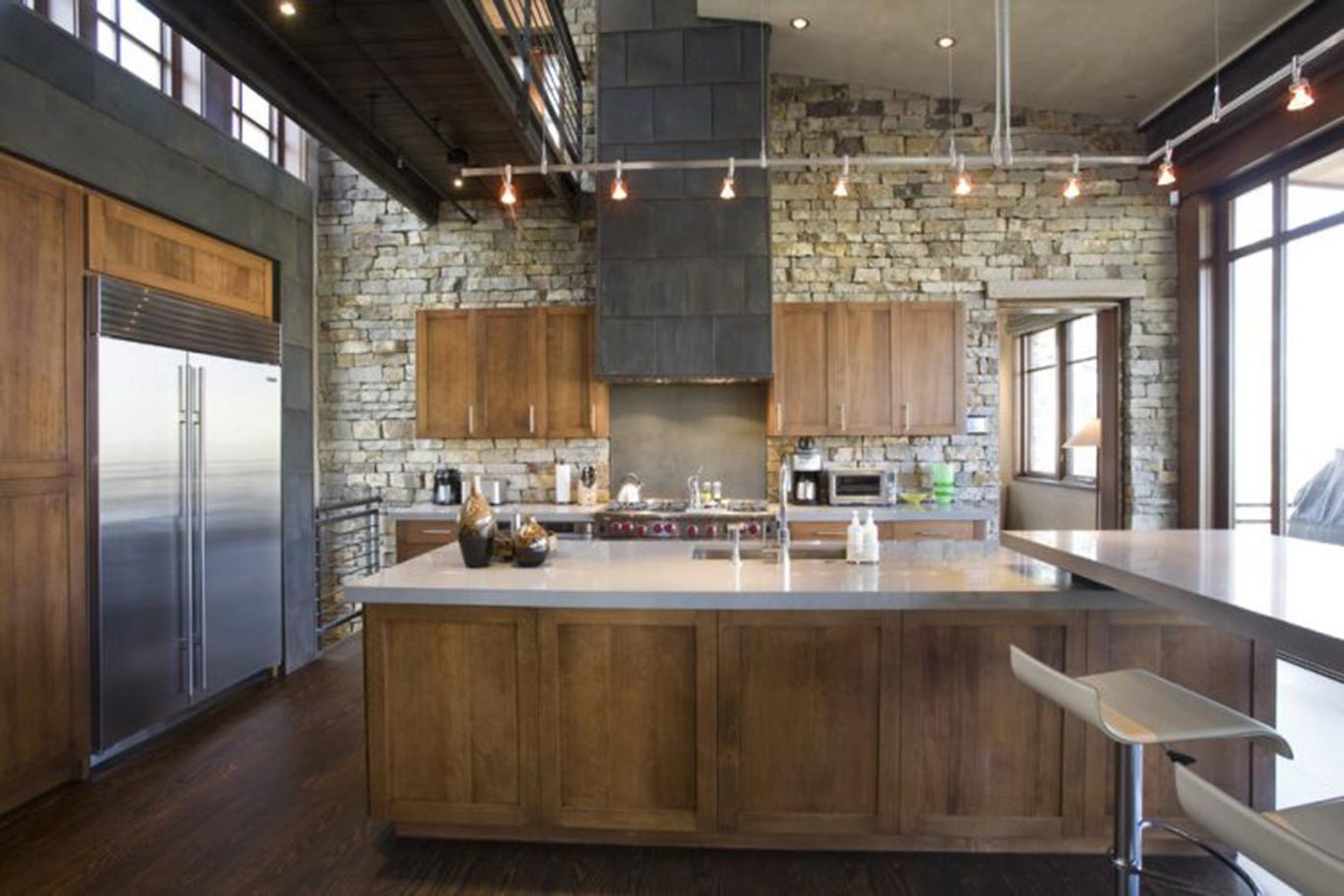 Bedroom
For a seamless blend with the rest of the home, extend the use of dark neutral colors into the bedroom. The dark surrounding is also great for sleep.
Textured walls may be brought into the bedroom. Brick works great in this smaller area. They are low-maintenance and add depth to the neutral hues.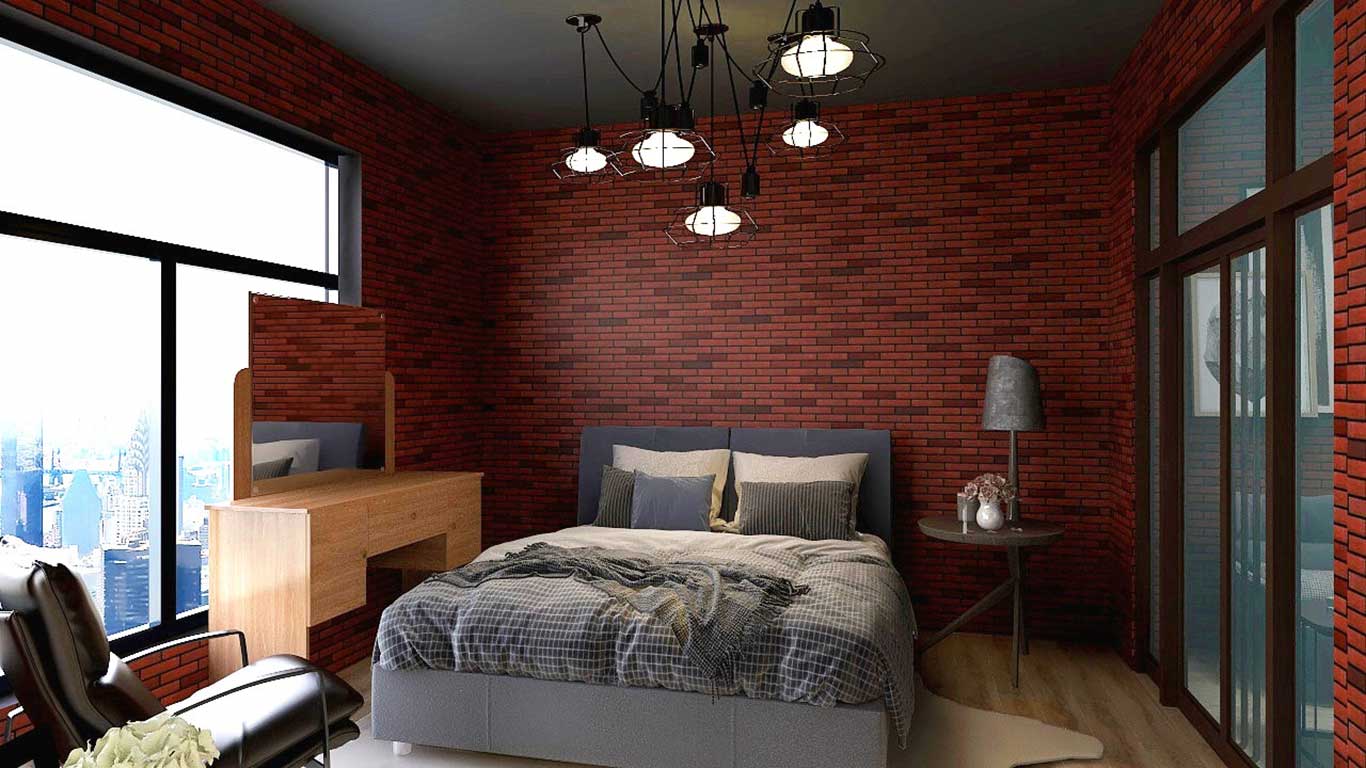 Industrial design is all about contrast. If you have a dark background, use light-colored bed sheets. You can also layer it with patterned cushions for a soft and beautiful look.
Although accessories in an Industrial style home are generally kept to a minimum, you can add a few decorative pieces that are inspired by machines or warehouse items. They can be recycled materials, DIY accessories, or both. Remember, it's all about contrast.
If you are more artistic or adventurous, consider adding a large abstract wall art or metal structure as the focal point of your bedroom.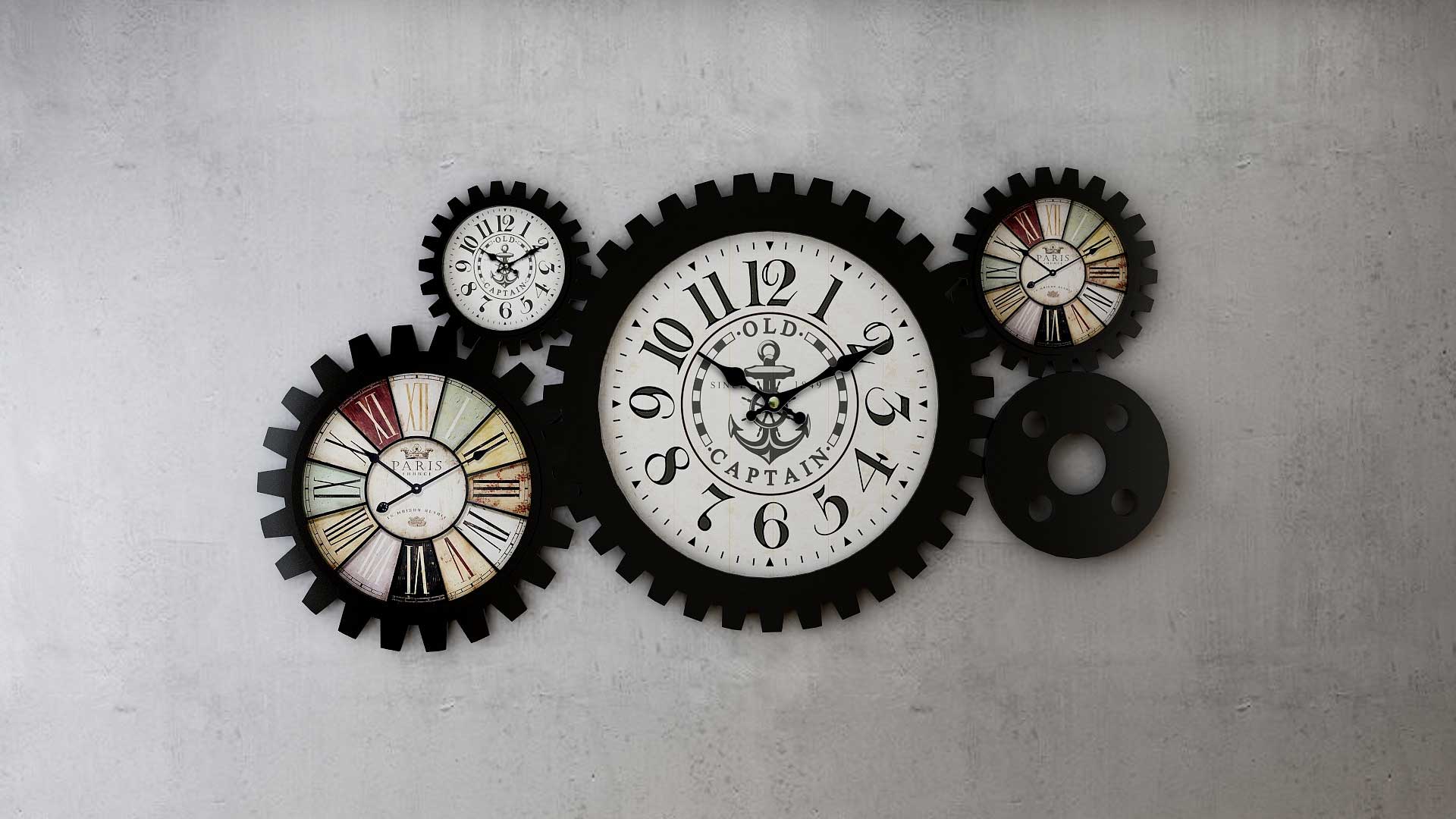 Modern examples of Industrial
Today's modern Industrial designs are suited for both large and small homes, with variations in the treatment of materials and furniture chosen. 
Let's take a look at how some of these homes are able to pull off Industrial design without being overly raw. 
Industrial HDB/condo living room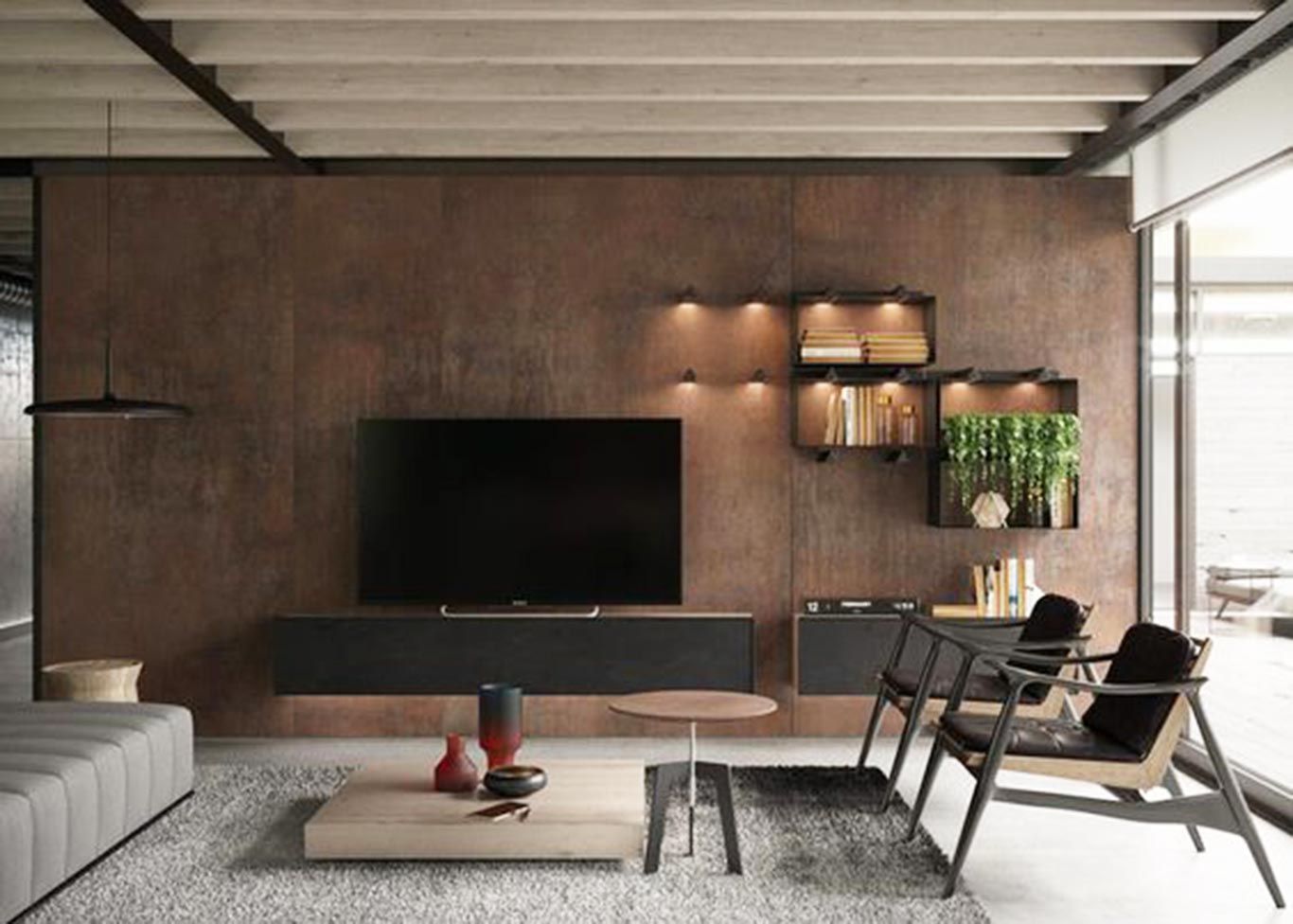 Open space is amplified by letting natural light in. Indoor plants give a splash of green to an otherwise dull color palette.
Industrial HDB/condo kitchen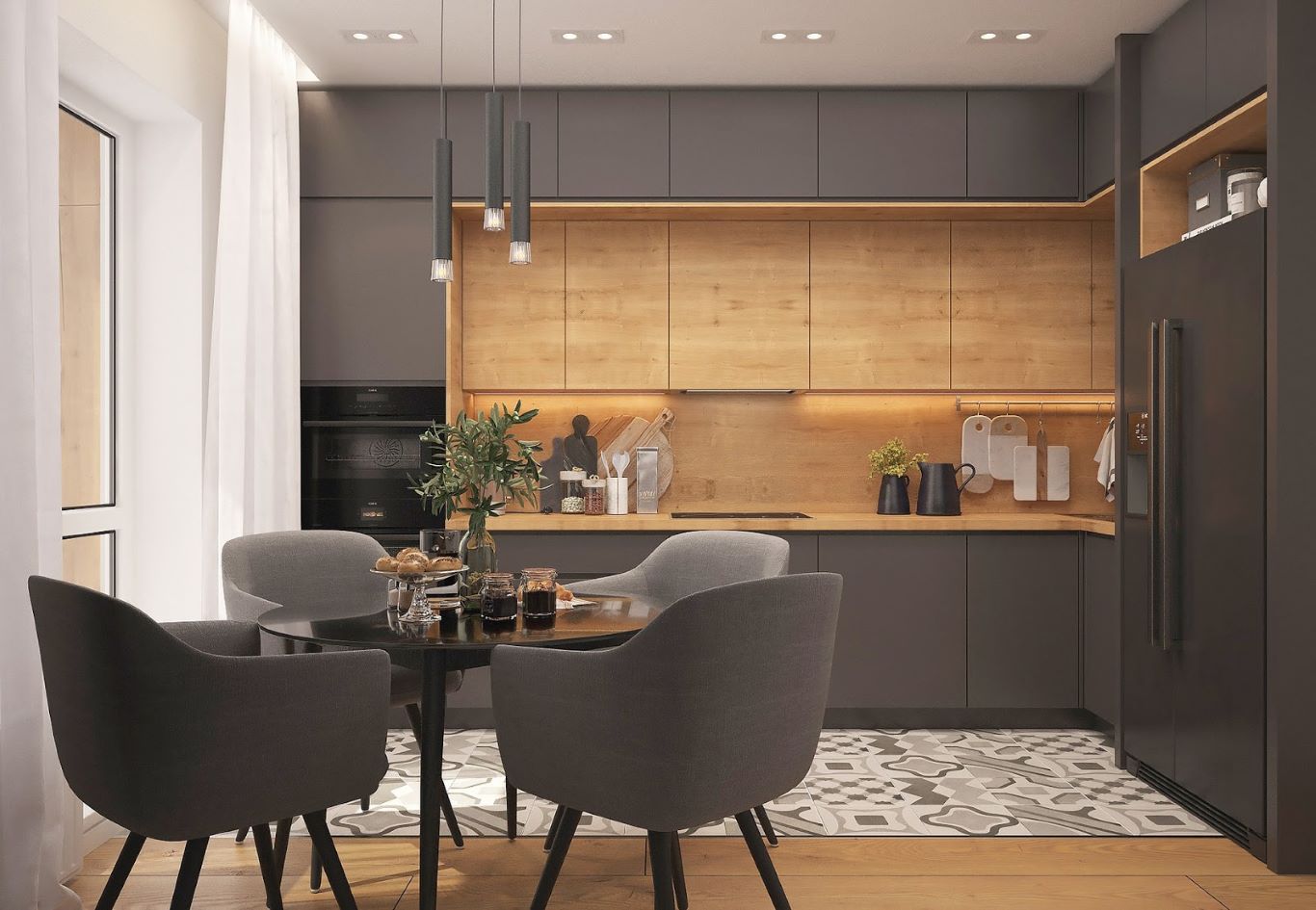 An open concept can be achieved by using a geometric-patterned rug as a divider between the kitchen and dining area. 
Light-colored wooden cabinets can be used to brighten Industrial kitchens which are usually dark.
Industrial HDB/condo bedroom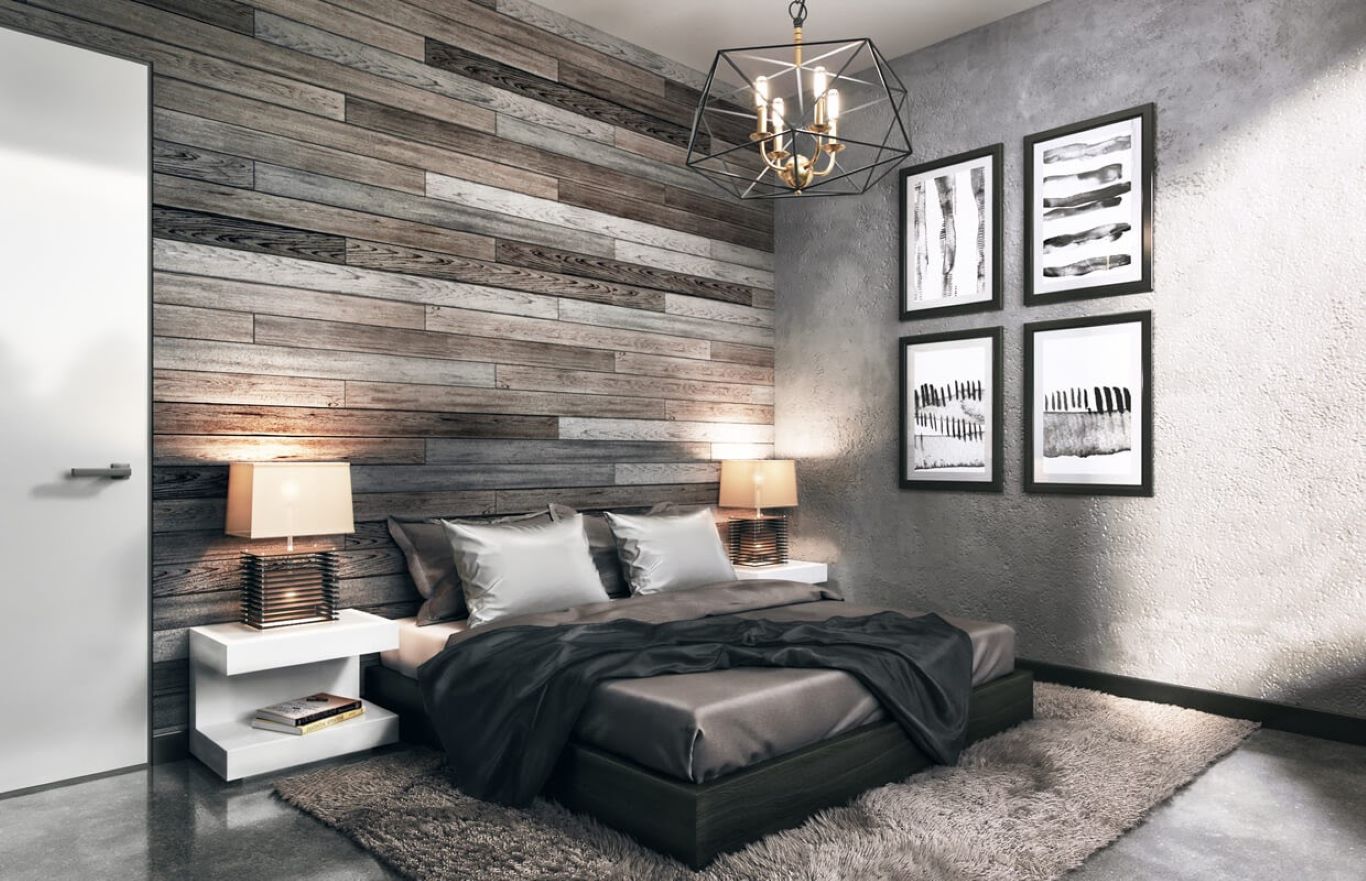 The color palette of the bedroom can be kept light, with bare concrete walls and a wood panelling wall feature made from mid-tone wood laminate. A nude-toned furry rug helps to soften the overall feel. 
Industrial HDB/condo bathroom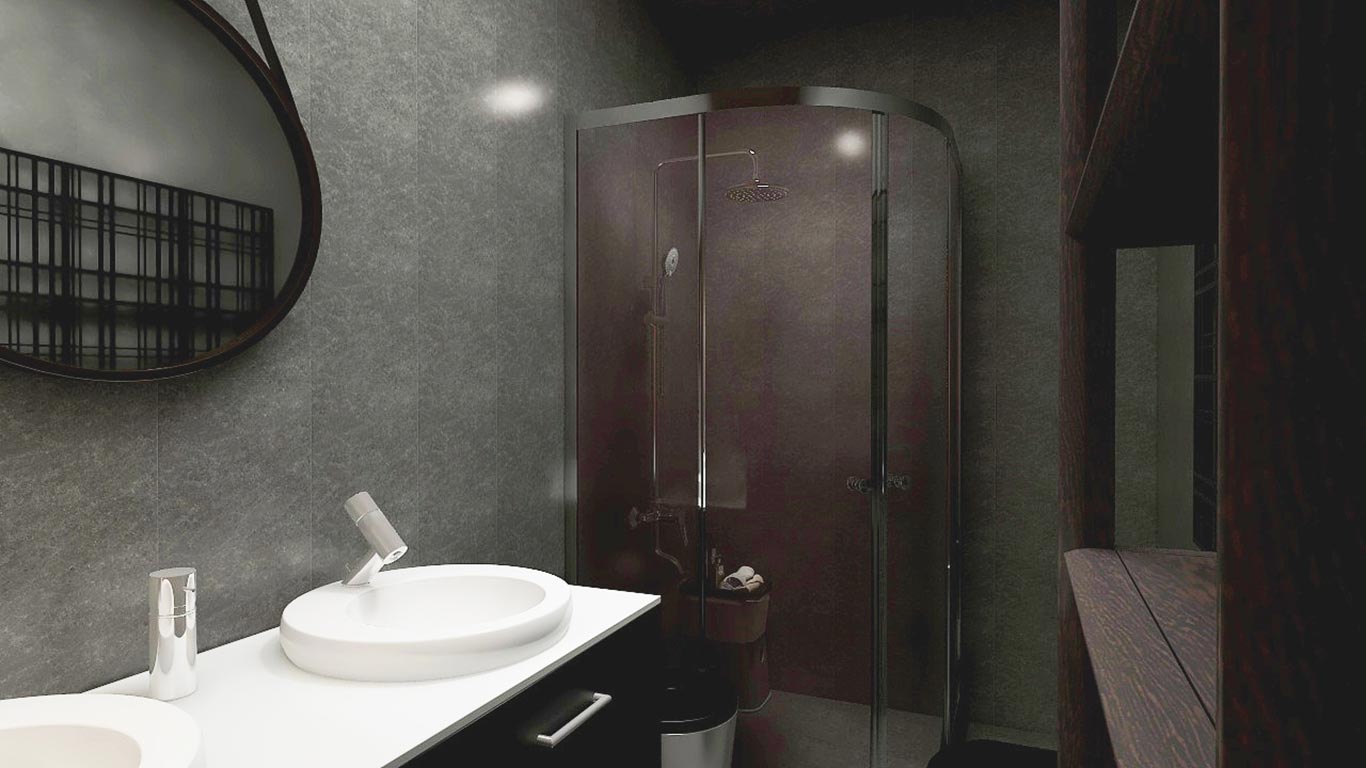 Wood finishes are used in place of real wood. Distressed paint is used to cover walls.
Polished stone can be used as the sink countertop to blend with a dark steel shower door casing and mirror frame.
Industrial house living room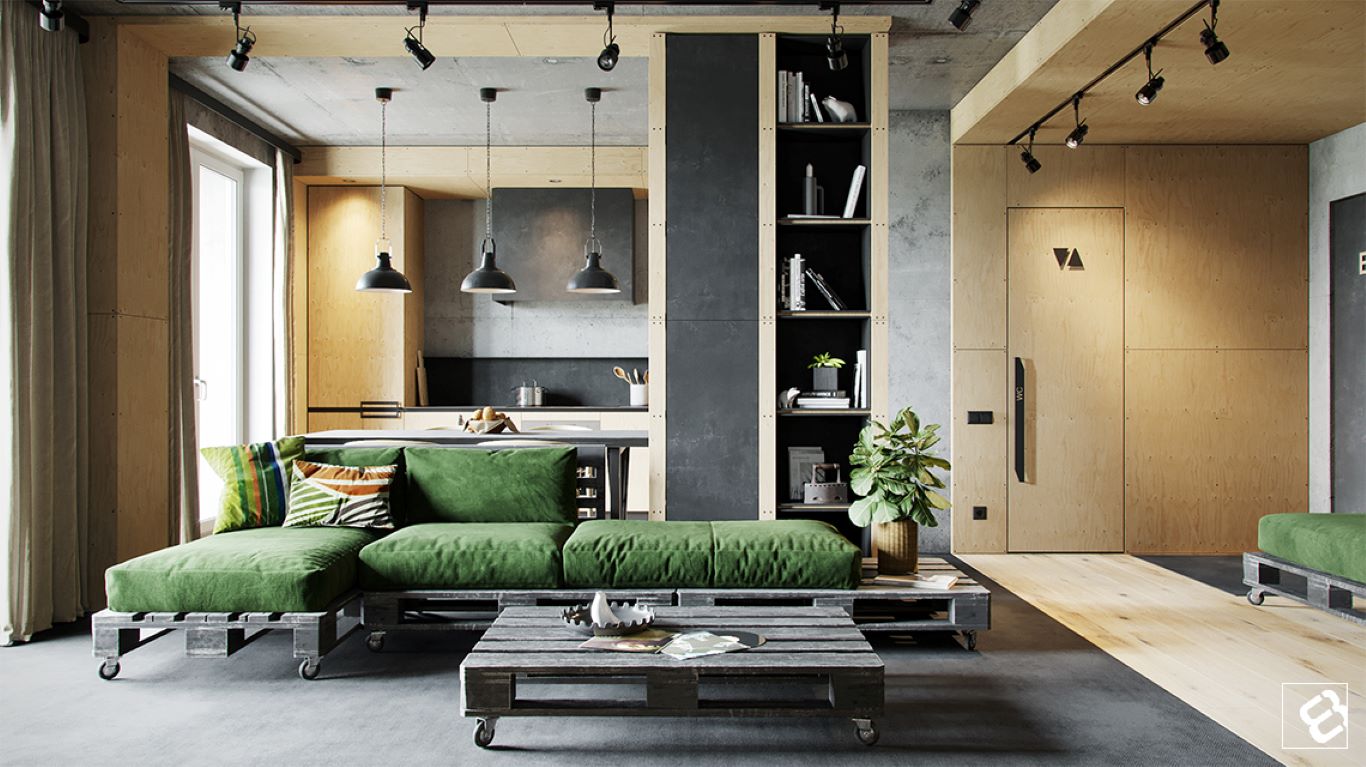 Larger spaces have the luxury to combine more elements to attain the perfect balance between Industrial ruggedness and modern vigor. There is more space to include furniture or decoration that can reduce the rawness of Industrial design without losing its overall essence.
Industrial house kitchen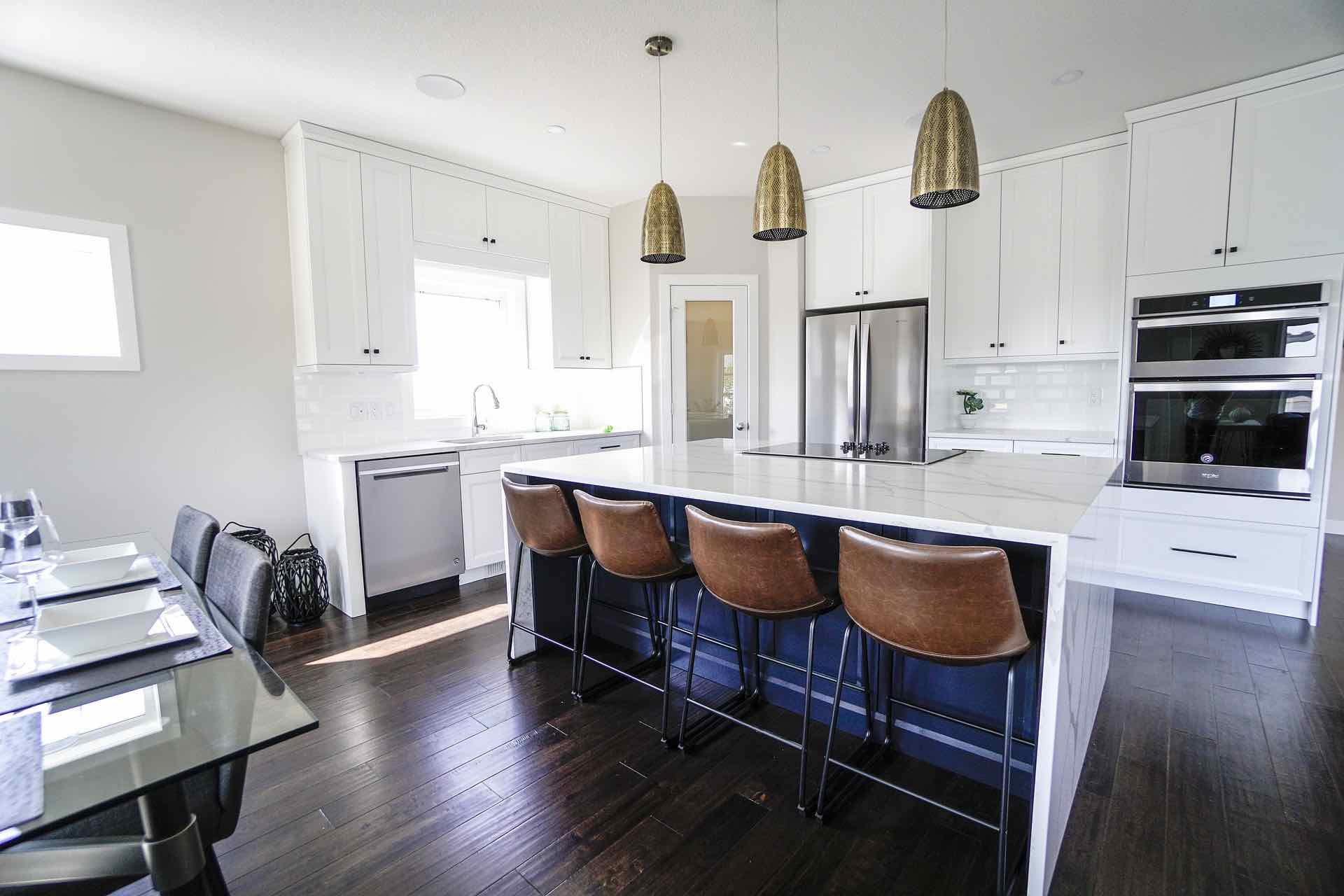 Many Industrial homes today opt for white as the primary color in the kitchen. Leather chairs, steel pendant lamps, and metallic appliances complement the white cabinets well.
Industrial house bedroom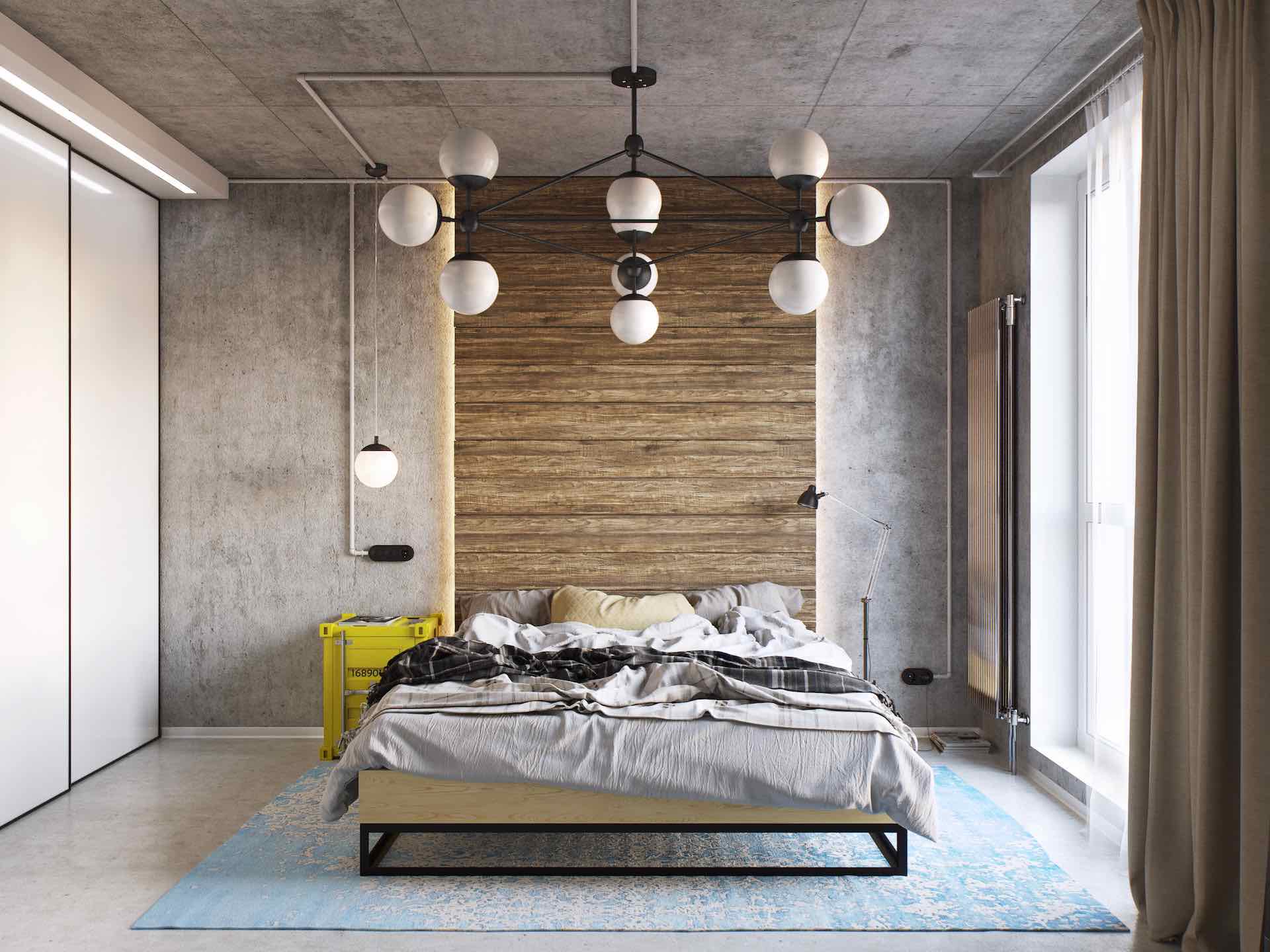 Exposed wiring poles and floor-to-ceiling concrete deliver the essence of the Industrial style. A lighting fixture and wooden backdrop are representative of the minimalist concept, while a floor rug adds a playful touch to the bedroom's overall appeal.
Industrial house bathroom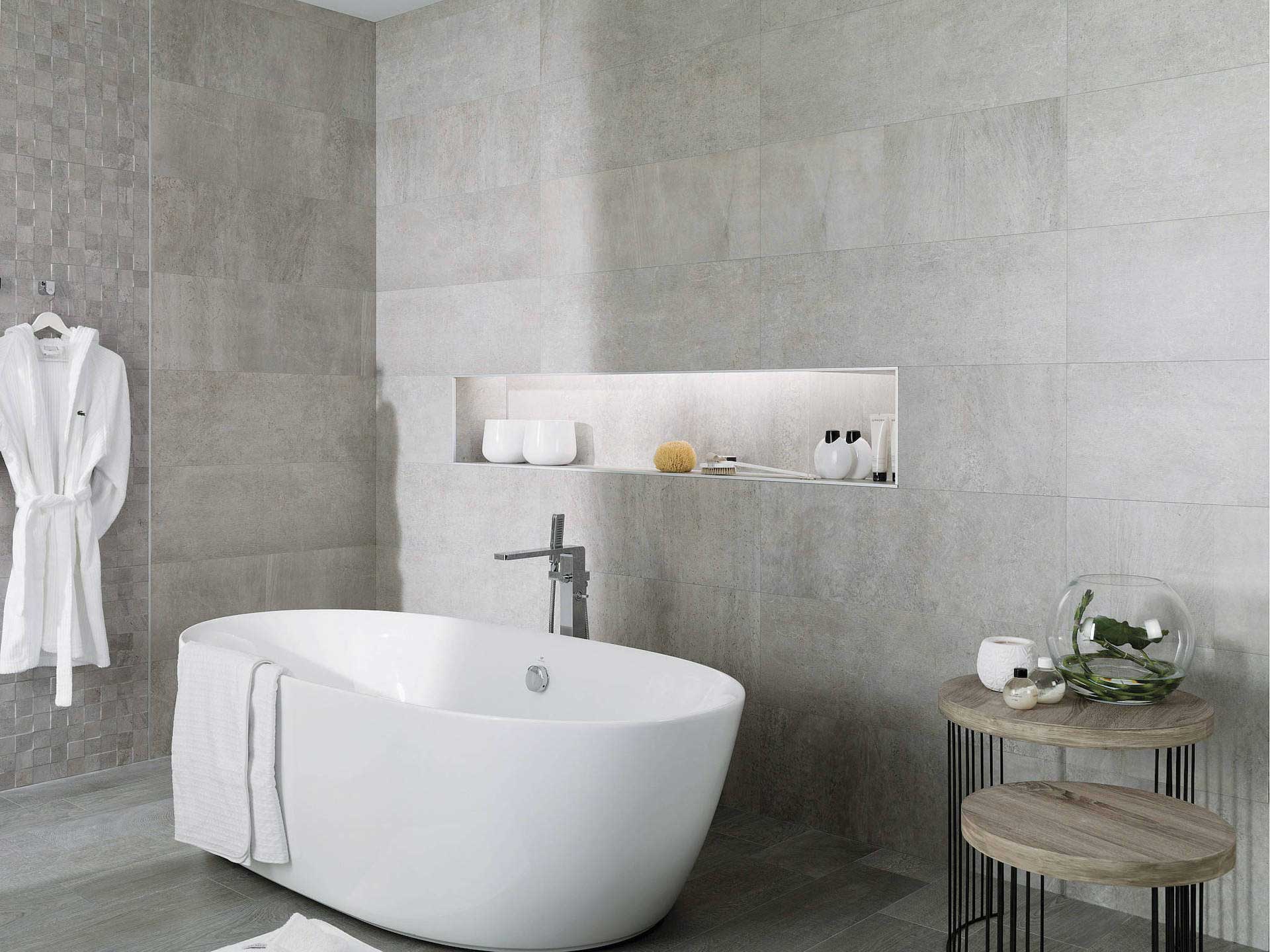 Toiletries should be placed within easy reach. Large wooden stools with metal legs adds a modern touch to the background of light gray concrete walls.
Fusion Tips
Industrial design blends effortlessly with other modern styles like Contemporary and Scandinavian. 
The fusion of such styles has been so popular that they have been given distinct names, e.g., Scandustrial, Scandi-Industrial or Modern Industrial. 
Combining Industrial with Scandinavian
The Scandinavian style is known for its simple elegance and combination of form with functionality. The two schools of design share a love for minimalist chic and appreciation of natural elements. 
The Scandustrial style is about using neutral tones with minimal ornaments. Typically, designers mix raw Industrial elements such as brick or light-colored unfinished walls with Scandinavian furniture and lighting.
This combination works well in reverse too. A Scandinavian back-drop can be injected with Industrial lighting and ornaments.
Check out our Definitive Guide to Scandinavian Interior Design Style.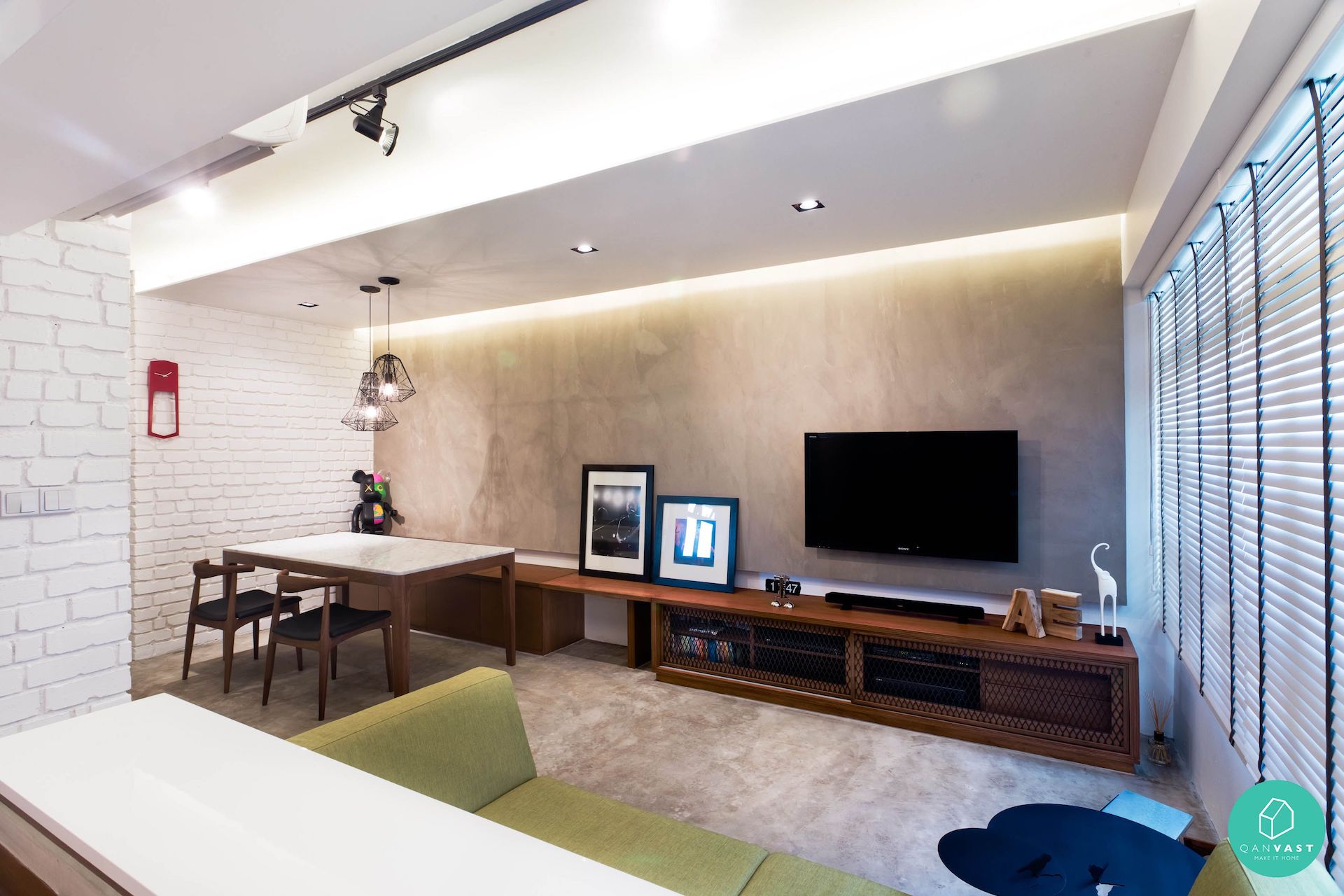 Plants are always welcome when you are going for a Scandustrial style. Use ceramic vases abundant with green ferns on dining tables made of natural wood.
You may opt to keep within the philosophy of clean and functional furniture in Scandinavian design and use factory-inspired materials, e.g., reclaimed-wooden tables with metal chairs. 
To retain the warmth of Scandinavian homes while letting Industrial features stand out, use rugs or plush blankets in the living room and bedroom to soften the overall vibe. You can also inject drapes to smoothen rough edges.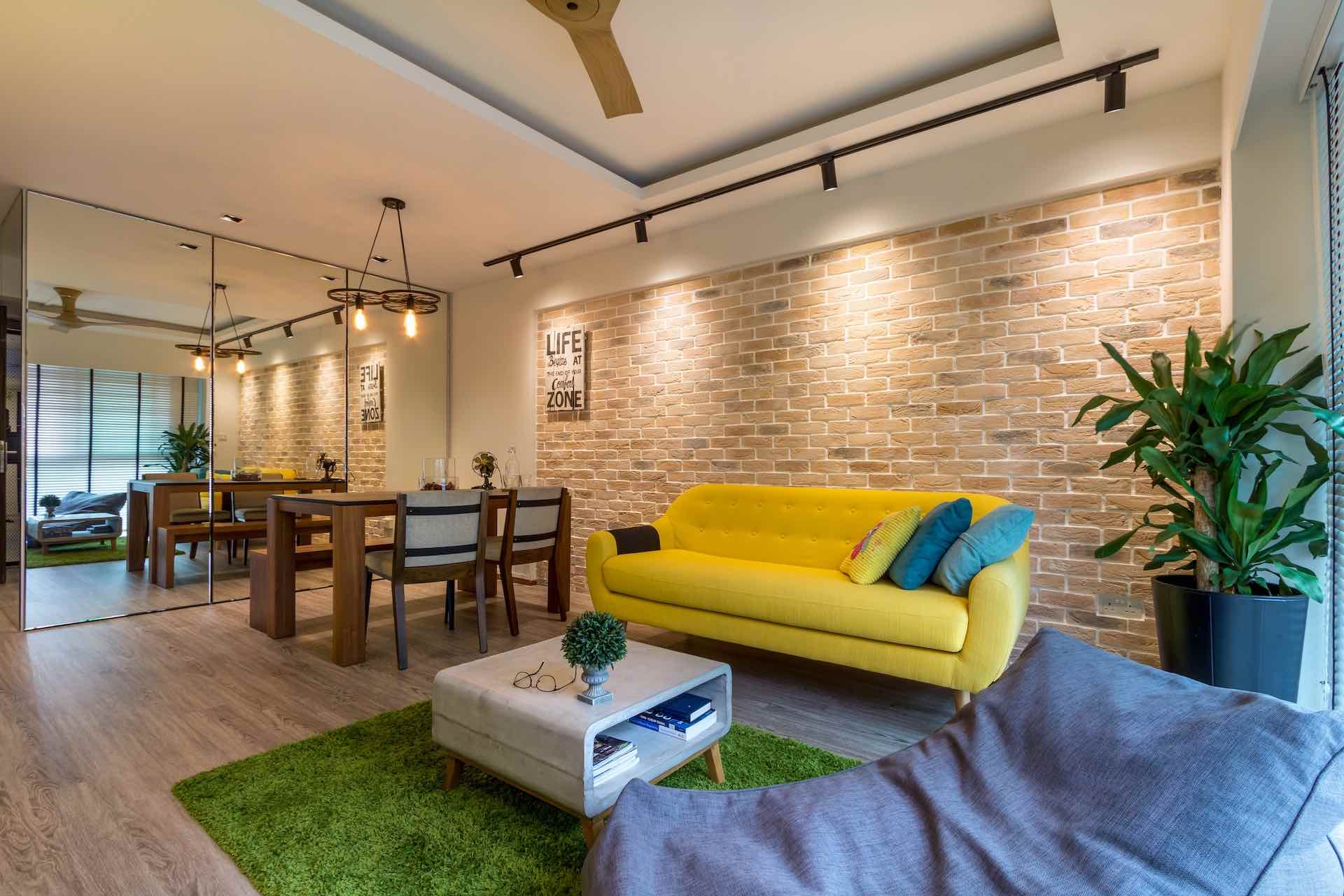 Combining Industrial with Contemporary
A Contemporary take on an Industrial style home uses state of the art materials and furniture. It can be described as a factory-inspired look that is both modern and stylish.
Contemporary style broadly uses blacks, whites, and grays. Thus, the two design styles combine well. Using a minimalist approach and open-concept theme, the two styles blend seamlessly for a unique look that is appealing to many.
Check out our Definitive Guide to Contemporary Interior Design Style.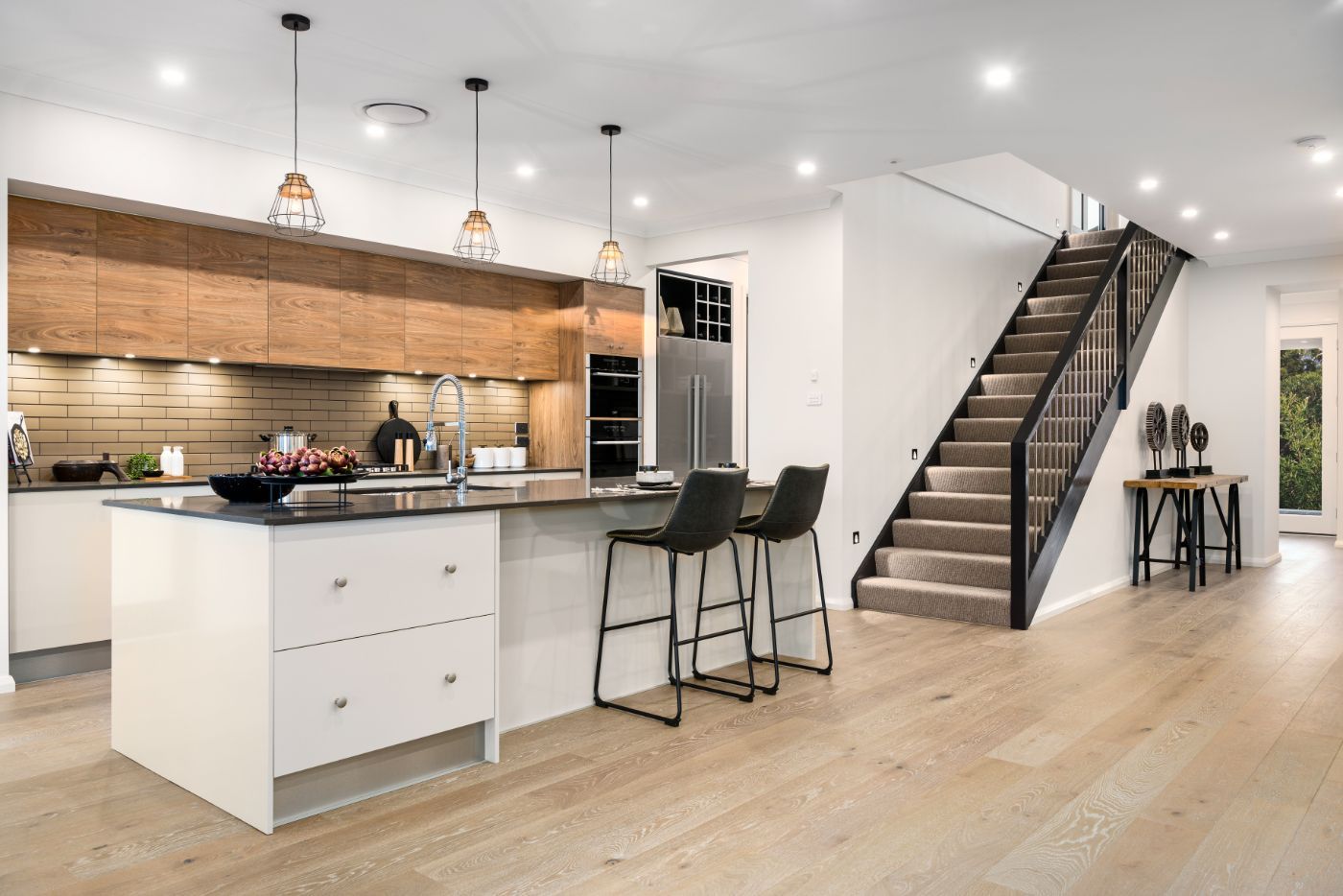 Summary
Industrial interior design is a combination of modern functional style and vintage urban architecture. The style is simple but edgy. It continues to inspire both designers and homeowners.
The popularity of Industrial lies in its unique ability to combine old and new in a neutral color palette. The flexibility to mix and match different elements and finishes also gives homeowners a sense of freedom and pride. Plus, it works well when fused with other design styles.
Excited to apply this style to your own home? Get in touch with our interior design consultants to know more about the latest Industrial interior design ideas. We'd love to share.
If you'd like to know more about this style, check out our portfolio stories on how people are applying it to their own homes.
Check out the rest of our Definitive Guides here: 
Good luck with your renovation project.