Introduction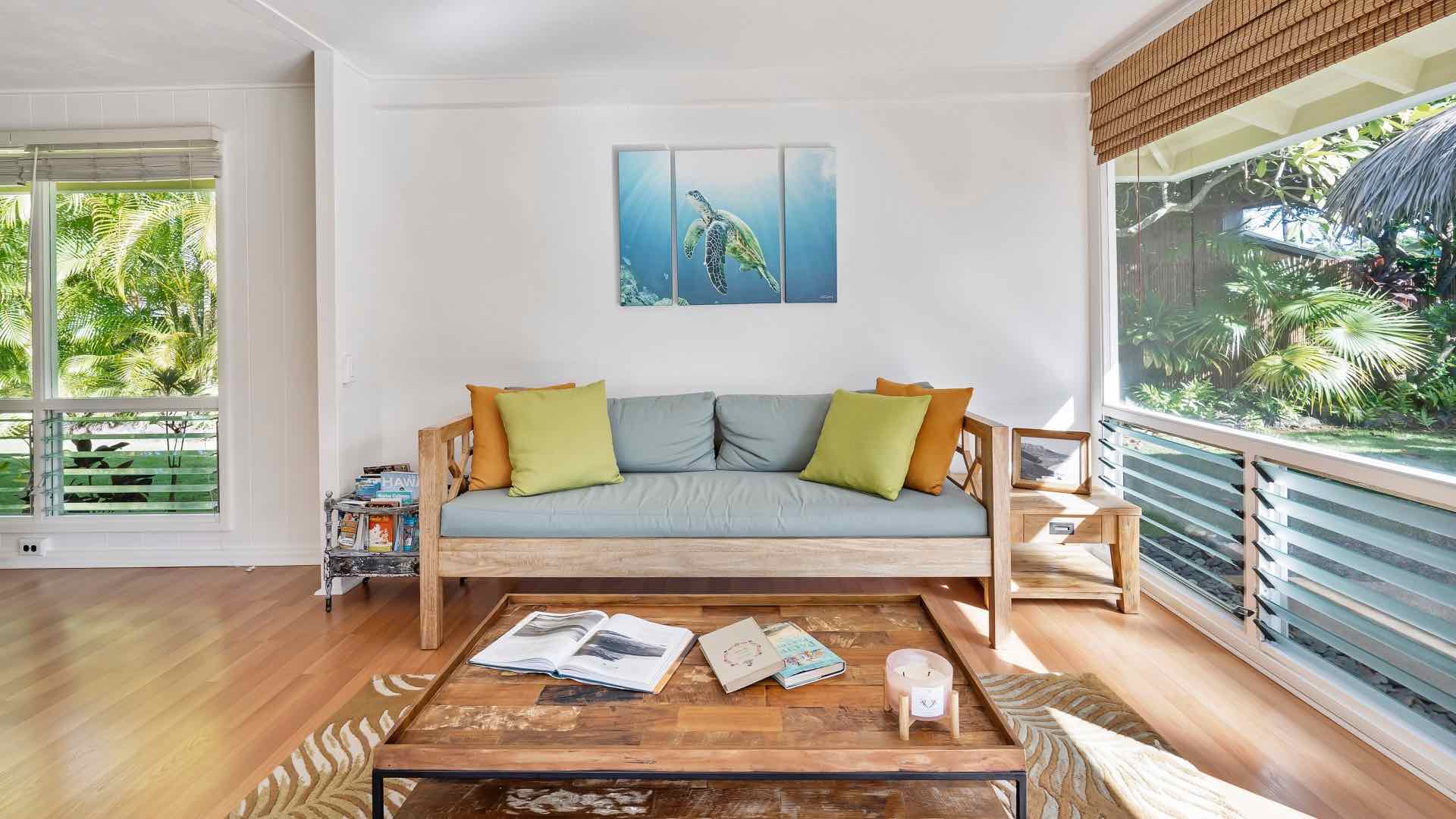 The Mid-Century Modern (MCM) interior design style is loved for its unique design where form follows function, yet nothing looks bland or boring. 
MCM style is favored by many homeowners because of its flexibility. In an MCM home, it's easy to personalize designs in the living spaces. 
From this article, you'll gain a better understanding of how the MCM style originated, why it's popular, and its unique characteristics. We'll also show you different ways to apply the MCM style with various decorative accents. 
Origins of MCM design
As the name suggests, Mid-Century Modern originated in the middle of a century, specifically the mid-1930s to the 1960s. It's heavily influenced by post-WWII thinking, which had a strong focus on minimalism.
In particular, the term Mid-Century Modern came from Cara Greenberg's book Mid-Century Modern: Furniture of the 1950s.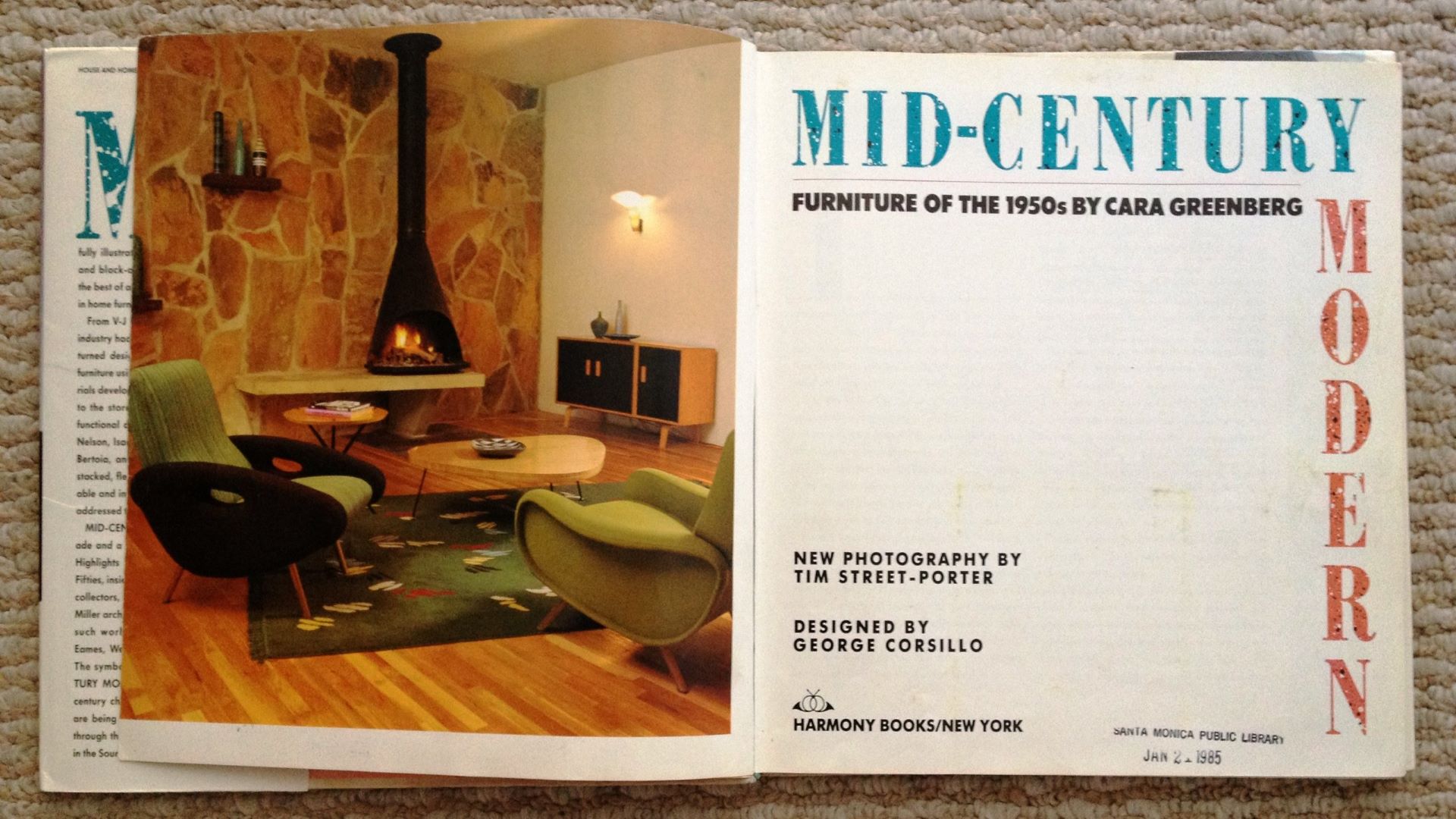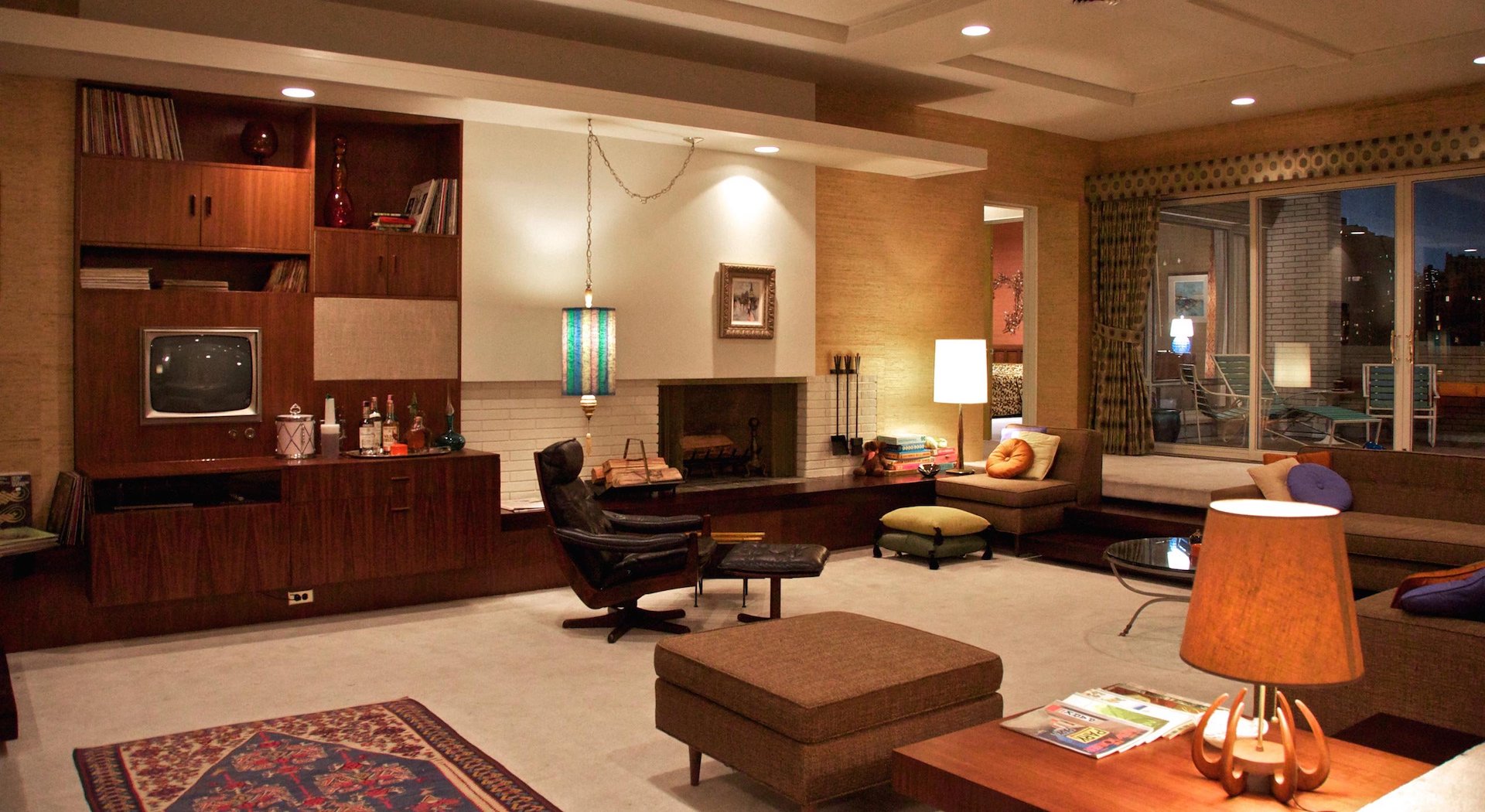 The MCM style faded in the 70s, but its harmonious pairing with retro styles brought it back in the late 80s.
MCM style continued to be popular in the 2000s, particularly from 2007-2015, when the popular show Mad Men was aired on television. The show's reputation was known for its accuracy in reflecting interiors and furnishings of the 1960s extended to the sets.
Mad Men was a huge source of MCM design inspirations. It helped the design movement gain momentum in a time when interior design was becoming more relevant.
Today, the MCM style continues to attract many people with its vintage looks combined with modern functionality. It's widely used as the interior design of modern homes and buildings.
Why people like MCM
The main draw of the MCM style is its timeless appeal. You'll never have to worry that your interior design will go out of style. 
MCM style allows homeowners to gain a sense of freedom in an uncluttered living space. Because of the style's versatility and flexibility, it has gained the favor of homeowners all over the world.
Also, MCM homes are bright and refreshing without being overly lively.
Like what you see so far? Read on.
Doesn't sound appealing to you? Don't worry. Take our quiz to find out which style suits you best.
Characteristics of MCM
MCM style is largely about the juxtaposition of decorative accents. It's about creating a balanced but obvious contrast in a living space. 
Here are the traits you should know about MCM design.
Open-floor plan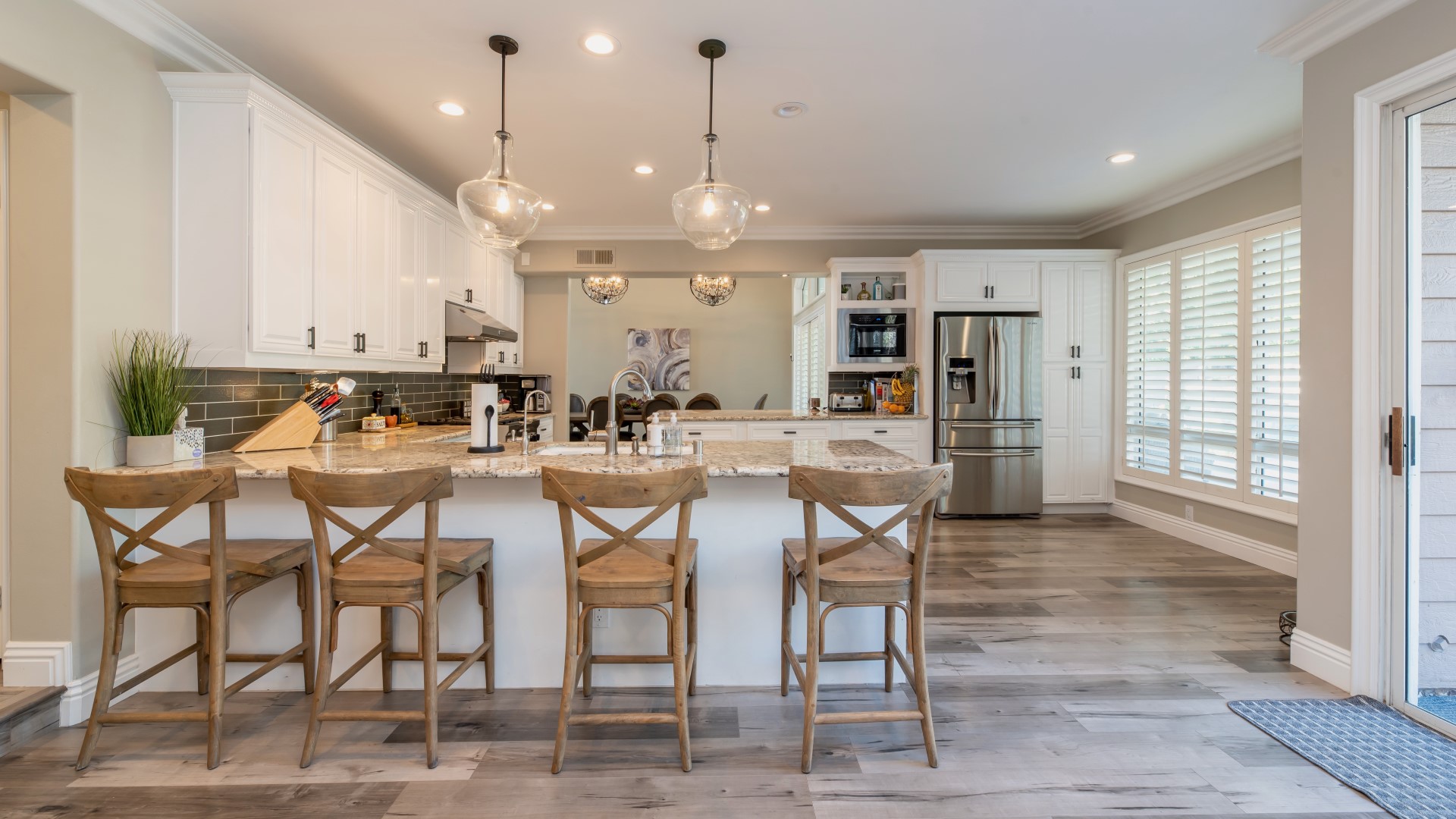 Arguably, MCM was the style that popularized the use of an open-floor plan. 
MCM interior designers view the home as one large, continuous space that can be adapted for different uses. This was a refreshing perspective at the time, where smaller rooms with specific purposes were more common.
An open layout creates mobility and spaciousness around the house. It helps homes with limited space to look much larger than they are.
Large windows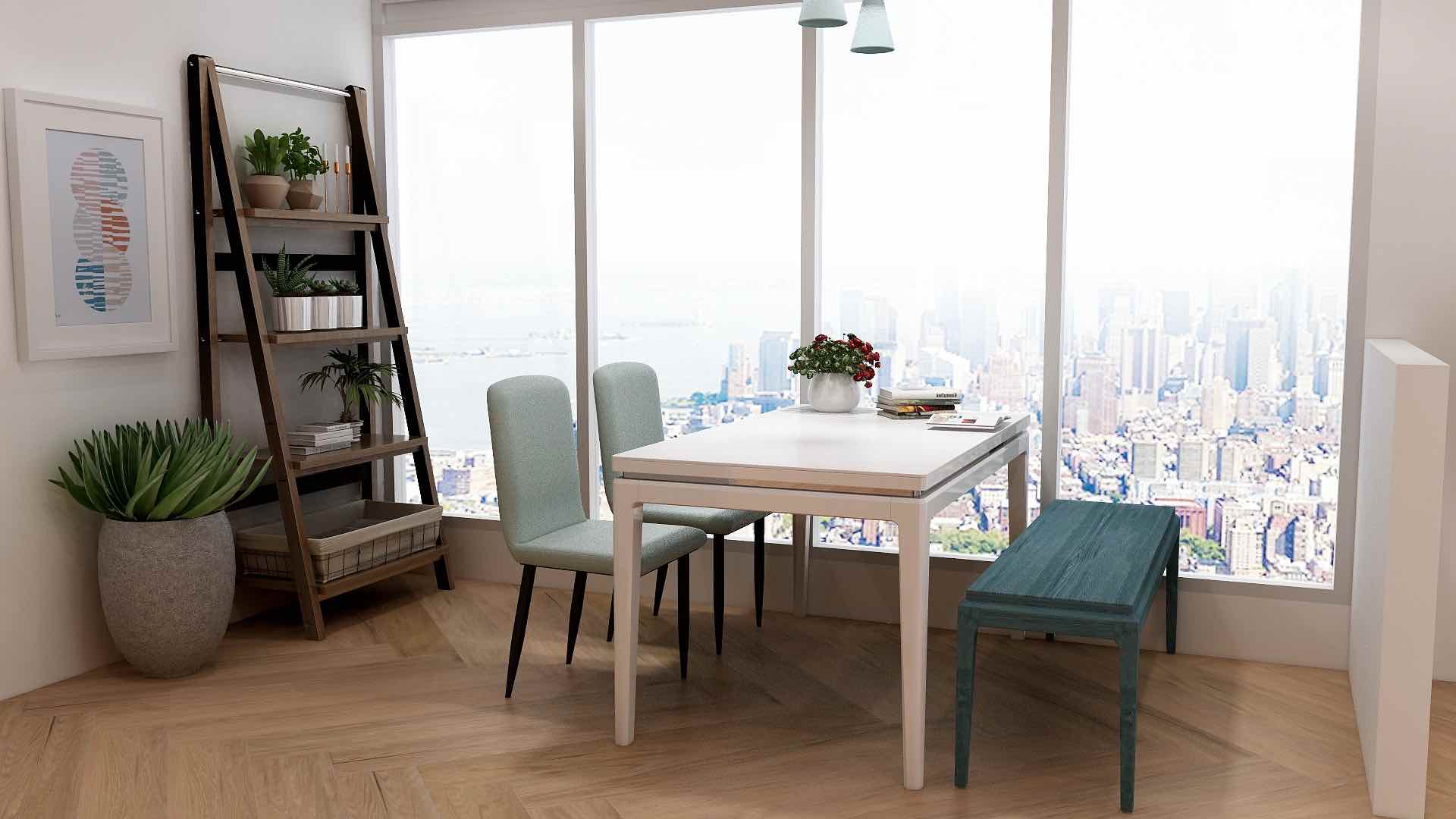 Large windows allow more sunlight to permeate the house, maximizing natural light all year round. 
Some designers even go to the extent of replacing concrete walls with glass to achieve the window effect.
Flat wooden planks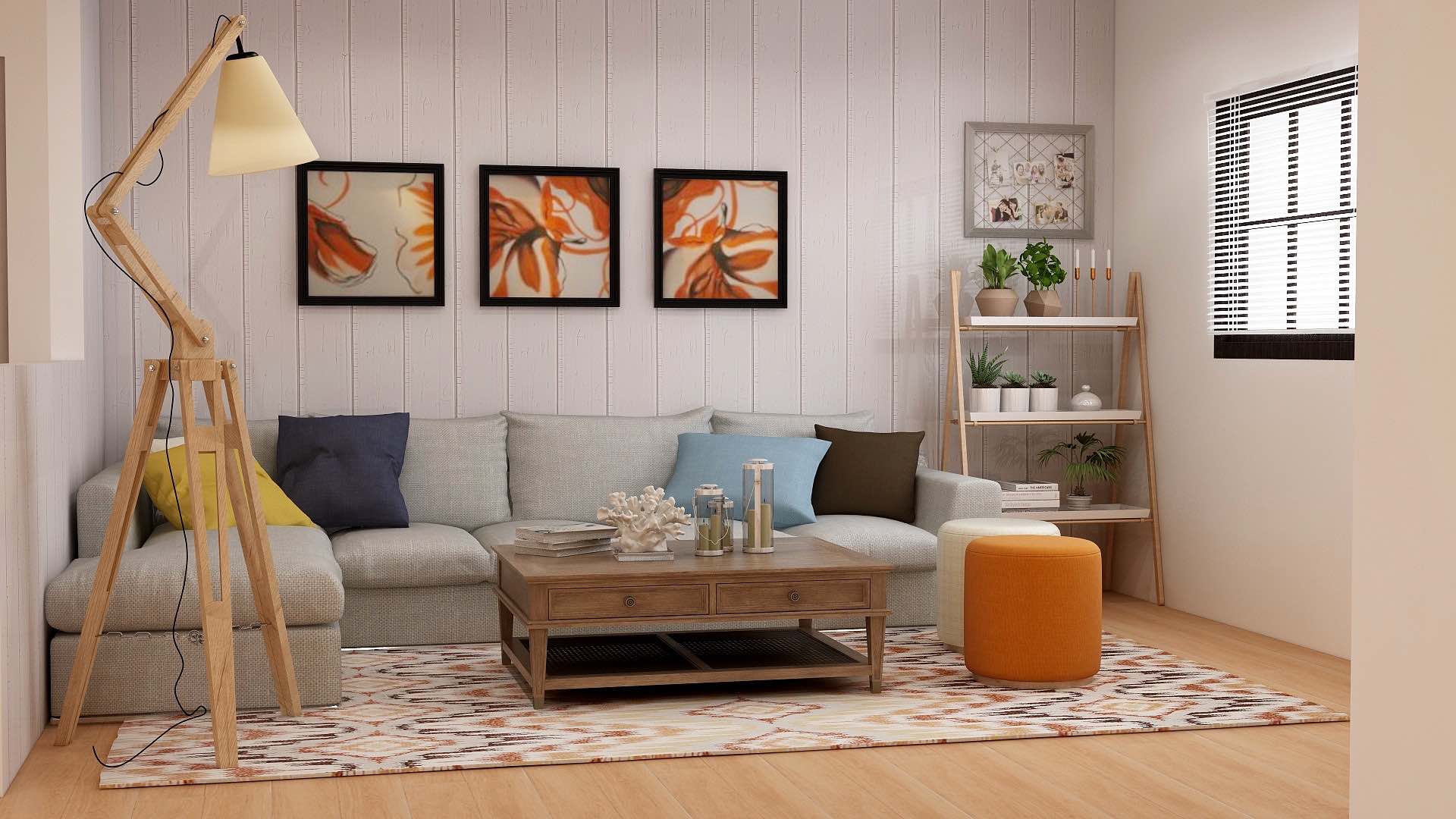 Vaulted ceilings with wooden beams were common in mid-century homes of the 60s. 
To replicate the MCM accent ceiling, designers incorporate wooden-planks and exposed beams onto ceilings in today's apartments.
Wood flooring is also used in MCM homes for an increased sense of visual continuity from the floor to the ceiling. 
Clean lines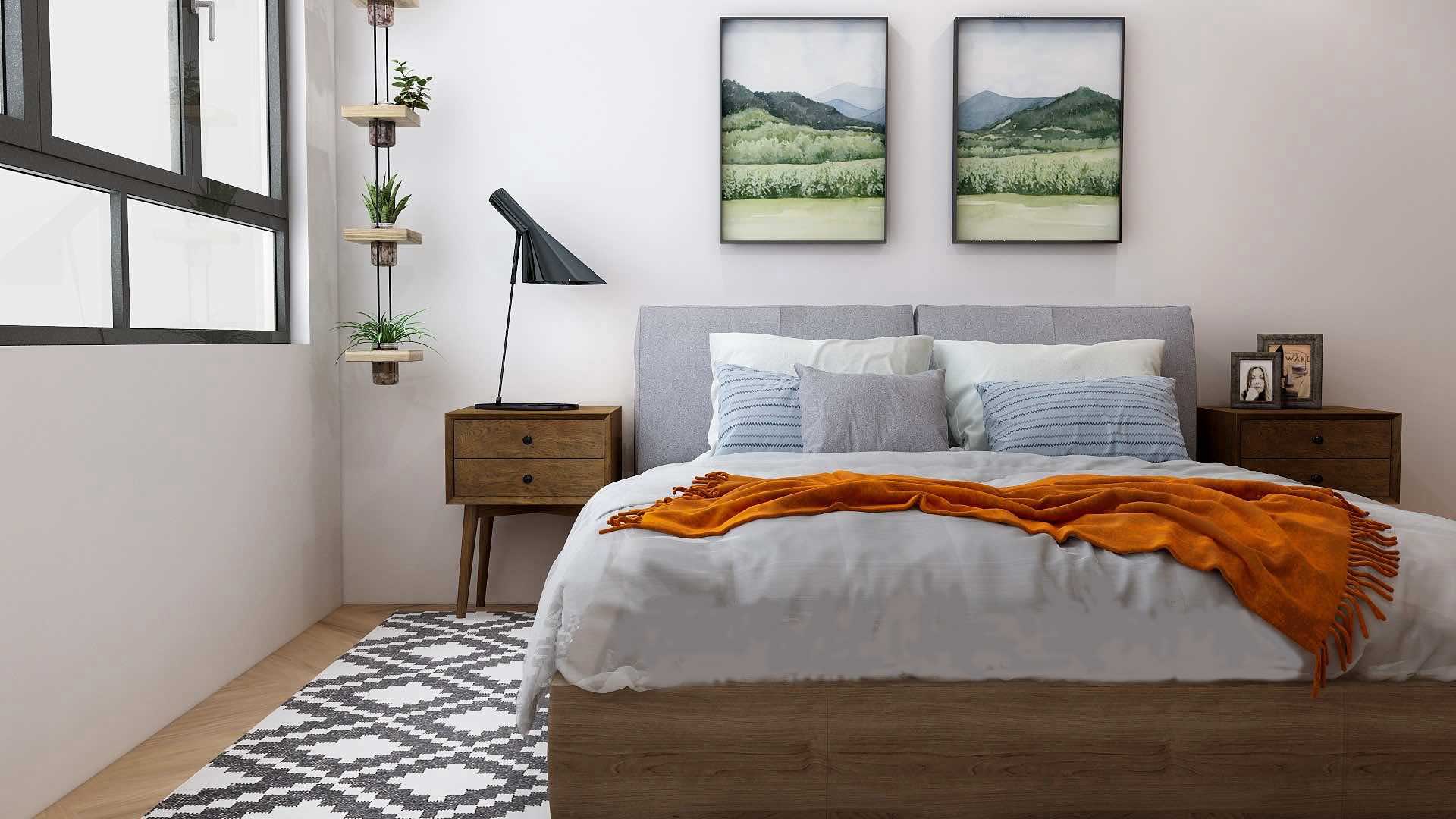 Flat surfaces and clean lines are accents of MCM design principles. 
On the other hand, highly patterned accessories or highly ornate furnishings are avoided. 
The focus is on the purity and simplicity of natural shapes and forms.
Practical furniture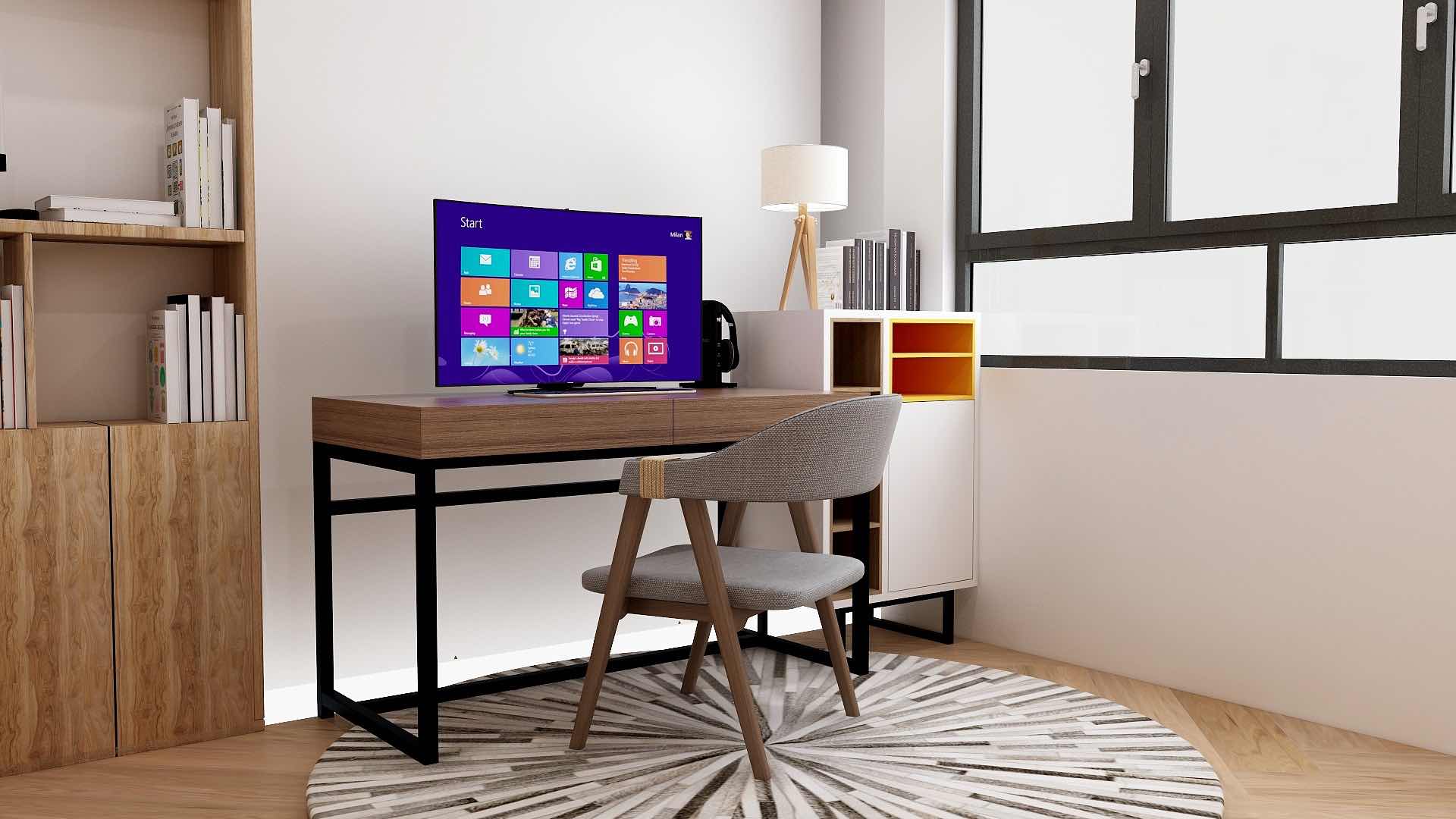 Decorations and furniture are placed purposefully. Anything excessive is removed to preserve the minimalistic nature of the MCM style.
Furniture in the MCM style focuses on not only the function but also the choice of material. While wood is most common in MCM, designers also use manmade materials such as nylon, acrylic, or fabric. 
Tapered legs furniture
A common characteristic of MCM furniture is that the legs are tapered and short. 
Tapered legs refer to the gradual thinning as legs reach closer to the ground. The rounded tapered legs of MCM furniture create an elegant yet strong foundation that can support its surface top. 
Designers use the tapered legs technique more often as a way to reduce the visual impact that furniture has on a room. The intention is to have the floor space be seen as much as possible. 
Minimal patterns
Patterns and prints on furniture are used sparingly.
For instance, woodgrain finish is often used by designers as a form of natural pattern and texture on MCM furniture. Alternatively, simple shapes like geometric outlines or figures are the commonly adorned patterns on MCM decors.
There's no excessive ornamentation and decoration in MCM style.
Warm, unsaturated colors

Wood is the predominant tone in MCM style.  Designers usually go for dark wood to achieve a warm and vintage essence. 
Teal, tangerine, mauve, mustard — are the colors in addition to the neutral color palette in MCM style. These colors are vibrant, but not overwhelming.
Applying MCM to your home
Living room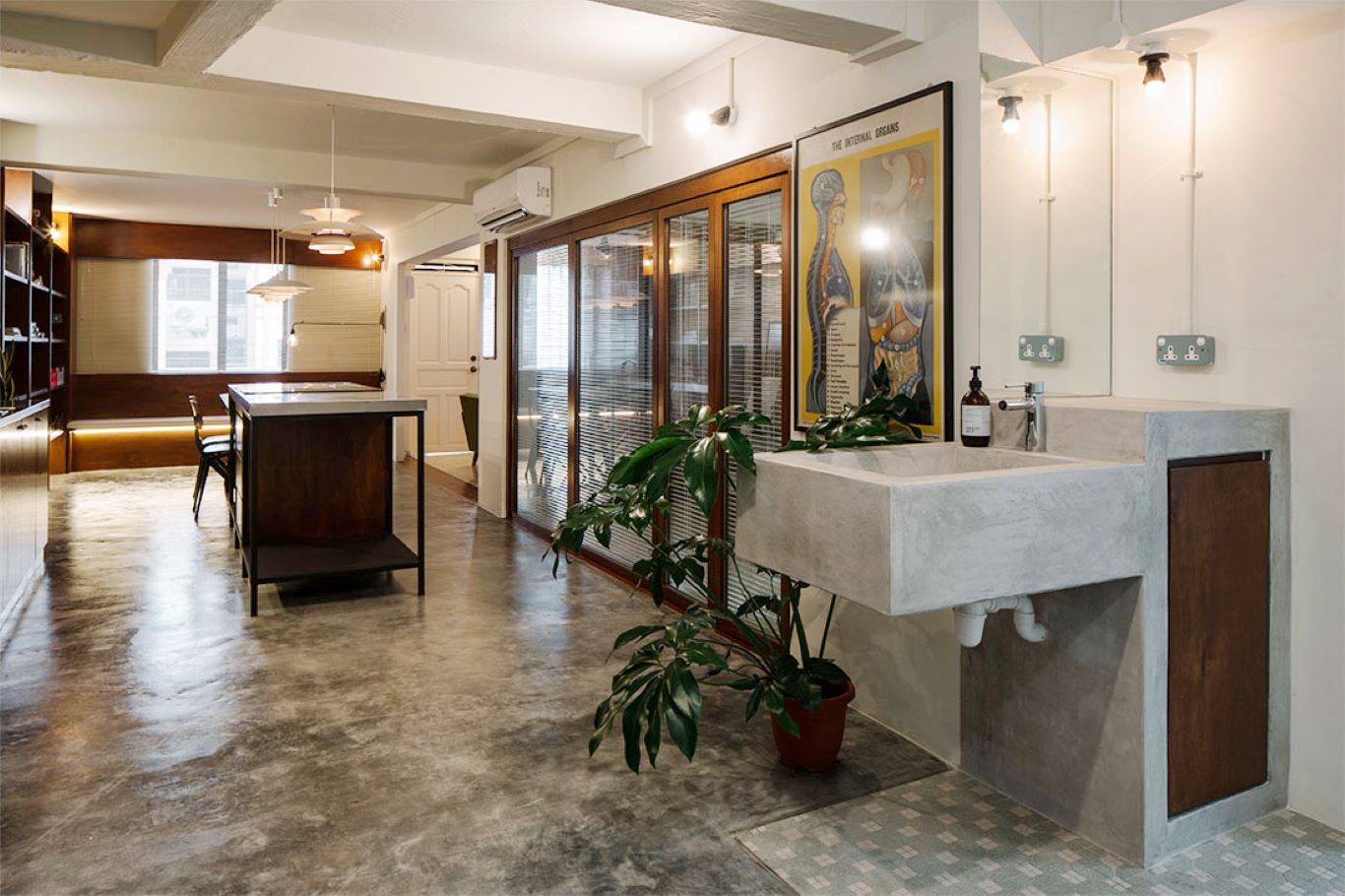 The open-floor concept is a prominent feature of the MCM style. You'd probably need to hack some walls to achieve it in your home.
The open-floor layout allows the different areas of the home to flow seamlessly from one into another. The selection of flooring is crucial.
If you prefer to use different flooring in each divided area of your home, ensure that the various floorings blend harmoniously.
Distinct MCM furniture with tapered legs such as a TV console, sofa, or coffee table can be placed in the living room to complement the open-floor layout in your apartment.
Bedroom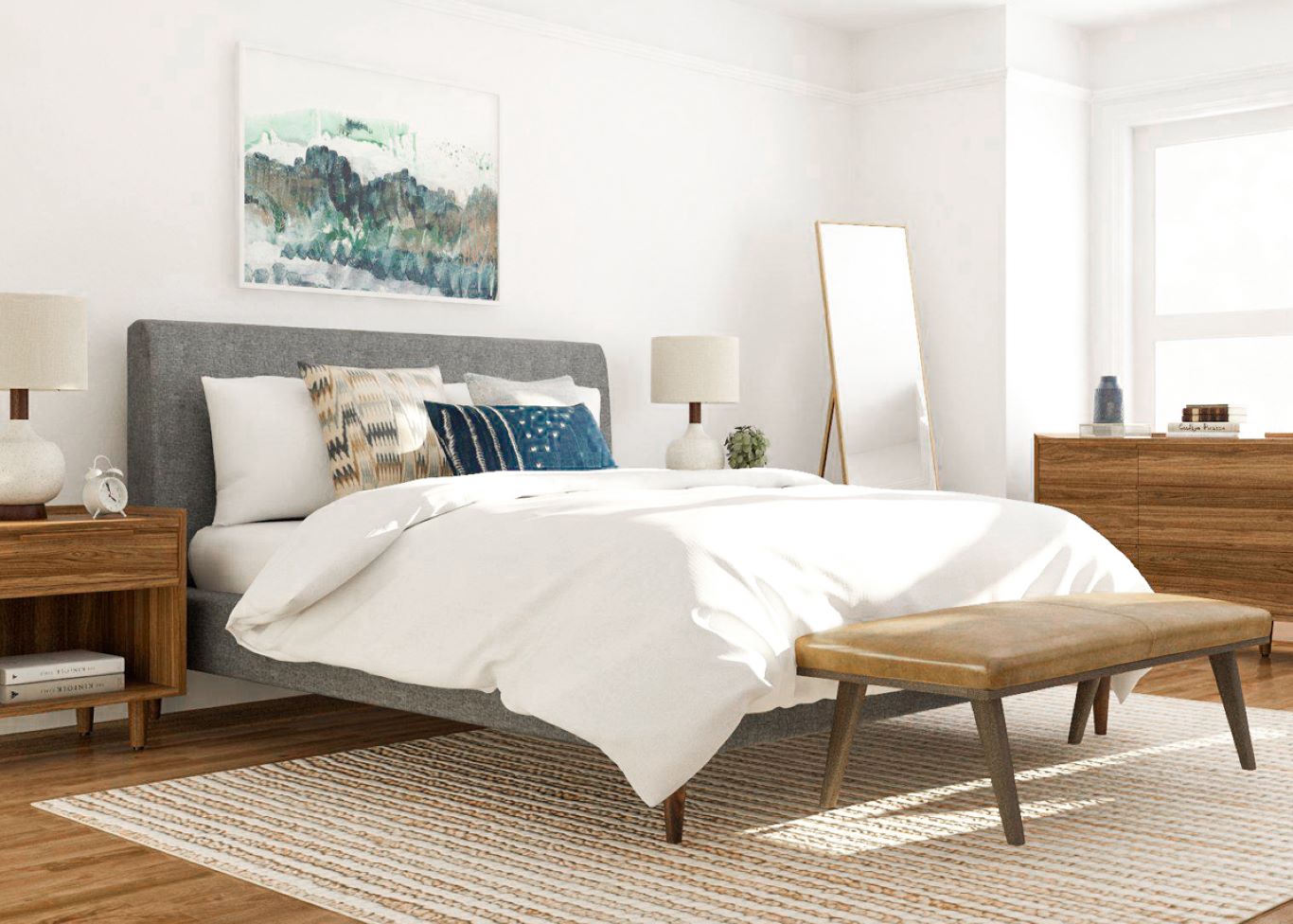 Make your bedroom space a statement.
Start by selecting the staple colors of MCM — teal, tangerine, mauve, mustard. Infuse these colors into your home decors to liven up your bedroom space. 
You can experiment with the colors by complementing a few of your preferred hues. But don't go overboard with too many bold colors as you may lose the MCM flavor.
Accessories in an MCM home should be simple, elegant, and not too large. A few small decorative pieces sufficiently liven up the space. Perhaps a tiny vase holding a little houseplant or some small wall hangings. 
There should be nothing large or visually overpowering. If you wish to hang a wall painting, adopt geometric prints or patterns that are simple yet aesthetically pleasing.
Don't overdo your decor in the bedroom, or you might lose the mid-century charm. Think of accessories as the finishing touches on an art canvas.
Kitchen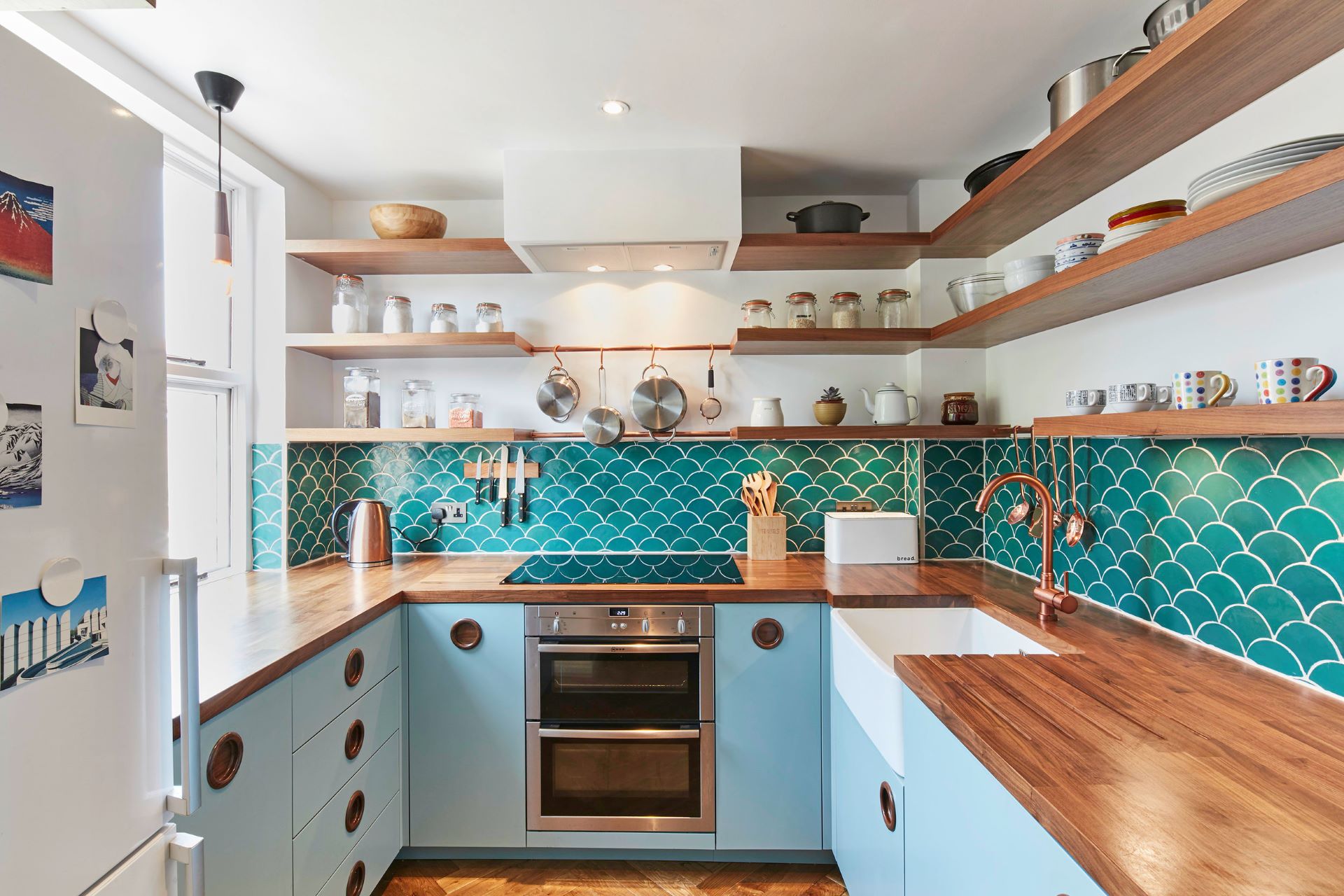 The kitchen is the heart of your home, where you whip up delicious meals for your family. Make it functional and practical, then spice it up by adding accents of MCM.
We want to achieve a combination of timeless elegance and aesthetic value.
Try a base color of white for the walls since it's a stable foundation for other contrasting accents. 
Cabinets and drawers are the first things that will catch your eye when you enter the kitchen, so focus your design effort on them. These fixtures in your kitchen should stand out, but their visual aesthetics shouldn't conflict with one another.
Make your kitchen vibrant by layering a teal backsplash with geometric-shaped outlines in between the counter-surfaces and shelvings.
The earthy wood tones for the cabinets and drawers are a good contrast to the white walls. There's a variety of common woods to choose from, such as oak, pine, or plywood. The earthy tones of wooden cabinets can also be extended to the flooring.
As mentioned, a distinct characteristic of an MCM home is clean lines. We suggest an L-shaped countertop of a marble finish. It's a piece of elegant furniture that complements the white walls and wood cabinets in the kitchen. 
You can also decorate the kitchen with a wooden basket of fruits, some white ceramic flower pots, or framed minimal geometric arts.
When adding accessories, remember to prioritize functionality over form. Avoid having too many decors.
Modern examples of MCM
As the name Mid-Century Modern suggests, the accents in this style are already modern. But we can step up another level to give MCM a more remodeled finish.  
MCM HDB/Condo living room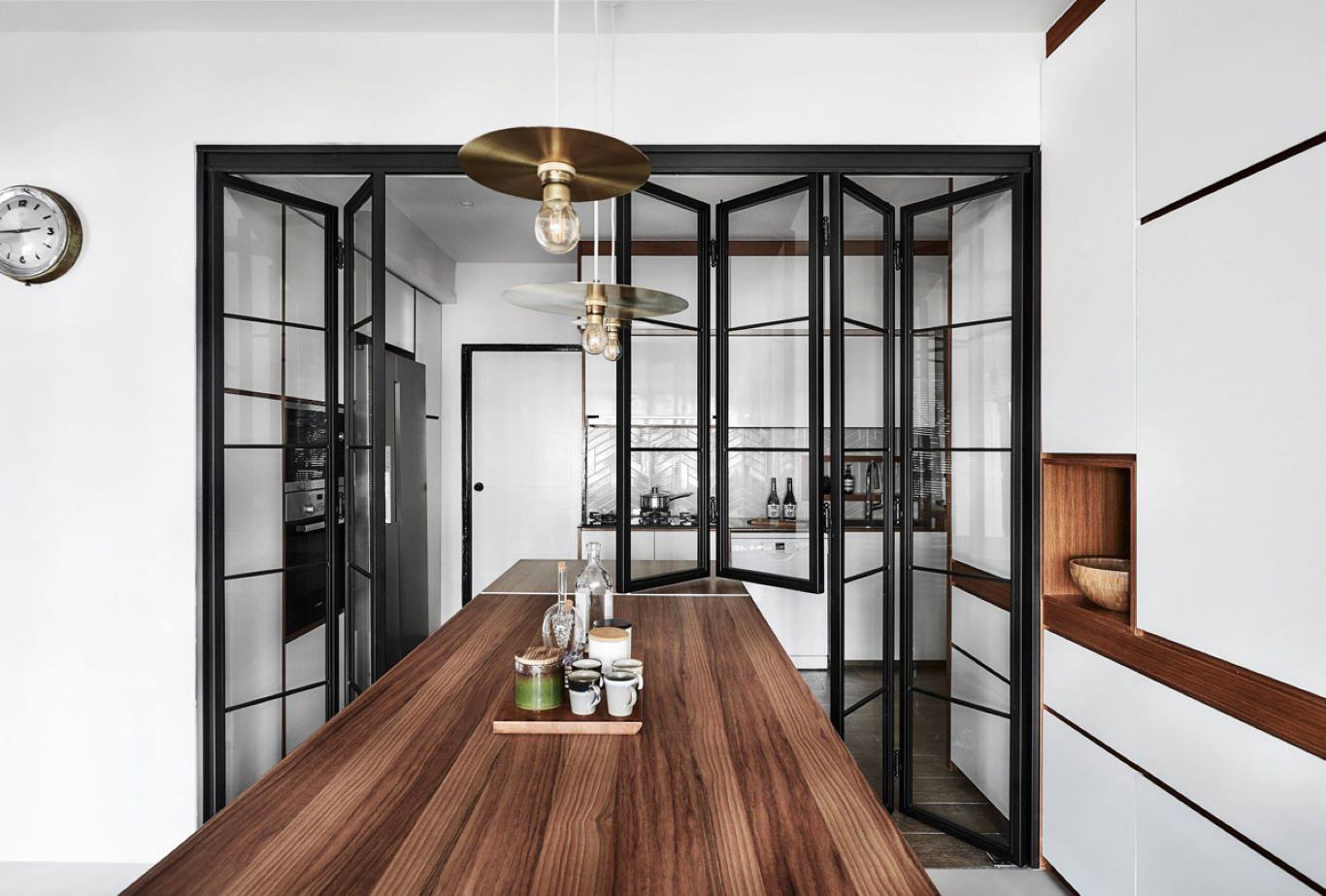 The use of glass-panel dividers to replace walls is a simple trick to create an impression of larger living spaces even in small HDB apartments.
Homeowners also gain brighter spaces as natural sunlight permeates through the glass dividers. 
MCM HDB/Condo kitchen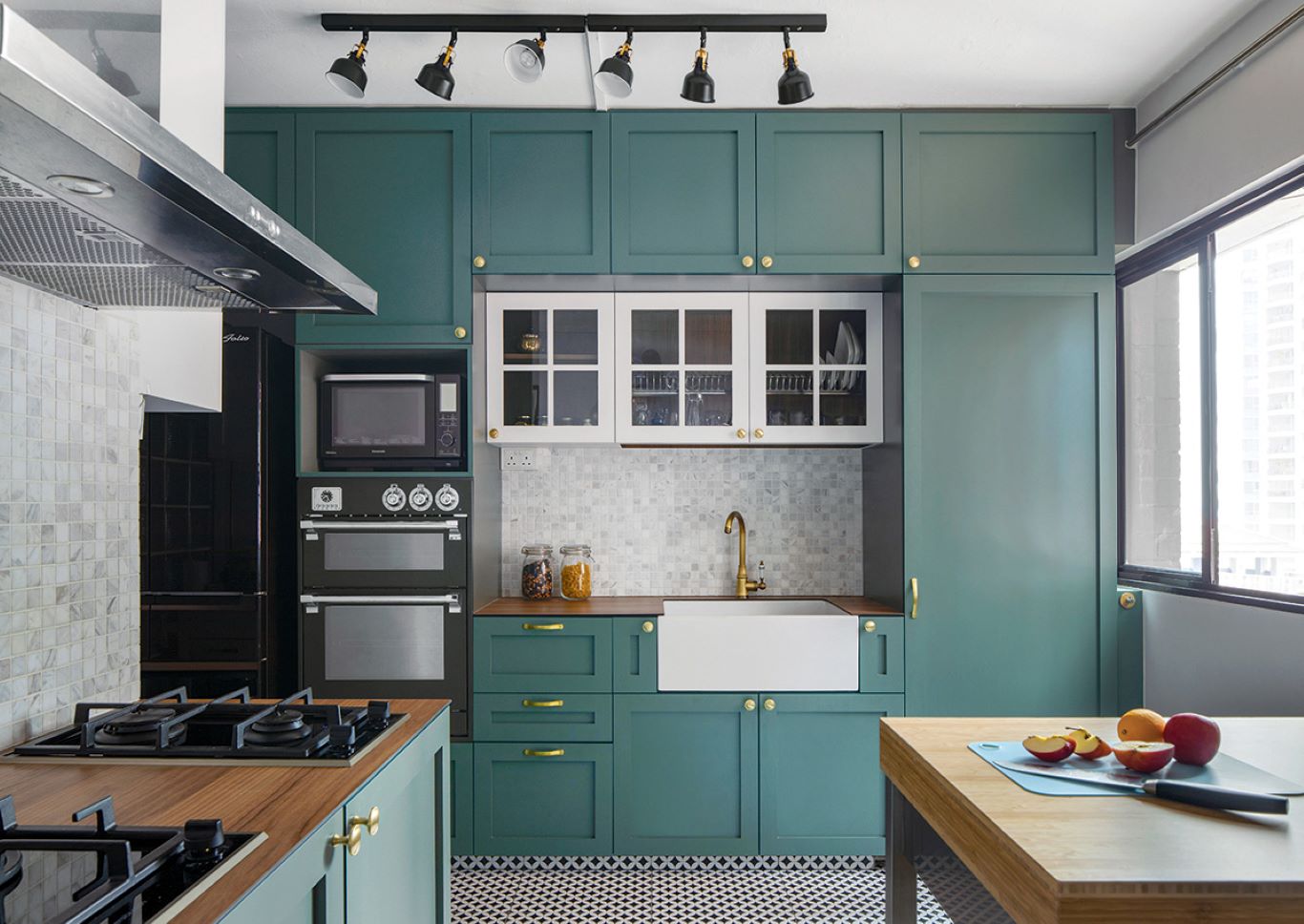 One or two bold color accents in the kitchen space can add zest to the overall look and highlight the modern elegance of MCM style.
Designers add teal color on the cabinetry to emulate an elegant farmhouse in the kitchen.
Elements like the faucet and cabinet handles are finished with brass to draw out their quiet luxury. Woodgrain patterns are used on surfaces to achieve the overall MCM look.
MCM HDB/Condo bedroom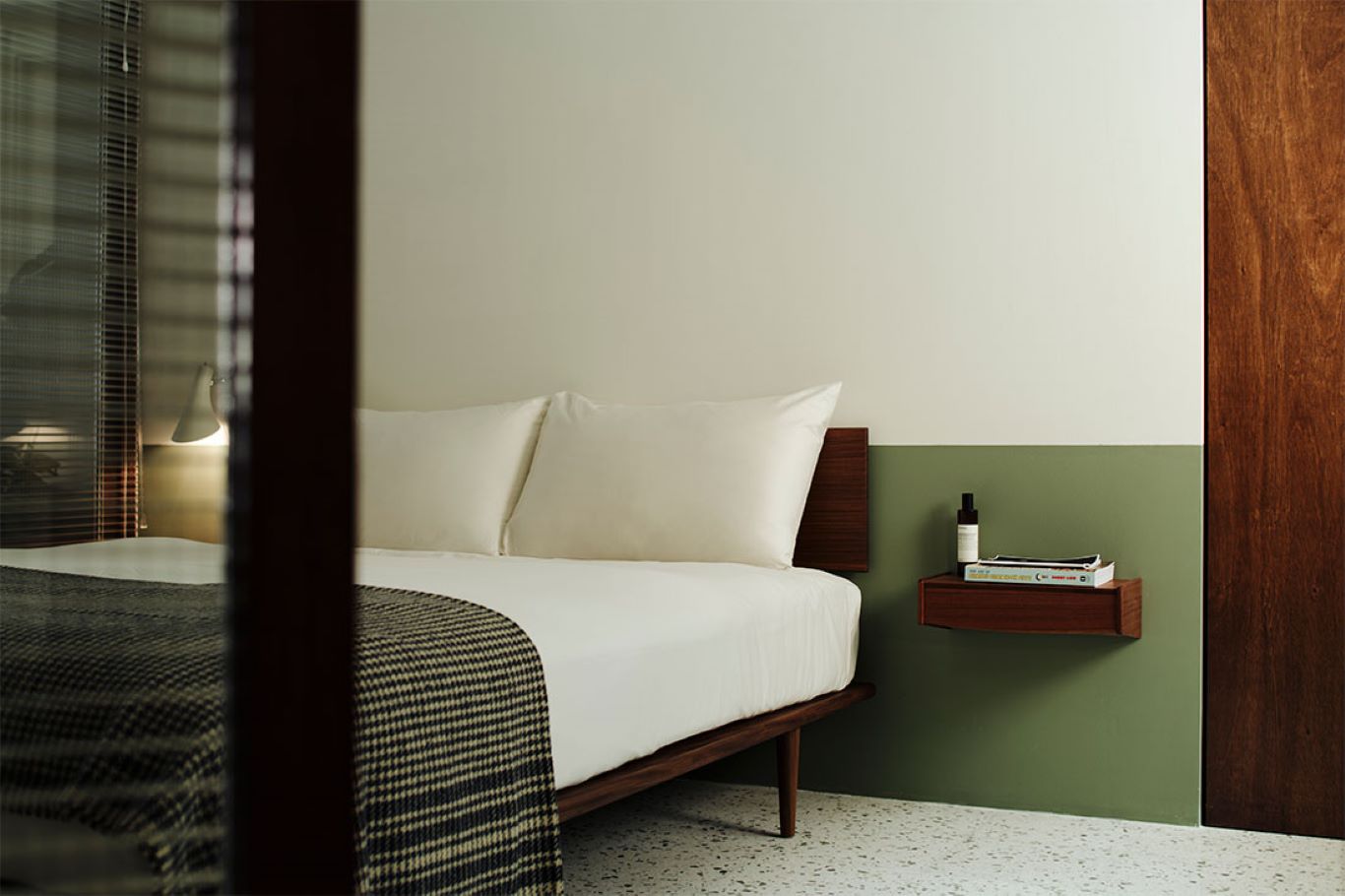 Beds with natural oak wood frame and sleek tapered legs are a good choice. Tapered legs keep spaces beneath the bed open and clear, which helps smaller bedrooms appear much more spacious.
The color and material palettes are consistent across the different spaces of the home to achieve a coordinated MCM interior.
MCM HDB/Condo bathroom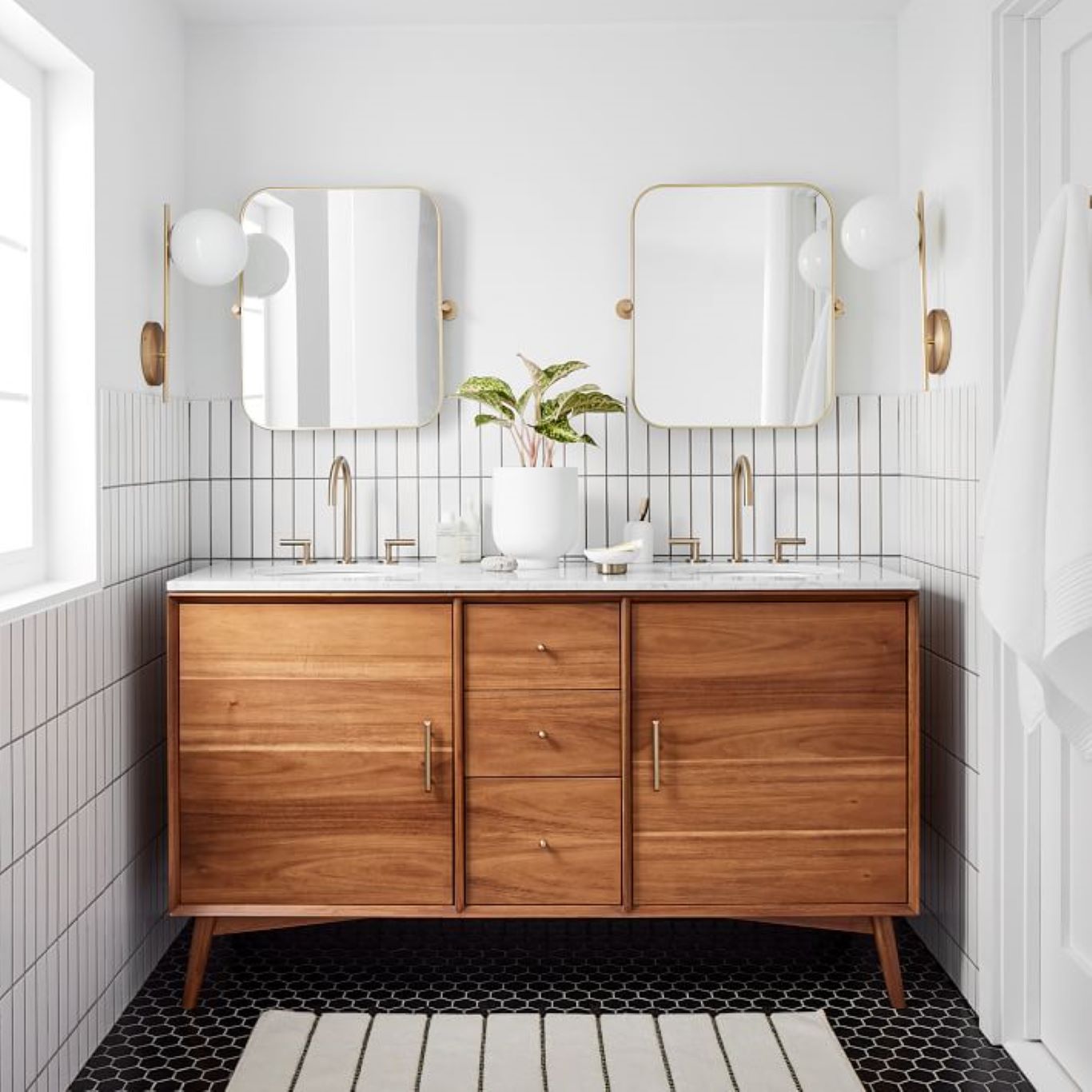 Large glass windows draw in natural light and create a sense of spaciousness in the bathroom. 
Subway tiles in the bathroom can be designed with simple geometric outlines to deliver a stylish MCM vibe. Also, the sink can be styled with marble countertops and brass faucets above wooden cabinets to create a soft opulence. 
Light fixtures such as pendant lights, wall sconces, or even some stylish mid-century lamps on the sink countertops can be incorporated to create a relaxed ambiance and mood in the bathroom.
Placing cabinets or furniture pieces of varying heights in the bathroom is a way to leverage space and create depth in the atmosphere.
MCM house living room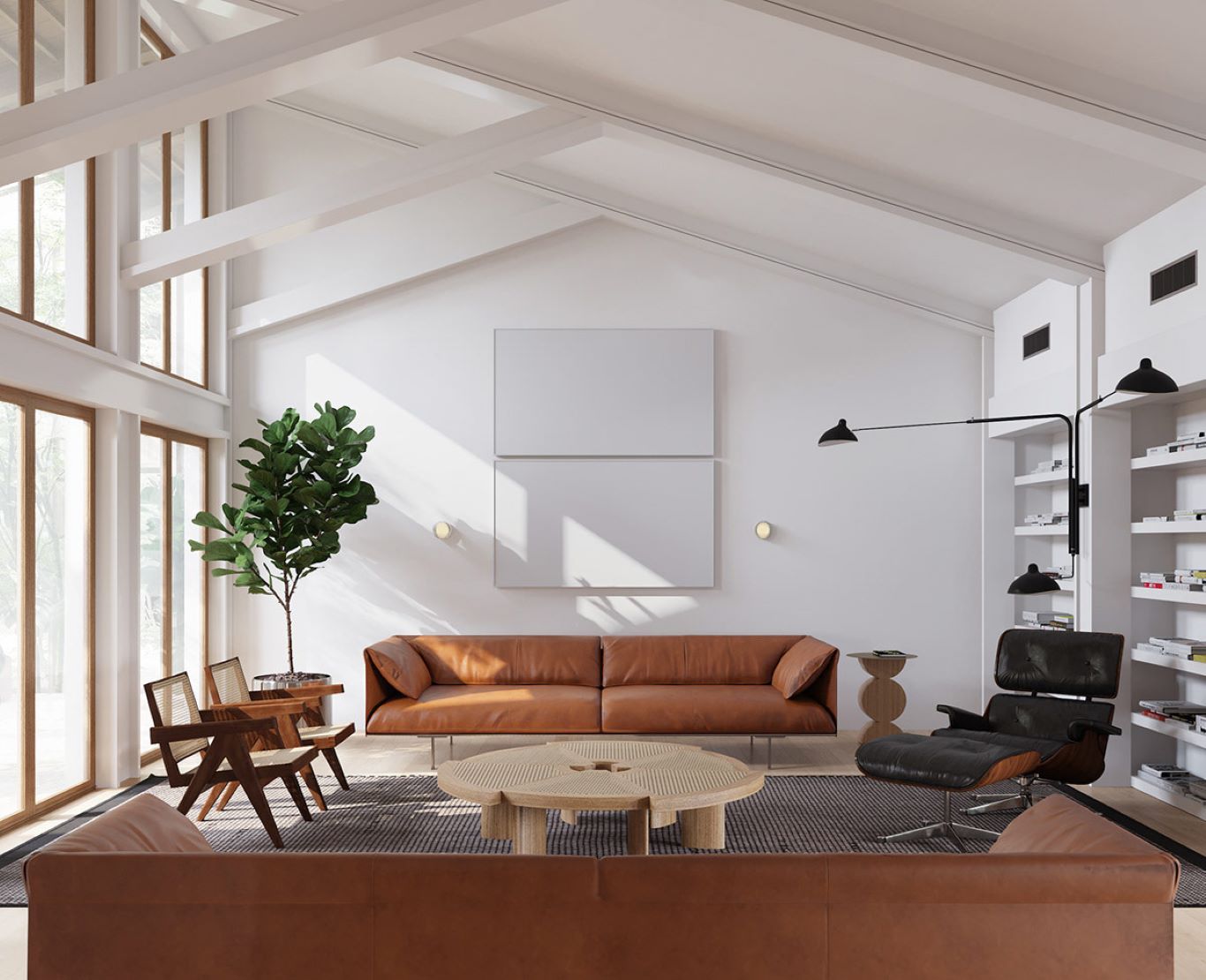 A blend of traditional and non-traditional elements, such as mixing vintage pieces with modern furniture, completes the space in a large MCM living room.
MCM designers engage in neutral-colored materials such as white walls, wooden floors, or brown furniture to soften stark or concrete elements in the surroundings.
MCM house kitchen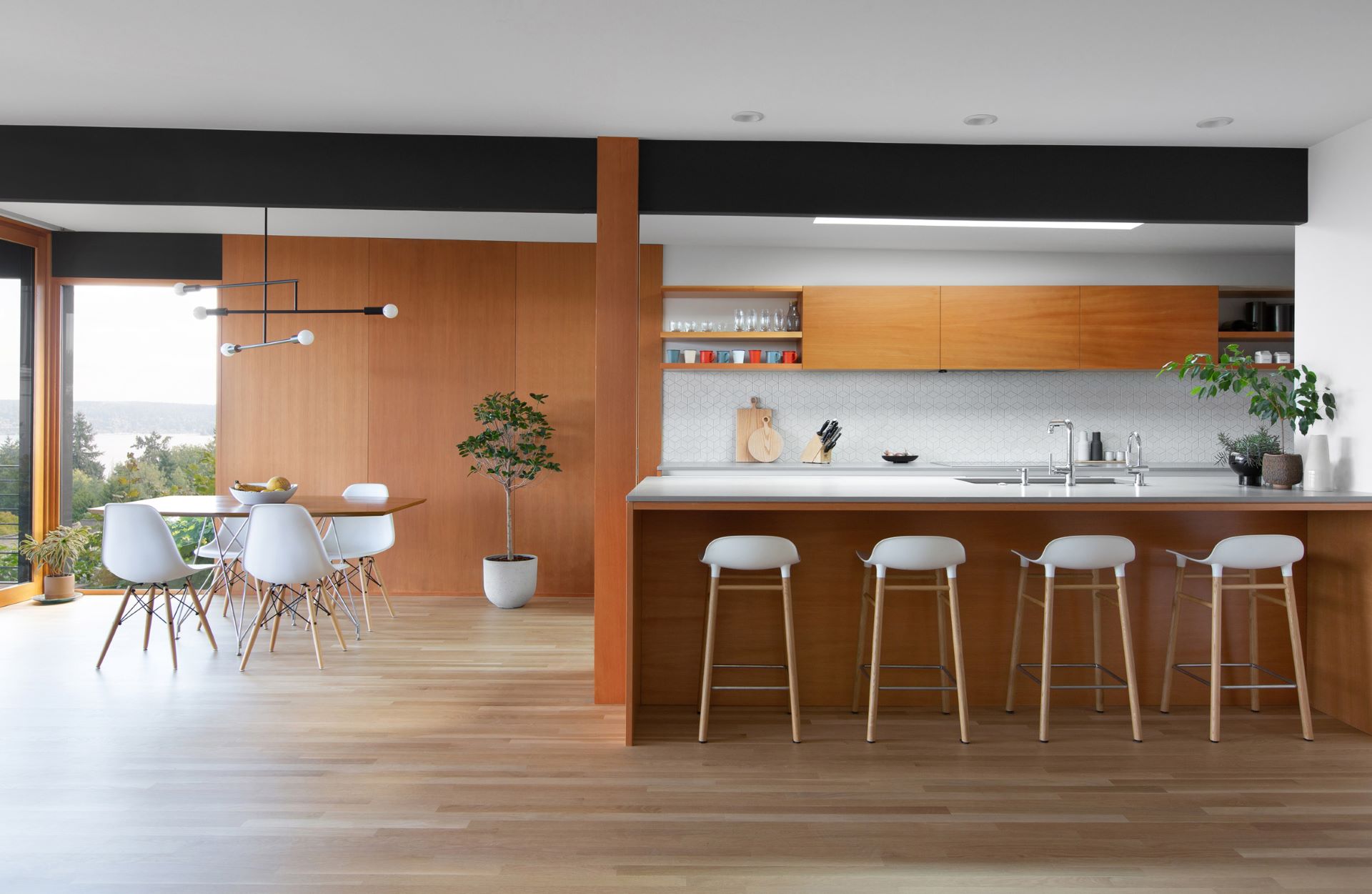 The open-floor concept is a popular choice in today's homes because it allows individual activities and social togetherness to coexist. Family members can do their activities and still communicate with one another.
Using similar materials and decors in different areas of the home creates visual continuity and uniformity in an open-floor concept.
MCM house bedroom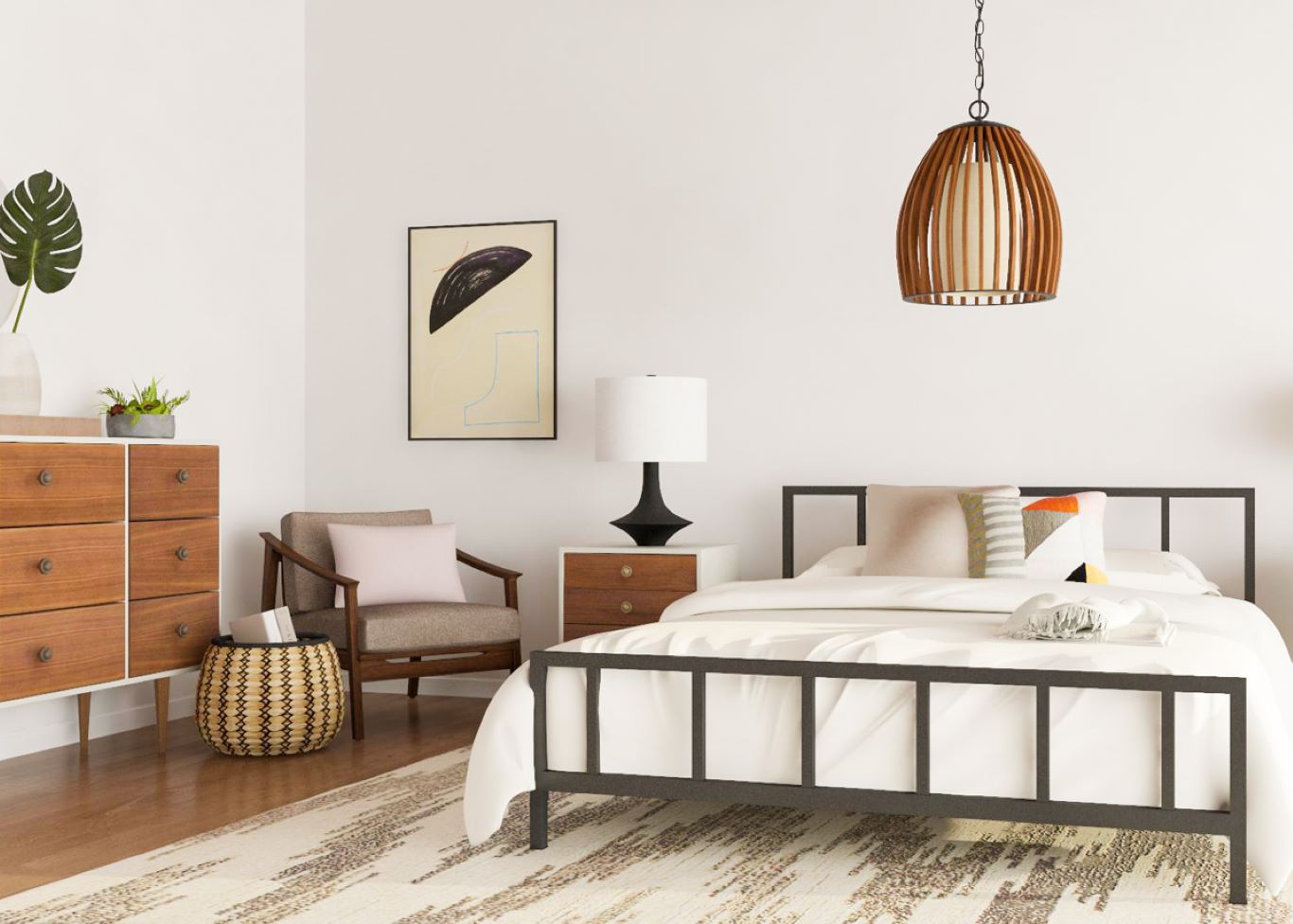 Furniture accents of clean lines, minimalist silhouettes, and natural shapes are apparent in an MCM design bedroom. For instance, an abstract geometric canvas framed above the bed wall is a distinct MCM feature.
The floor is typically laid with soft wool fabrics or rugs in the MCM bedroom for an inviting and comforting vibe. Potted plants are also placed purposefully around the bedroom to create vitality.
MCM house bathroom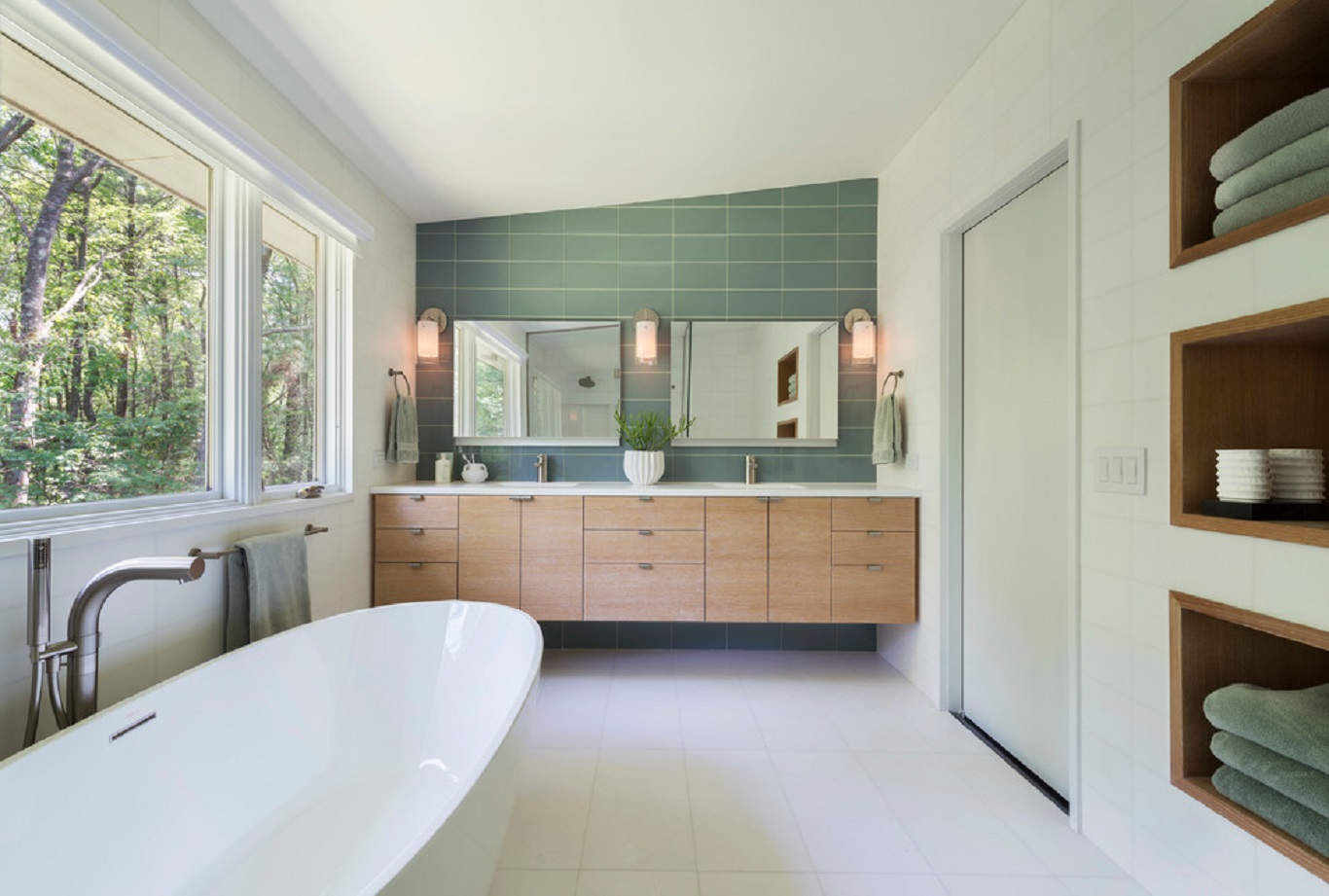 Large windows in the bathroom let in plenty of natural light. . 
Decoration in the bathroom is minimal. Even in a large bathroom, keeping the space organized and decluttered is important.
Teal green subway tiles above the sink countertops are a simple touch to accentuate the MCM style.
Fusion tips
Combining MCM with Bohemian (Boho)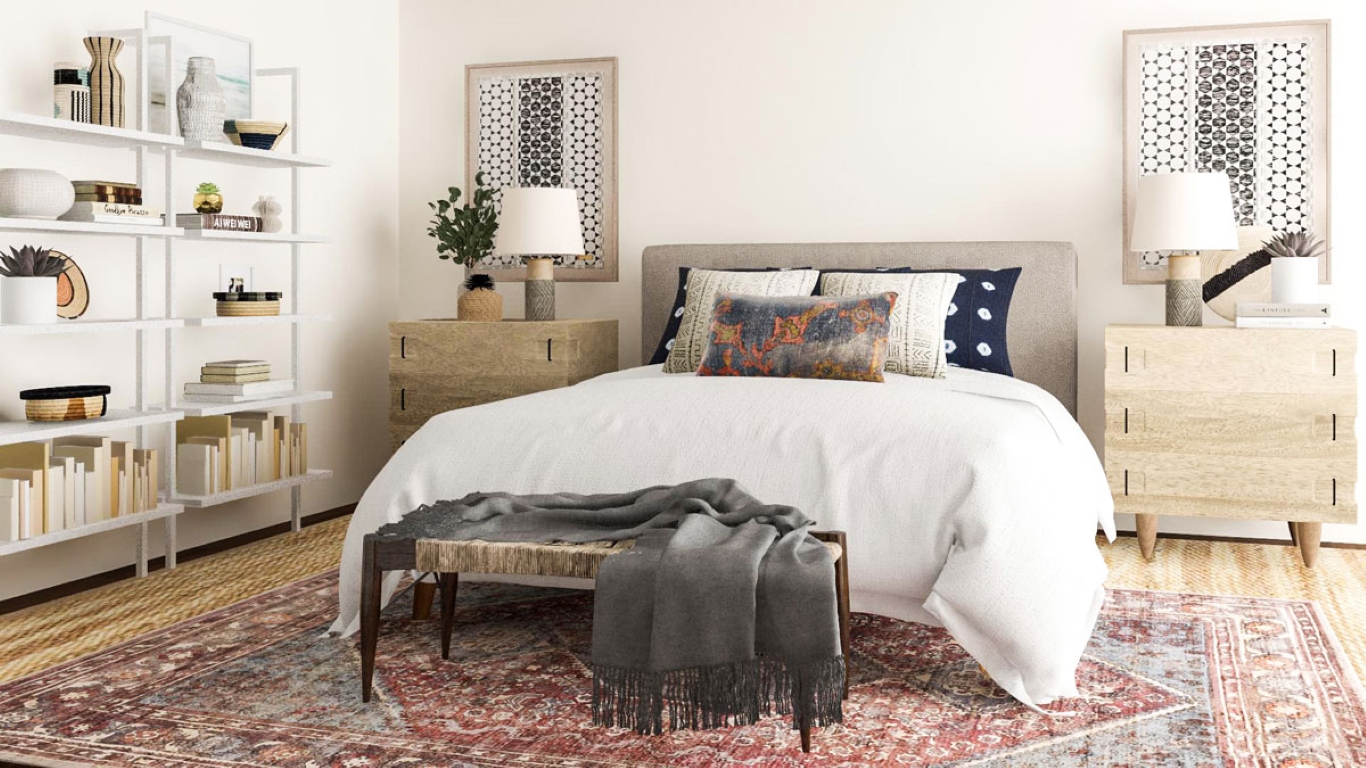 MCM-Boho is a relaxed and comfortable Bohemian-inspired look fused with clean-lined MCM accents.
The Bohemian style mirrors life by combining objects, colors, and patterns from many areas of the world. The look typically involves an eclectic mix of natural elements with colors, patterns, and textures.
To bring MCM-Boho to life, adopt some geometric or abstract patterns into your furnishings. Lay down vintage-style rugs with bursts of warm tones for the boho elements.
The result of combining MCM and Bohemian elements is a balanced sophistication.
Combining MCM with Contemporary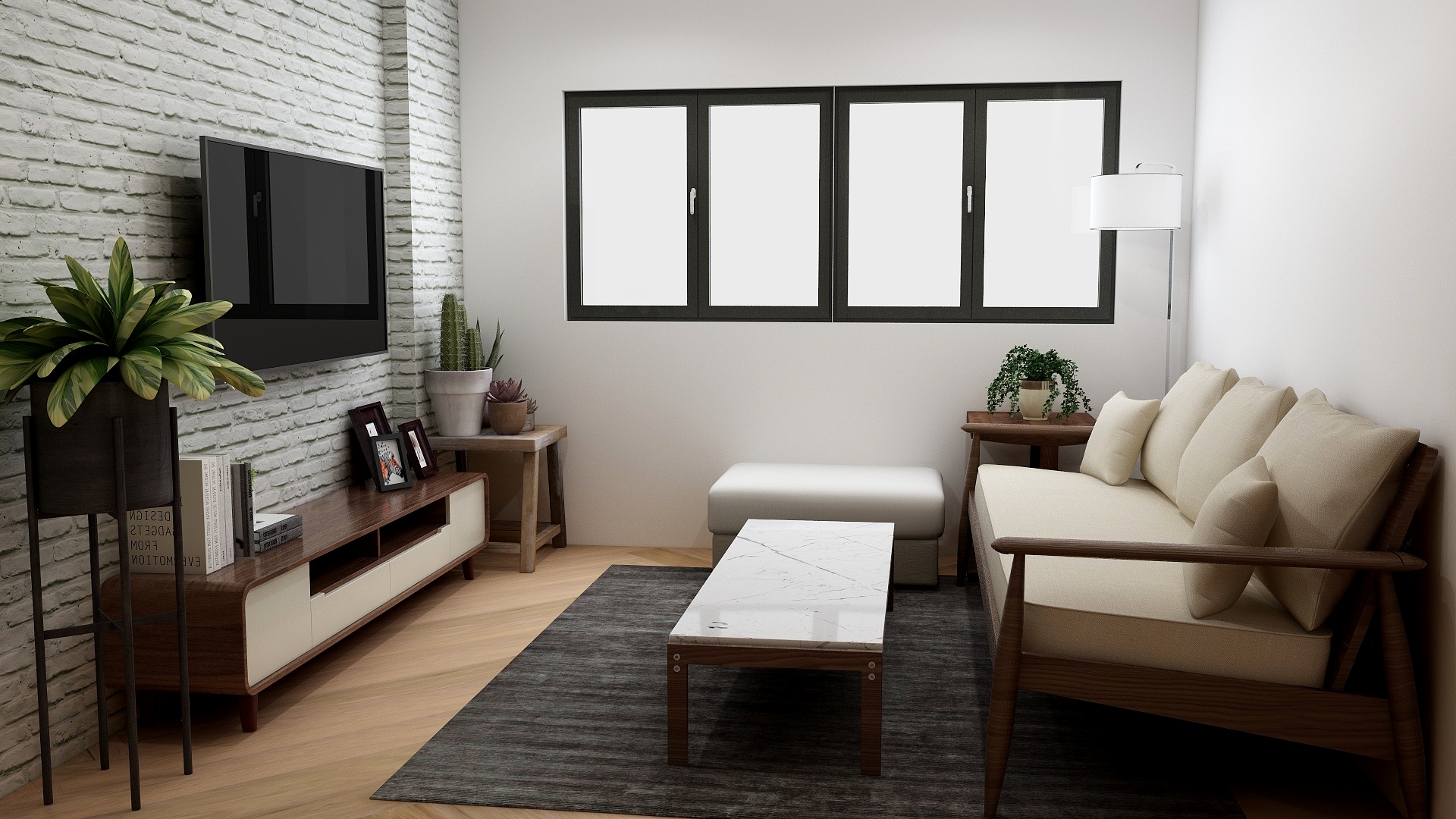 Contemporary means occurring in the present. Its design philosophies are constantly evolving with trends. By this definition, there is no specific trait or feature in the Contemporary style. 
Fret not. You can achieve the MCM-Contemporary look by fusing MCM design principles with trending pieces or eclectic decor in your home. There should be a good mix of elegance and modernity in your living space.
You can think of this fusion as a contemporary style focused on the MCM look. Or as an MCM style with a twist of postmodern artistic flair — less vintage, more present and futuristic.
Check out our Definitive guide to Contemporary interior design style.
Summary
Why do MCM designs continue to be popular? The answer lies in the mid-century pieces. They are well-designed with a classic and timeless appeal.
The MCM look is about organic style and ease of living. Furnishings are simple and minimalistic. Mid-century pieces stand the test of time. With the use of open-space and its neutral color palette, the final result is a home that looks and feels fresh.
We hope you have a deeper understanding of the MCM design elements and features.
Excited to apply this style to your own home? Get in touch with our interior design consultants to know more about the latest Mid-Century Modern interior design ideas. We'd love to share.
If you'd like to know more about this style, check out our portfolio stories on how people are applying it to their own homes.
Check out the rest of our Definitive Guides here: 
Good luck with your renovation project.