Introduction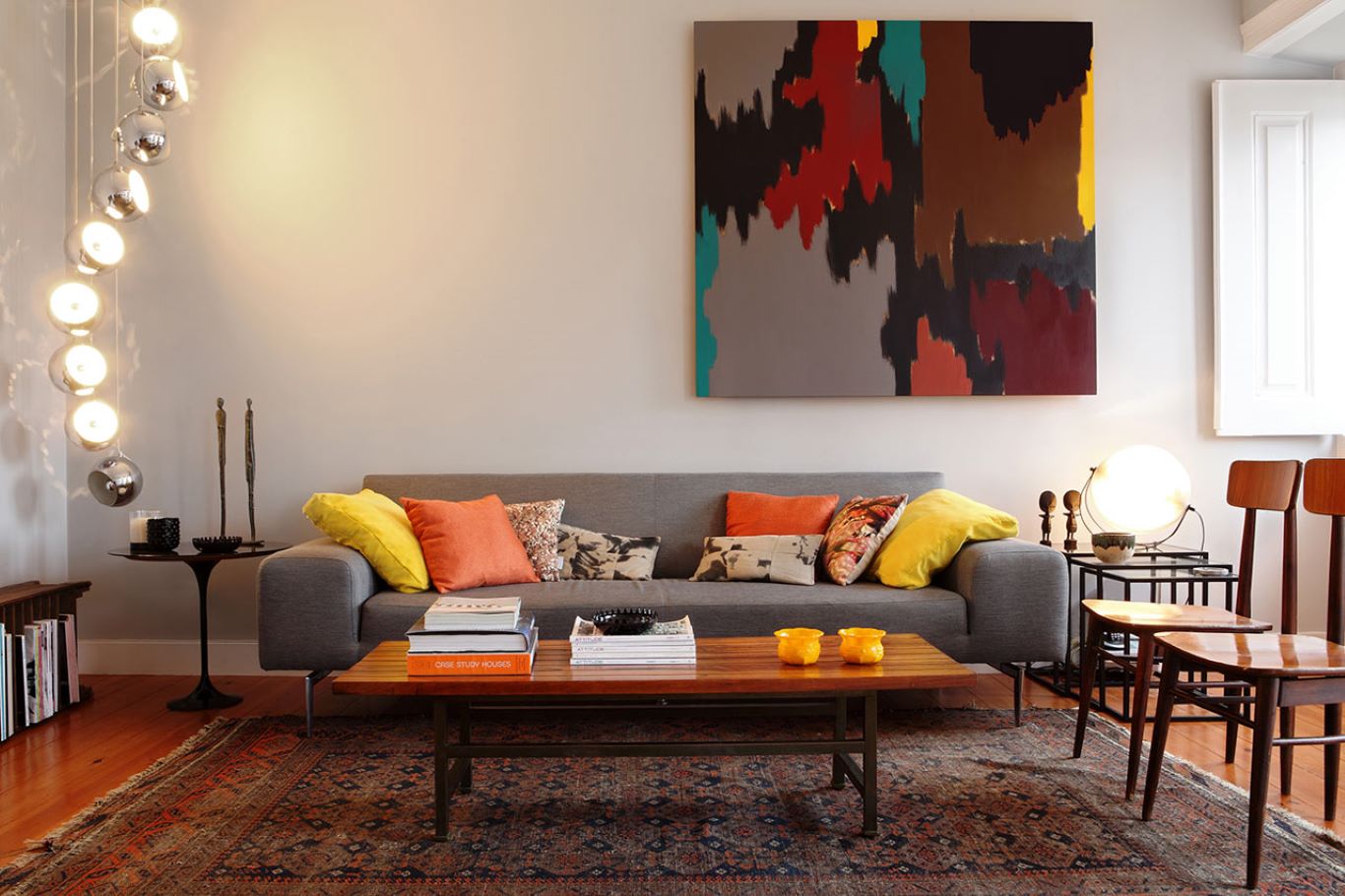 The term Retro has been used so often. But what exactly is Retro? It's a lifestyle that displays characteristics of past eras embraced through fashion, events, songs, places, or even attitudes.
In this guide, we'll be covering how Retro style originated, its defining traits, and the main difference between Retro and Vintage style. To inspire some real-life nostalgia in your homes, we've packed this article with creative ideas and tips for your easy reference.
Origins of Retro design
The Retro movement rehashed styles produced since the Industrial Revolution. Since 1970, the term "Retro" has been used to describe new artifacts that replicate particular hallmarks of the eras. Designers also use the term "Retro style" to characterize styles that have been recreated or inspired from the past.
The French word, Rétro, is an abbreviation for Rétrospectif (English: retrospective). This word gained cultural knowledge with the reevaluation of Charles de Gaulleand and France's role in World War II. Later on, the term "Retro" was applied to French fashions that evoked the 1950s-1970s eras.
Thereafter, Retro was introduced to English culture by the fashion media press, where the word acquaints with the revival of past eras.
Vintage vs Retro style
It can sometimes be confusing when the words Retro and Vintage are used interchangeably. These two terms are really two distinct styles from different roots. 
On the one hand, styles that have lived through 20 to 99 years fall under the term Vintage. Some may even argue that true Vintage needs to be at least 50 years old.  Whereas styles older than a century are coined as Antique style.
On the other hand, Retro is about reviving styles or fashions of the past. It recaptures the nostalgia of old times. With that said, Retro designs don't have to be old or aged. 
So what does Retro mean in your home? It's commonly used to refer to interior decor inspired by the 1950s to 1970s eras. Retro designs need not be old but it adapts styles of past mentioned eras. 
Why people like Retro style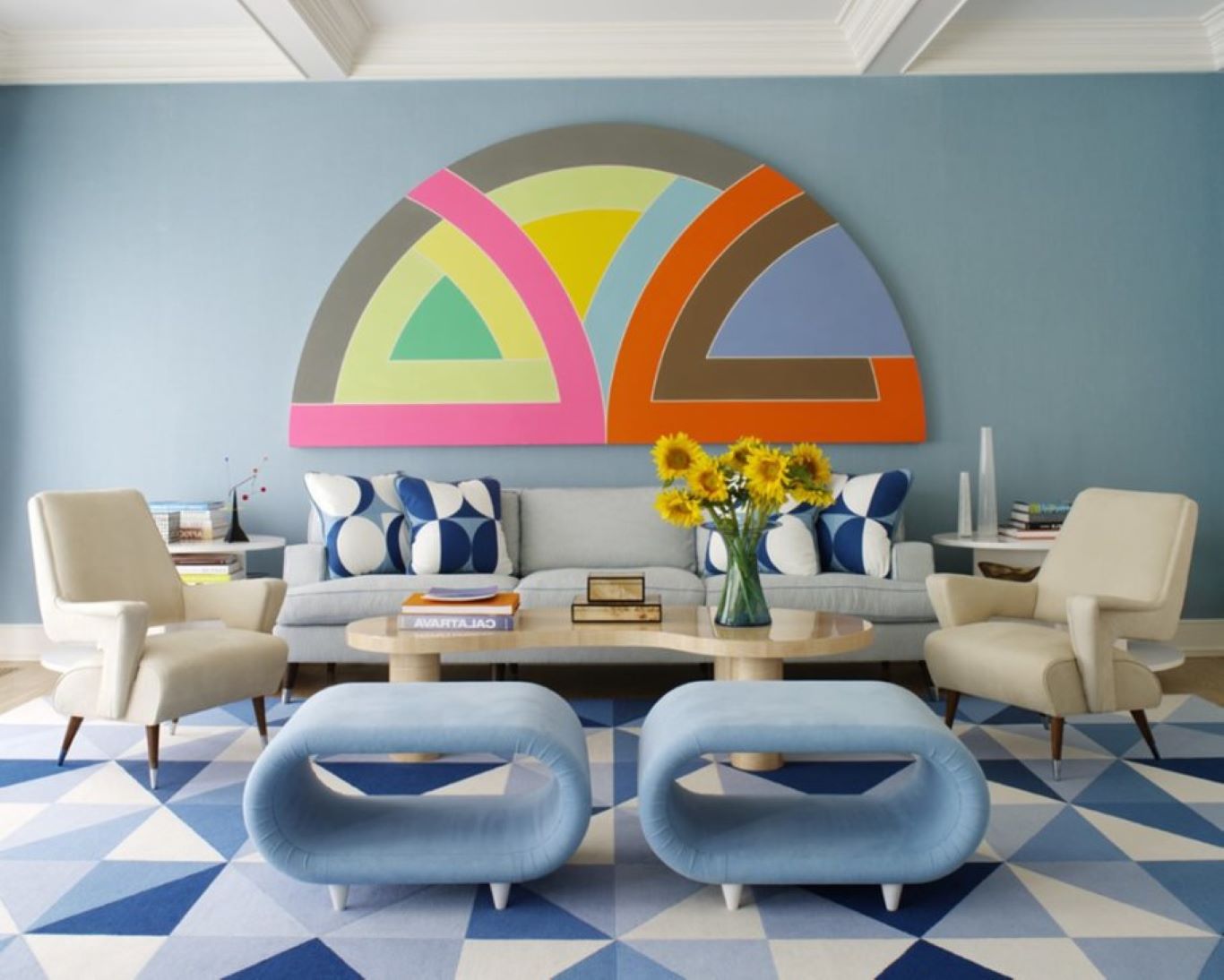 Homeowners are attracted to Retro aesthetics because it offers an escape from modern life. The interior space gives people the chance to experience nostalgia and for those in search of lost times.
As time passes, today's homes embrace a modern look with Retro sentiment. The Retro home taps into an eclectic mix of old styles and new forms, or new forms with old materials and finishes. From repurposing our grandma's old furniture to personalized bookshelves, the versatility of stylish and timeless Retro decorations make them prized possessions.

If you're still unsure whether Retro style is suitable for you, take our quiz to find out which style suits you better.
Characteristics of Retro style
Retro designs represent a past era when designers were experimenting with new materials to create a fun and lively interior. "Funk" is also another word commonly associated with Retro styles.
Interestingly, what's Retro in Singapore may differ from other countries. We'll go through the distinct characteristics of Retro styles first. After, we'll share how you can apply this style to your home in a Singapore context. 
Whimsical furniture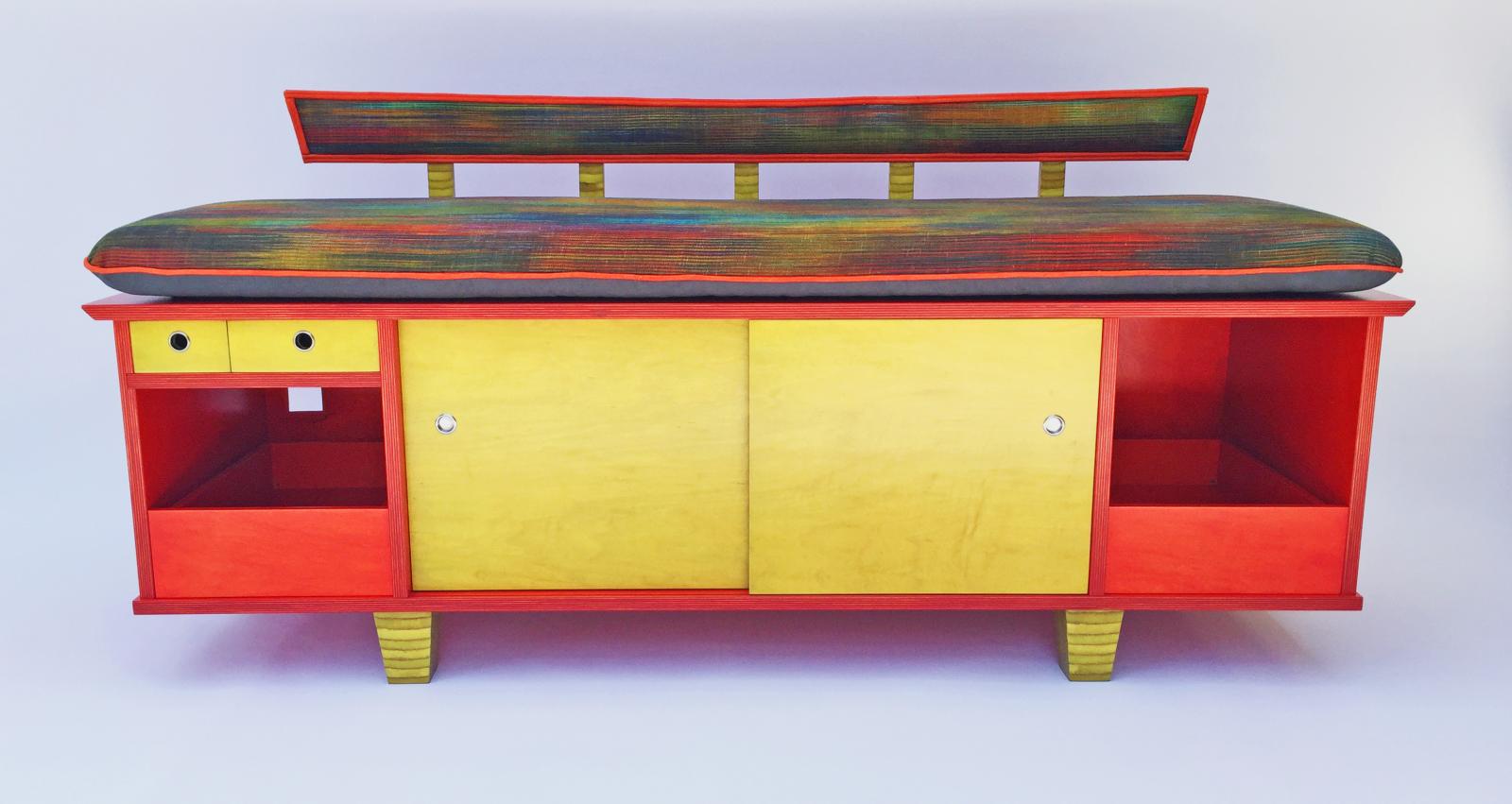 Retro furniture differs greatly from most modern furniture. They are bright and colorful, with unique shapes that are fun and lively.
Function is seldom more important than form. Some designers even create furniture that is impractical because the form is what gives the furniture a fun look.
Designers also combine a balanced mix of fanciful furniture. Each piece of Retro furniture creates a visual focal point without competing with one another.
Muted colors

Bold colors are used in all elements of a Retro home. The hues used are less saturated and not bright. Individual colors do not overpower each other.
These colors give the home a fun and playful vibe by mixing seemingly incompatible colors.
Bold graphics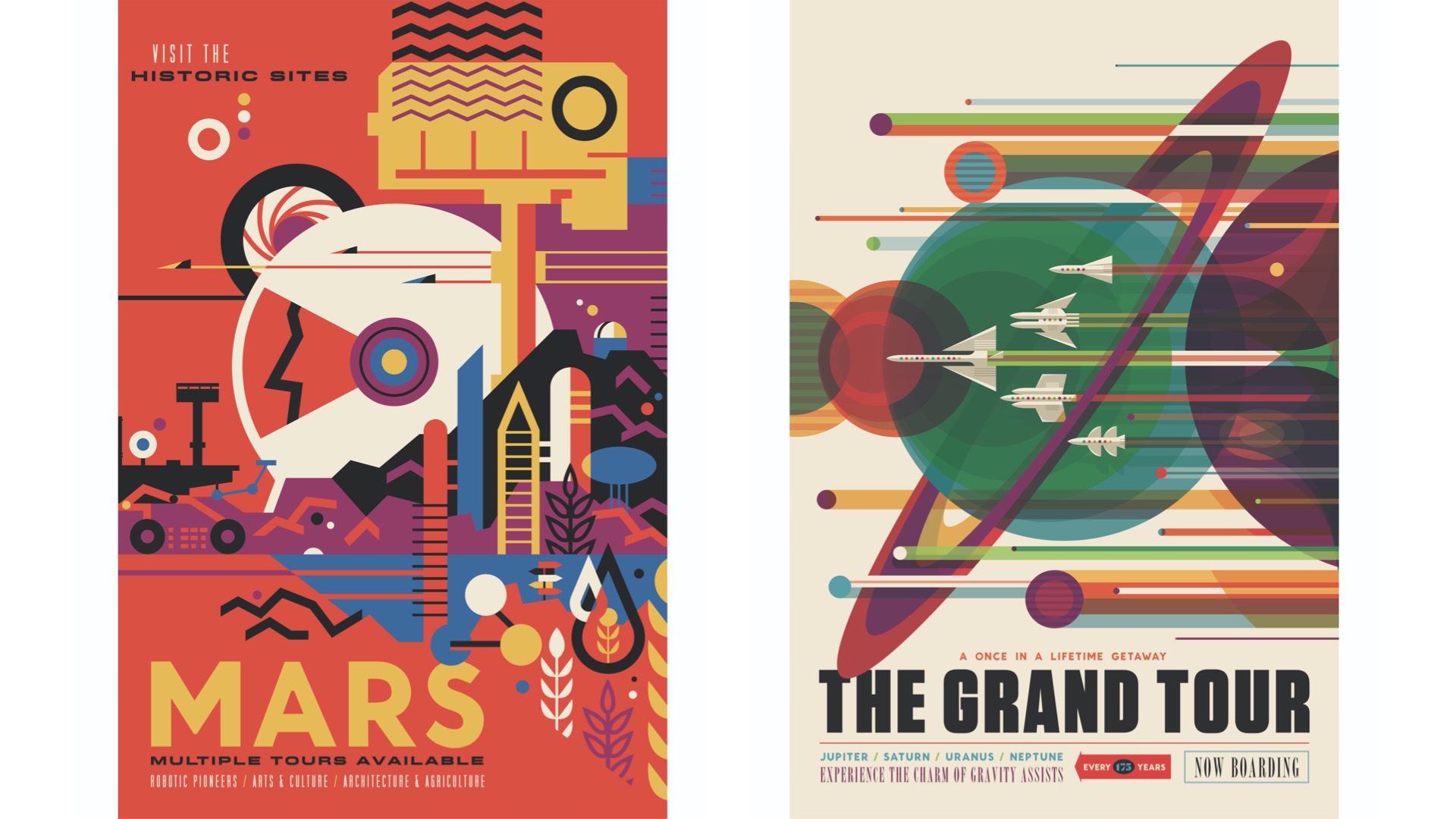 Retro graphics typically look flat. Designers bring graphics alive by using different shapes and colors to add dimension to the flat image.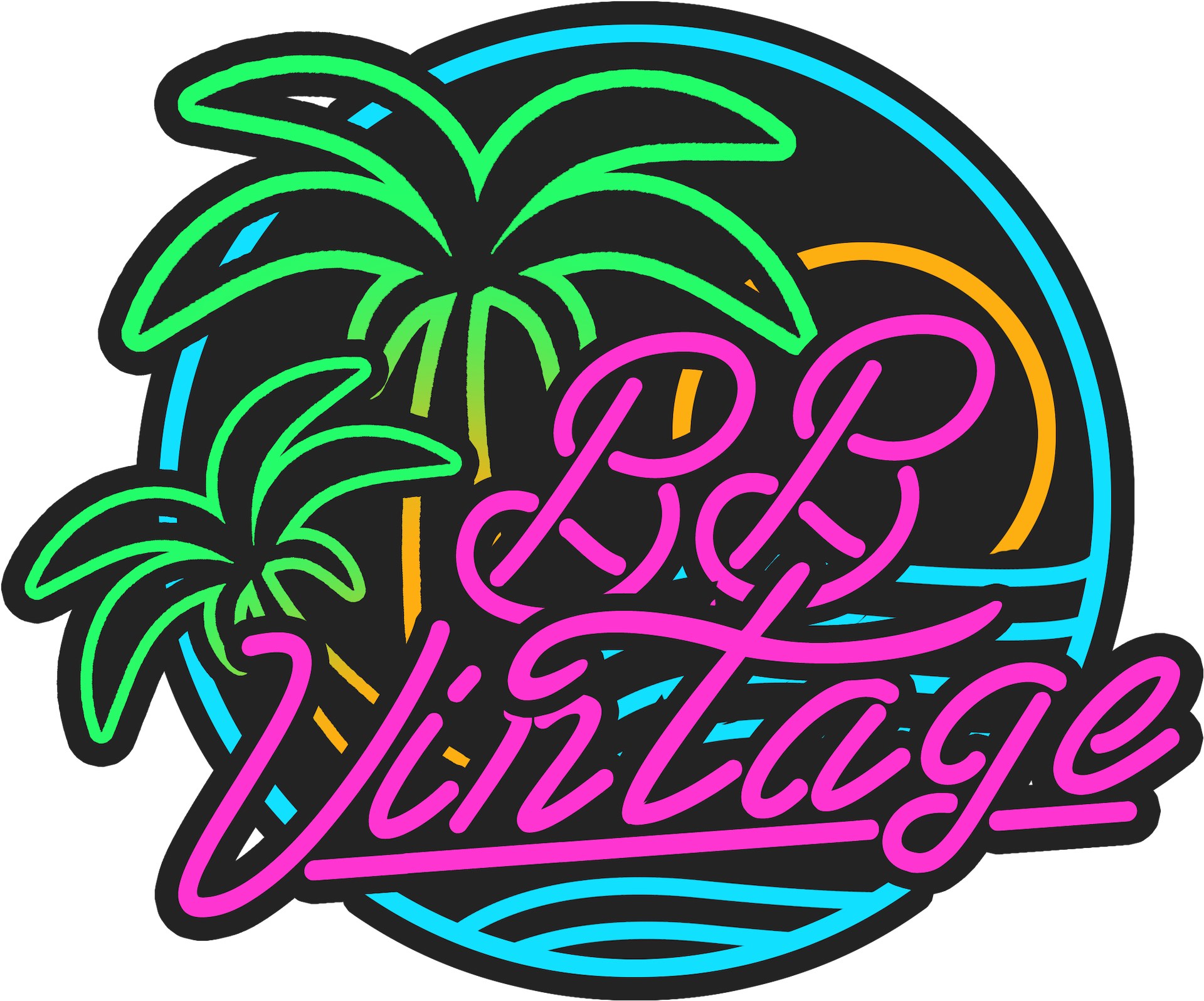 Neon signs are also representative of the Retro style. Designers have taken the look of neon tubes and created a graphic style that highlights the craftsmanship of the bent tubes to achieve the desired look.
Heavily patterned walls and flooring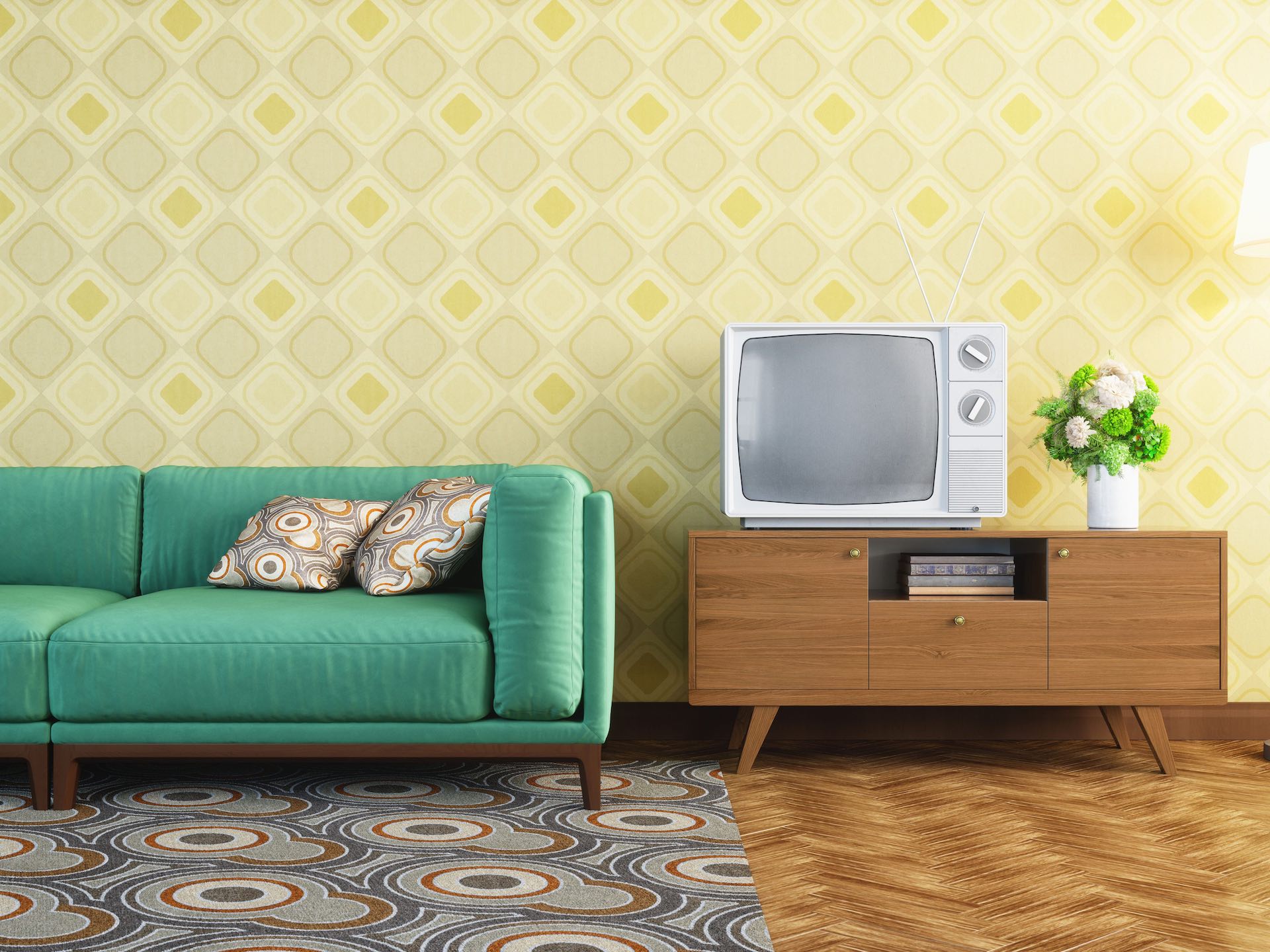 Walls and floorings in the Retro interior are designed with lively patterns.This is not unusual because Retro style stems from a loud, funky, and lively design concept.
The overall look might seem chaotic at first glance, with the eclectic mix of elements. But a home that's filled with clashing prints and patterns is what makes Retro style interesting and stylish as a whole.
Decorative textures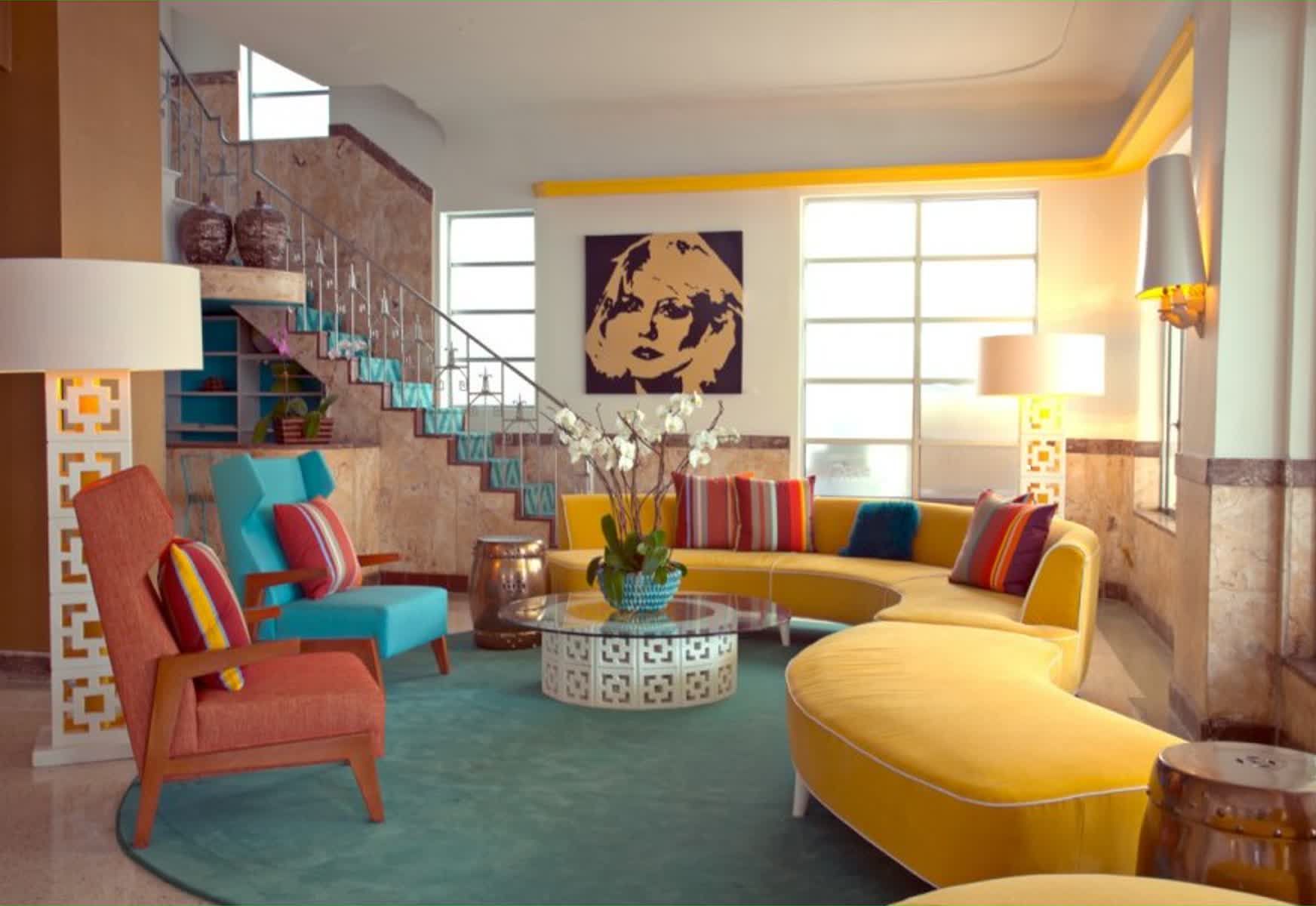 Retro designs are all about looking fun. The design textures are bold, colorful, and funky. They help create a bold statement especially when used in a modern interior style (such as the Scandinavian).
Decorative textures used on furnishing help enliven plain spaces, making home a fun place to be in.
Nostalgic decor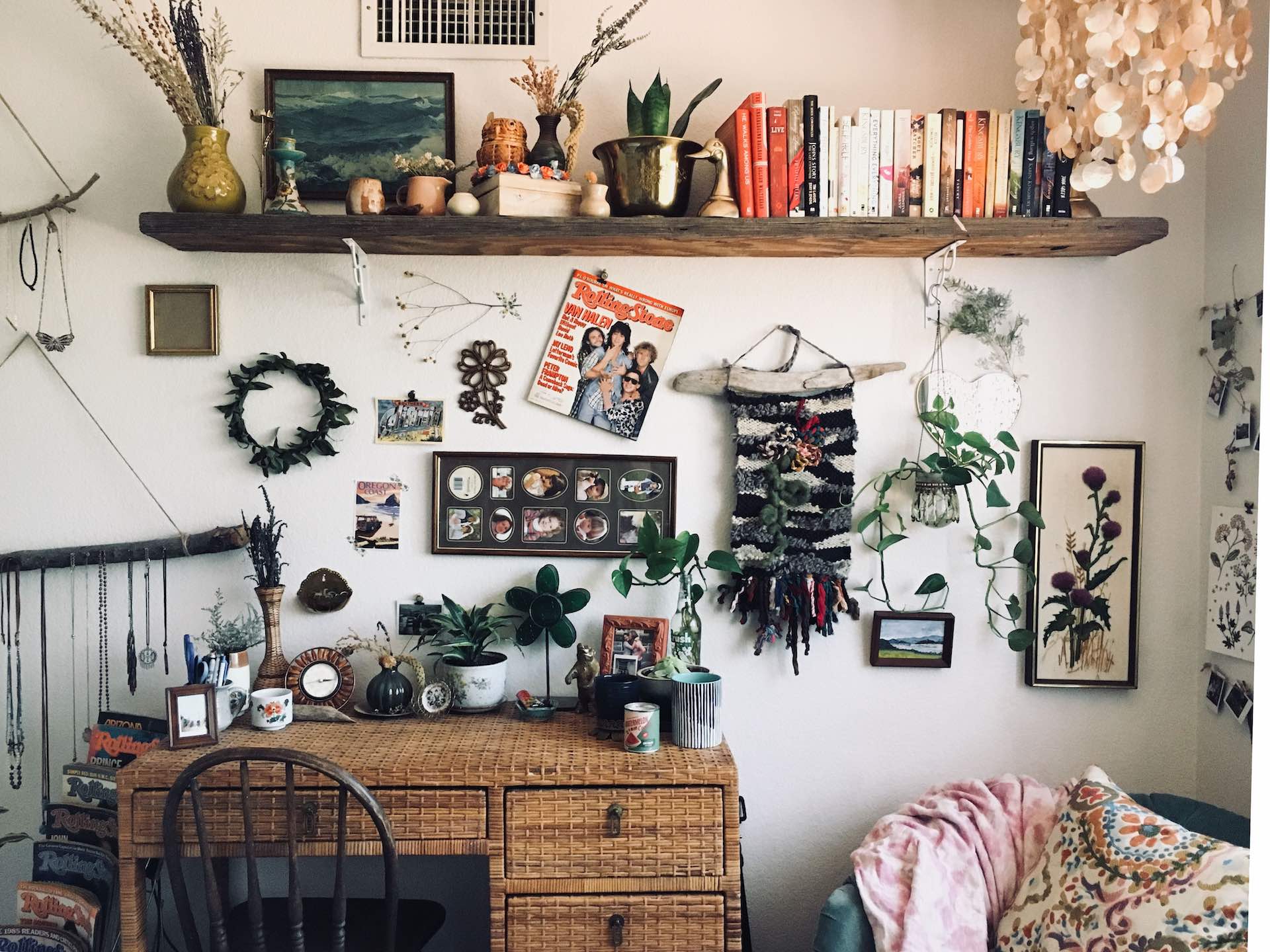 Retro decors in the living space invoke a sense of nostalgia. It reminds adults of their younger days when they were more carefree.
Retro styles are not minimalistic, so decors are arranged freely around the home without much restriction. Any kind of decors that signify memories fits the Retro space.
Retro light design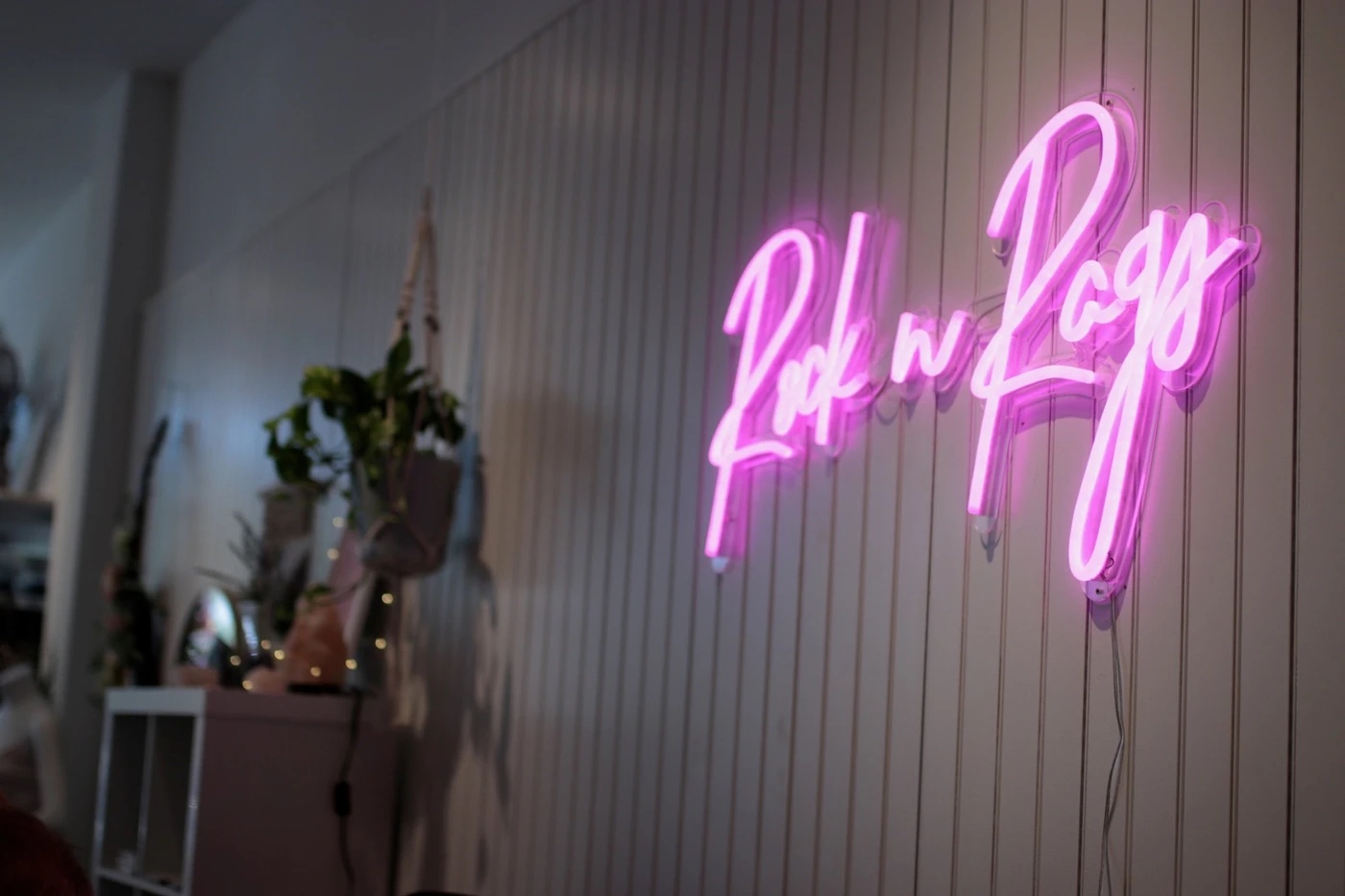 Retro lights are all about form. Getting the look right is more important than the function the light serves.
Neon lights are mainly used to create a dramatic effect. It instills a sense of nostalgia back in the 60s with its colorful fluorescent lighting. Retro lovers decorate their home interiors with neon lights quotes to express their personalities.
Pendant lights resemble the traditional way of displaying lights. Modern pendant lights used in today's home have a similar but safer effect to the exposed wires hang from light bulbs back in the 50s.
Today's Retro homes also use other types of modern lights for ambient lighting.
Applying Retro style to your home
Living room
A space refurbished with Retro furniture and decorations can give a fresh yet classic look. Designers pay extra attention to the living room because, after all, that's the place for get-togethers with family and friends.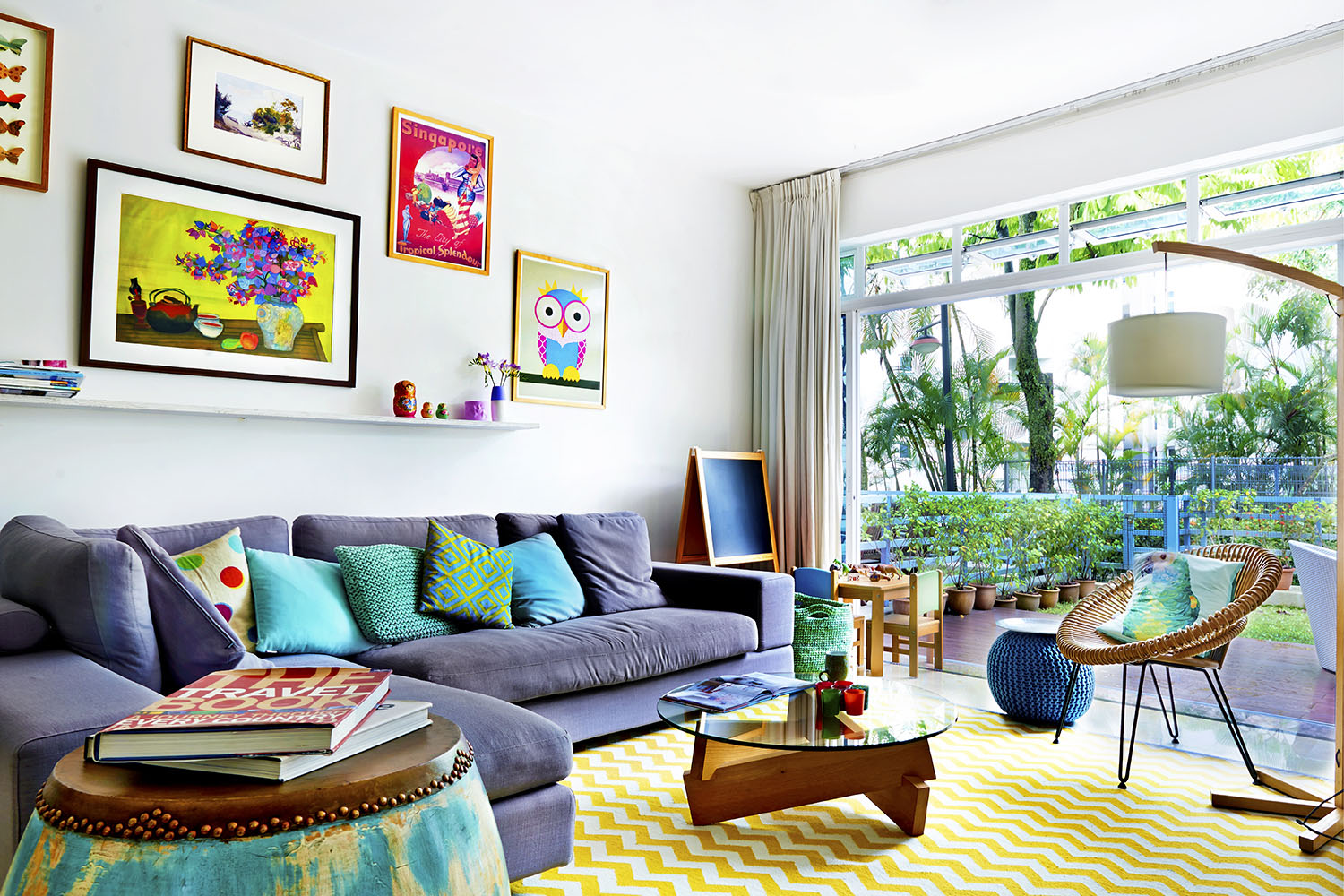 Decoration in a Retro interior usually has a fun and lively feel. The living space is usually styled with bright colors, funky designs, edgy art prints, or even psychedelic patterns. 
Think back to the trends in pop-culture, graphic design, or iconic symbols in the decades between the 50s to 70s. Vivid and colorful decors can be used to contrast an achromatic background. Rugs with bright yellow wave patterns, teal knitted pouffes, and gumdrop-pattern cushions bring the Retro style to homes.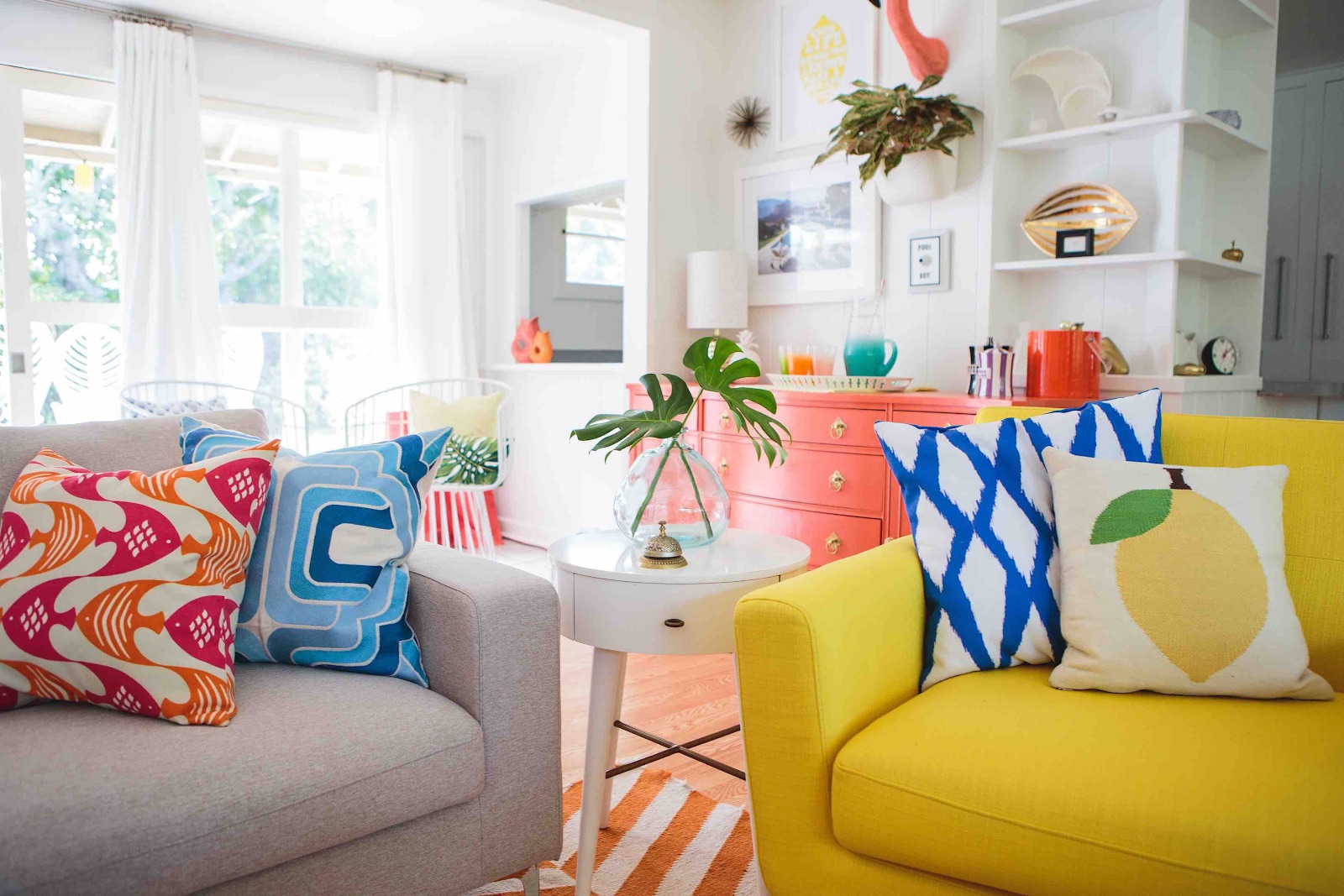 The texture on surfaces is also an important element in Retro interior. Smooth and flat finishes are rare in Retro style. Instead, heavy patterns in textiles, upholstery, and wallpapers are used to inject personality into space.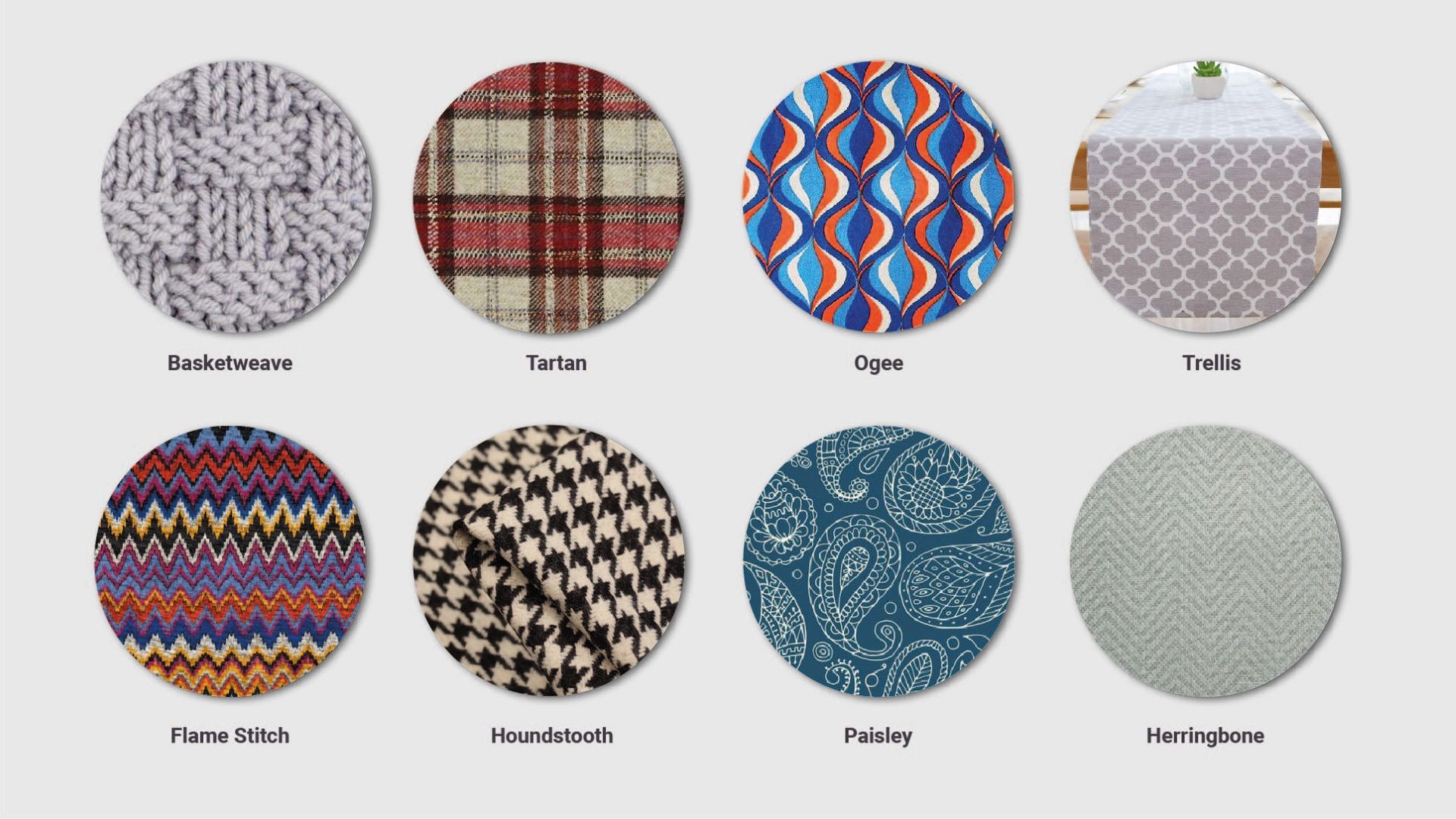 Elaborate patterns on cushions, throws, rugs or sofas can deliver a retro vibe to your living space. Common patterns are herringbone, houndstooth, gingham, and tartan. 
Bubble chairs, patio chairs, beanbags, and huge metallic pendant lights are some of the retro furnishings that homeowners can adopt in their homes.
A Retro style interior has lots of opportunities for repurposed pieces and vintage hand-me-downs. Collectable pieces that mean something will always be special. Let them tell your story.
Kitchen
Whether you whip up a meal or not, the kitchen is where you spend time brewing coffee or tea in the morning before work. A well-designed Retro kitchen lets sentimentalists lean into the comfort of nostalgia.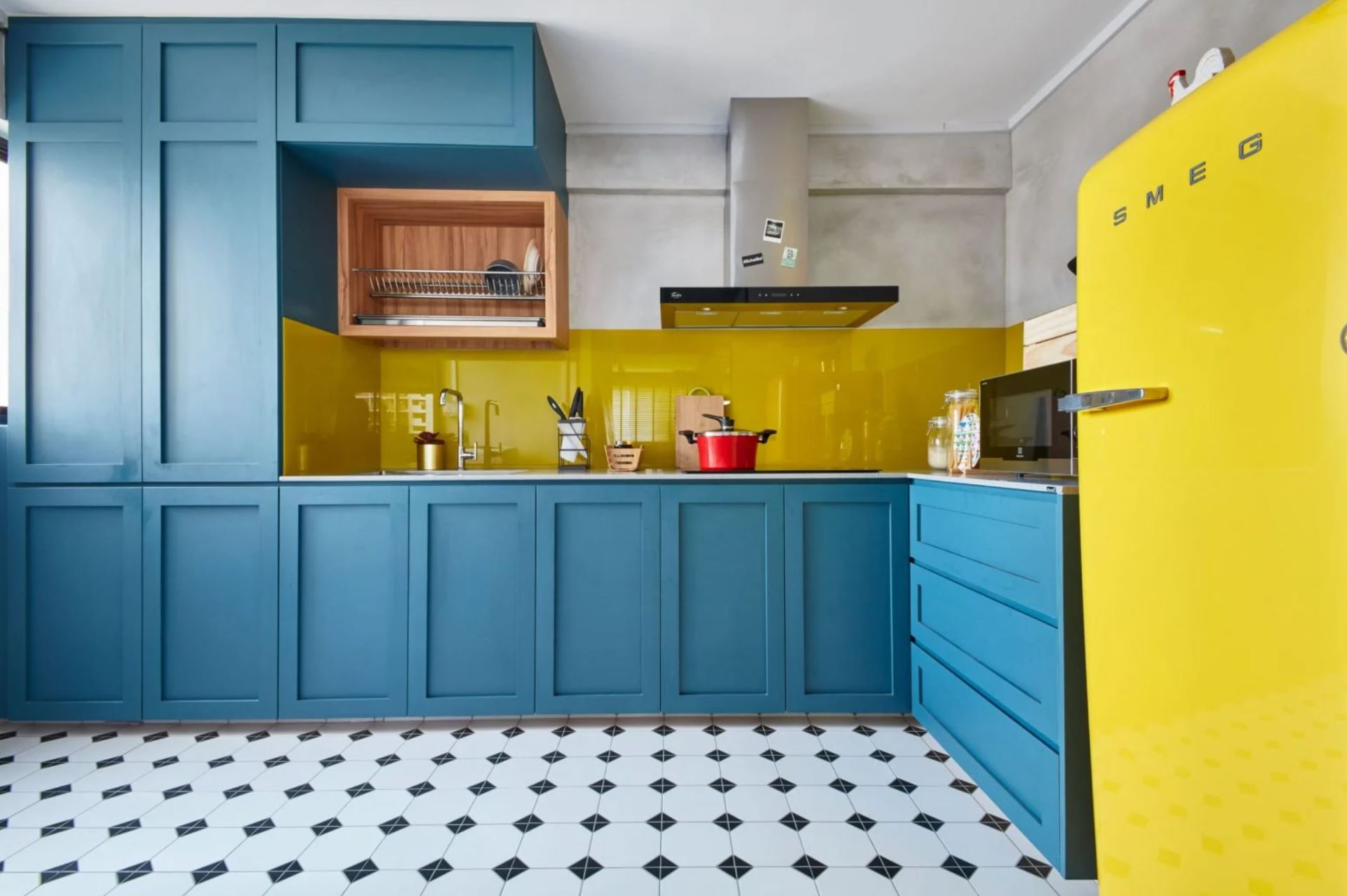 Bright vivid colors can be great for reinforcing the funky and vibrant Retro style. Choosing bright and energetic colors that complement one another can instantly pep up the kitchen area. For example, neon yellow paired with deep teal tones evokes the 60s aura. 
Opt for flooring with patterns that represent the 50-70s eras. Harlequin is one of the iconic patterns that's commonly used in the kitchen back in the day. Gingham, greek keys, ikat, and jacquard are some other retro patterns you can use on flooring.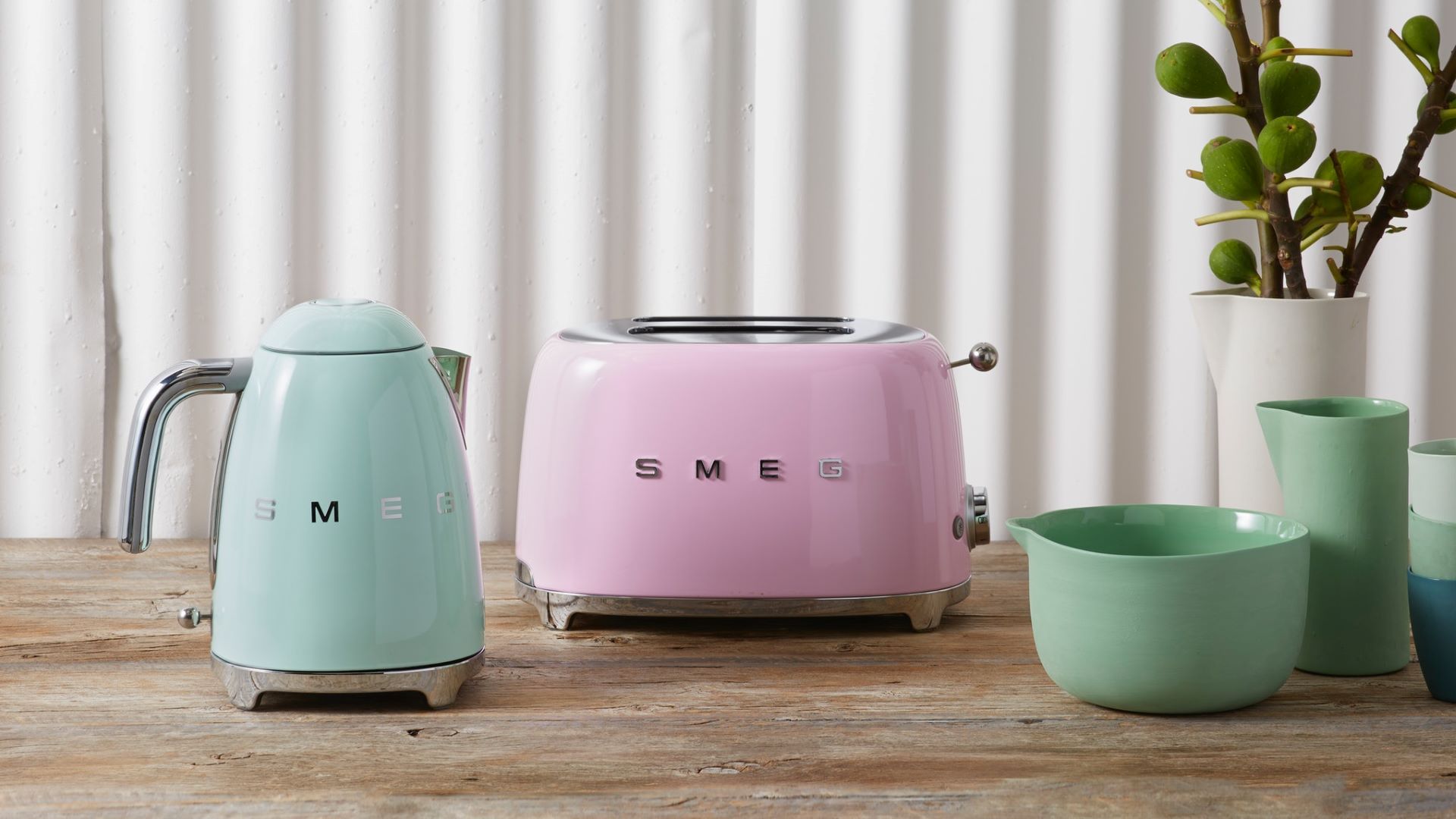 Complete the kitchen space by going with old school appliances. SMEG refrigerators, Morphy Richards cooking pots, and KitchenAid mixers are some of the iconic appliance brands that speak to the personalities and tastes of Retro lovers.
Bedroom
The Retro bedroom should be funky and exhibit a playful personality. Don't be afraid to experiment with unusual designs because this free-spirited style is forgiving when it comes to styling your space.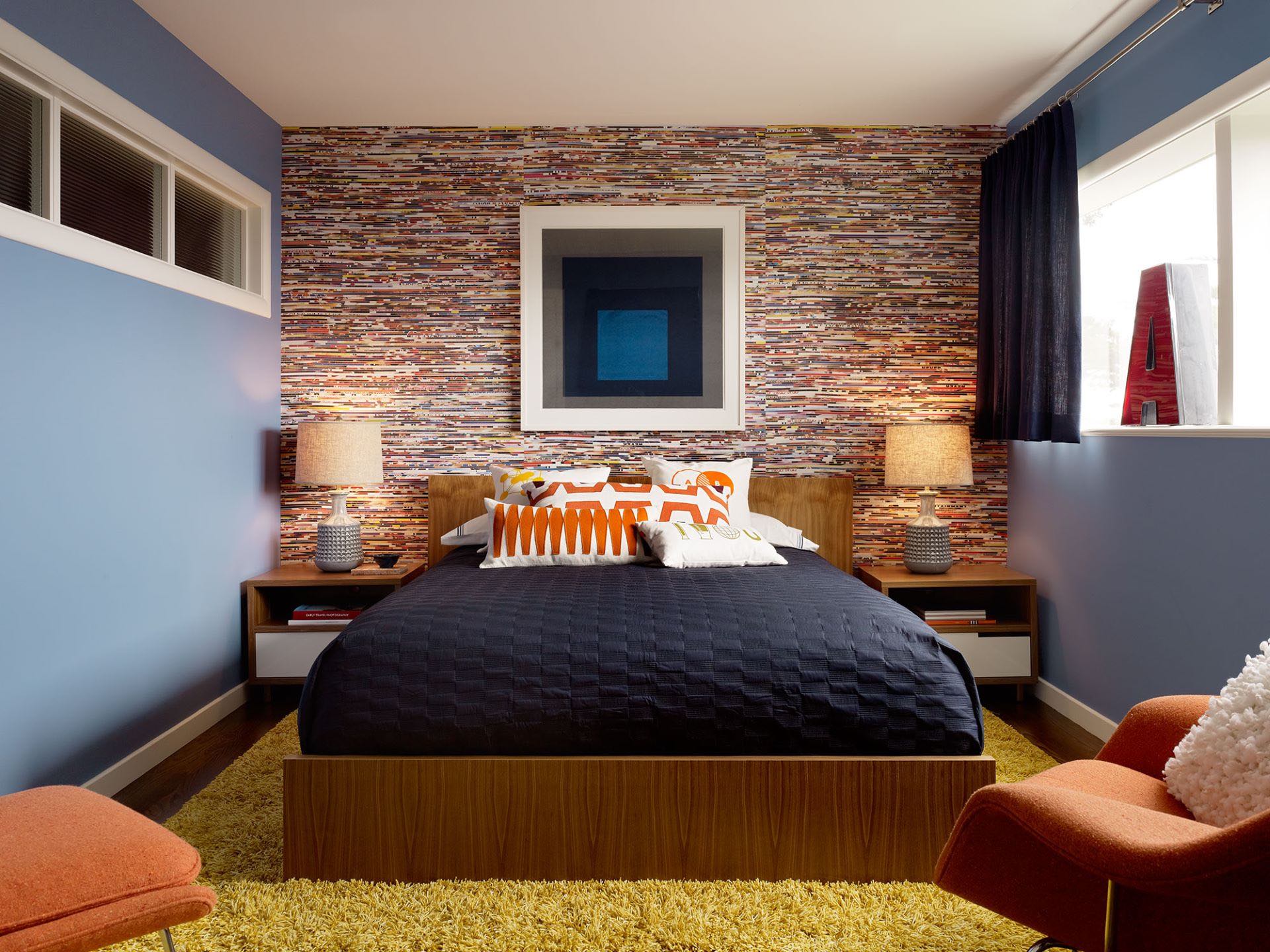 A feature wall in the bedroom is a good opportunity to express Retro vibes. It should tell a story and revive the room with a sense of nostalgia and eclecticism. For example, a feature wall that replicates the look of vinyl records lined up on shelves.
Play up lighting fixtures by injecting small details of the 60s and 70s trending hallmarks. Pot lid shape is a classic retro pendant lamp. Orb shaped lamps are most helpful in achieving the Retro look. 
Go for a simple wooden bed frame as it's durable and can soften bold color backgrounds. For an added charm, accessorize the bed with patterned throws and textured blankets.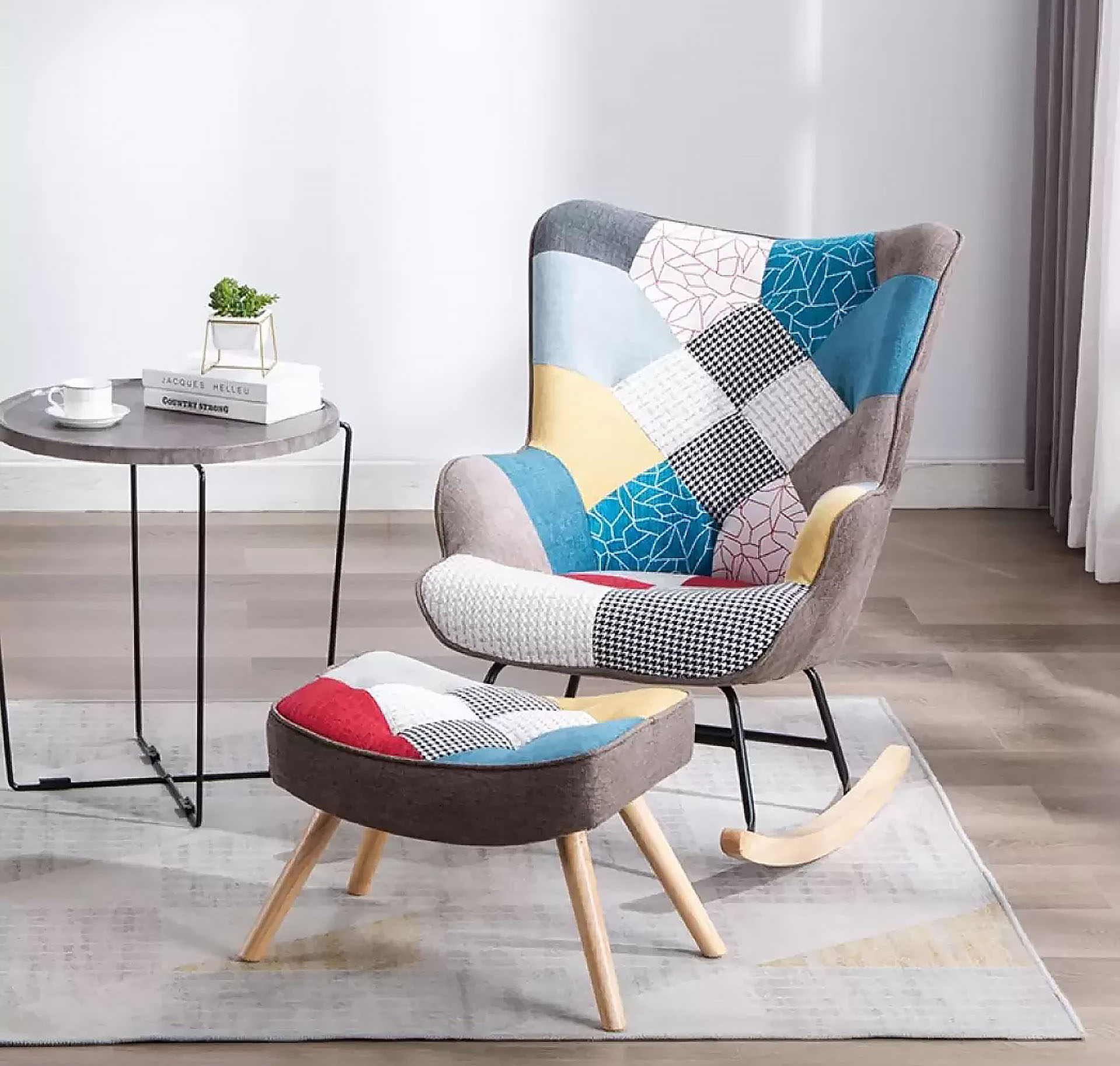 Egg chairs, womb chairs, Eames lounge chairs, Bertoia bar stools are some of the timeless furniture designs that have remained popular until today. The addition of these furniture in your room can instantly transform a dull space into an engaging one.
Don't worry about having dissimilar decorations and furnishings. Learn to love the juxtapositions of this style to give your room a major retro vibe.
Modern Retro home examples
Home designs today tend to take after the minimalist approach. What that translates into, is a living space that's simple and uncluttered. 
So modern Retro, in other words, means "Do minimalism with a Retro twist".
Here we've packed some visual examples to give you a better idea of how you can embrace a modernized space with a touch of Retro charm in your home.
Retro HDB/condo living room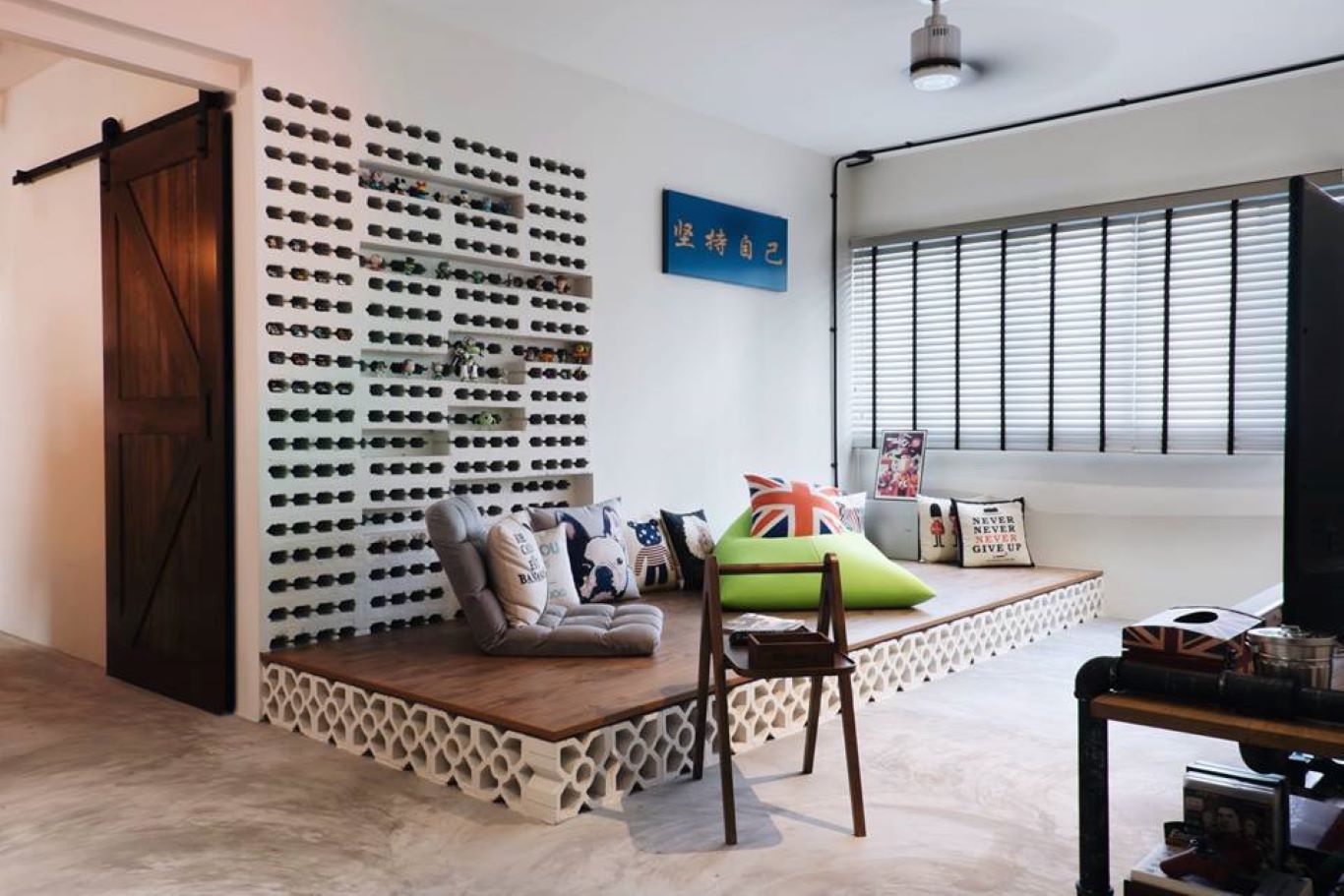 When guests walk into the living room, the feature wall may be the first thing that catches their attention. 
Singapore designers draw inspirations from their homeland's heritage and landscapes to design a Retro interior. Feature walls and platform carvings that replicate HDB void decks instantly portray Singapore's retro period.  
Retro HDB/condo kitchen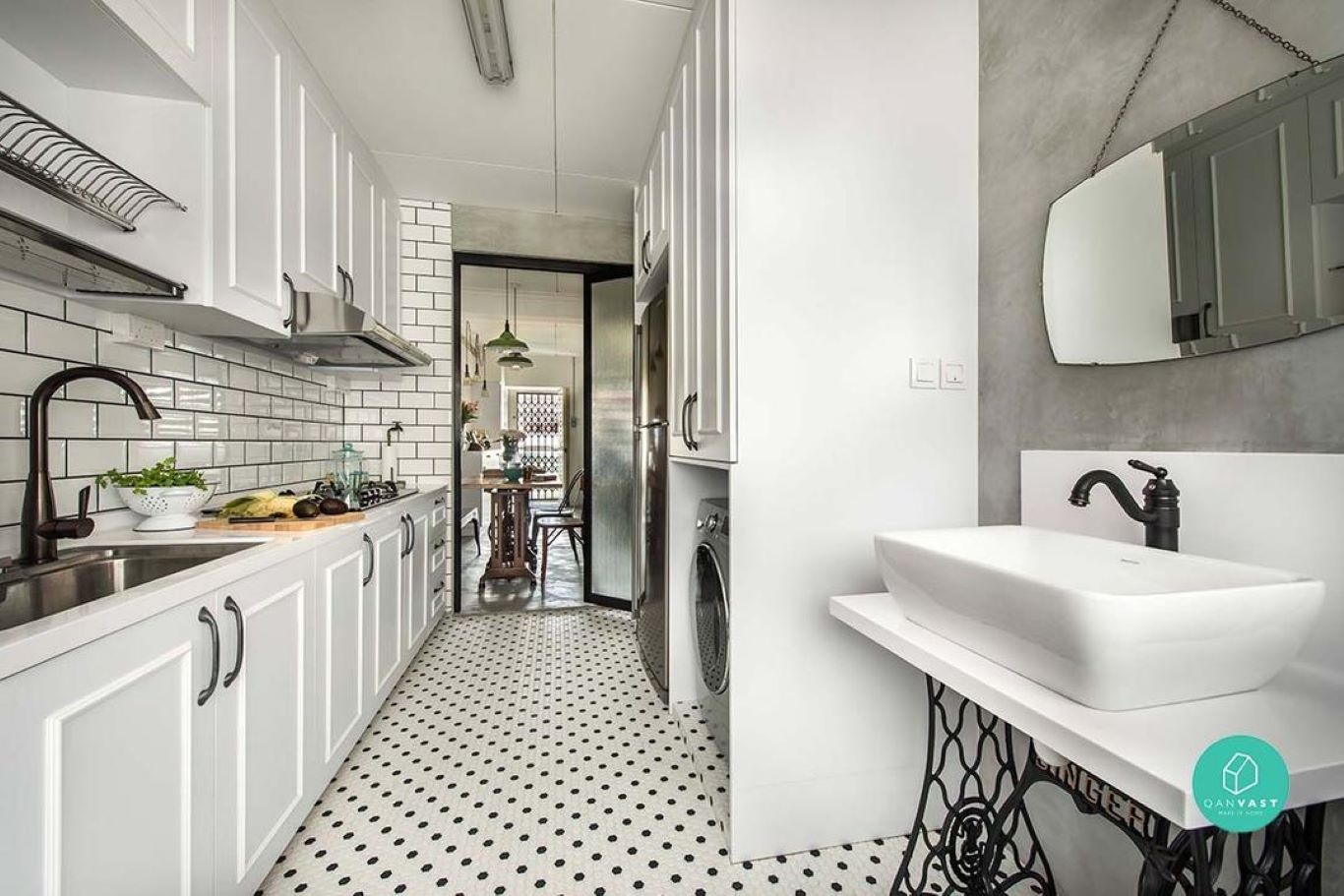 For an all-white kitchen space, polka-dotted mosaic floor spontaneously brings out the Retro vibe of the 60s. Recessed cabinetry with trimming added to its doors pays homage to the kitchens of the 60s. Designers sometimes give the wall a polished concrete look to portray an authentic impression of the 70s homes. 
The result is a brightened white space brimming with enduring Retro style. 
Retro HDB/condo bedroom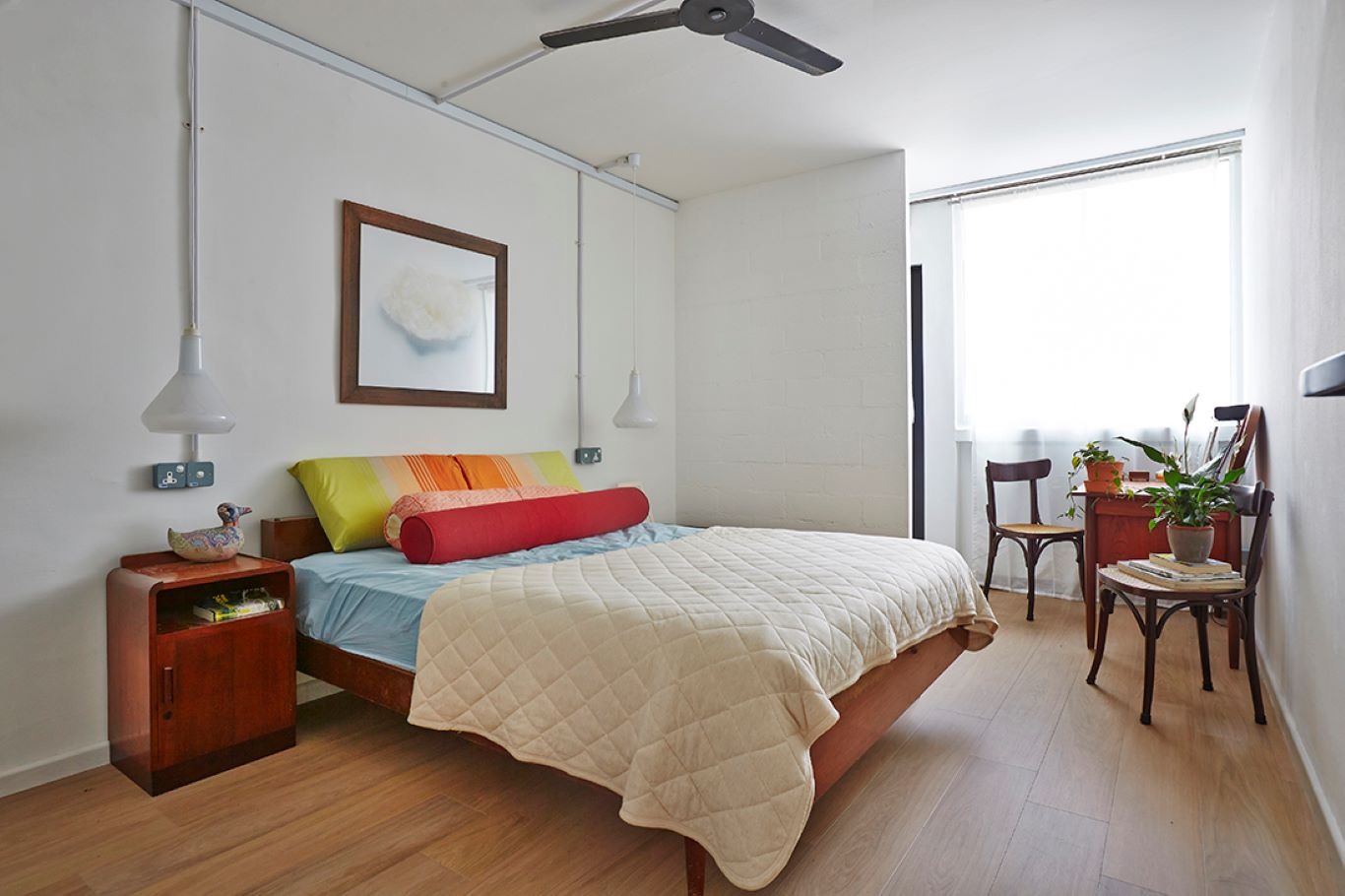 In the modern bedroom, designers keep the overall design pared-back. Wall and flooring designs are kept simple. Space is decorated with accent furniture thoughtfully to bring out the Retro essence. 
Dining chairs can be repurposed as an accent chair in the room. Potted plants and books layered on top of the Klismos chair complete the neutral-toned background.
Retro HDB/condo bathroom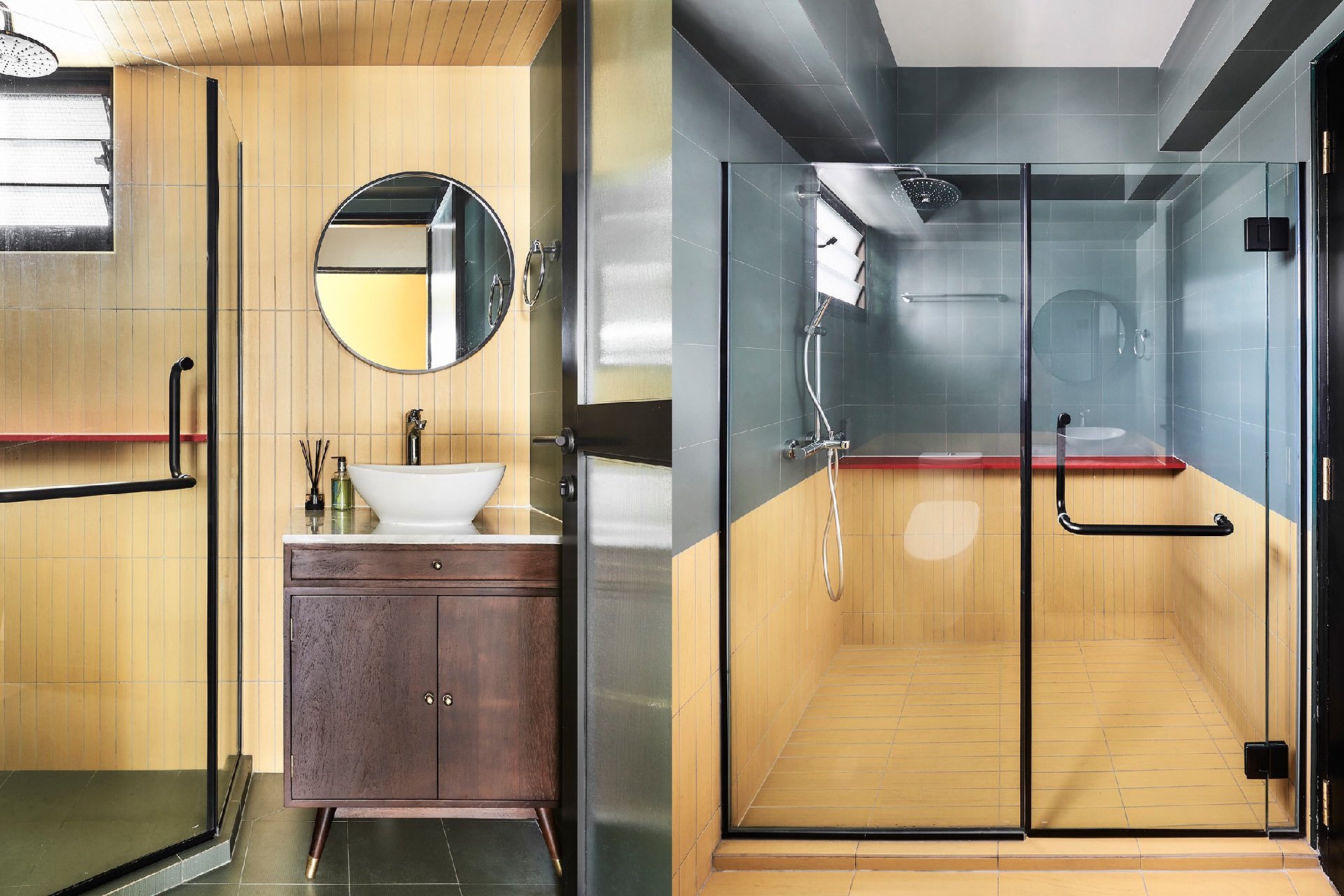 Designers inject Retro vibes through colors in a space-constrained bathroom. Subway tiles are tinted with mustard yellow and midnight green to lift the retro mood in the bathroom space.
Wood furniture is a staple in the Retro interior. Counter wash basin on a wooden cabinet gives a touch of vintage elegance. 
Retro house living room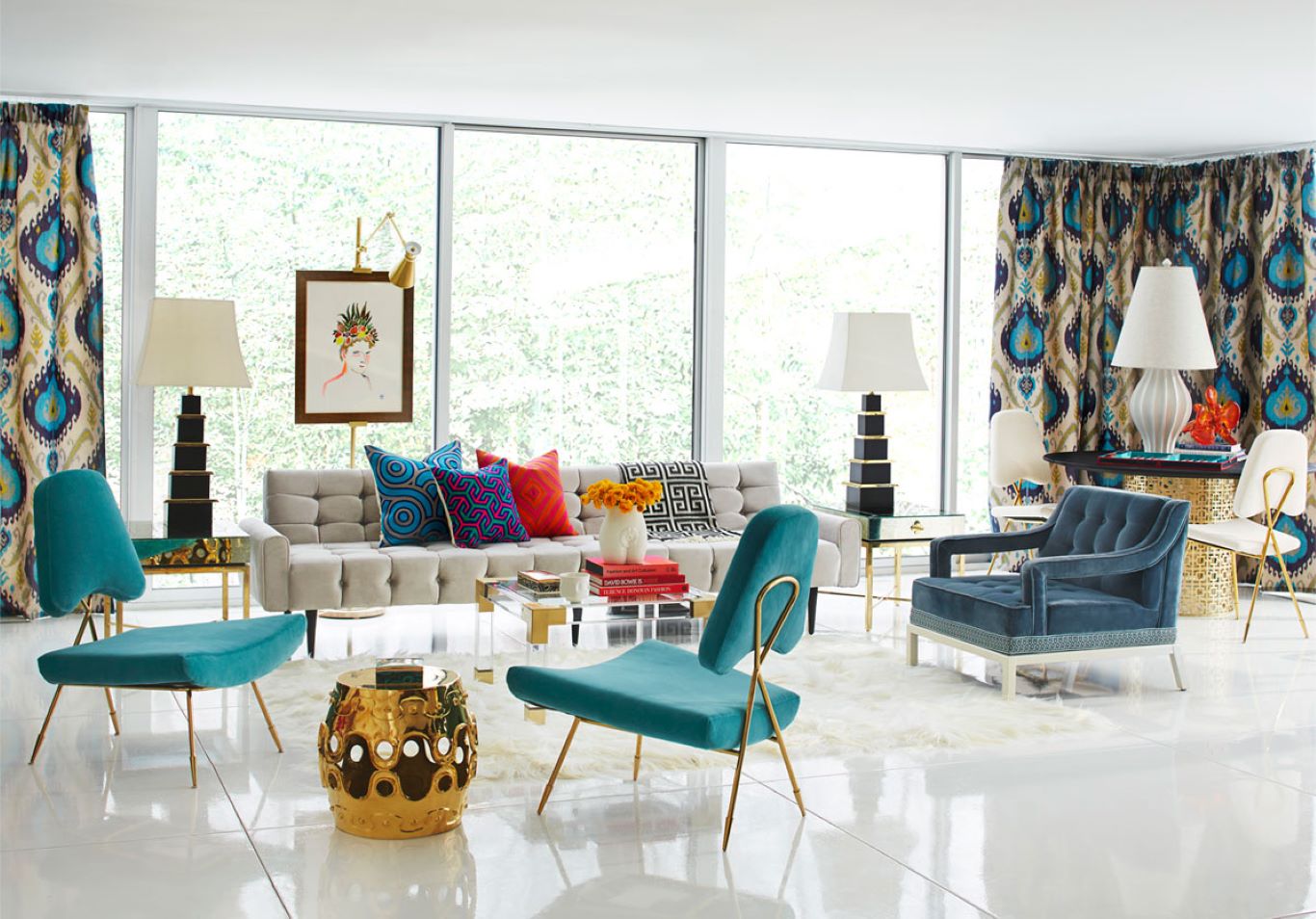 The use of strong colors and elaborate patterns defines a classic Retro look. 
Unique decorative patterns on cushion covers, throws and curtains pay homage to the Retro decades. Designers decorate the living space with contrasting accents to bring out the Retro essence.
Retro house kitchen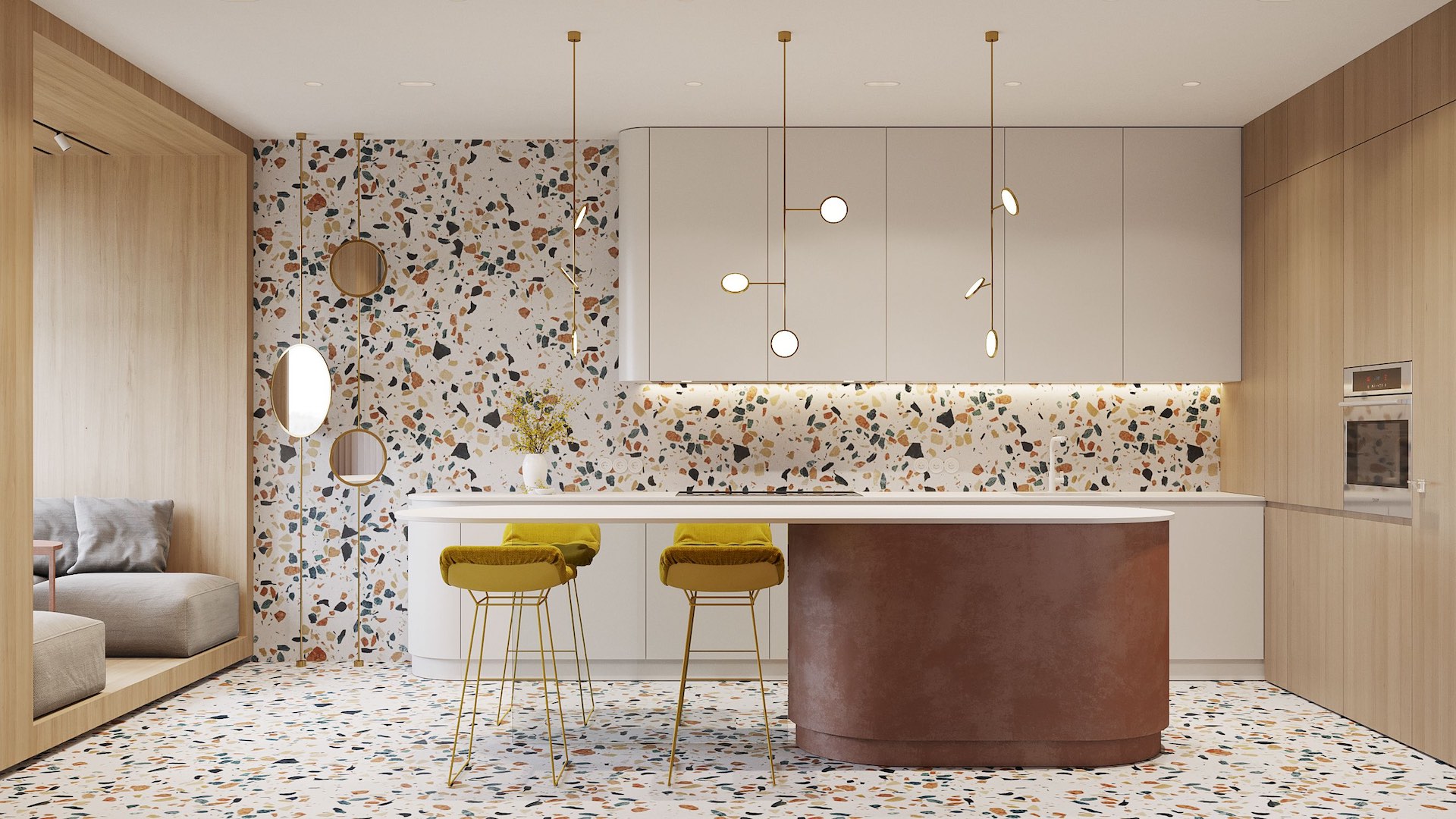 The open-kitchen concept is very popular in today's homes. Designers are mindful to keep the space airy while incorporating Retro elements. It's essentially a well-balanced scale of minimalism and playfulness. 
The iconic Terrazzo tiles are designed to look like speckled confetti. It speaks loudly of the 70s trends. To give the space a modernized effect, designers modify the Terrazzo colors to complement the overall interior color scheme. 
Retro house bedroom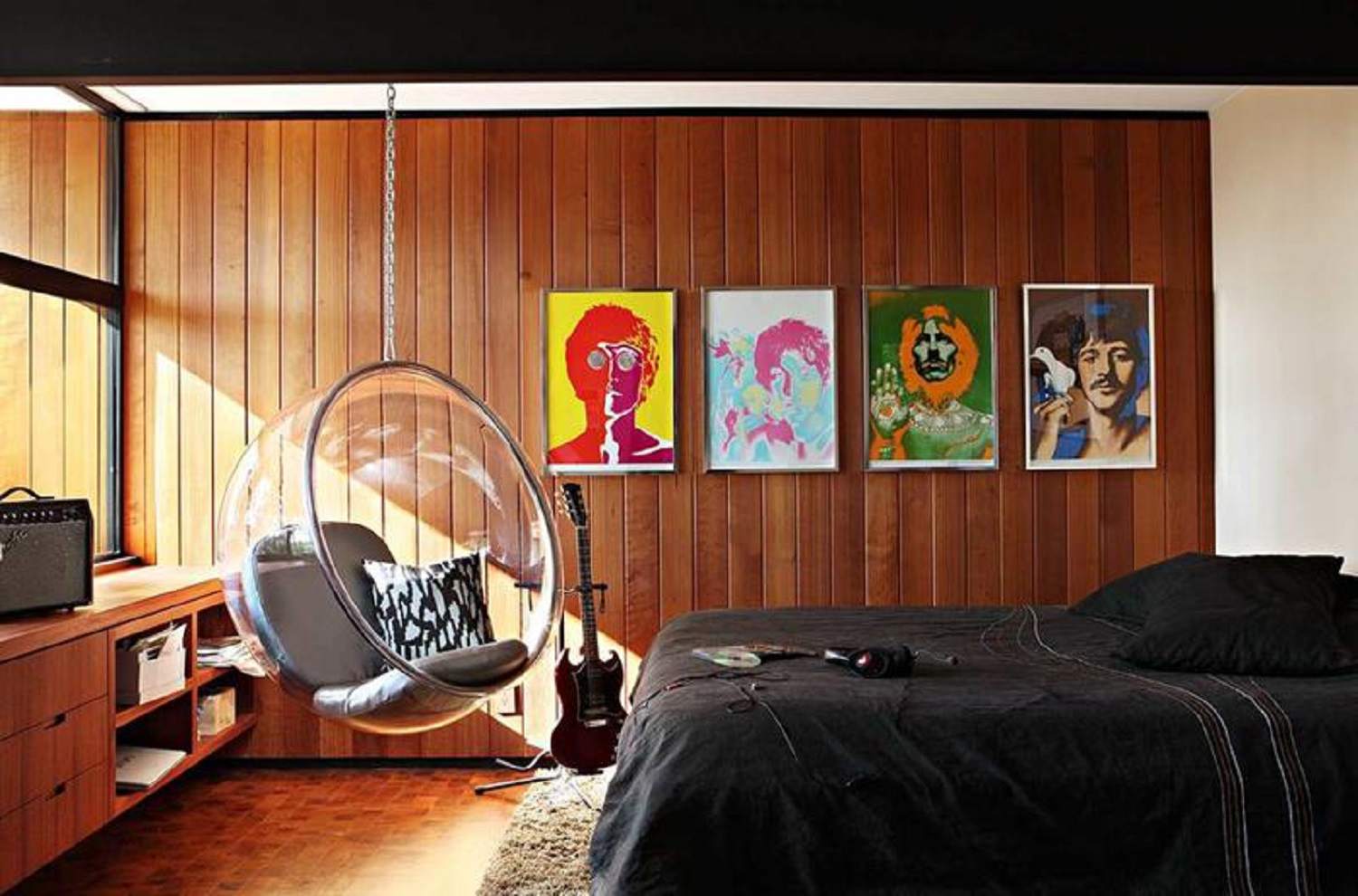 Designs that speak of the 60s hippie culture inject the room with a sense of free-spirited living. Retro pieces like the pop art Beatles images and the acrylic hanging chair instantly revives yesteryear influences with a stylish modern look.
Retro house bathroom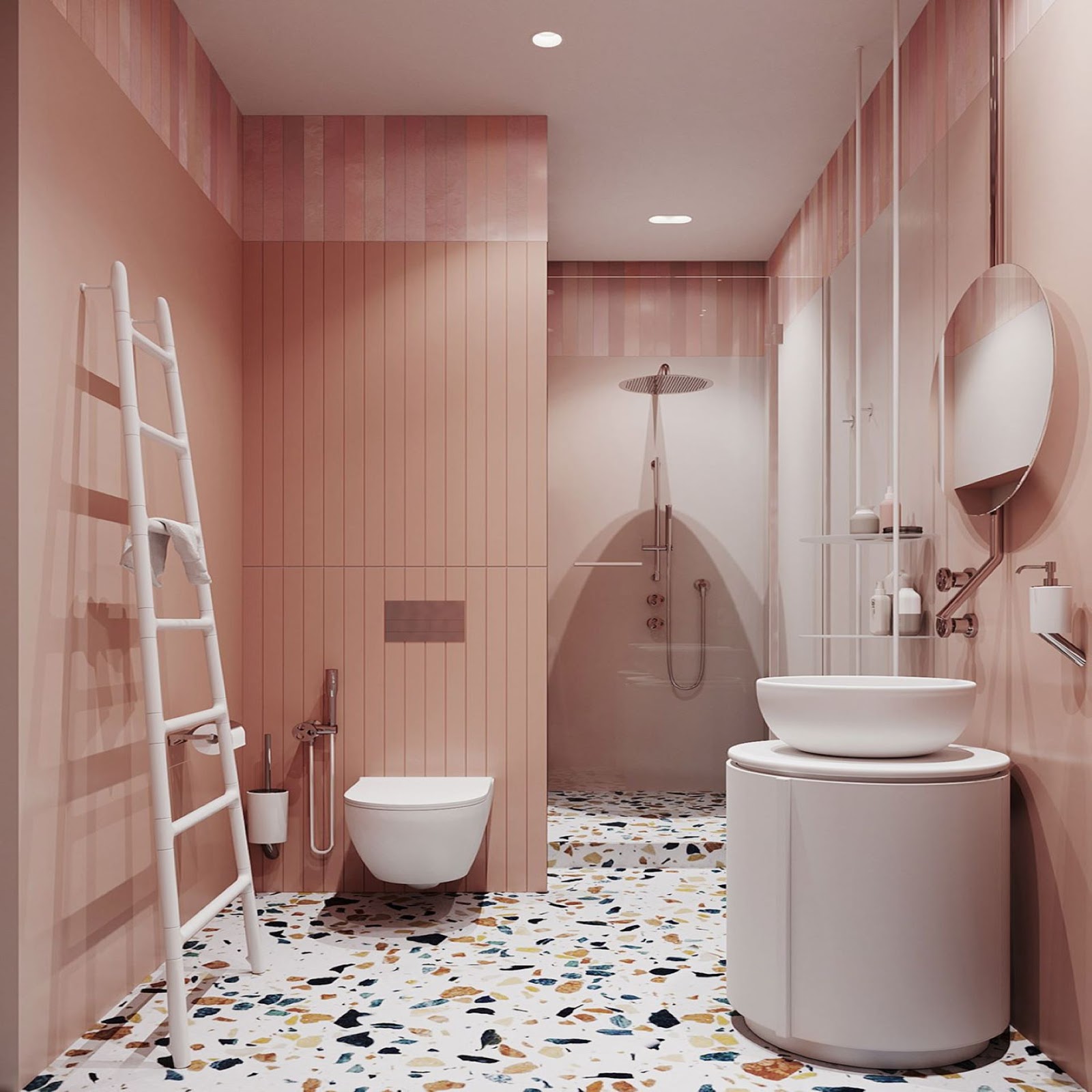 Even with larger perimeters, homeowners appreciate a bathroom that's uncluttered and roomy.
In modern bathrooms today, fixtures and furnishings are kept minimal and sleek. Instead, designers play up the wall and flooring designs to accent a classic Retro vibe. 
The coral pink wall lends a soothing atmosphere to the enclosed habitat, while the Terrazzo floor tiles remind homeowners of classic 70s home interiors.
Fusion Tips
Retro is a diverse style that gives homeowners plenty of freedom in its application. 
You can combine Retro with many other modern styles for your home.
Combining Retro with Scandinavian
A simple way to fuse Retro with Scandinavian is to use color. 
Pair warm muted Retro colors with Scandinavian neutral colors. For example, mustard goes well with beige and taupe. Or use green to complement plants from Scandinavian style.
Alternatively, Retro elements can be added to a Scandinavian home to brighten it up. Vibrant colors, bold geometric prints, or graphic patterns all add a Retro vibe to the home.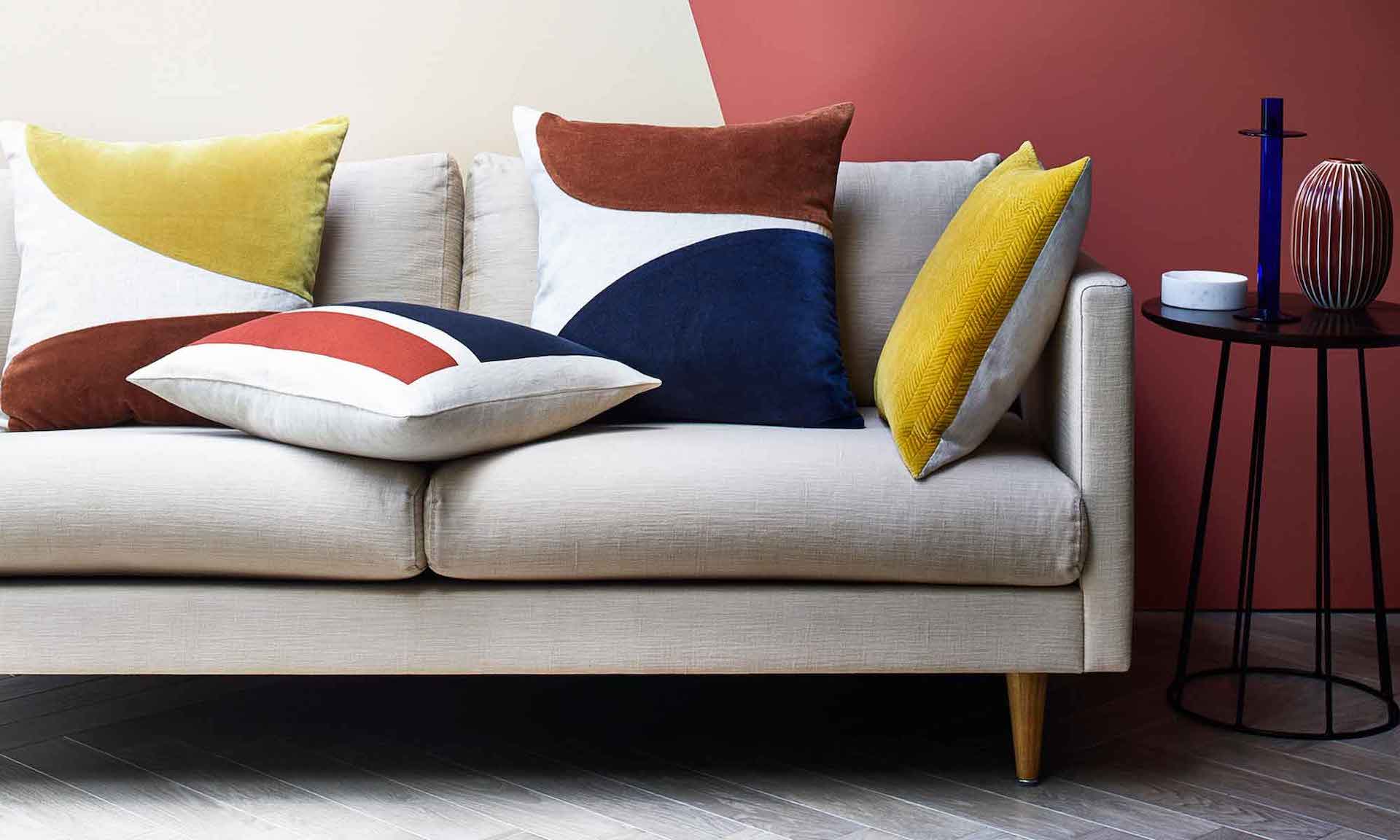 Retro is about playing with different lines, while Scandinavian is about using clean lines for functionality. 
Sounds like a fusion disaster? Not really. Both designs share the philosophy of comfort. Also, modern Scandinavian furniture is increasingly sporting sleek, curved silhouettes. 
This fusion of Retro with Scandinavian creates a fun and cozy home to return to after a long day at work.
Check out our Definitive guide to Scandinavian interior design style.
Combining Retro with Industrial
Retro and Industrial might seem like an odd pairing, but you'll be surprised at the results when they are fused.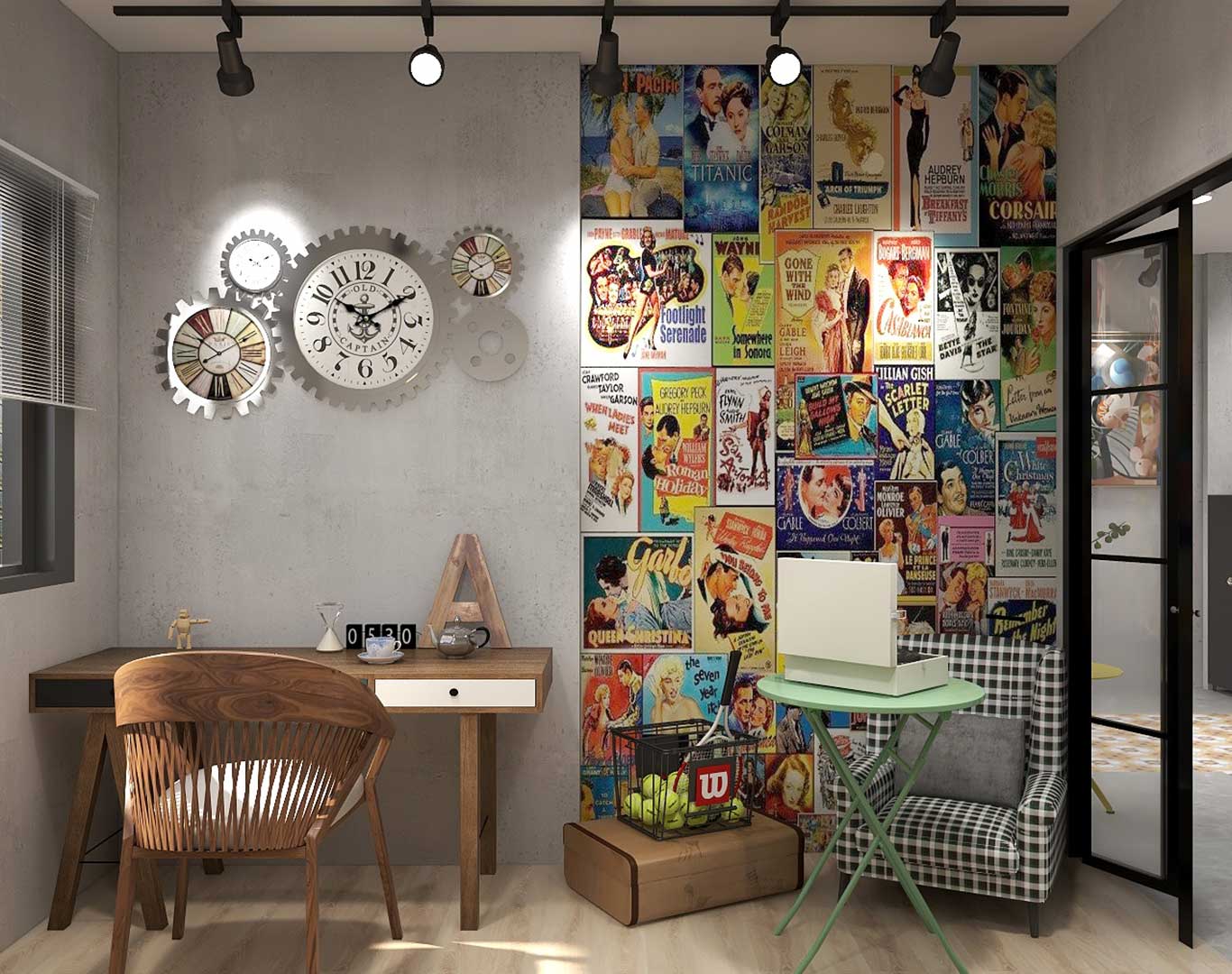 Industrial is raw and rustic while retro is lively and vibrant. The contrast of these designs achieves a balance of comfort and aesthetic-pleasure when they are fused. 
The result is a nostalgic home surrounded by natural raw elements.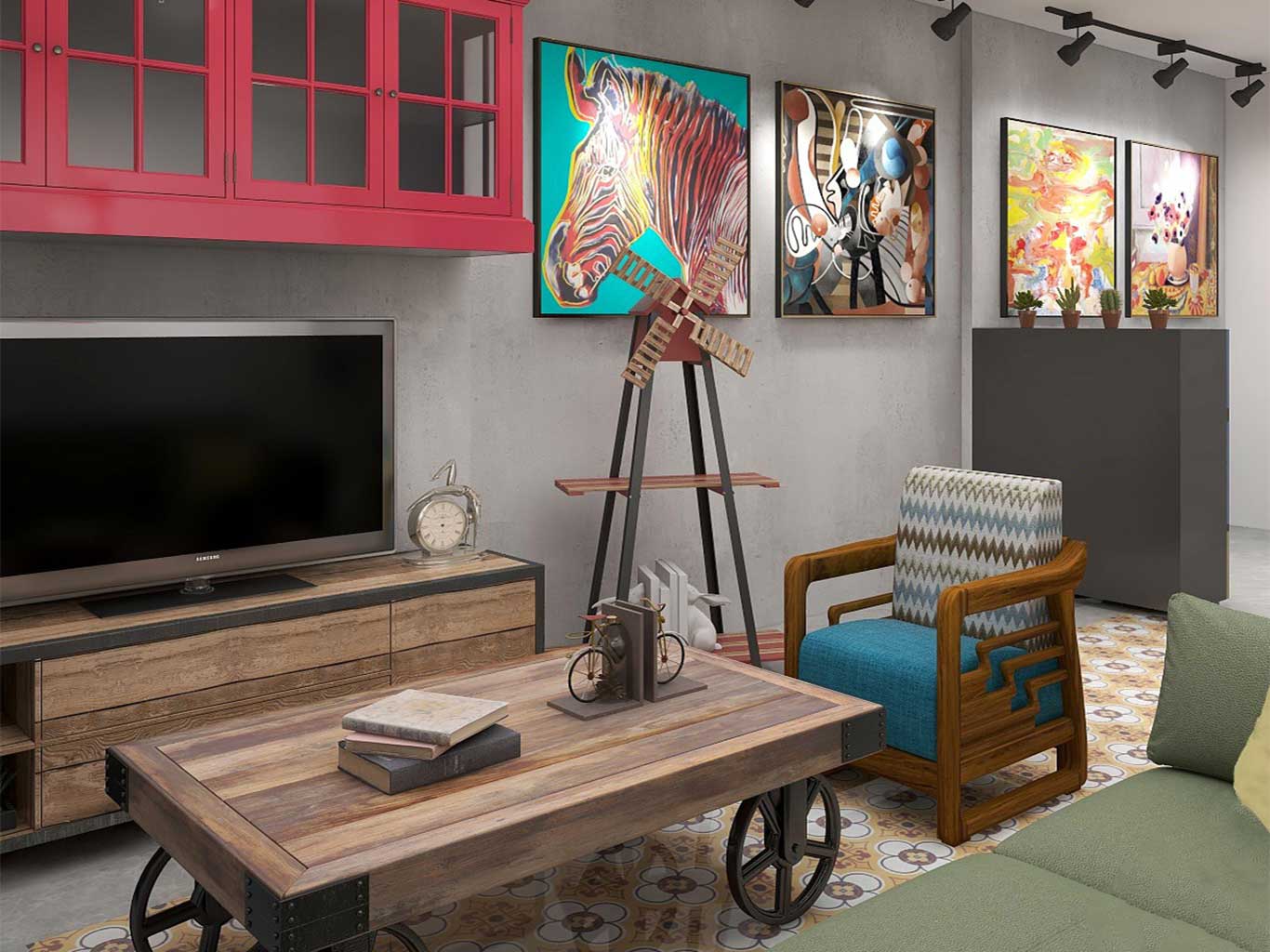 A unique synergy is achieved when Retro is combined with Industrial. For example, ceiling track-lights from the Industrial style can emphasize fun and lively Retro artworks hung as decor on the walls.
Also, the wooden elements in Industrial designs add a vintage feel that complements the nostalgia evoked by Retro decor.
Check out our Definitive guide to Industrial interior design style.
Summary
The Retro interior design style is a modern interpretation of vintage favorites. Old-school treasures are given a modern twist.
The design appeals to many, as it's fun and lively. It also represents a comforting blast from the past. 
Designers love Retro for its out-of-the-box thinking and maximalist philosophy. Homeowners indulge in experimenting with flamboyant colors and decor.
Excited to apply this style to your own home? Get in touch with our interior design consultants to know more about the latest Retro interior design ideas. We'd love to share.
If you'd like to know more about this style, check out our portfolio stories on how people are applying it to their own homes.
Check out the rest of our Definitive Guides here: 
Good luck with your renovation project.