Introduction
Victorian homes reflect architectural styles that were popular during Queen Victoria's reign. Older styles, such as the Medieval Gothic or Romanesque, were inspirations for the details we associate with the Victorian style today. 
In today's homes, the Victorian style combines the principles of traditional Victorian decor with a modern twist. 
Through this article, you'll learn how the Victorian style originated, what are its distinctive characteristics, and how it's appreciated in today's homes. 
Origins of Victorian design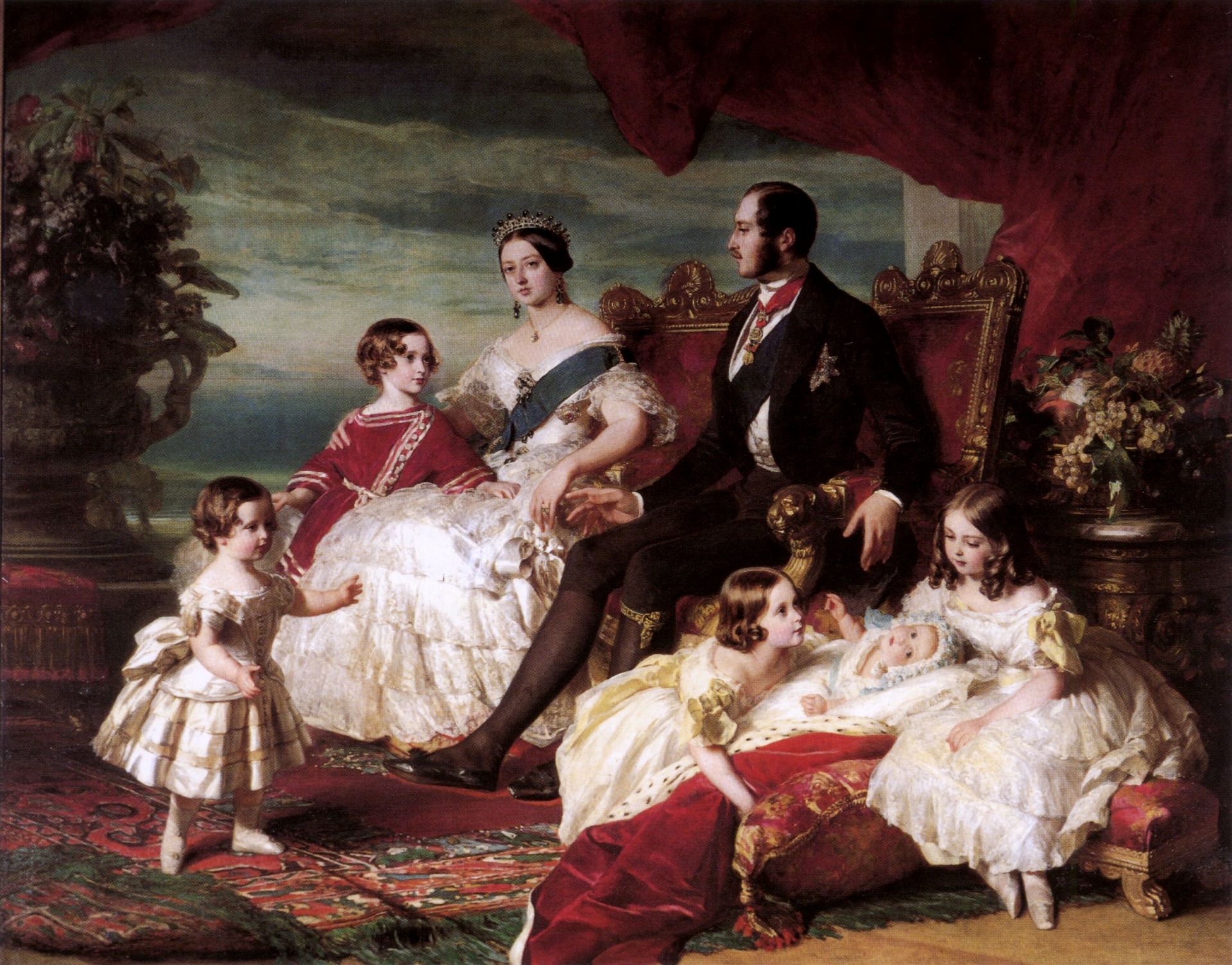 The architecture of Victorian houses is commonly referred to as the Victorian style. Specifically, the term comes from the period in history when Britain was under Queen Victoria's rule between 1837 and 1901.
The Queen was known for her luxurious taste in interior design and architecture. Her liking for eclectic and ornamental design captured the attention of her people.
Influenced by Queen Victoria's aesthetic taste, the affluent upper class first followed her style to showcase their family's wealth. 
As a result of the Industrial Revolution, the middle class was also able to afford and enjoy commodities previously unavailable to them. For example, Chintzware, floral patterns, carved vases, embellished curtains, and embroidered rugs.
Since then, Victorian homes have captured hearts for over 200 years. But there's more to this style than meets the eye.
Why people like Victorian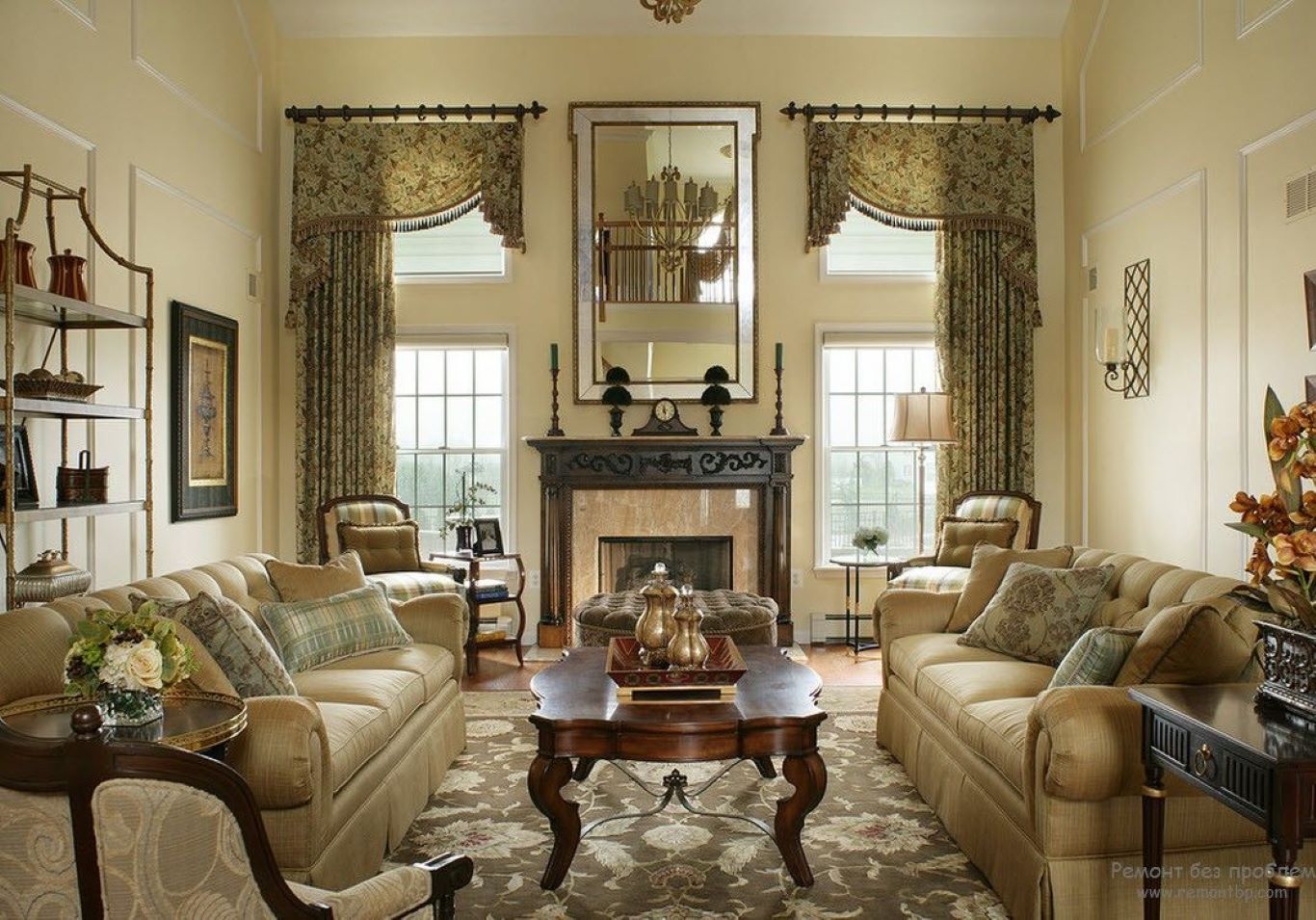 People adore the Victorian style due to its majestic and luxurious expression. It draws adoration especially from those who have an appreciation for British culture.
As the Victorian style is rich in its history, homeowners find comfort from relishing in nostalgia. The presence of classical objects reminds them of the dignified Victorian era.
With their decorative details and elegant presentations, Victorian homes have withstood the test of time. The style remains highly coveted over the centuries.
Still unsure if Victorian is your style? Fret not, take our quiz to find out which style suits you best.
Characteristics of Victorian
Wall coverings

In classic Victorian homes, walls were commonly covered with vibrant floral wallpaper to achieve elegant aesthetics. Wallpapers with such designs covered almost every wall. This was because, in the 1840s, companies started being able to mass-produce wallpaper. 
Wallpaper prints in rich hues of gold-brown and red-brown were popular in the 1900s. In modern homes today, velvet tufts and wood trimmings are used to replace wallpaper prints. They serve to add texture to the walls, achieving the Victorian aesthetic. 
Floral, paisley and nature-inspired patterns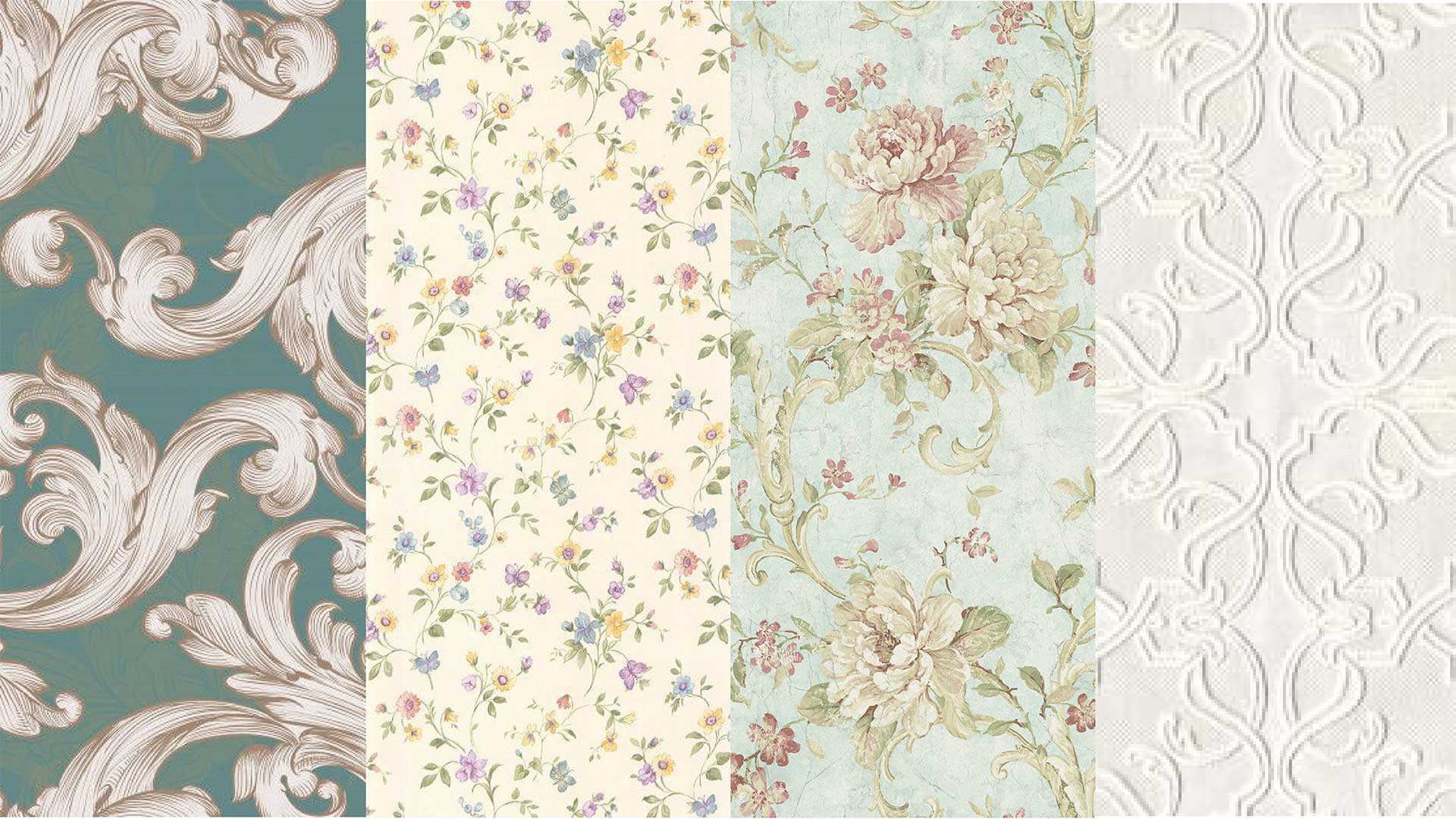 At the start of the Victorian era, prints were widespread in use and took the form of intricate florals. They later evolved into paisley, bird, and leaf patterns. A distinct trait of these patterns was the regular spacing and constant repetition of the design.
In today's modern Victorian home, designers adopt a subtler approach. Prints and patterns are only used in selected areas of the home, like the dining room or bedroom.
Ambient lighting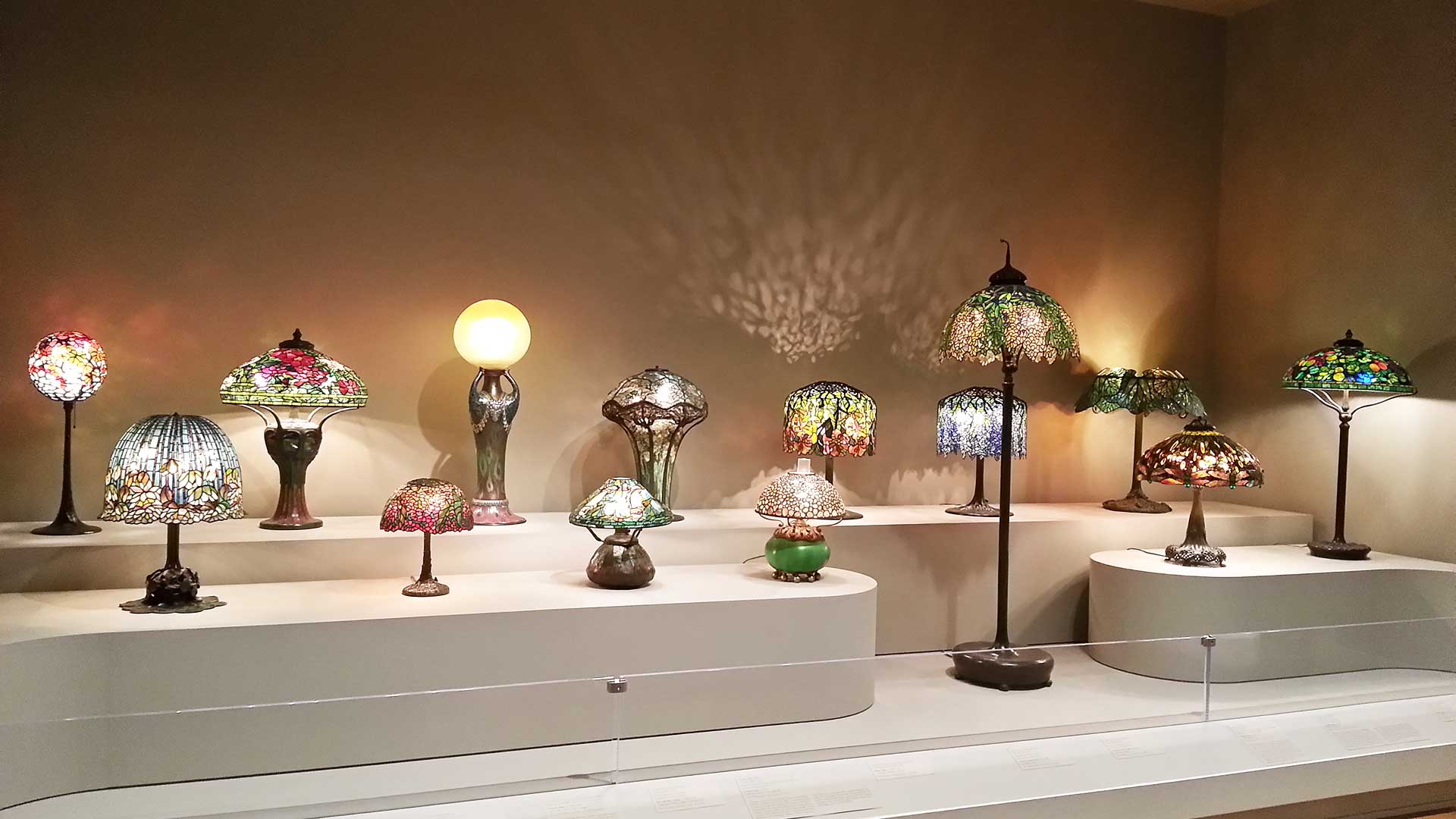 Mood lighting in hallways and dining rooms is an essential feature in Victorian style. They not only serve the purpose of illuminating the space but also impart an elaborate feel. 
Most lighting took the form of wall sconces, chandeliers, and the iconic Tiffany lamp. This lamp was made out of a stained glass lampshade. 
Louis Comfort Tiffany, a decorative designer, was best known for his work in stained glass during the Victorian era. Thus, what came to be known as the Tiffany lamp, created the ideal Victorian atmosphere at home.
Embellished curtains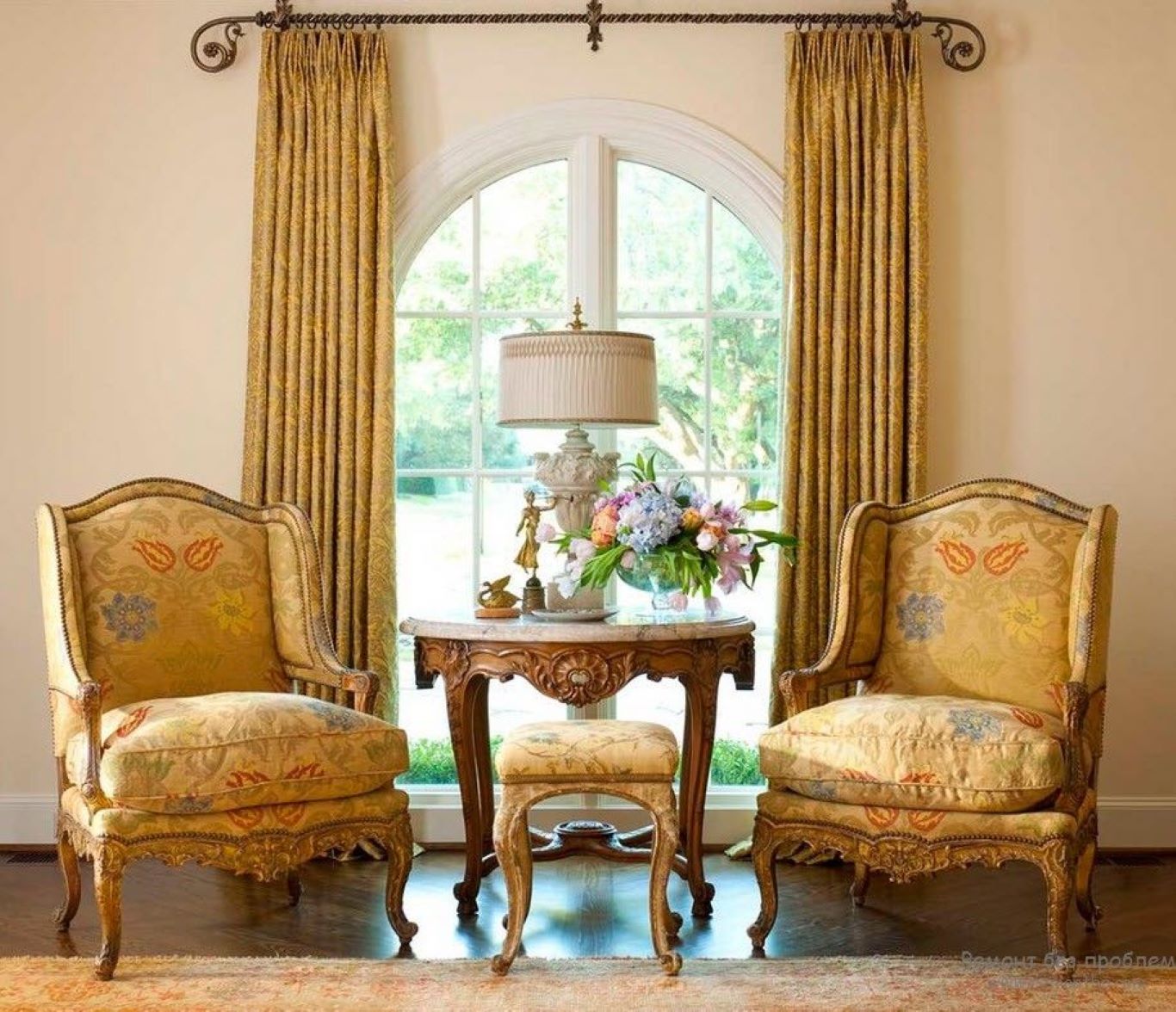 Windows were typically framed by velvet and brocade curtains made of rich and heavy fabrics. Decorative curtains exuded a luxurious appearance in homes. Hence, curtains were the preferred window treatment.
Victorian style curtains today are often made from silk and embellished with ribbons or embroidery.
Embroidered textiles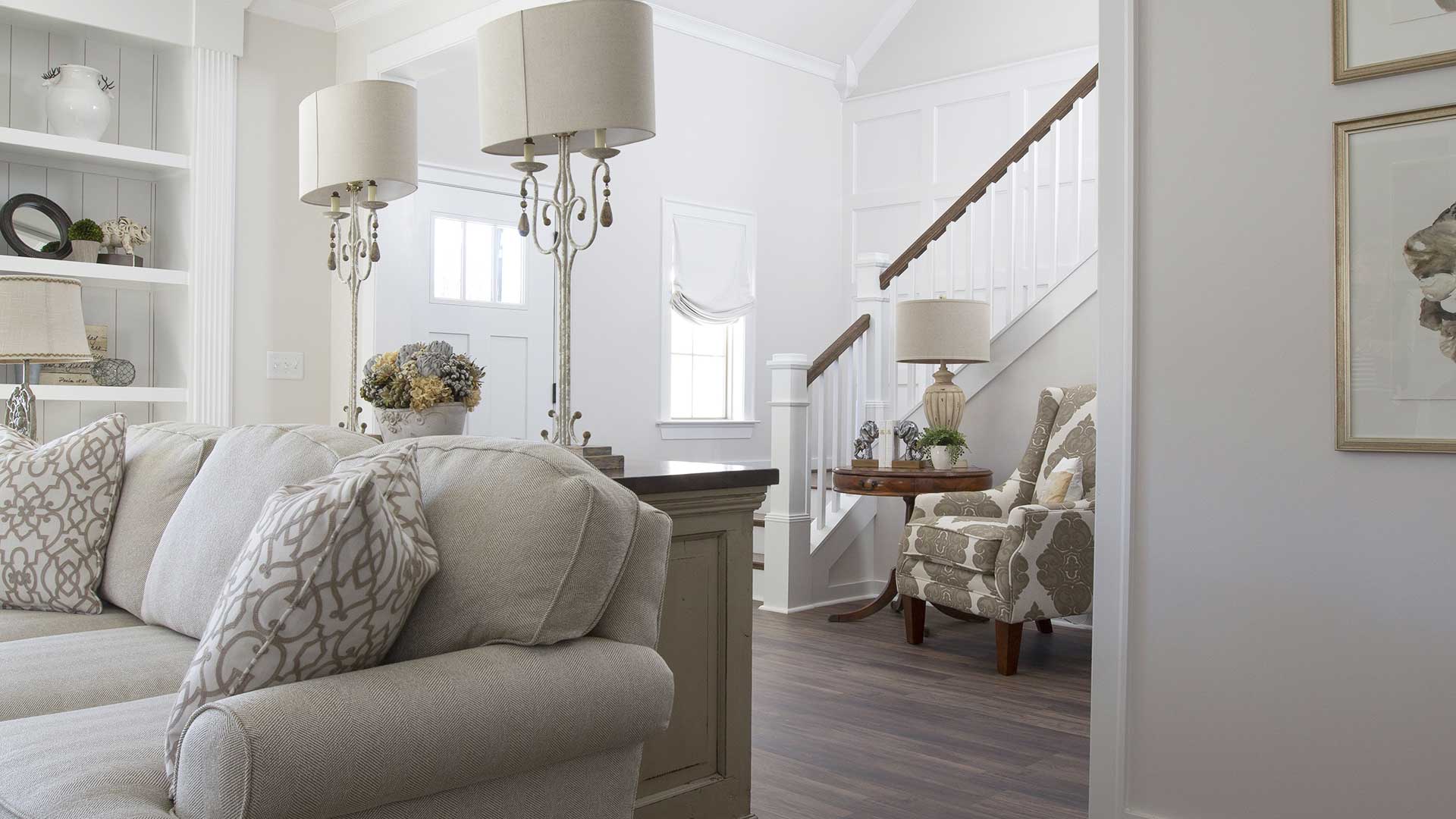 What sets the Victorian style apart from other vintage styles is the ample use of fabrics on furnishings, accessories, and window treatments.
All kinds of fabrics were used. Most were heavy, thick, and durable. Sofas and chairs were upholstered in rich linen damask, and windows were framed by velvet and brocade curtains.
In today's Victorian interior, it's  typical to have fringes or braided tassels as trimmings on pillows and upholstered furniture. Uniquely woven tapestries are also used to add charm and are great subjects of conversation.
Ornately-carved wood furniture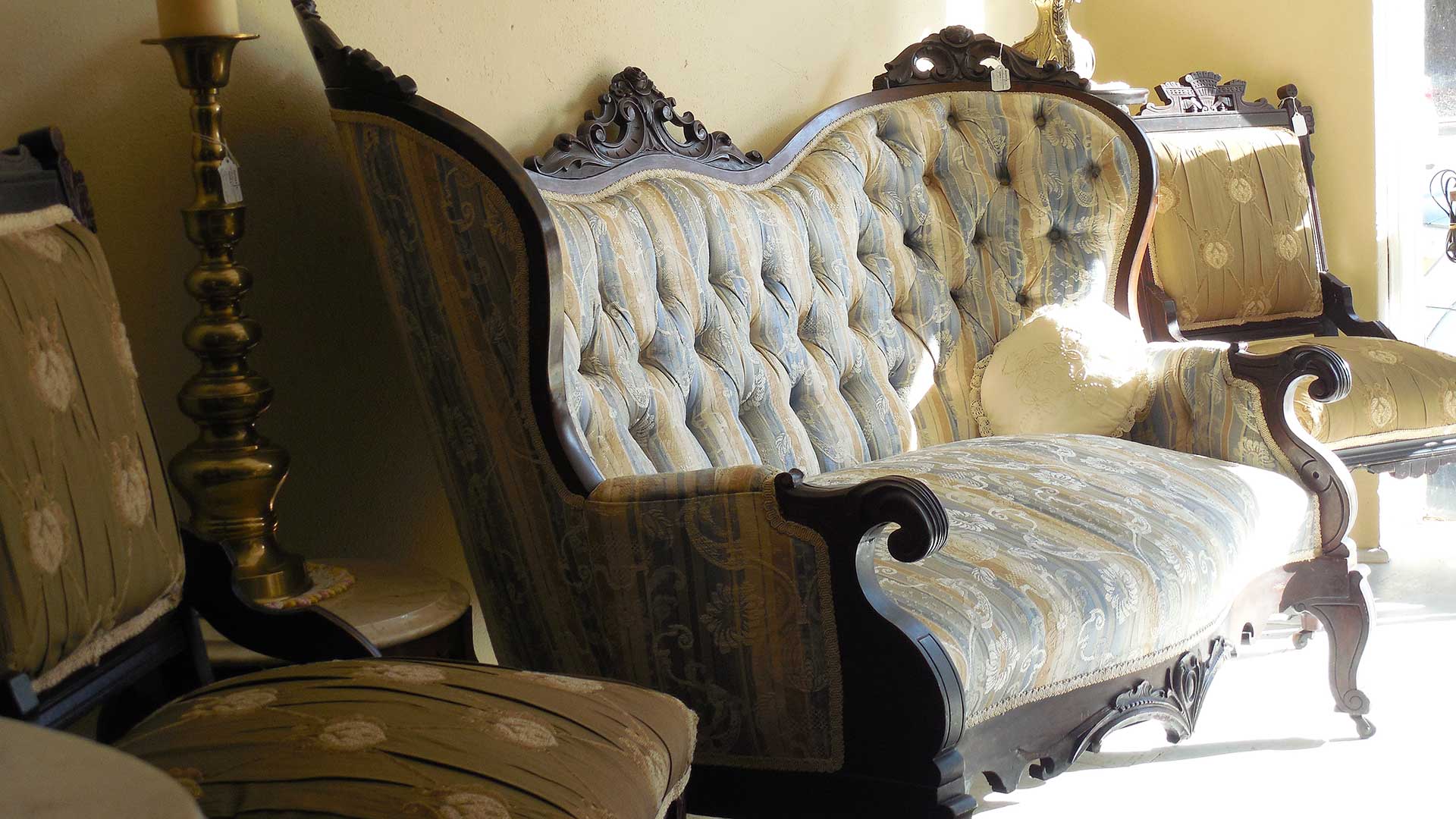 During the Victorian era, furniture was large and hefty. Curved edges were commonplace. 
Almost every home had several ornate furniture, as they were a reflection of social and economic status.
The furniture was made from oak, mahogany, or walnut. Wood was the material of choice because it was the ideal canvas for unique and intricate hand-crafted designs.
Designers today recreate these pieces with modern plush button-effect chairs and polished wood dining-sets. Intricate designs carved into the wood are still present as they are a signature of Victorian furniture. 
Rich deep colors

Victorian designs were popular because they represented a display of wealth and authority. 
As it's a showy style, the colors of Victorian design are rich and deep without being overly saturated. The use of such colors gives a luxurious feel to the home. 
Individual elements don't stand out. Instead, the various rich colors work together to create one distinctly Victorian space.
Abundant accessories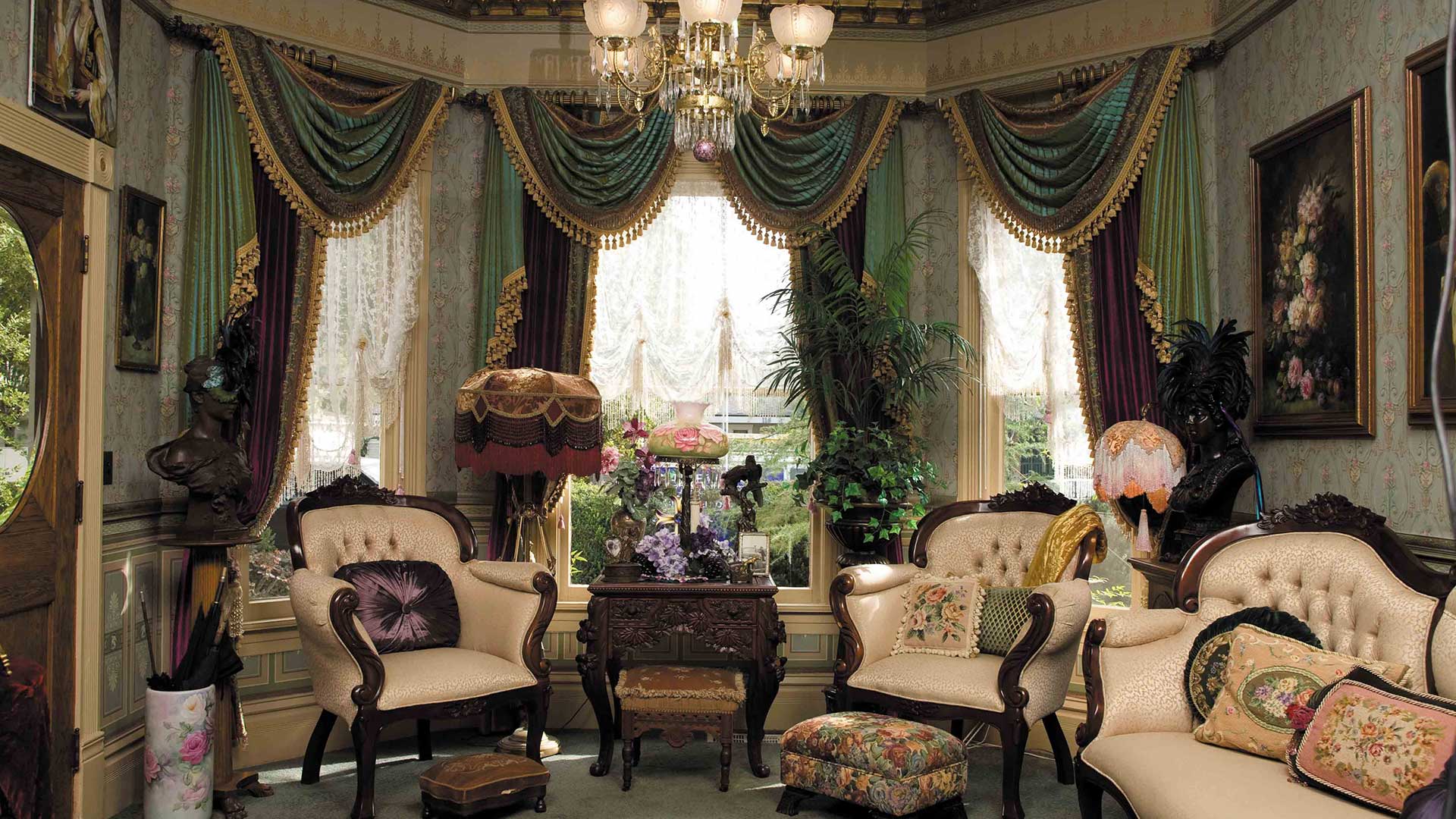 Excessive use of accessories and decor was prevalent in Victorian homes of that era. It was a way for homeowners to display their wealth in their homes. 
Homeowners decorated their walls with framed photos and filled spaces with murals, sculptures, and hand-painted flower vases. Carved mirrors and ornate lamps lined hallways and complemented dressers and elaborate mantelpieces.
Applying Victorian to your home
Living room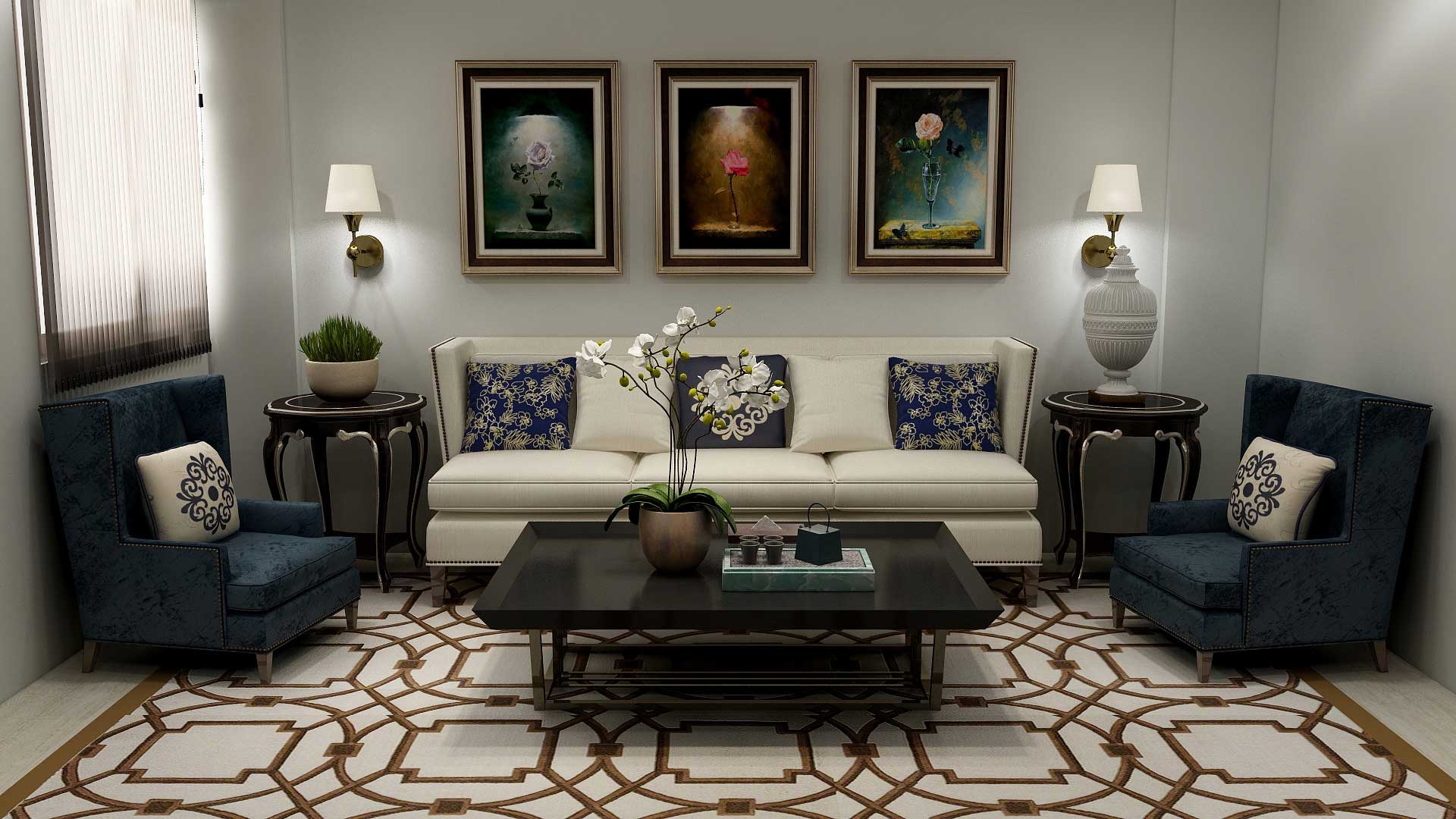 For a cozy Victorian touch, aim for light-colored walls paired with deep mid-tone furniture. Tie the look together with an intricate-patterned rug. 
Because accessories play an important role in Victorian decor, line walls generously with works of art or add vintage-inspired sculptures.
Play with fabric designs by using embroidered cushions to add a sense of luxury and colonial taste.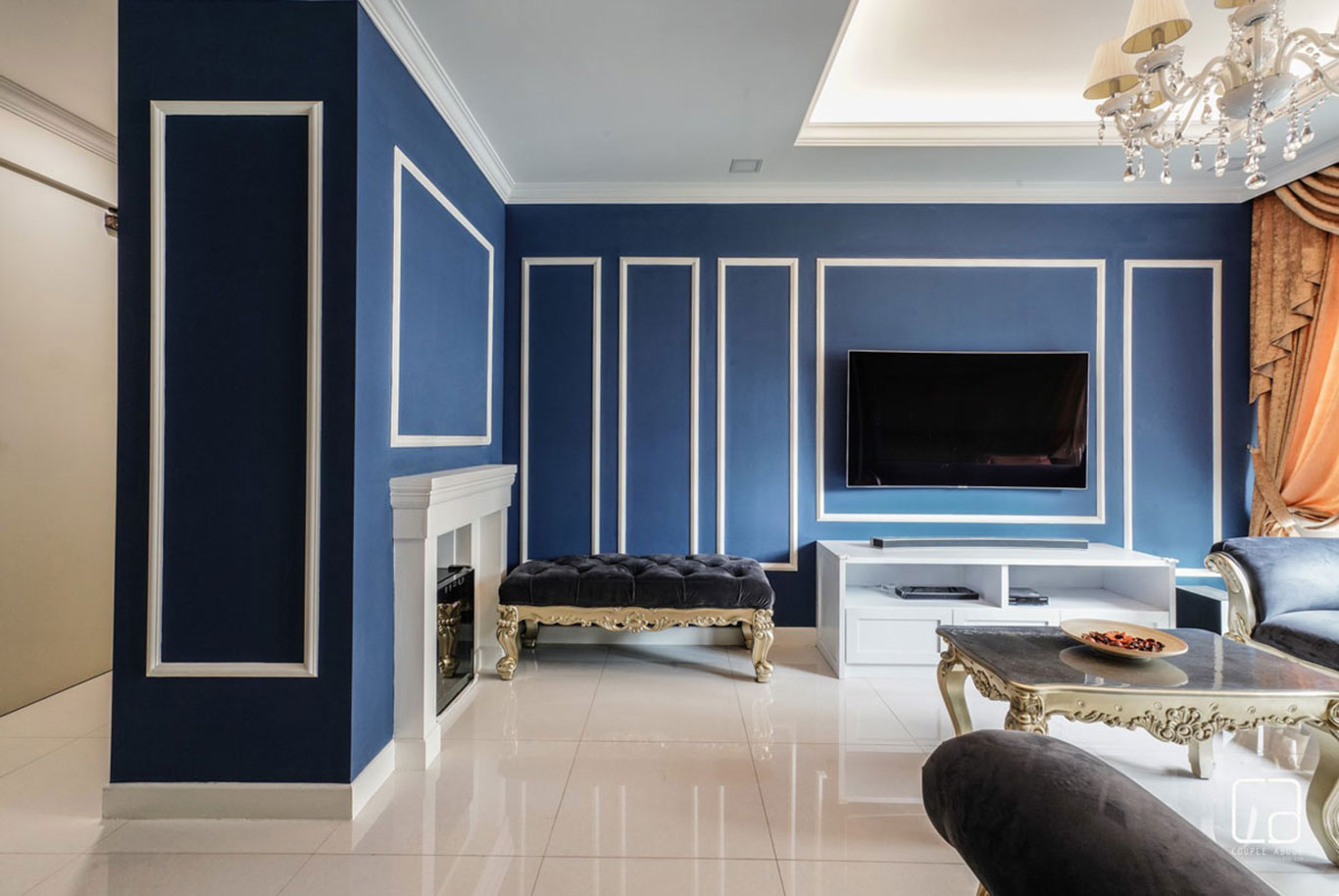 If light colors are not your style, go for bold, royal-inspired ones like deep blue. Use them for selected walls in the living room area. Adorn these walls with contrast-colored wooden frames for an ornate look.
Carved furniture, such as a coffee table and a lounge stool, can give a decorative touch and add charm to the overall look.
Kitchen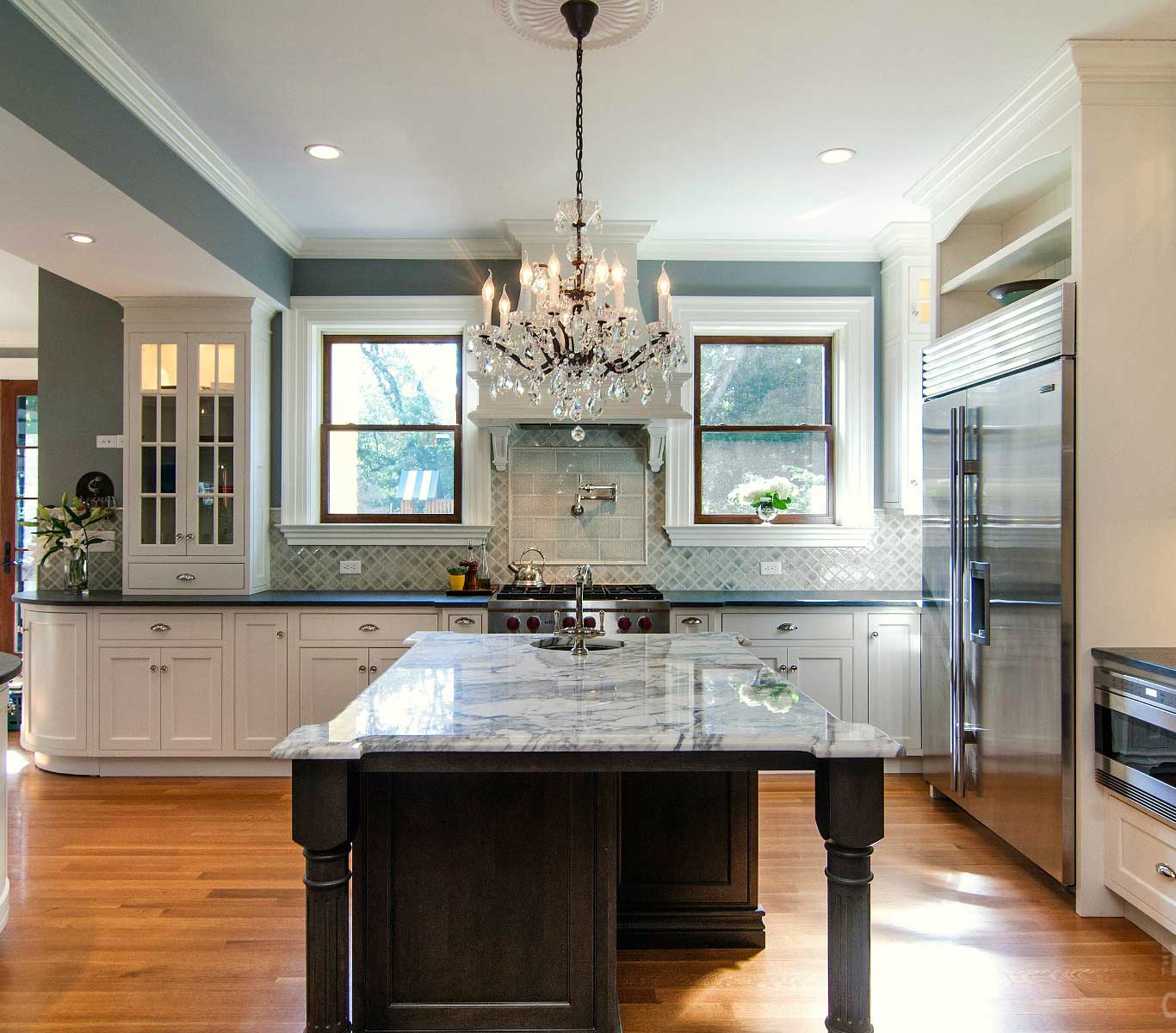 A common way to introduce Victorian to the kitchen is by using ornate lighting. Crystal chandeliers are an attractive choice because they are representative of the lighting used in the Victorian era.
Another distinctive feature is hand-crafted wooden cabinets. These go well with brass-finished cabinet handles and knobs for the vintage flavor.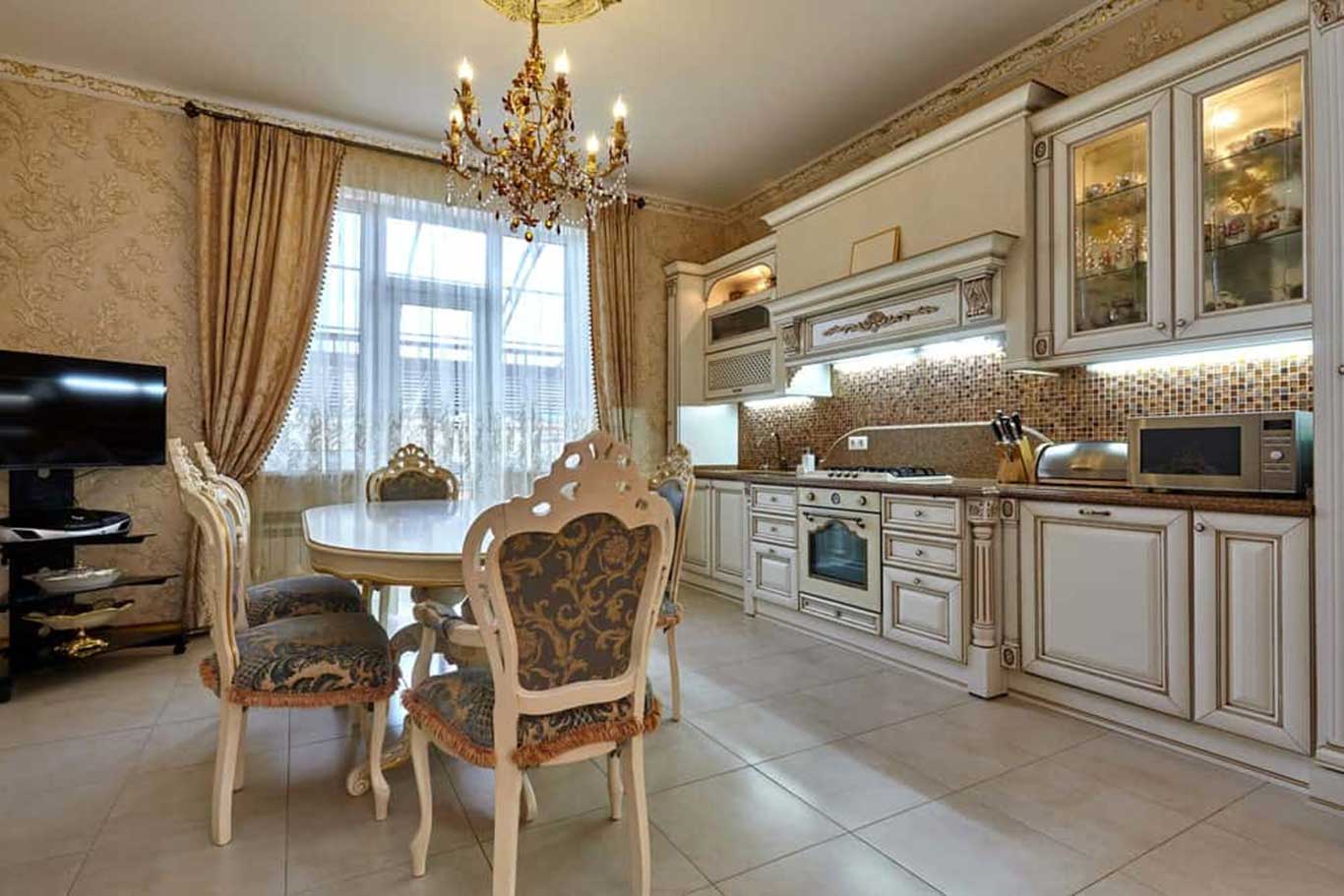 In an open kitchen with adjoining dining space, complement hand-crafted cabinets with wooden dining table furniture. Dining table chairs with curved legs and tufted fabric cushions portray a sense of royalty.
Bedroom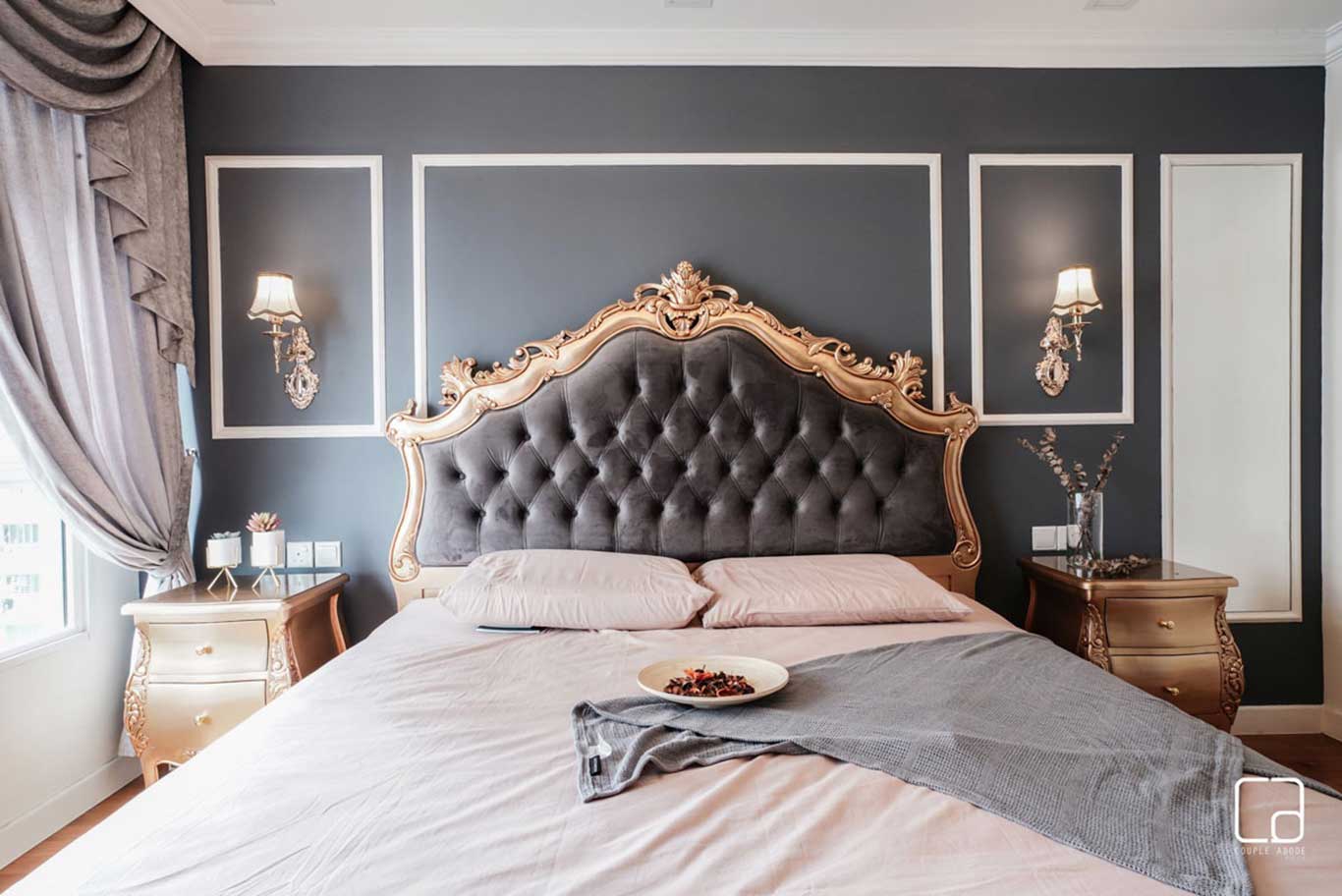 In the bedroom, the Victorian design can be manifested by the headboard, lighting and window treatments.
Opt for ornately-outlined headboards made of plush furnishings such as velvet or brocade. An intricate-detailed headboard flanked by two curvy wooden side-tables sets the stage for elegance and charm.
Add mood lighting via wall sconces in lush baroque-inspired shapes. These wall-mounted lamps may be used as ambient accents to feature walls.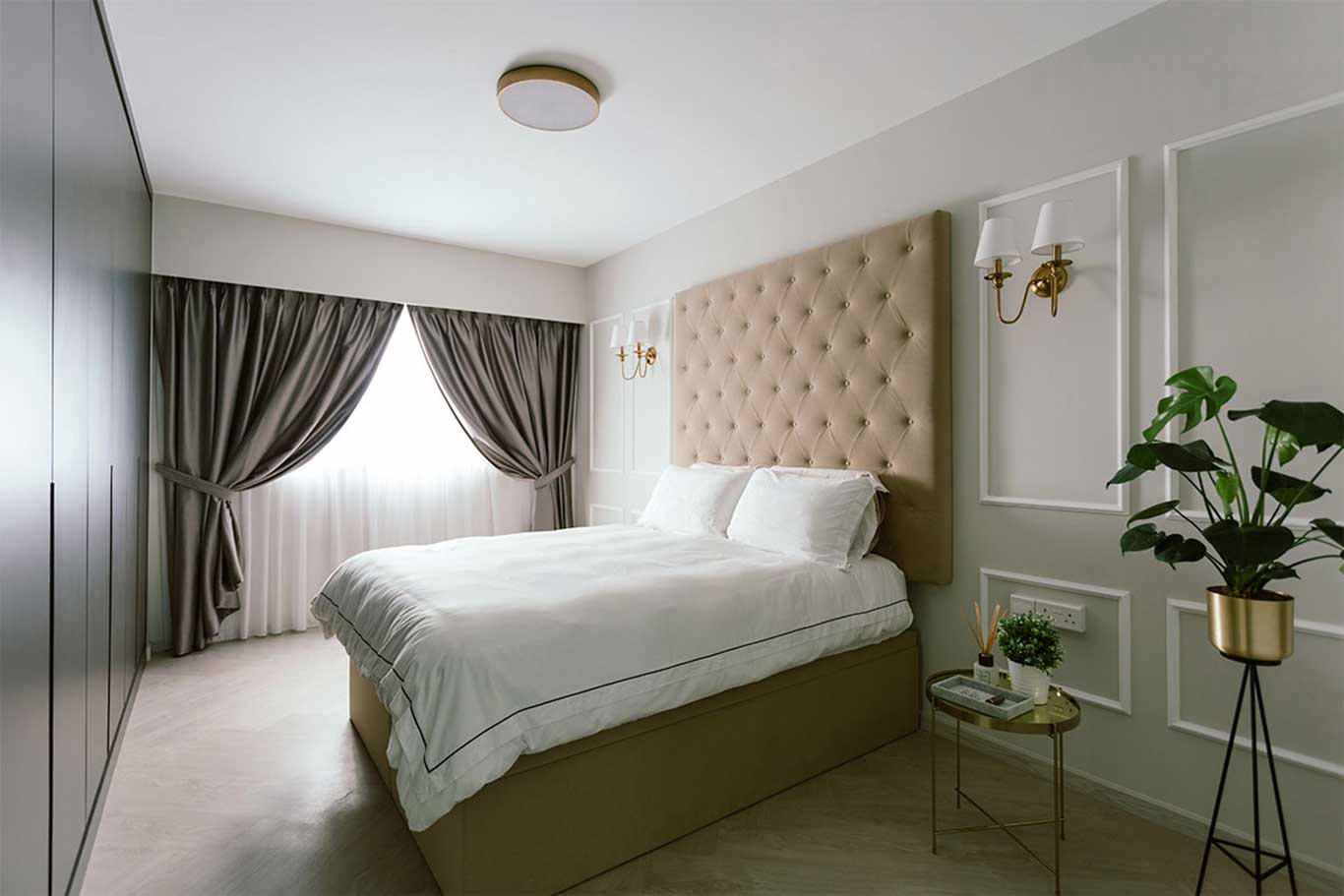 Create warmth and coziness by using textured drapes as window treatments. The more patterned the better. You may opt for floral prints or damask fabrics.
As an alternative to wood, polished metal in rich gold finishes adds a stately touch for a majestic feel.
Modern examples of Victorian
Today's Victorian homes feature many modernized elements. The Victorian style is infused with modern practicality in elegant ways such that the Victorian feel is not lost.
Take a look at how some of these homes can achieve the modern Victorian look. 
Victorian HDB/condo living room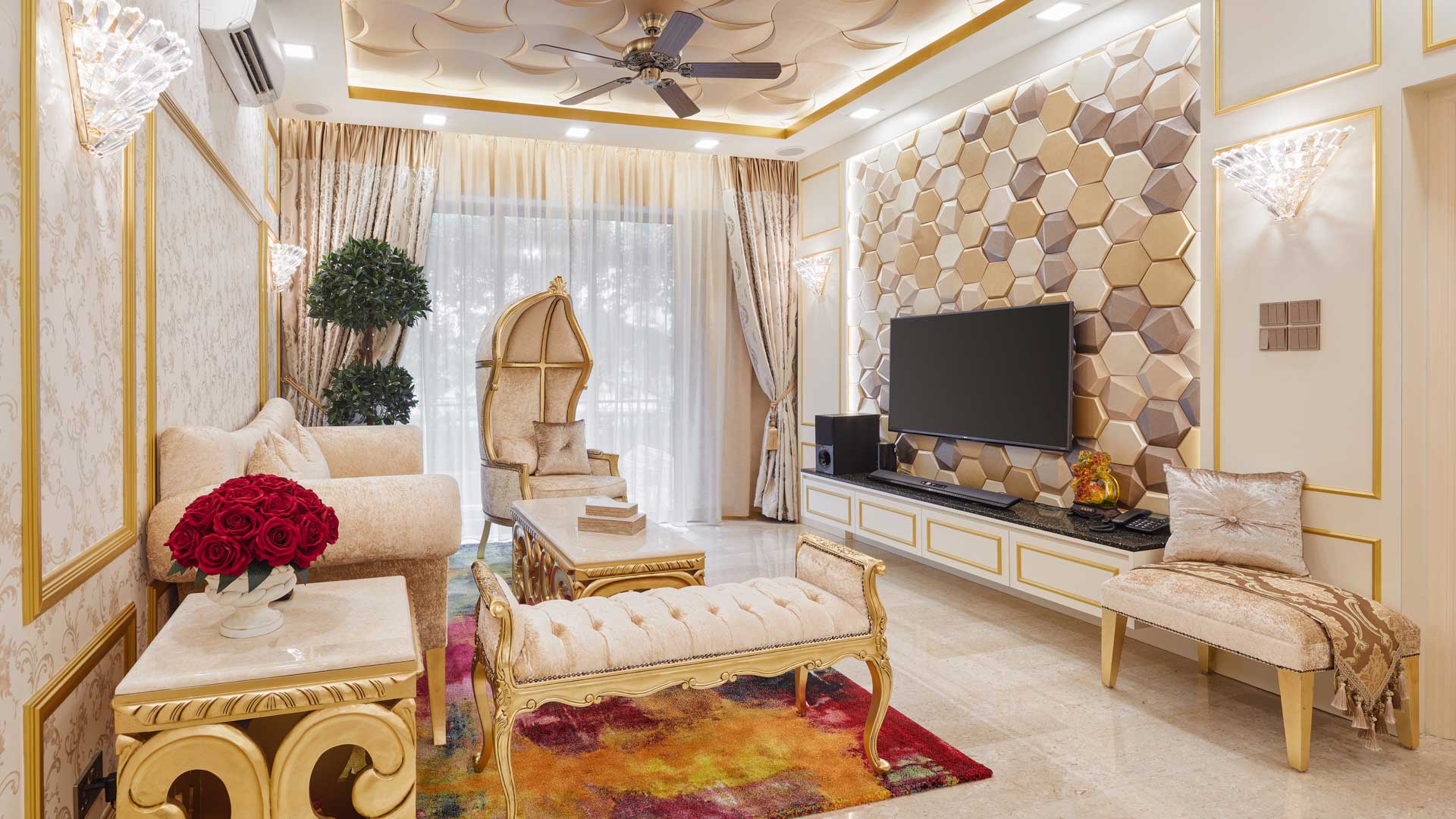 A single color scheme can be used when decorating the living room. It creates a sense of cohesiveness that makes every element belong to this space. 
Different kinds of ornate seats can be included. Designers do not worry that the room would have too many elements. In Victorian styles, more is better.
Victorian HDB/condo kitchen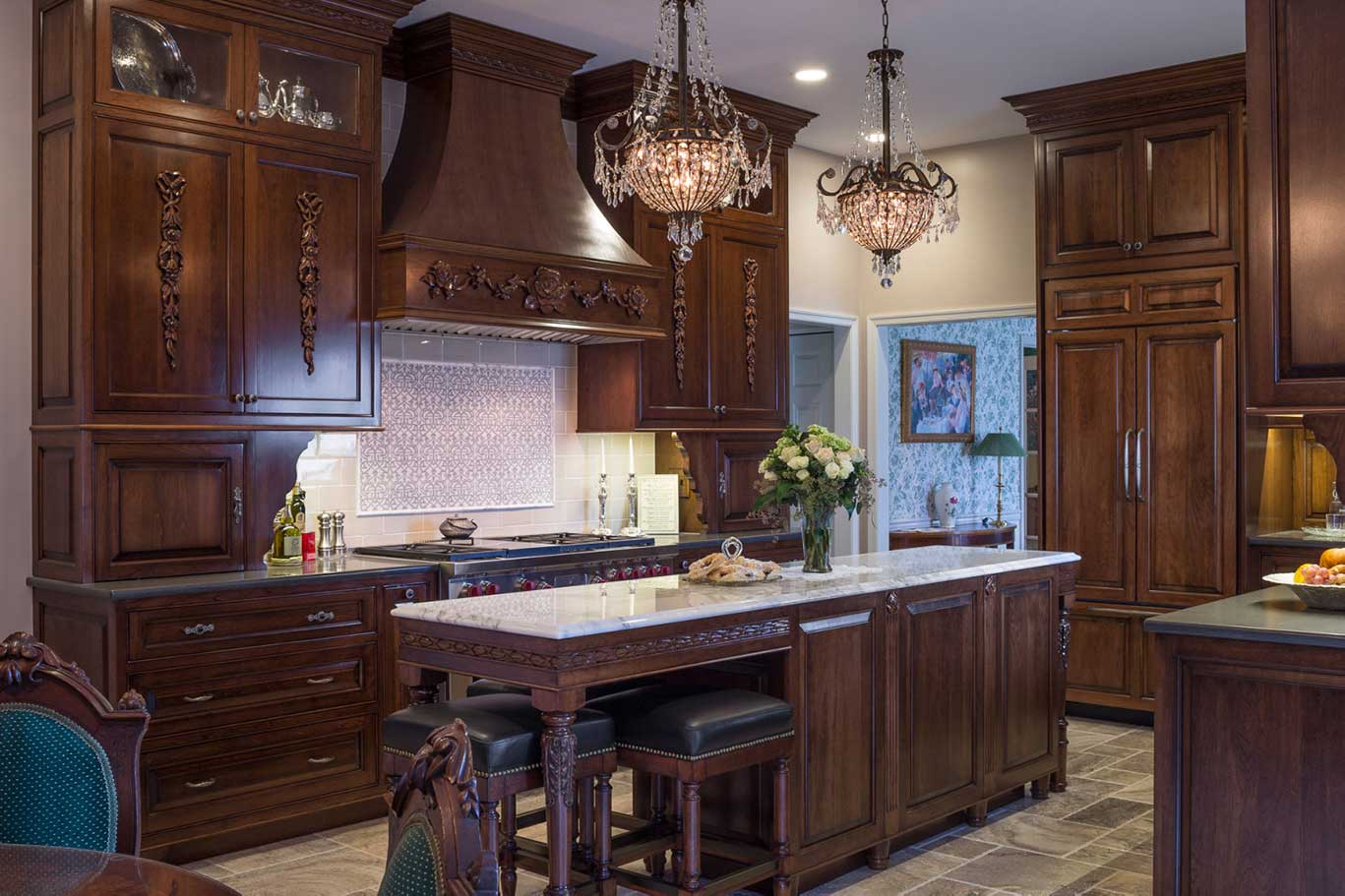 Ornate wooden cabinets are the most important element to give the kitchen a Victorian look. Other elements are secondary, and can be added according to individual preferences.
Secondary elements include lighting, flooring, accessories, wallpaper, etc. These complement the ornate wooden cabinets to create the overall Victorian style kitchen.
Victorian HDB/condo bedroom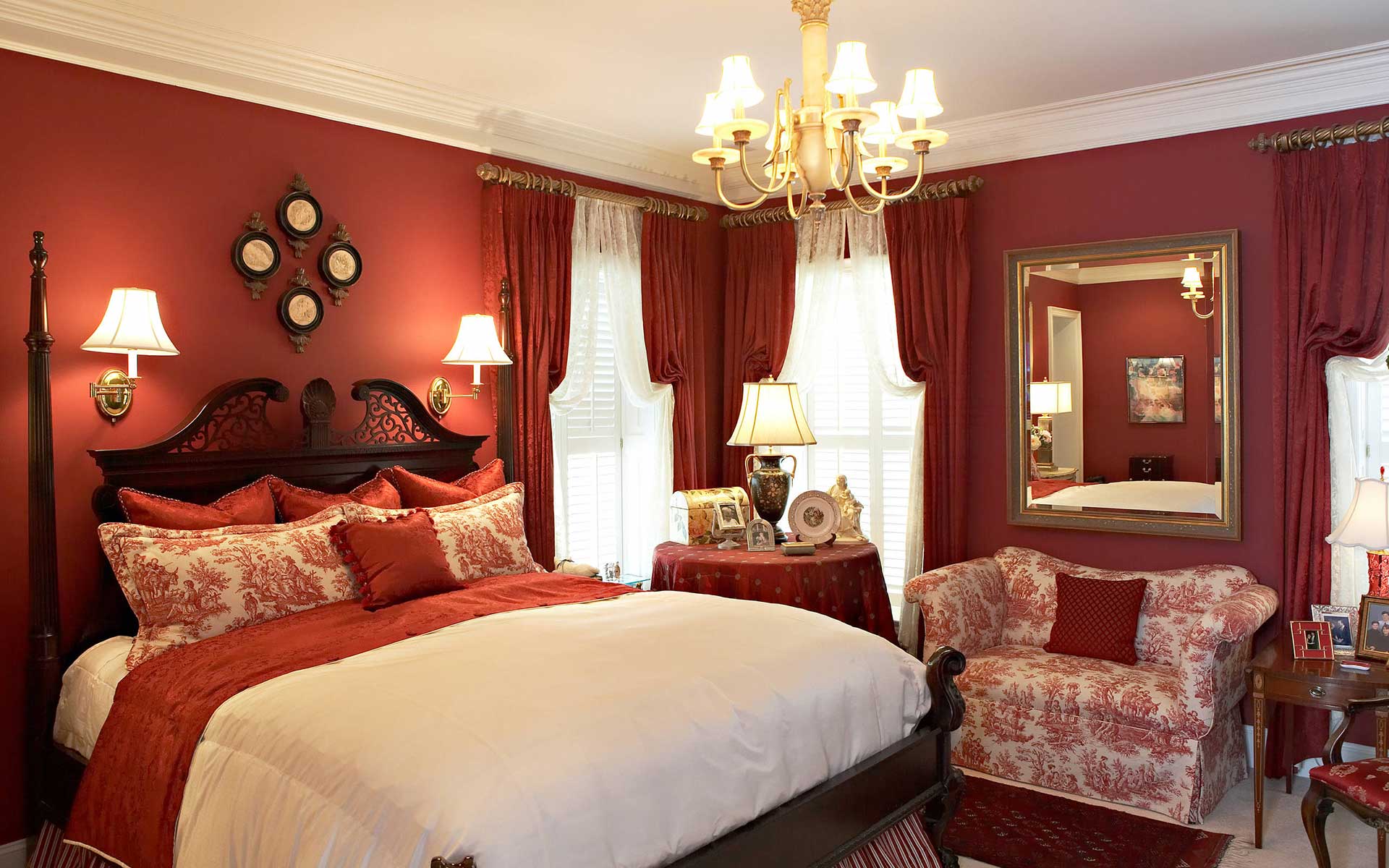 Limited space forces designers to pick certain elements to include in the bedroom. Even then, the bedroom would be filled with objects other than the bed, e.g., tables, lamps, mirrors, sofas, and portraits. 
The bed is made to look plush by placing many thick pillows with intricate designs on it. The look is completed by throwing a thick comforter over it.
Victorian HDB/condo bathroom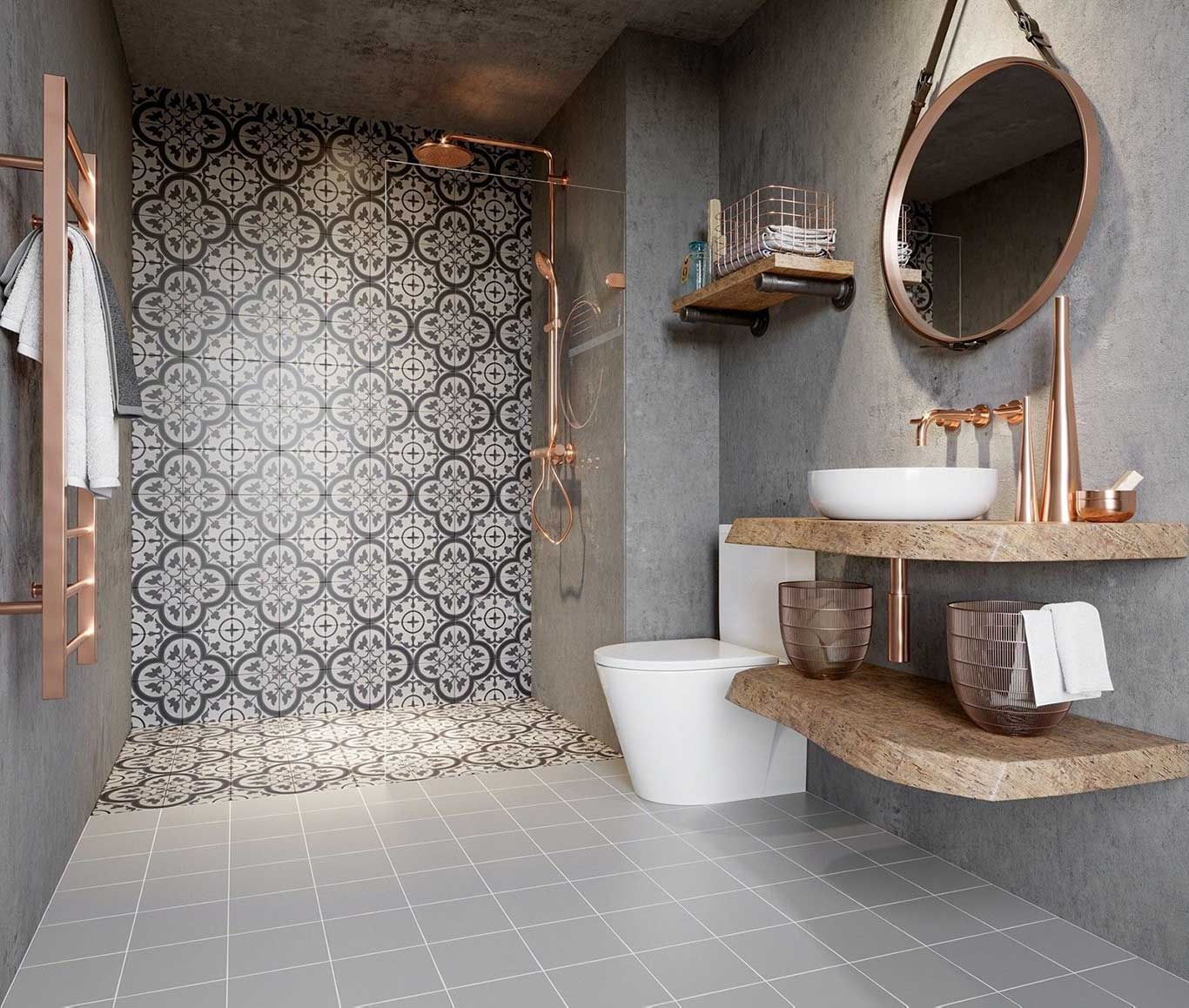 Most modern HDBs do not have sufficient space in the bathroom to include standalone bathtubs characteristic of Victorian bathrooms.
Due to space constraints, it's better to focus on modifying existing bathrooms to sprinkle Victorian design elements  than to go for a complete Victorian makeover. 
For example, the use of floral patterned tiles is a great way to separate spaces in the bathroom. Another would be to use copper finishes for metallic elements such as exposed pipes or clothes racks.
Victorian house living room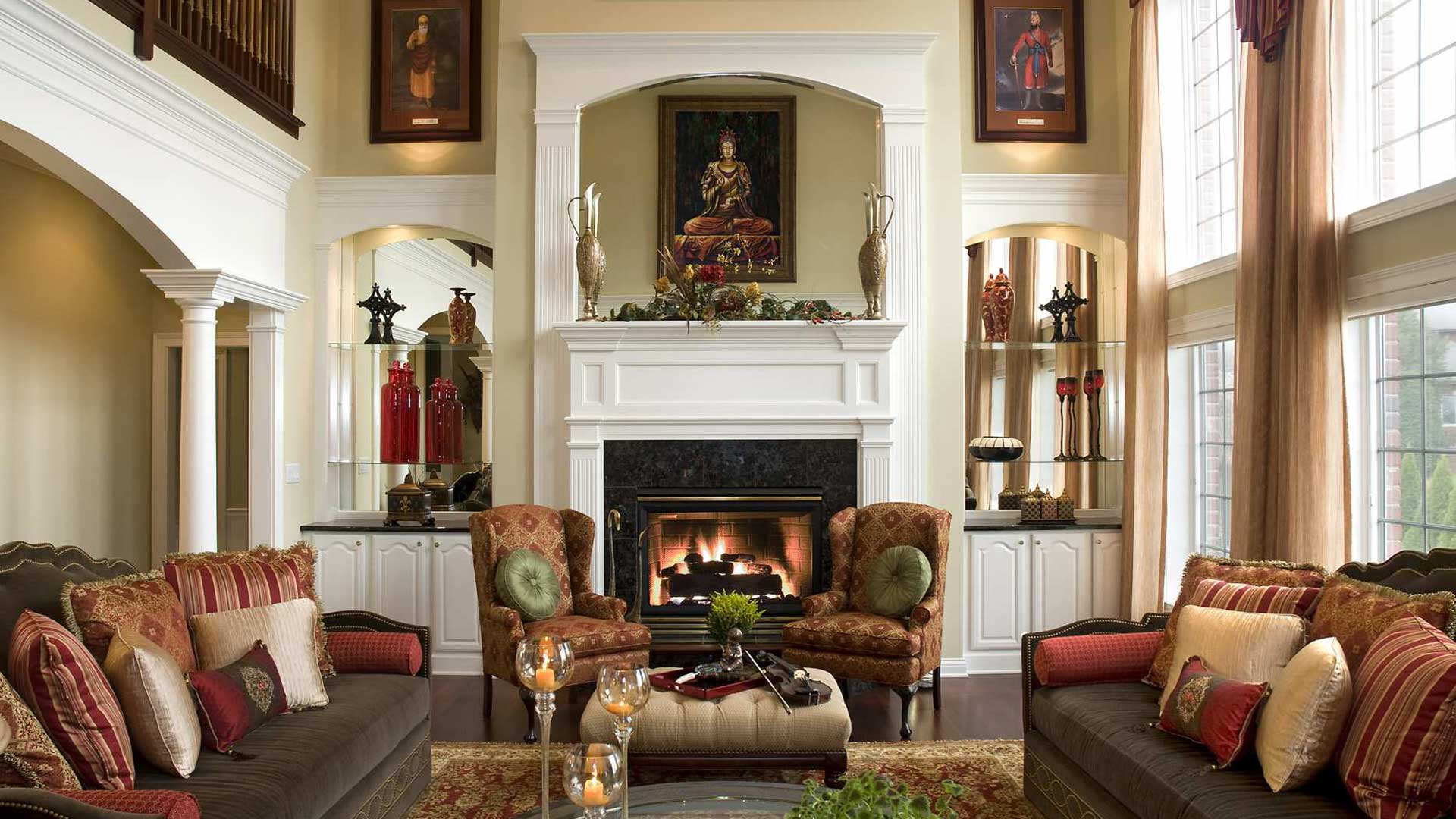 Thick sofa fabric with many cushions on top gives the space a plush and luxurious look. When adding cushions, the more the merrier.
Multiple dedicated spaces for decor represent the display of affluence that's attributed with Victorian styles back during Queen Victoria's era.
Victorian house kitchen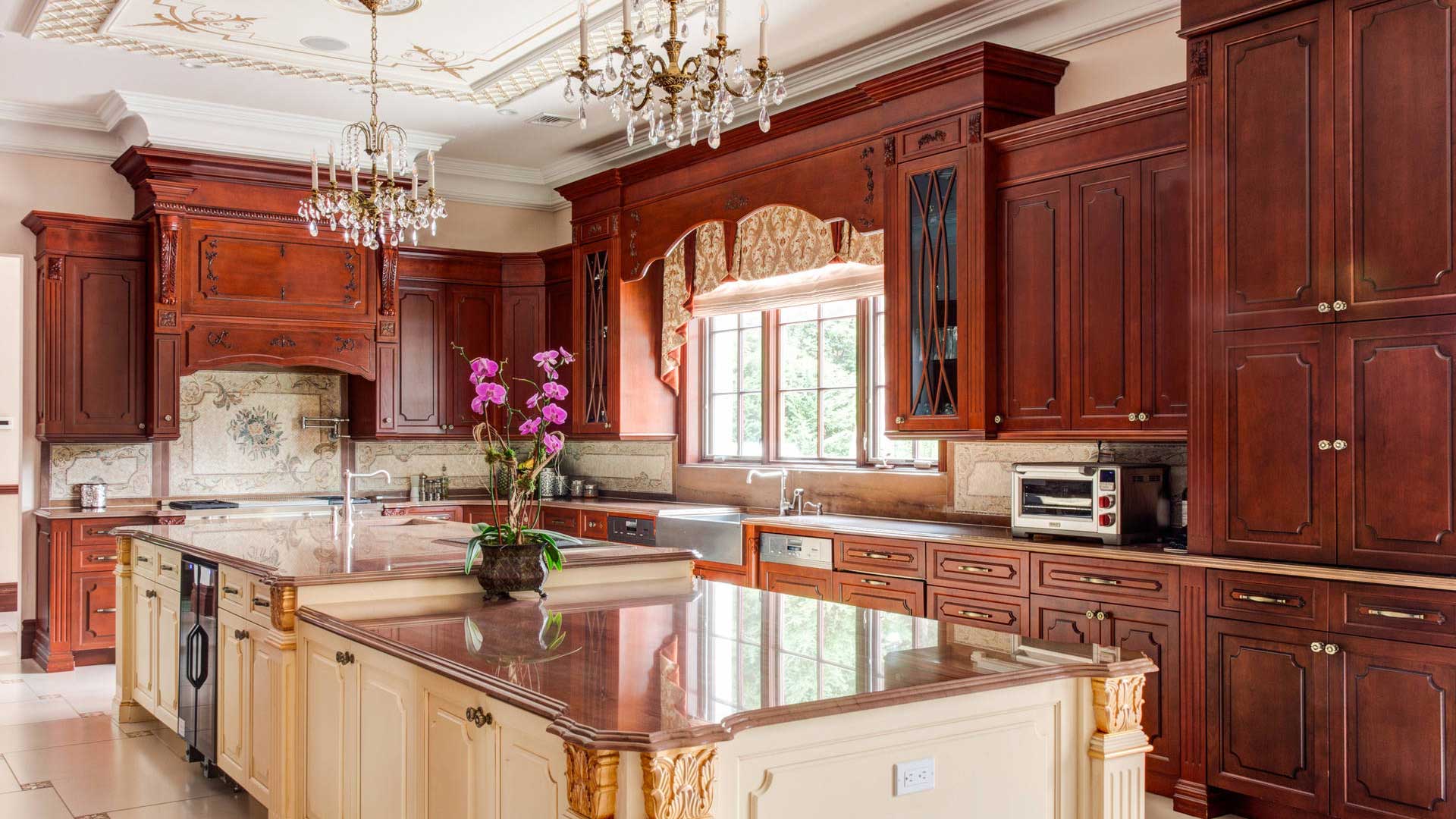 Combining ornate cabinets with appropriately designed walls, ceiling, and flooring would result in a beautiful Victorian kitchen look.
Modern kitchen appliances are neatly tucked away so that they don't disrupt the Victorian look and feel of the kitchen. 
Victorian house bedroom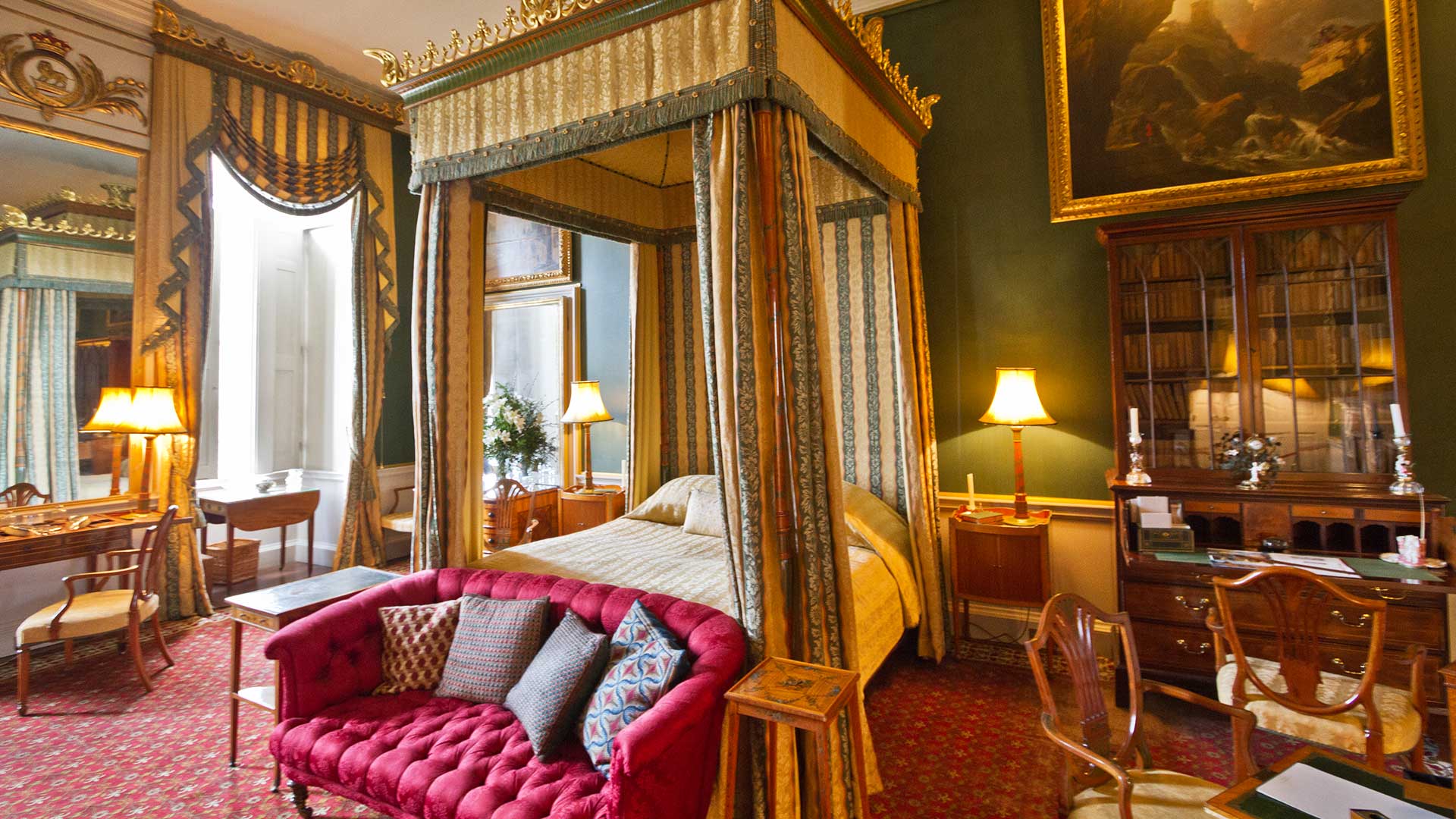 All kinds of Victorian decor can be included in the bedroom. As more is better, there'll be a Victorian element at every possible space.
A carpeted floor provides an ideal setting to match many Victorian elements. Carpet is also perfect for the bedroom as it's comfortable to step on barefooted.
Victorian house bathroom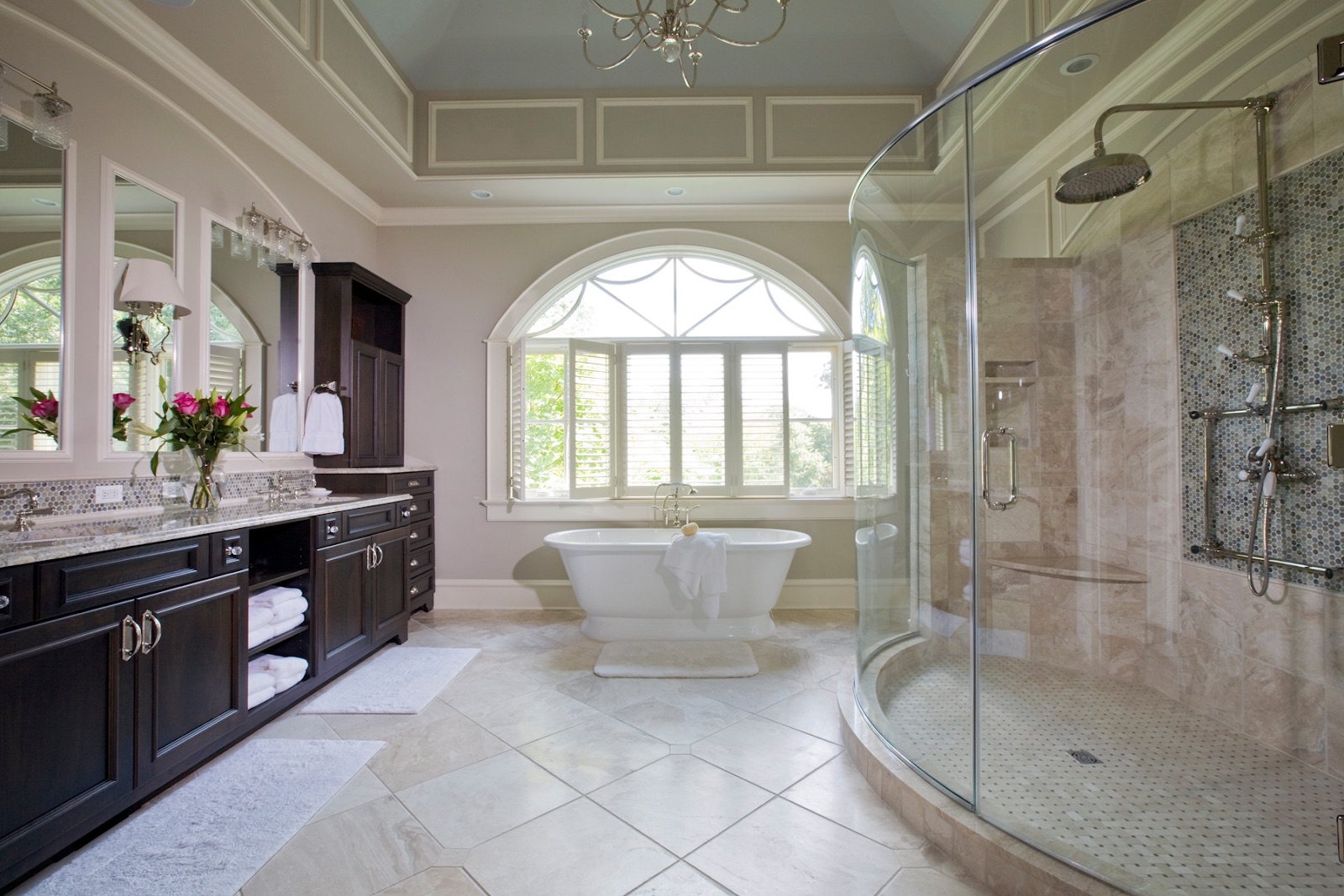 A standalone bathtub should be included in the bathroom if space can be afforded. It's a signature element of the Victorian bathroom. If it's not suitable for everyday use, a modern shower can be included alongside the bathtub.
Wooden cabinets with ornate designs can be used if they're safe from excess water splashing. Victorian-style lighting can also be used to provide unique ambient lighting when the space is dark.
Fusing Victorian with other styles
Victorian styles focus on having more of everything in the spaces, whereas modern styles focus on minimalism. This difference makes it difficult to fuse Victorian with modern styles. 
However, that doesn't mean it's impossible. We'll share ways in which we think you can add Victorian elements to modern styles.
Victorian furniture is ornate and has plenty of details compared to modern furniture. This can be a way to create a bold contrast in your home. For example, an ornate wooden table can be paired with modern wooden chairs in the dining area. A mirror with an ornate frame can be paired with a modern dresser in the bedroom. 
A classic fireplace is rarely present in modern homes. However, it's a common feature in many Victorian homes. Fireplaces are impractical in Singapore. Instead, you can consider electronic substitutes showing animated images of fire.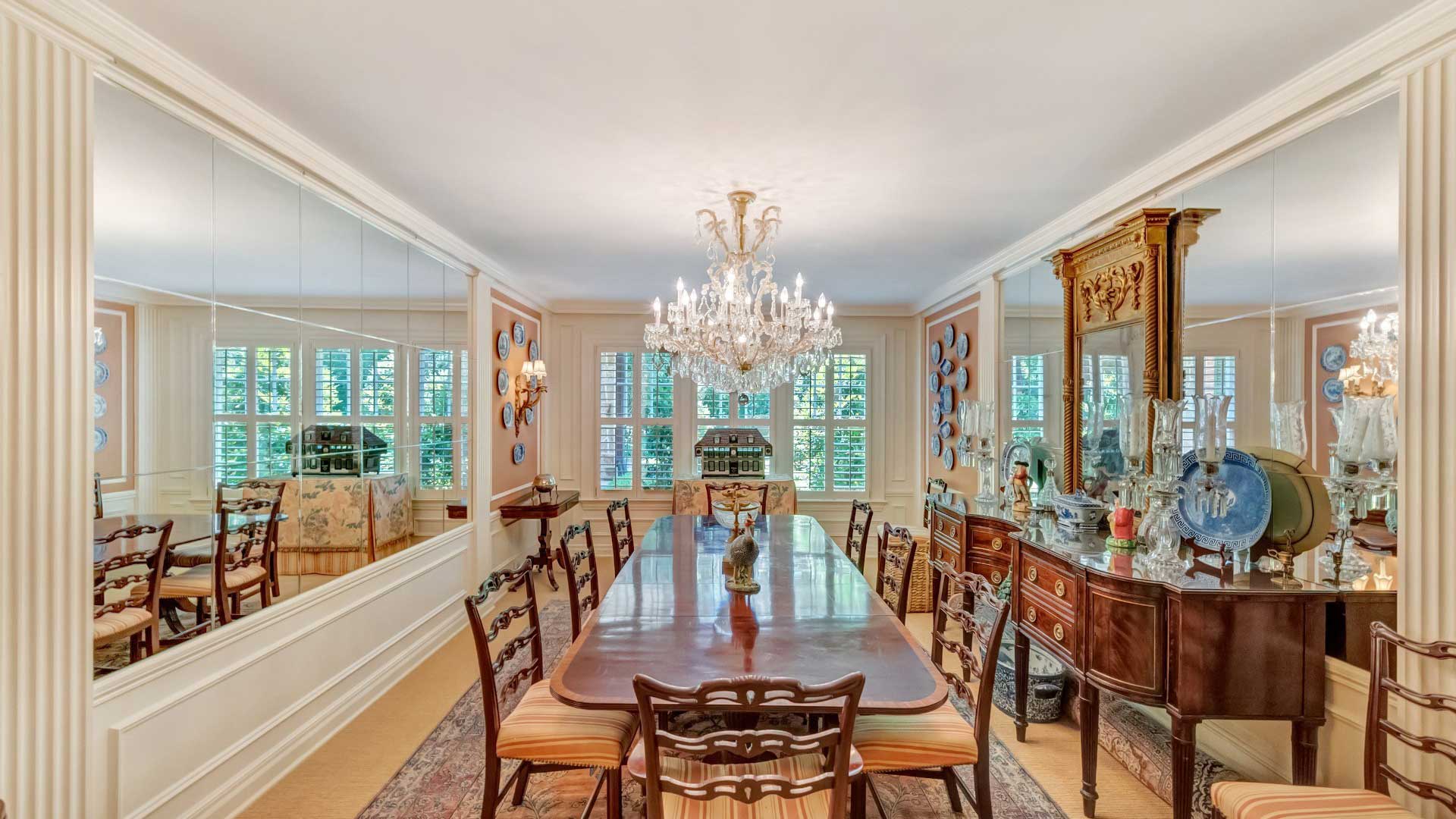 In modern homes, you could consider using Victorian-style lights too. Lights such as chandeliers may be overly intricate compared to modern ones, but they can be installed where they won't conflict with the rest of the house design. For example, you could place a chandelier on a high ceiling so that it's a standalone visual focus. 
Victorian styles emphasize plenty of decor in the space. To not break the minimalistic effect, you shouldn't add more decor wherever there's space. Instead, you could layer decor by adding more intricate details such as floral patterns to existing elements in the space. 
Large curtains cover every window in a Victorian home. However, modern styles do not blend well with heavily embellished curtains. Instead, a modern print can be used on large curtains so that the plush look is maintained in the home.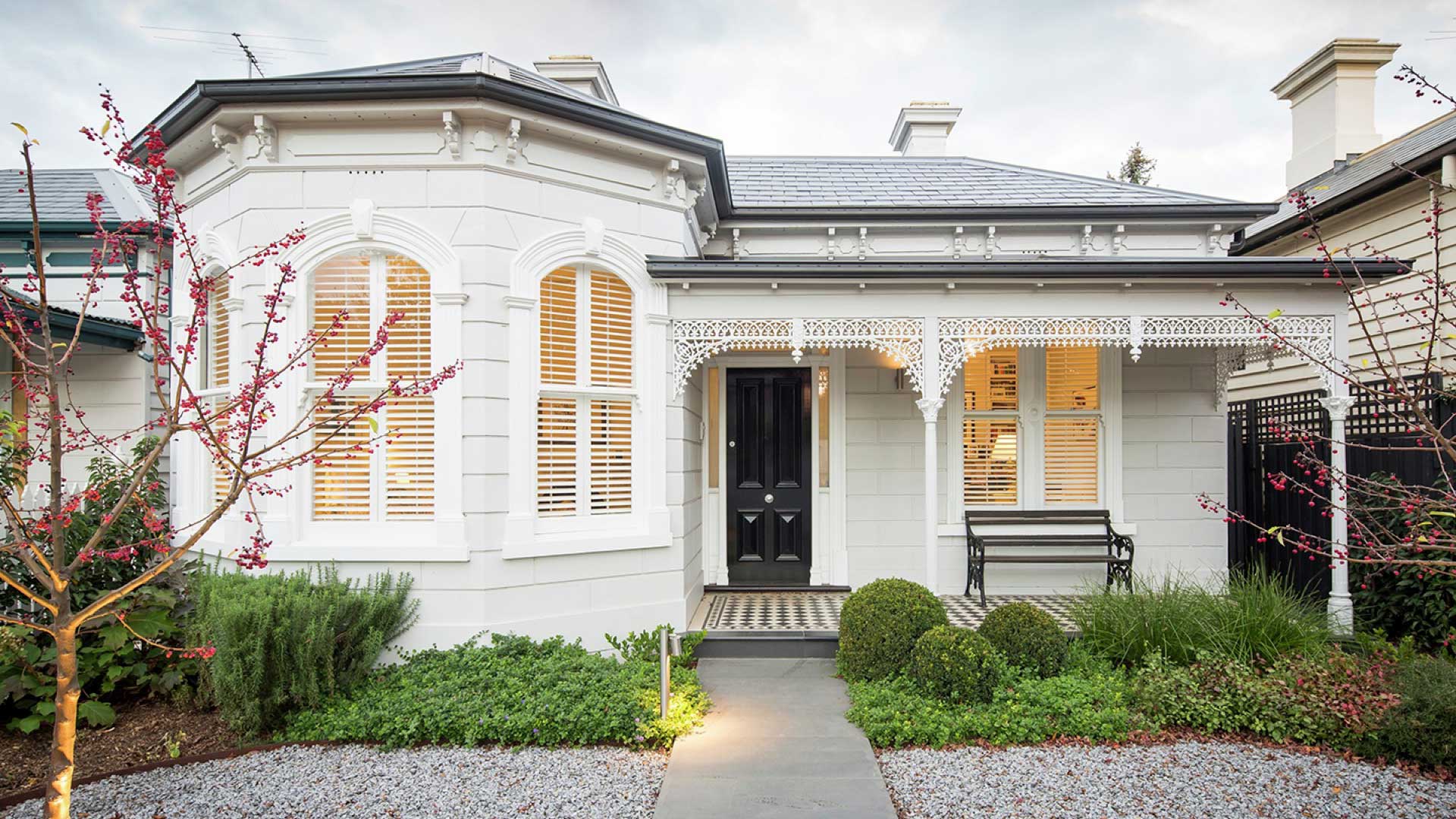 If you have control over the exterior look of your home, a great way to use Victorian style would be to design the exterior as a Victorian home. It can be used to hide a modern interior that would not match well with the Victorian style.
With these little details, your home will look more Victorian without being out of place from all the other modern elements.
Budget-friendly Victorian decor
Trying to achieve a full Victorian design is very costly. Victorian furniture and decor have many intricate elements that require hand-crafting. Also, Victorian interiors are filled with as much decor as possible, requiring homeowners to spend more money.
If budget is a concern for you, but you still want to achieve the Victorian look in your home, we have a few tips to share on how you can achieve the look.
Firstly, second-hand stores are great places to buy old ornate wooden furniture. If no ornate furniture is available, old-looking ones can help with the connection to the past as Victorian styles originated centuries ago.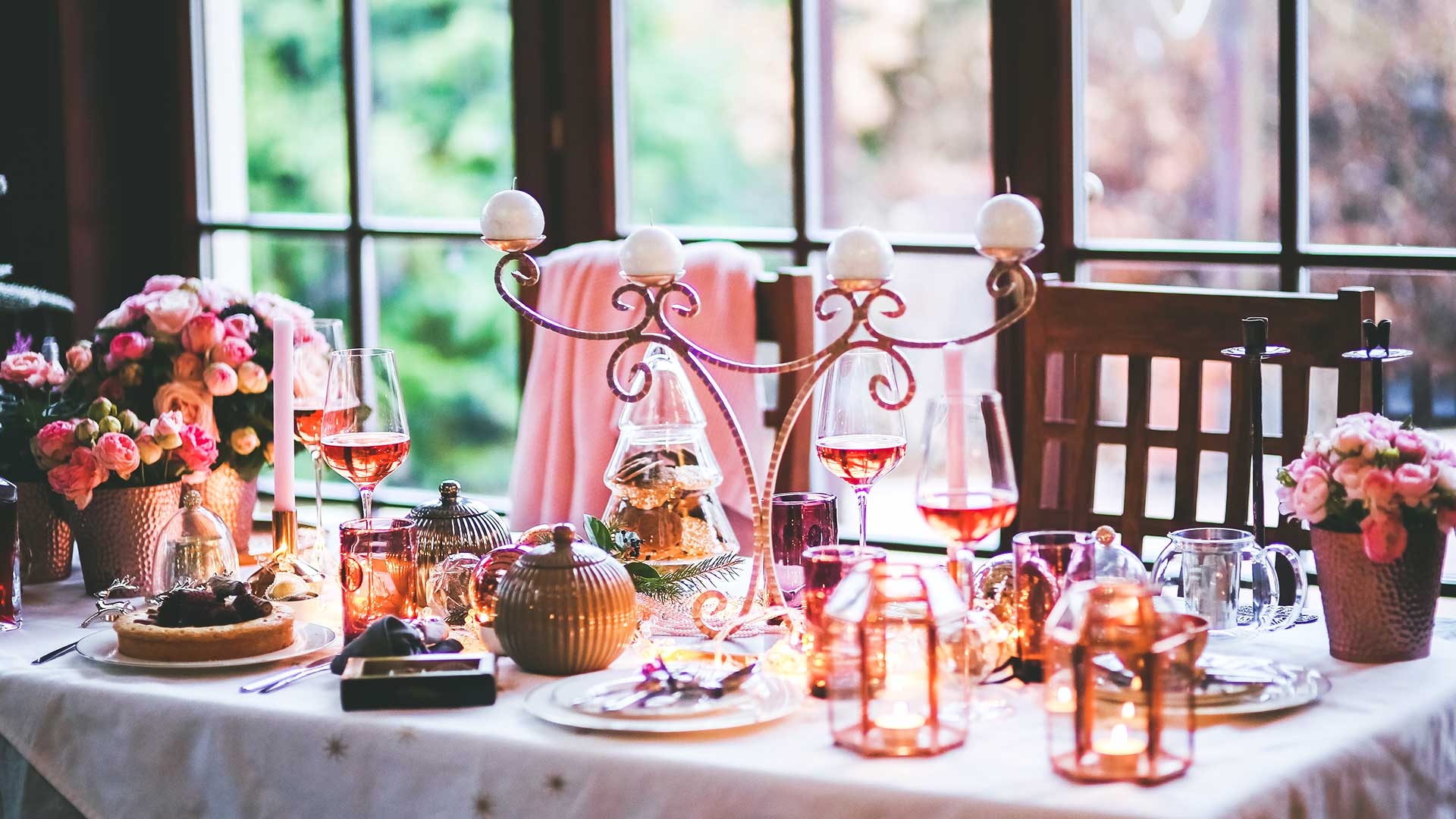 Secondly, table linen is useful to add intricate details. For example, placing a lace tablecloth with floral designs can give a plain wooden table an ornate look. They can also be chosen to match the wallpaper designs for a more cohesive look. 
Lastly, wallpapers are crucial to help you achieve the Victorian look. These shouldn't be too expensive, and they contribute a lot to achieving the overall style.
Achieving a Victorian look on a budget depends on including key elements. These three tips should bring you closer to achieving the Victorian look in your home.
Summary
Victorian styles stood the test of time. It might not be the most popular style today, but its unique look is irreplaceable. 
Victorian is a style that stands out from the rest due to its philosophy that more is better. If you like this style, go all out to decorate your home. That's the only way for the Victorian style.
Excited to apply this style to your own home? Get in touch with our interior design consultants to know more about the latest Victorian interior design ideas. We'd love to share.
If you'd like to know more about this style, check out our portfolio stories on how people are applying it to their own homes.
Check out the rest of our Definitive Guides here: 
Good luck with your renovation project.