Introduction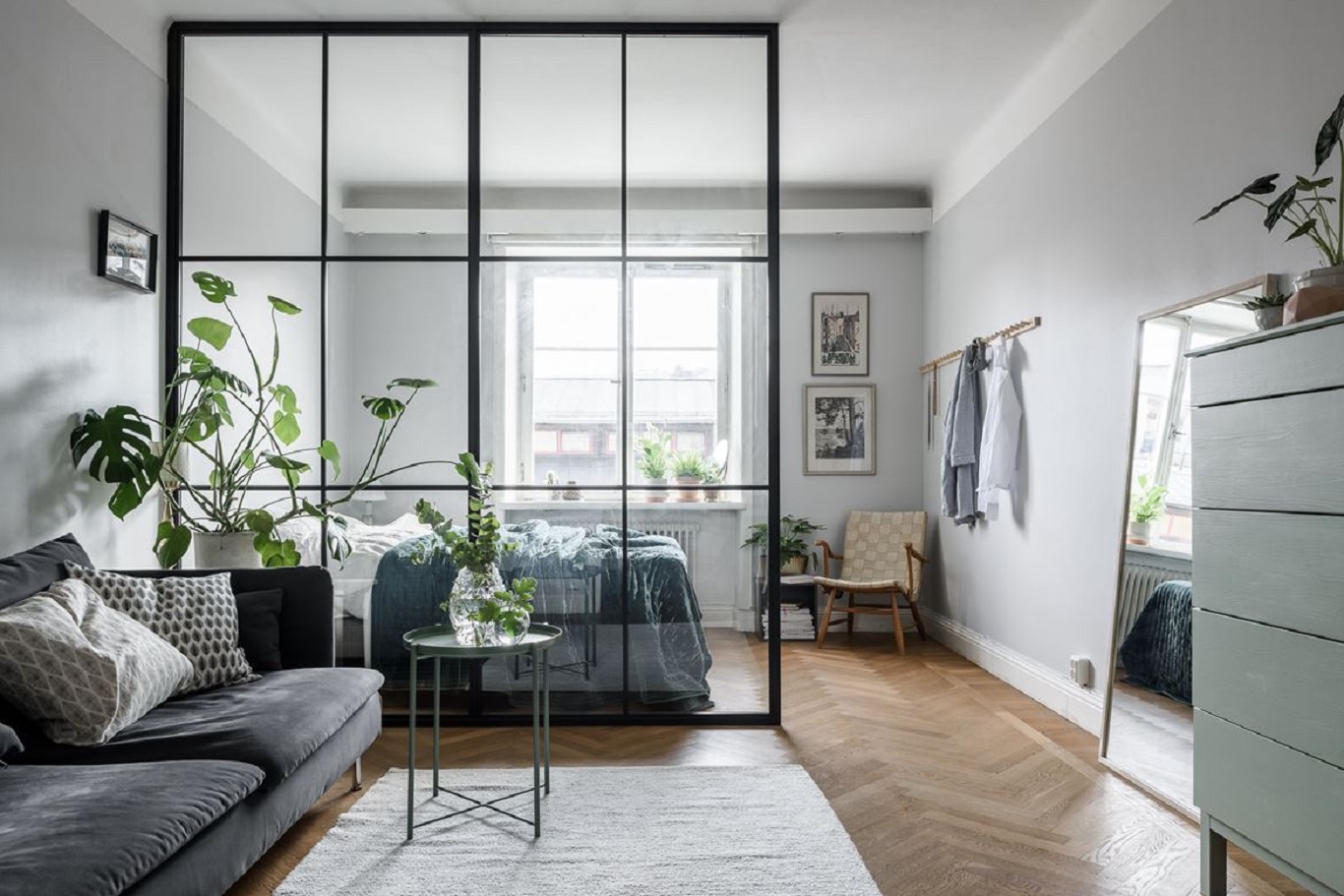 Most of us have heard of IKEA, or even turned to the Swedish retailer for inspiration.
Scandinavian design is focused on simplicity, minimalism, and functionality. It uses a blend of textures and soft colors to make spaces feel cozy. It also emphasizes a connection with nature that adds a warm feeling to your home. 
In this article, we'll share how this design originated, why people like this design, what makes an interior Scandinavian, and how you can apply it to your home.
Origins of Scandinavian design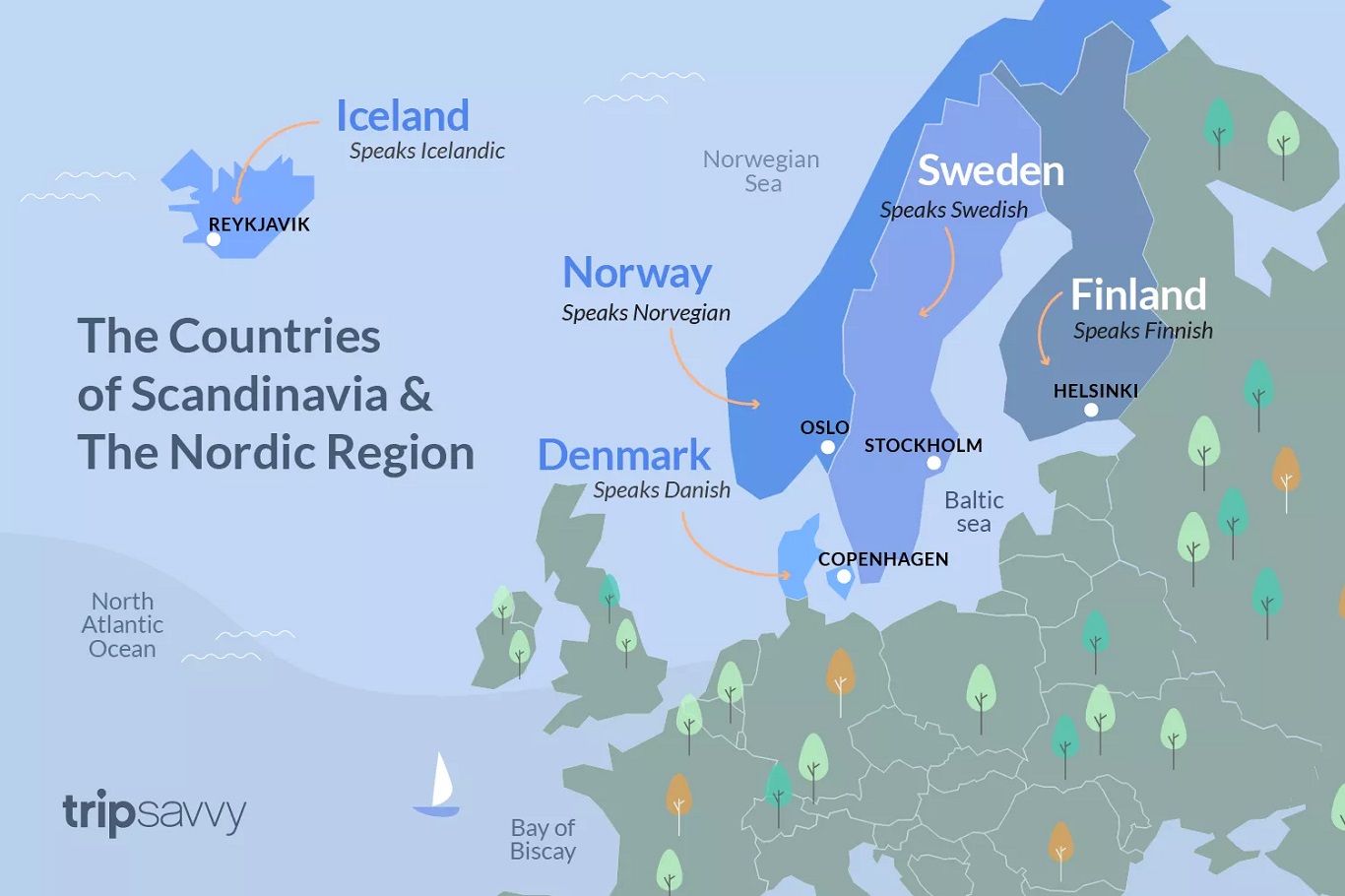 The Scandinavian design emerged during the 1930s within the five Nordic countries of Denmark, Finland, Iceland, Norway, and Sweden. However, the term "Scandinavian design" was not yet widely used. 
Between 1946 and 1952, Nordic designers collaborated at conferences to push Scandinavian furniture as a primary export. In this post-WWII period, Scandinavian furniture was able to satisfy the need for functional designs with plenty of storage space that people wanted. 
The designers held exhibitions of their furniture across Europe and North America, which exposed many people to Scandinavian designs.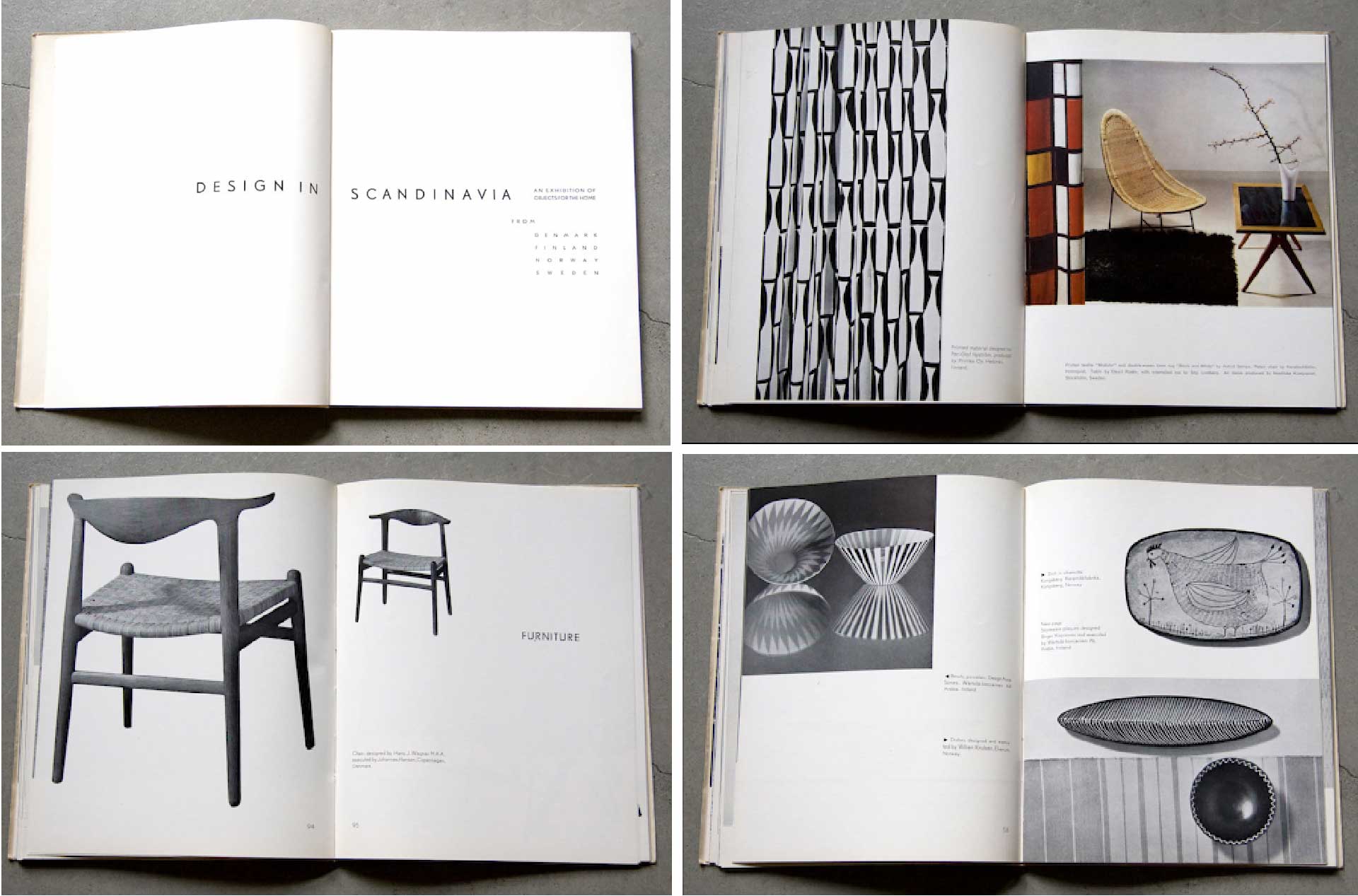 In the mid-1950s, a design magazine — Design in Scandinavia: an exhibition of objects for the home, Oslo: Kirstes Boktrykkeri, 1954, spread throughout North America. This magazine helped popularize the term Scandinavian design. 
The magazine and exhibitions spread the Scandinavian design philosophy quickly, influencing people across Europe and North America to adopt Scandinavian design in their homes. 
Over the years, Scandinavian design persisted with its timeless appeal. Today, it's one of the most popular styles used in interior design. 
Why people like Scandinavian
The popularity of the Scandinavian style has remained for a long time. Its simplistic, naturalistic, and functional design elements appeal to many people. 
Scandinavian design principles create modern homes with a cozy and relaxed atmosphere. The two main principles are hygge and lagom.
Hygge
Hygge is a term coined by the Danish and is often associated with Scandinavian design. While there's no direct English translation, the best way to put it would be a sense of coziness. 
Hygge is about valuing the simple and pleasant moments in life, enjoying the togetherness that comes with spending time with the people who matter the most to you.
Lagom
Lagom is a Swedish word that means just the right amount. The idea of having just the right amount appeals to the Swedish and also reflects the spirit of moderation in everything they do. 
The Swedish believe that being content with having enough is the secret to happiness. 
You could even say that lagom is the true definition of minimalism. Being a minimalist doesn't mean not having anything. It means having just enough.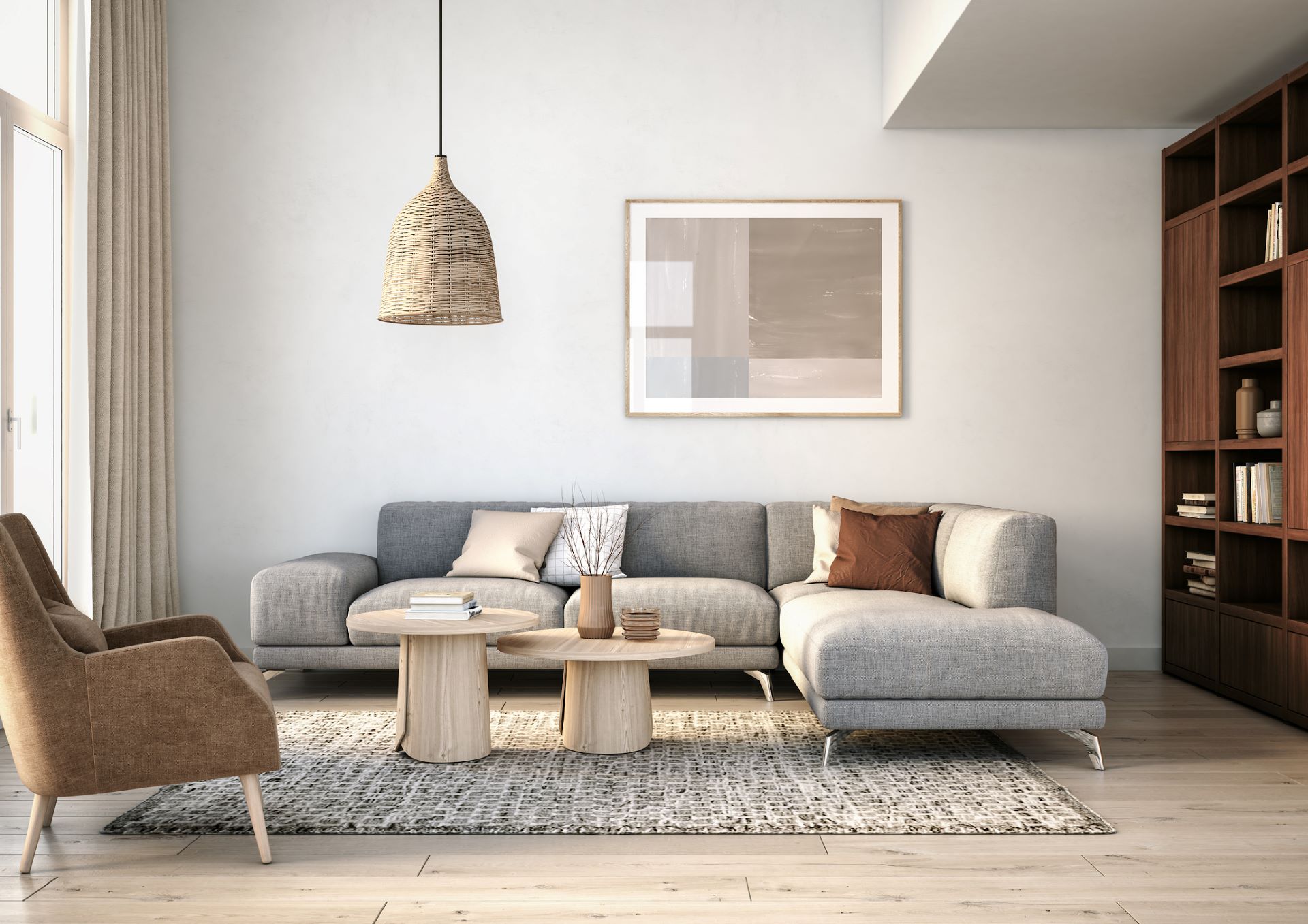 The combination of hygge and lagom creates a warm and inviting feeling at home, and is the reason why Scandinavian design is the most sought-after interior style.
Doesn't sound appealing to you? Don't worry. You can take our quiz to find out which style suits you better.
Characteristics of Scandinavian 
Scandinavian design is largely known for having a minimalist philosophy. It emphasizes clean lines and simple designs. It's also inspired by nature and the Nordic climate. 
Let's take a closer look at its features to better understand this style. 
Plenty of natural lights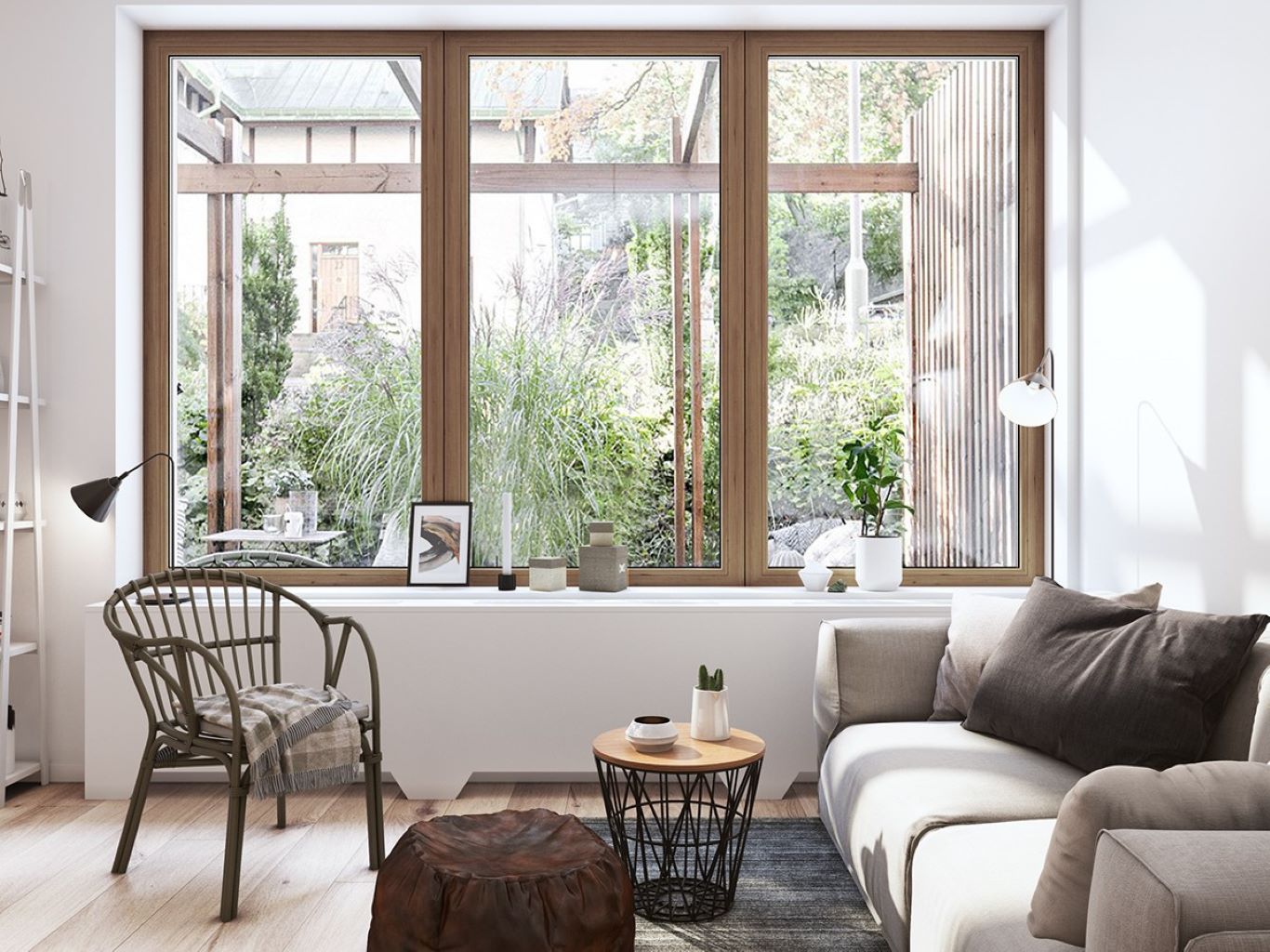 Scandinavian countries don't get a lot of daylight — around seven hours a day or less during winter. Without sufficient light, homes tend to look gloomy and make people feel depressed. 
That's why in Scandinavian homes, letting plenty of natural light in is crucial. Every room is brightly-lit. Curtains, blinds, and thick grilles are minimized. 
Variety of artificial lights
Scandinavians love candlelights because it looks softer and feels more natural. It also provides warmth during the winter. Today, plenty of modern lighting is used too.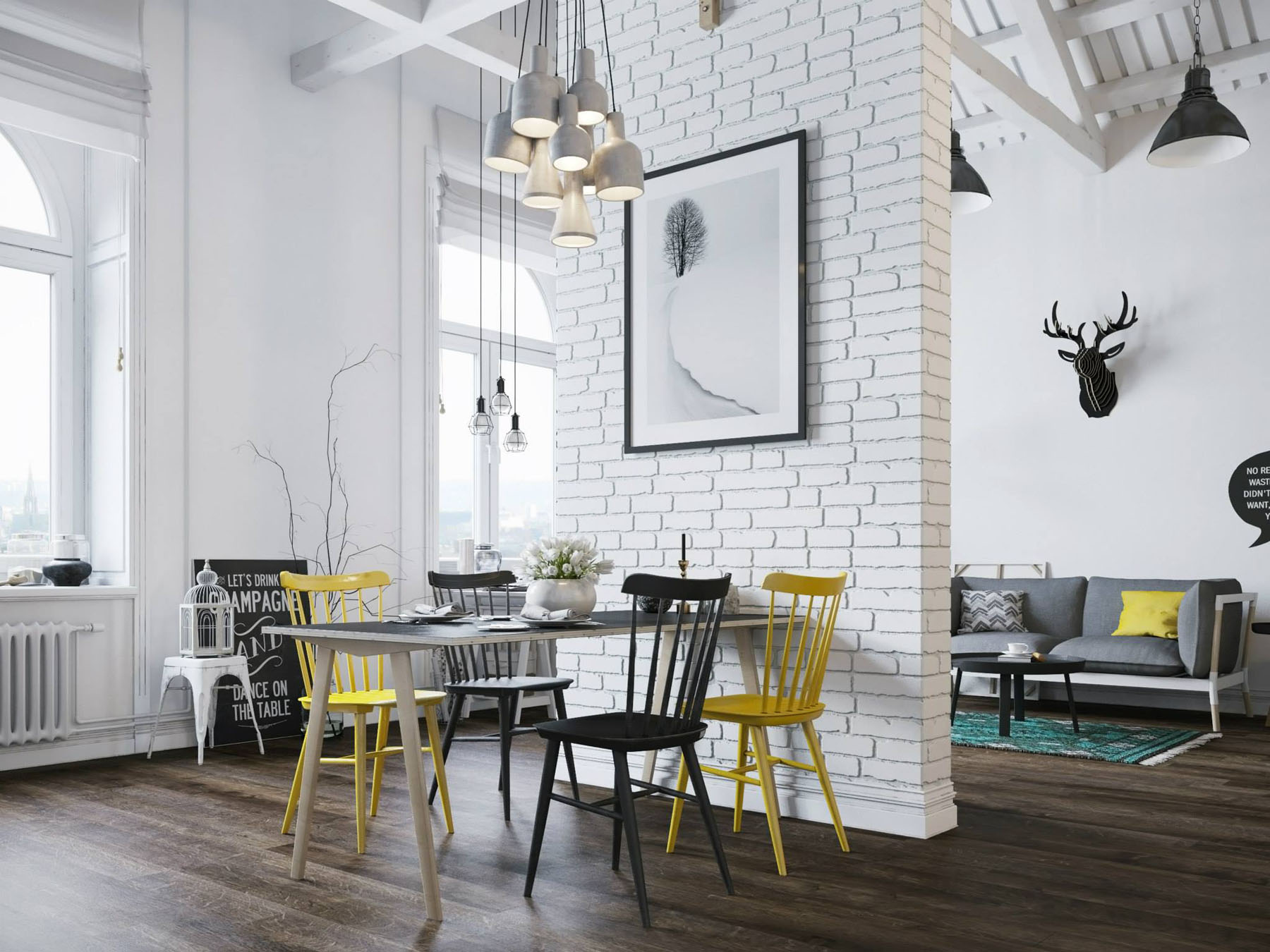 It's common to see many different types of lights in Scandinavian homes, e.g., pendant lights, wall fixtures, floor lamps, table lamps. However, they have simple designs. Thus you won't see grand chandeliers or artistic LED arrays.
Lights are thoughtfully placed to create beautiful pools of light. This contributes to the hygge feel that Scandinavian homes are known for.
Clutter-free spaces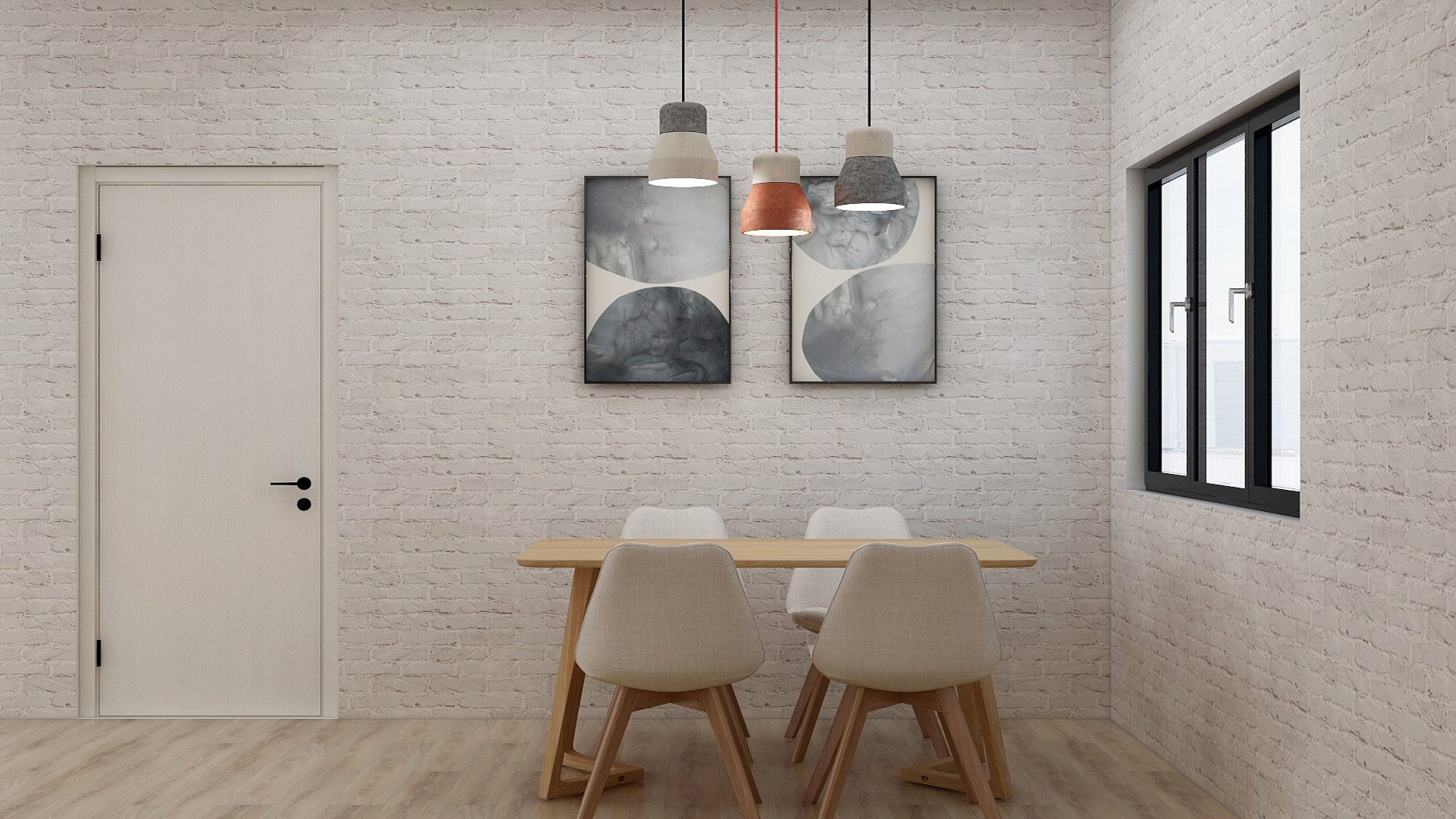 A clutter-free space cultivates a calm state of mind. The Scandinavian interior design emphasizes a clean and uncluttered environment.
Display decoratives are minimal and placed thoughtfully. Unimportant and miscellaneous items are stored away from the hallway.
An organized structure in a Scandinavian home is also important. Objects with the same function, commonly used household items, or elements of matching colors, are arranged neatly in the same area of the home.
Light, muted colors
 

The Scandinavian color palette is neutral, light, and soft. 
Neutral colors such as black, white, or gray bring about a clean and calm atmosphere. Lighter color shades help the space look bright by reflecting more light. Soft colors create a sense of cohesiveness and uniformity with their paleness.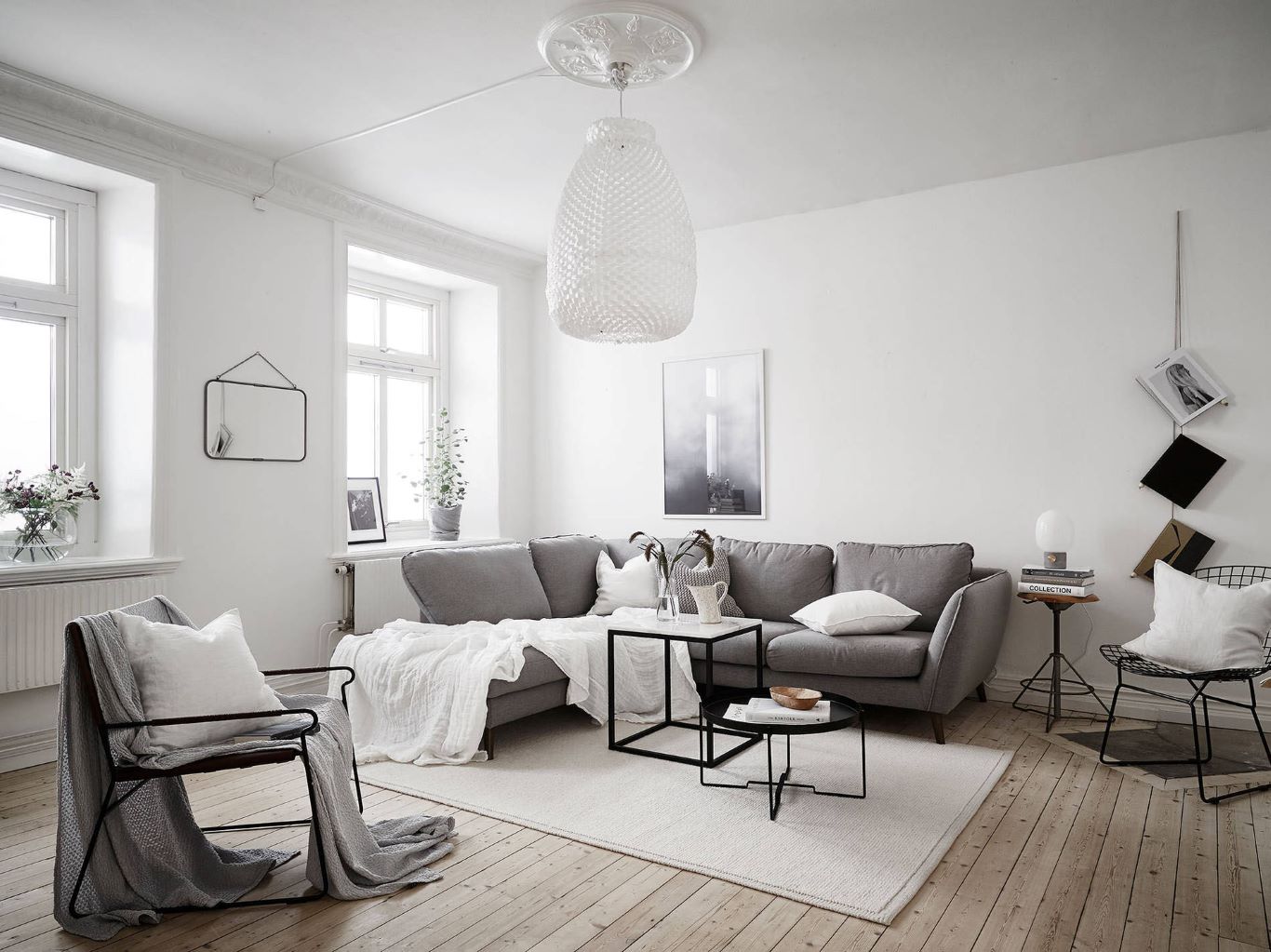 In Singapore HDBs, low ceilings and limited floor space are common. 
Beige, brown, cream, gray, white — are some of the neutral color palettes that Scandinavian designers leverage to create an impression of a larger space.
Modern furniture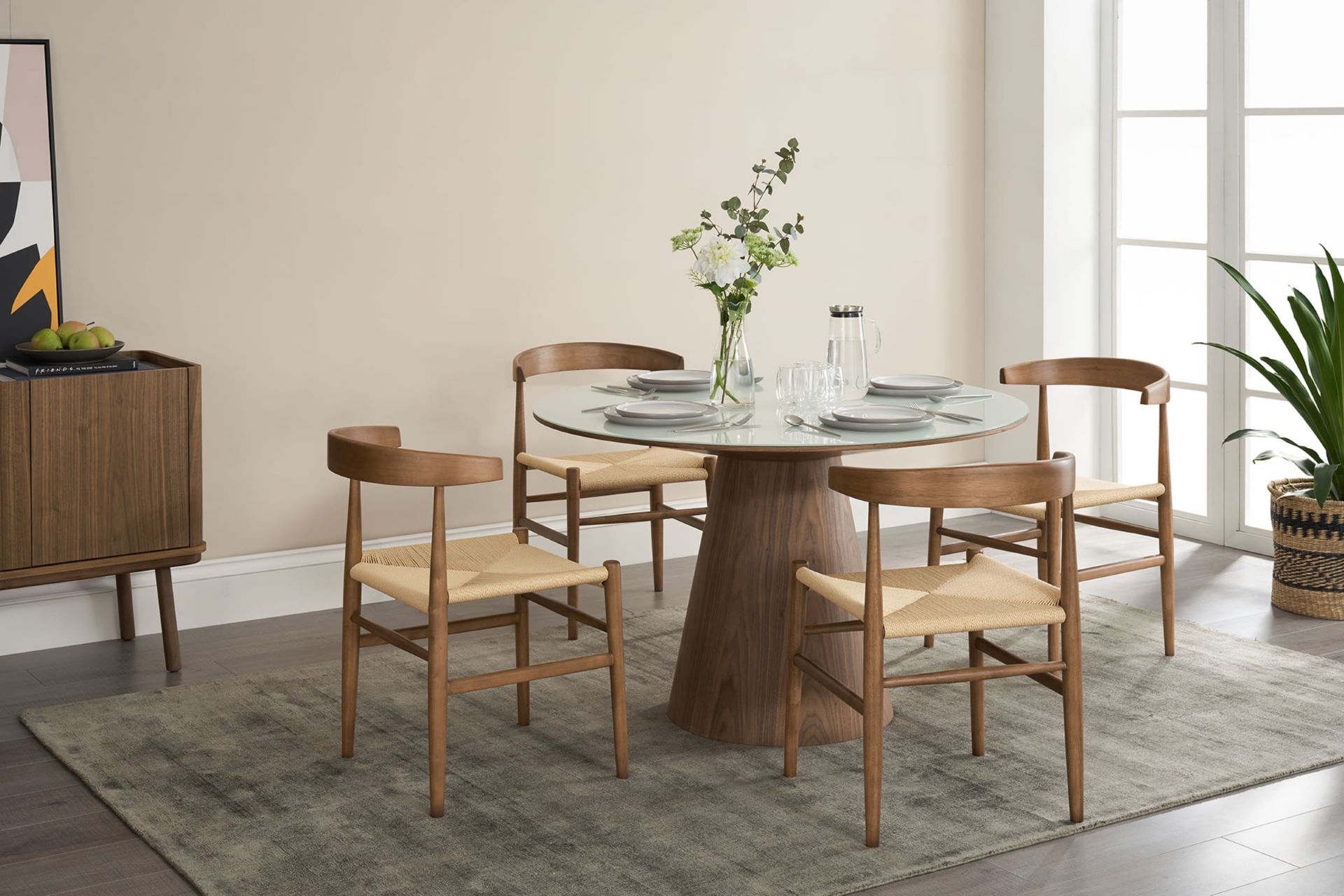 The Scandinavian style uses sleek modern furniture with simple aesthetics.
The signature style of Scandinavian furniture is marked by warm wood tones, clean lines, subtle curves, and angled legs. 
Light in color and material, this furniture blends seamlessly with the rest of the interior design.
Beauty of wood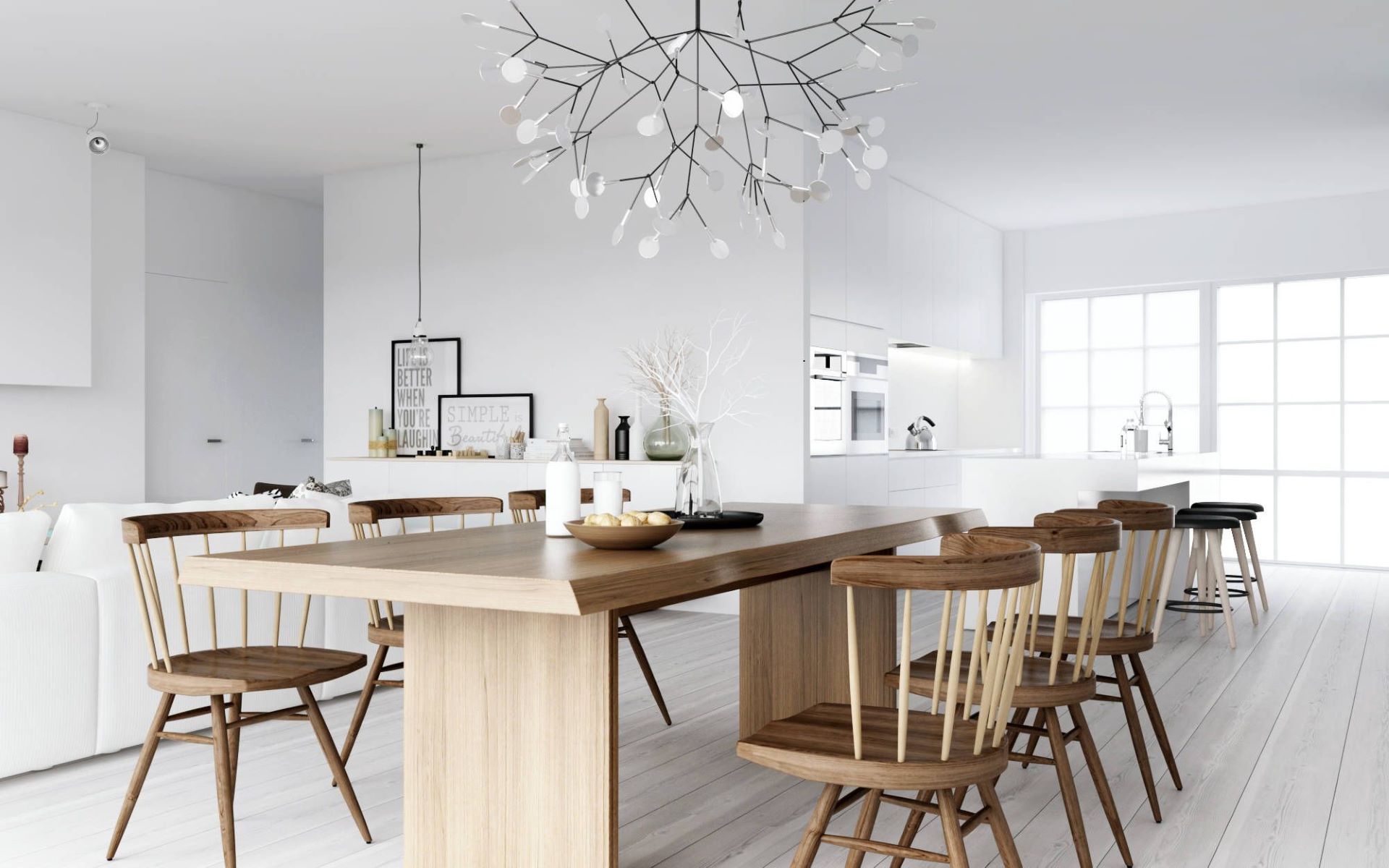 The use of natural wood is a hallmark of Scandinavian interior design. Wood accents make the room feel warm without having to rely on bright colors.
Nordic wood is typically used since it best represents the origins of the style.
Warm textures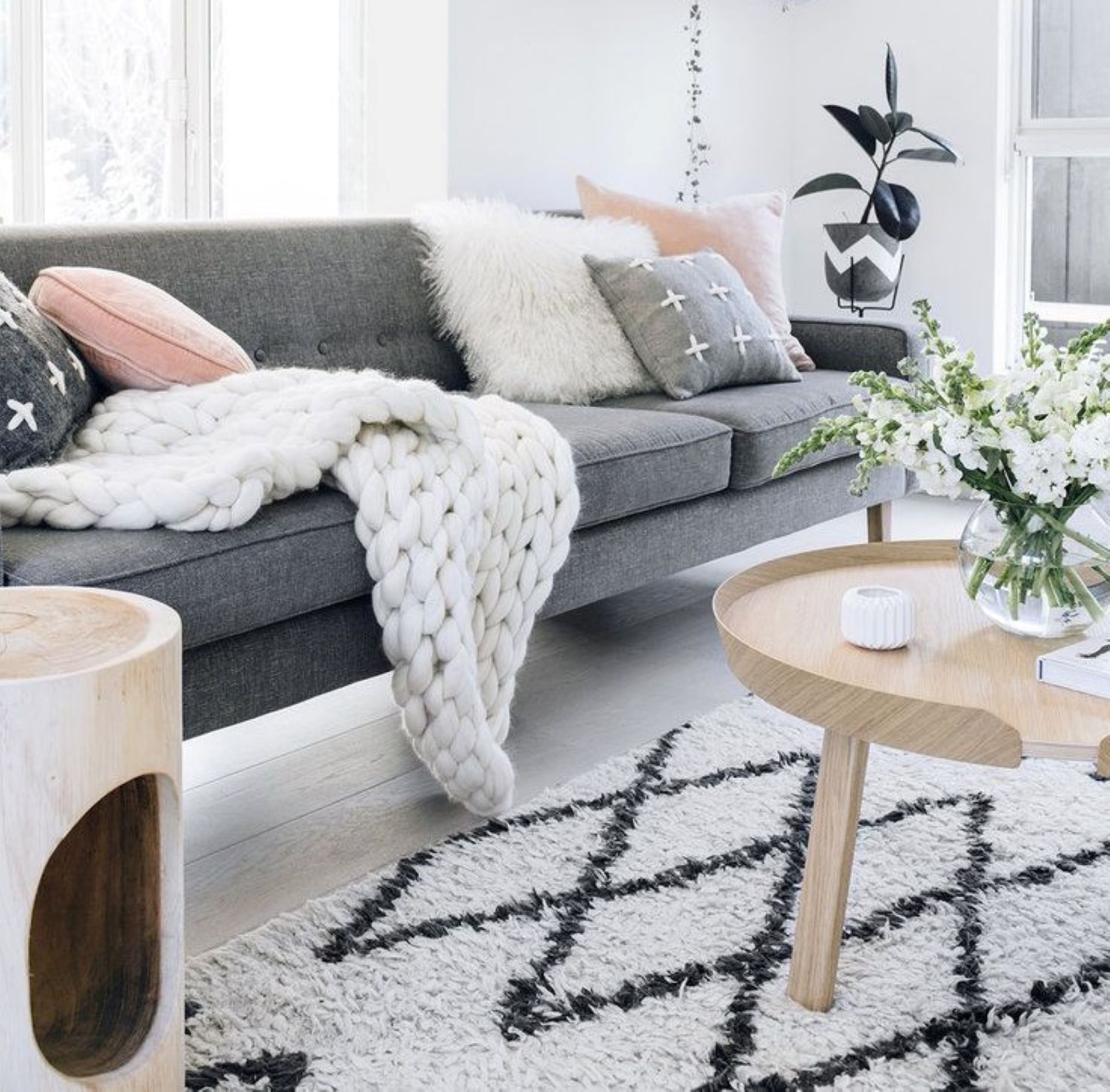 In Scandinavian interior design, the addition of warm textures contributes to hygge in the living space. 
Warm textures help to give the space character without going against the simplistic philosophy of Scandinavian designs.

A cozy sheepskin throw, Marrakesh shag rug, or a thick woolen knit blanket perched over the sofa are common decoratives placed in Scandinavian homes. 
Nature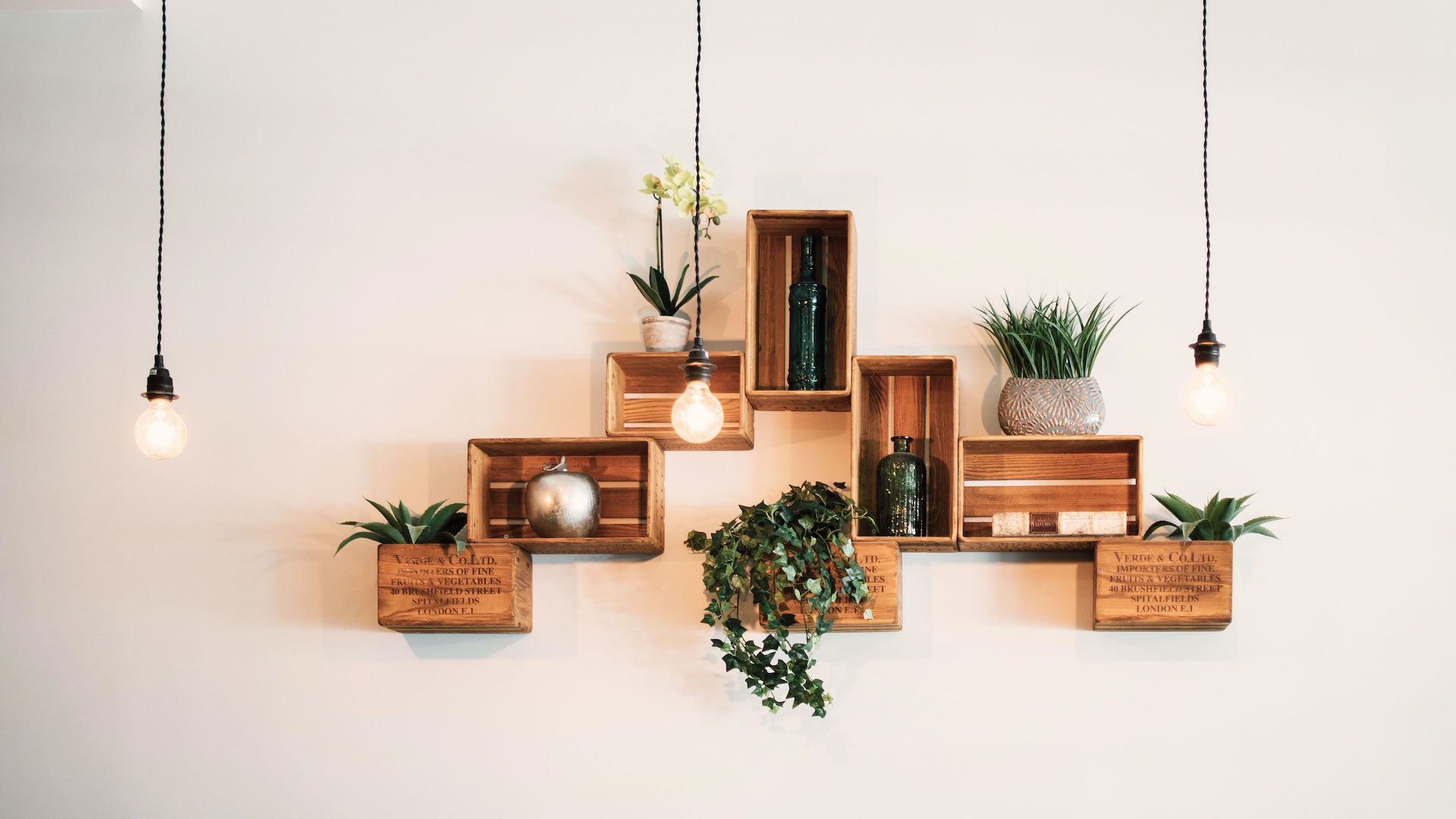 It's rare to see a Scandinavian interior without an indoor plant. 
Greenery brightens the room without disrupting the overall color palette of Scandinavian design. It also rejuvenates the living space with freshness.
Succulents and vine plants are typically used in Scandinavian homes for a dose of botanical vibe.
Applying Scandinavian design to your home
Living room
Most Scandinavian homes use a neutral color palette. Focus on cool shades of white to give your living room an open and airy feel. 
You can also pair white elements with natural wood decor for an added touch of warmth without darkening the space.
Top it off by laying a textured rug at the foot of the sofa. The rug helps to keep the living room from feeling stark or clinical.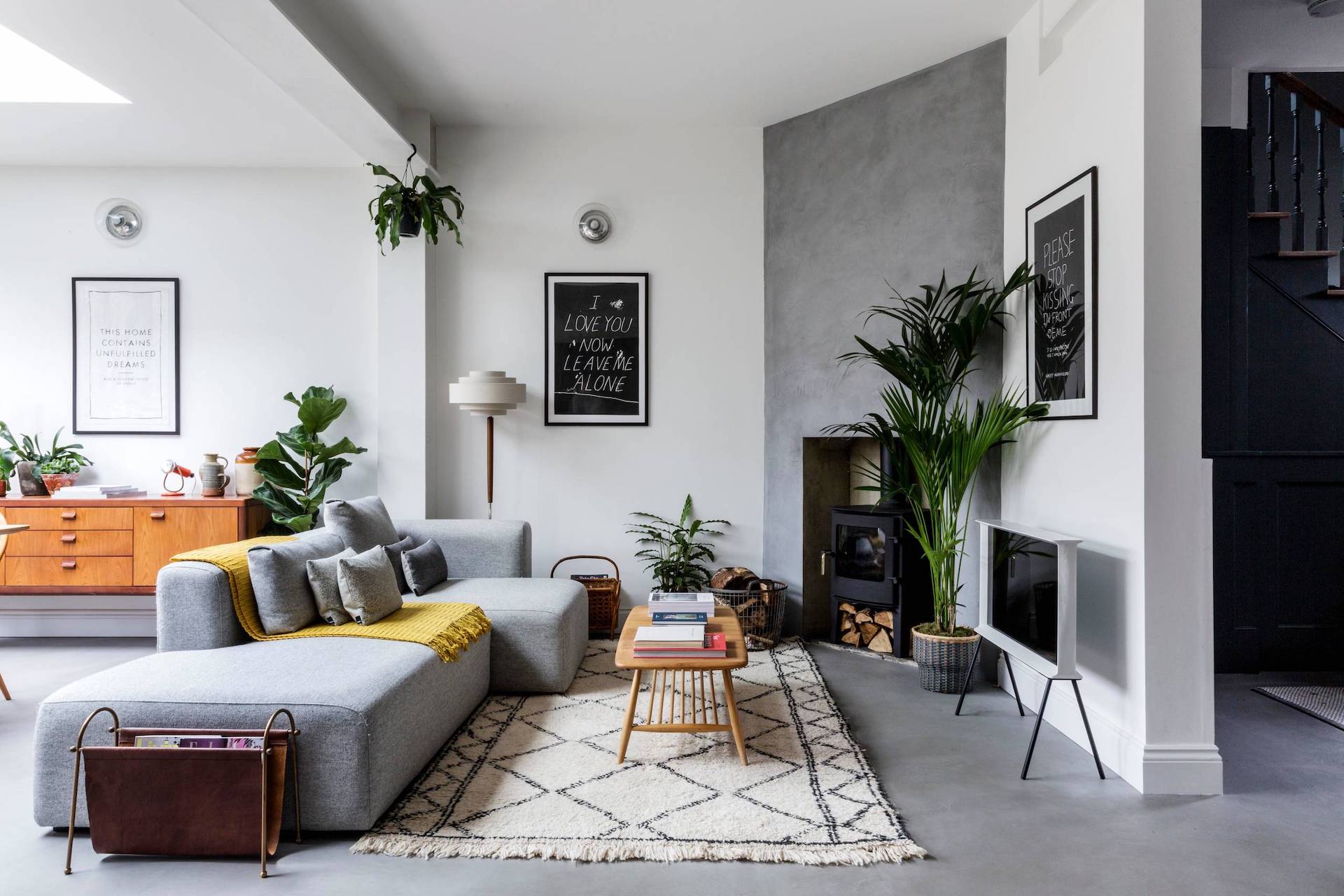 Paint your walls and ceilings white to give an airy and spacious vibe. Pair the white backdrop with large windows for a brightly-lit environment. 
While we have no shortage of natural light in Singapore, note that newer HDBs are built close to one another. Thus, lower-story units tend to receive less light. 
If you live in the lower story, it's best to avoid curtains or blinds. 
When choosing artificial lights, go for those with simple designs. For example, you could place a pendant lamp above the dining table or a floor lamp illuminating a feature in the living room. Experiment to see what works best for you.
As for furniture, choose those with earthy or light colors. You can also throw in a few darker colored cushions on your sofa for added texture. 
There is a wide variety of wood flooring you can consider. Try to stick with lighter shades of wood, e.g., pale oak. The light shade will complement the other Scandinavian elements in the room to create a timeless look.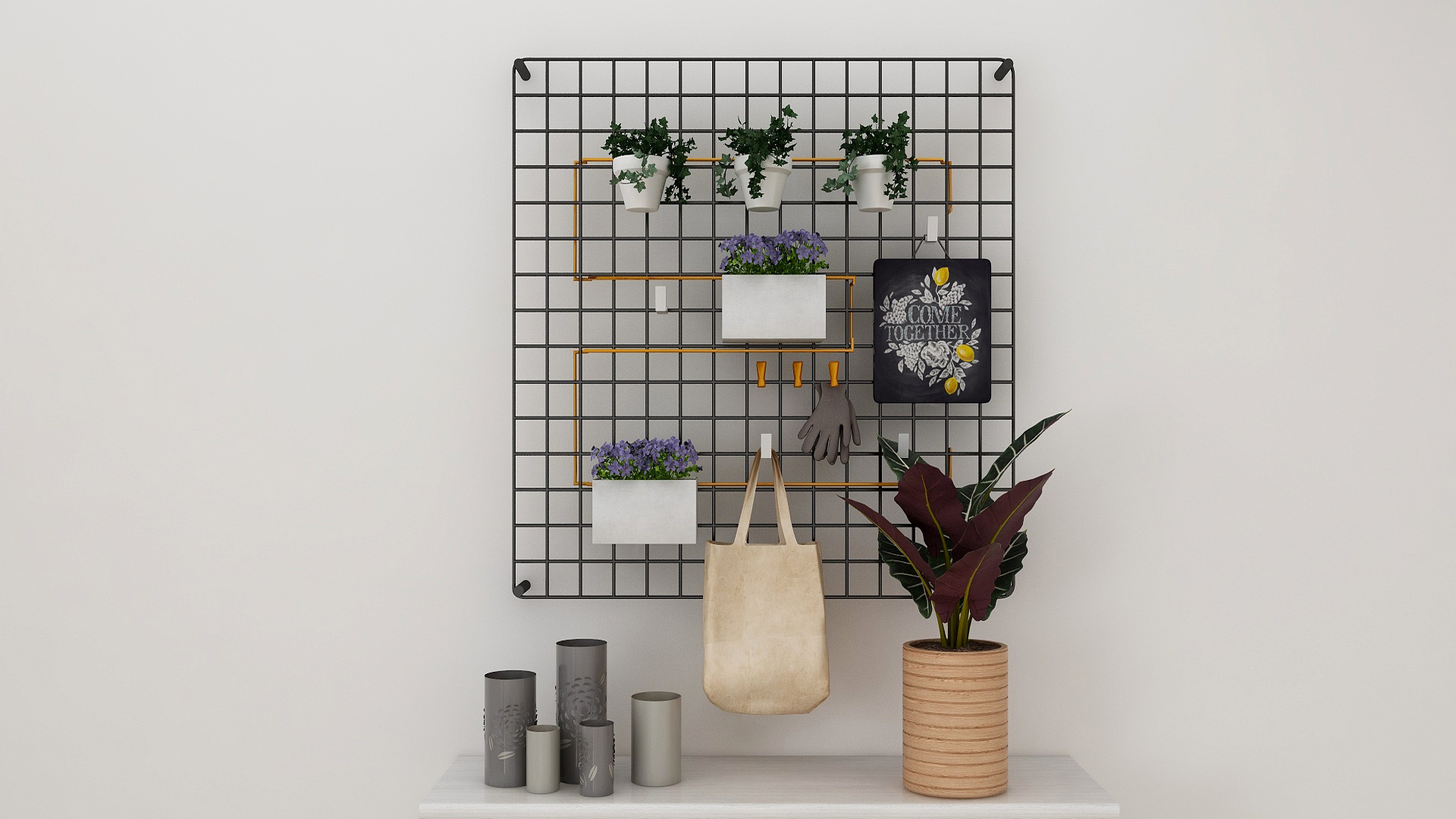 While Scandinavian design is minimalistic, we should not neglect aesthetics. 
The key is to use decor purposefully. 
You can think of accessories as extensions of your furniture. A miniature vase atop a wooden cabinet contributes more to the hygge feel than a standalone wooden cabinet. 
You can also add bold pieces such as geometric patterned cushions or a meaningful work of art, but place them purposefully. Remember that in Scandinavian design, less is more.
A great way to add aesthetics is by using plants. Plants are a prominent element of Scandinavian design, and they complement many aspects of the design well.
Plants are so popular in Sweden that many street vendors sell potted plants throughout the year. 
Singapore also has plants for sale all year round, so you shouldn't have problems finding some for your home.
Kitchen
In Scandinavian design, the kitchen has to be functional and visually pleasing. 
Keep your kitchen open. This creates a spacious feel when you enter. 
Match white walls with wood furniture. If you're not keen on having real wood in the kitchen, wood finishings work fine too. 
Add in a few different textures and details on the walls for a simple yet visually pleasing Scandinavian kitchen.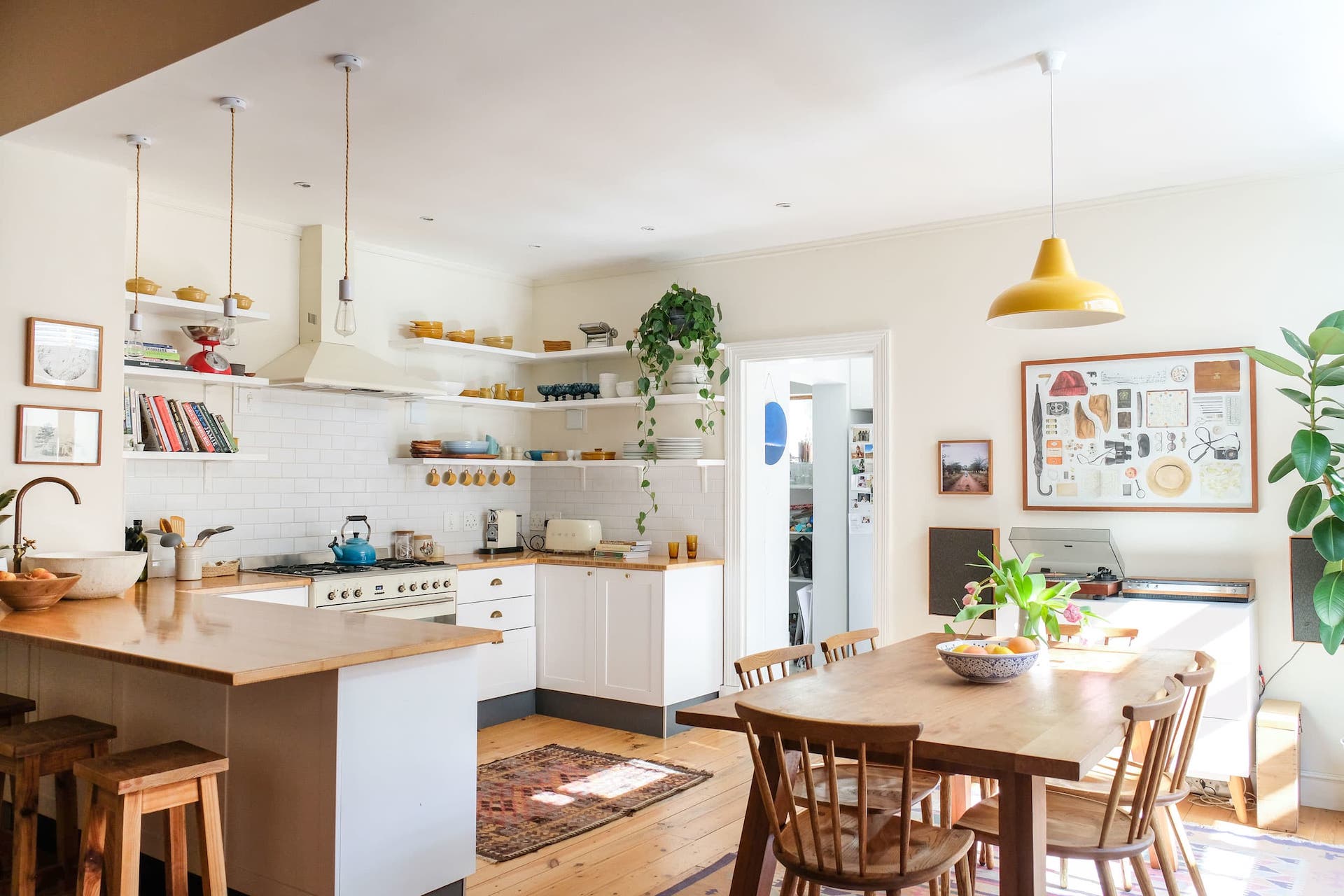 Use visual contrast to make your kitchen stand out. For example, you can use dark-colored storage cabinets, wooden bar stools and countertops that contrast against white walls.You can also place a potted plant or a fruit bowl on the countertop for a touch of nature in the kitchen.
Lastly, always remember to keep countertops clutter-free. 
Bedroom
The bedroom is where you retire to after a long day, so make it warm and cozy. 
Here is where you can maximize hygge.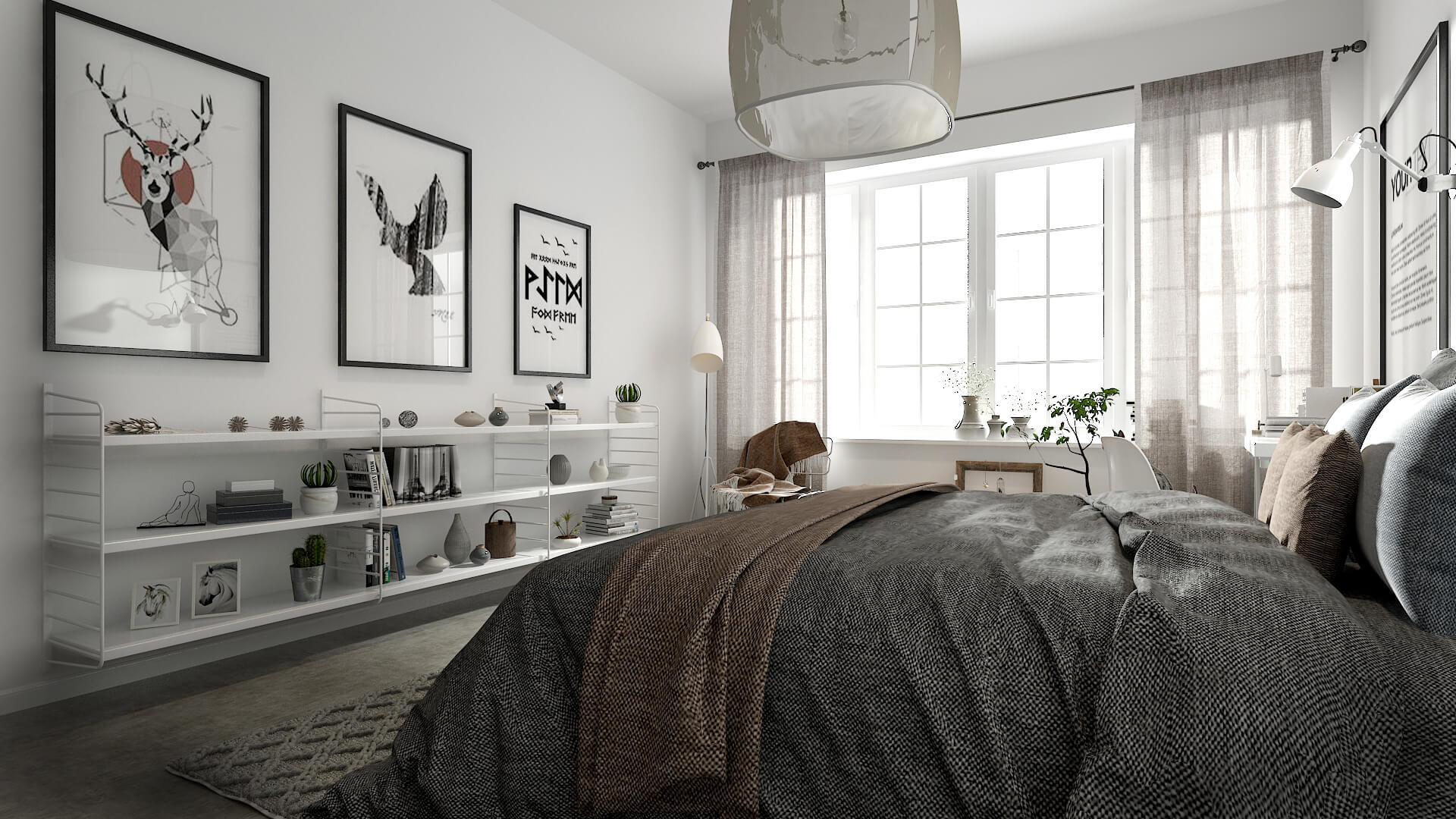 Use light neutral colors such as white or gray for a soothing look. Avoid bold colors as they'll create a loud and overwhelming environment.
For the bed, choose one with wooden angled legs. Layer it off with a warm fur blanket to make your room look cozy and inviting.
You can also create a cozy corner in your room by using a light-colored chair with a curved back and tapered legs. Add a lamp next to the chair to enhance the overall feel.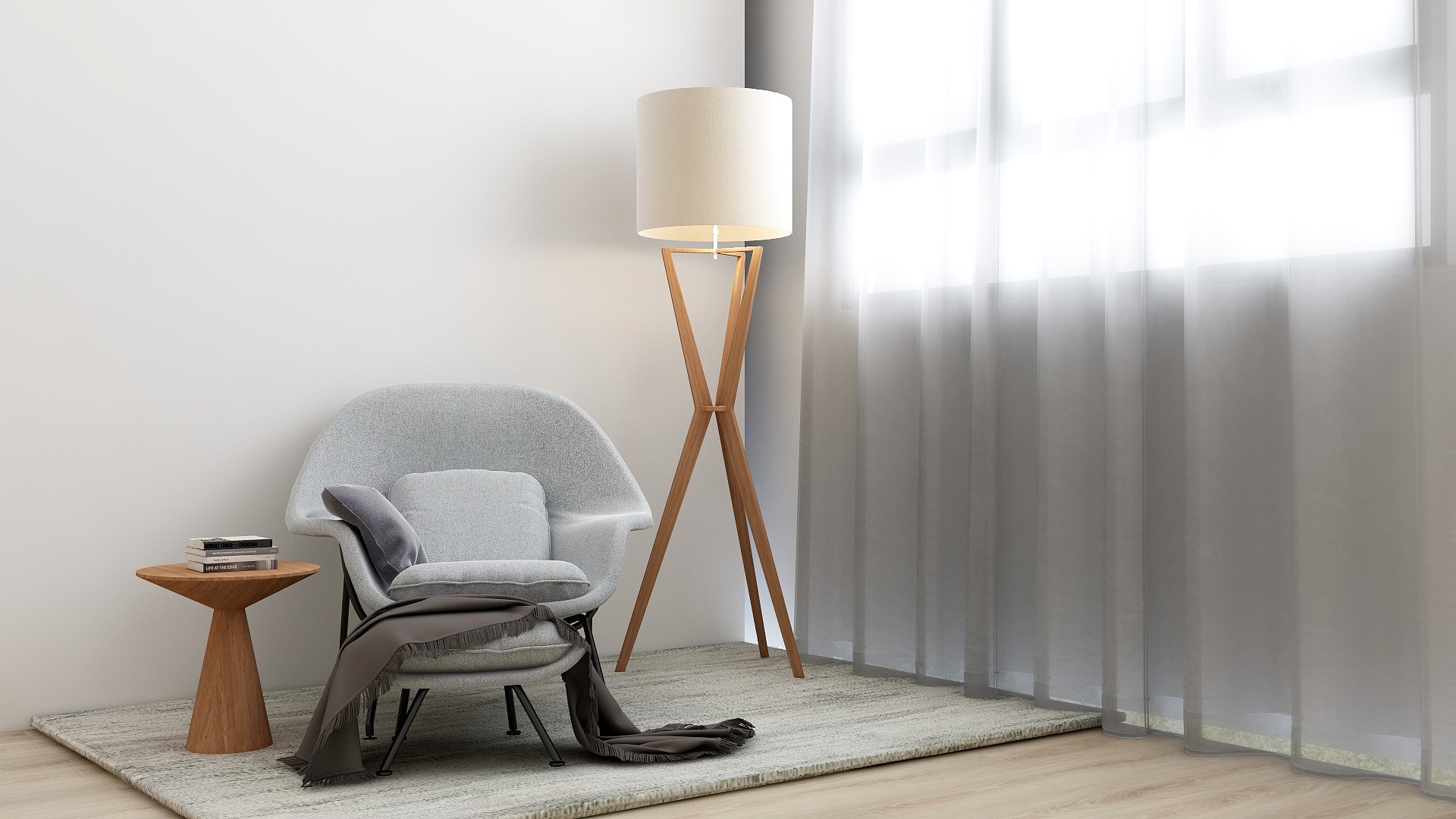 Choose a warm textile for a rug. Go for one with darker hues to contrast the light-colored wood floor. It will add plenty of coziness to the room. You can also add other warm textiles such as throw pillows to complement the rug.
Examples of warm textiles are wool, sheepskin, cotton, and mohair. These materials provide more than just warmth. They add a layer of texture and hygge to a room.
If you find your bedroom too plain, you could hang a piece of artwork on a wall. The art will help unite textures in your bedroom and bring in the extra touch of Scandinavian. Alternatively, you could use plants.
Your bedroom is now a cozy place for you to unwind in. 
Modern examples of Scandinavian
Modern Scandinavian interiors in Singapore today feature a wide range of interpretations due to attempts to make homes look unique. 
Take a look at some of these beautiful modern Scandinavian homes.
Scandinavian HDB/condo living room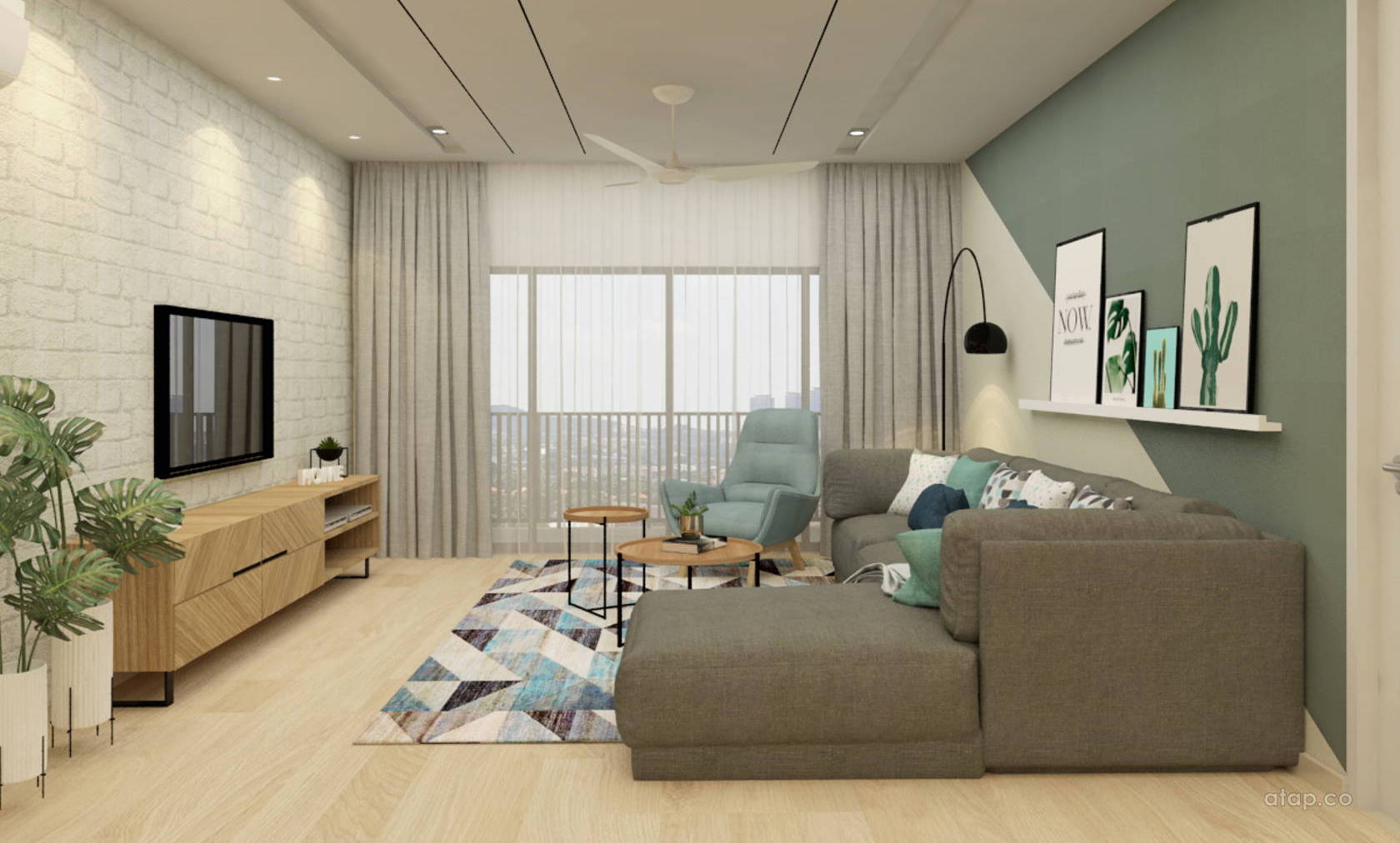 Designers make use of light colors to reflect natural light in the living room. This helps to create a bright and spacious-looking living room.
Home accessories are used to create contrast. Textures are added through rugs and cushions. Photo displays and indoor plants are also aptly placed in living rooms.
Scandinavian HDB/condo kitchen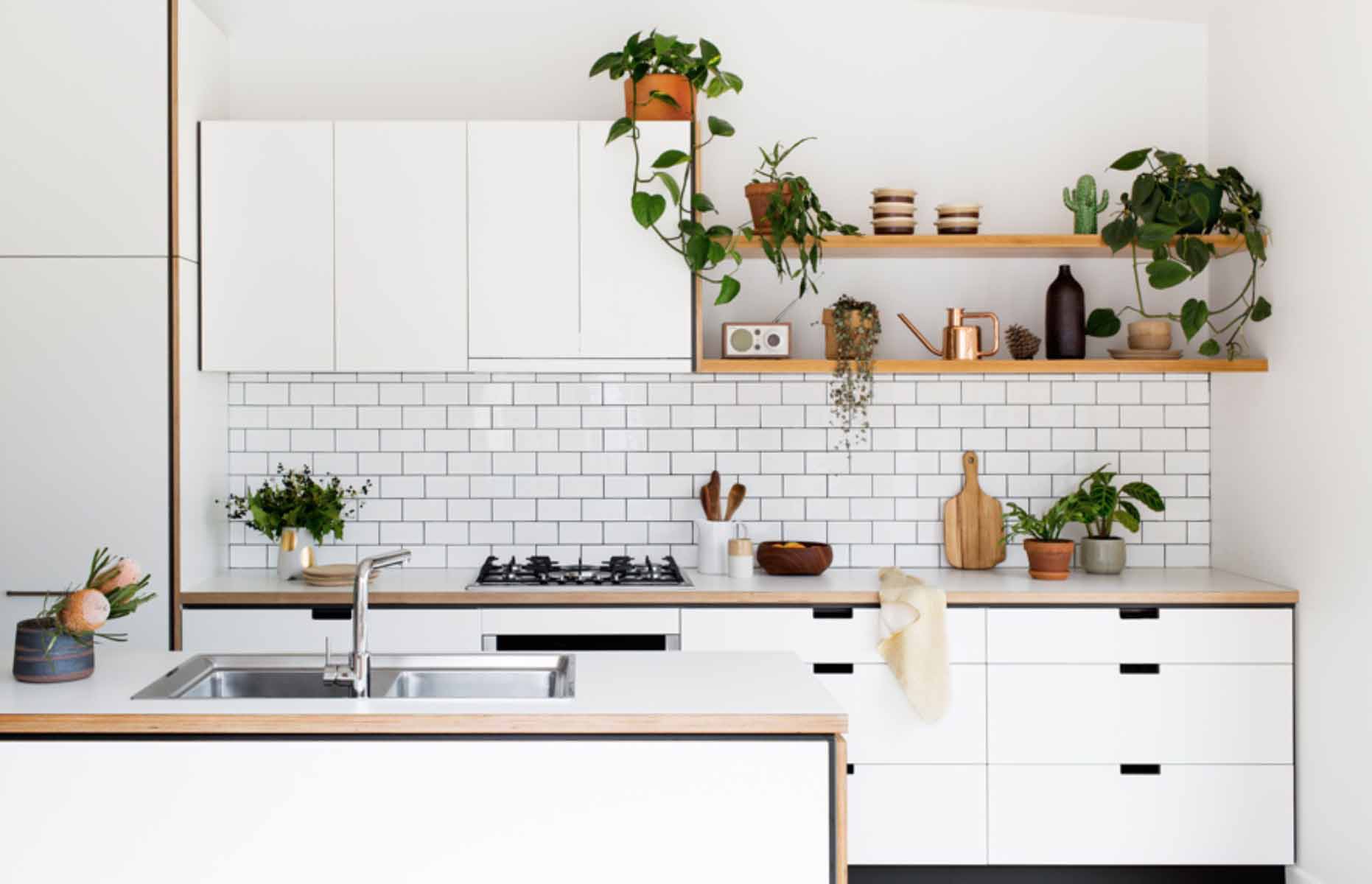 Designers use lots of white in the kitchen to brighten up a place that typically gets little natural light. Textures are added to the wall so that the kitchen doesn't look too bland.
Wood is a flexible material here. It can be used for both furniture and tools. Wood-finished countertops look great. There are also many wooden tools, such as cooking utensils, chopping boards, plates, and bowls. 
Scandinavian HDB/condo bedroom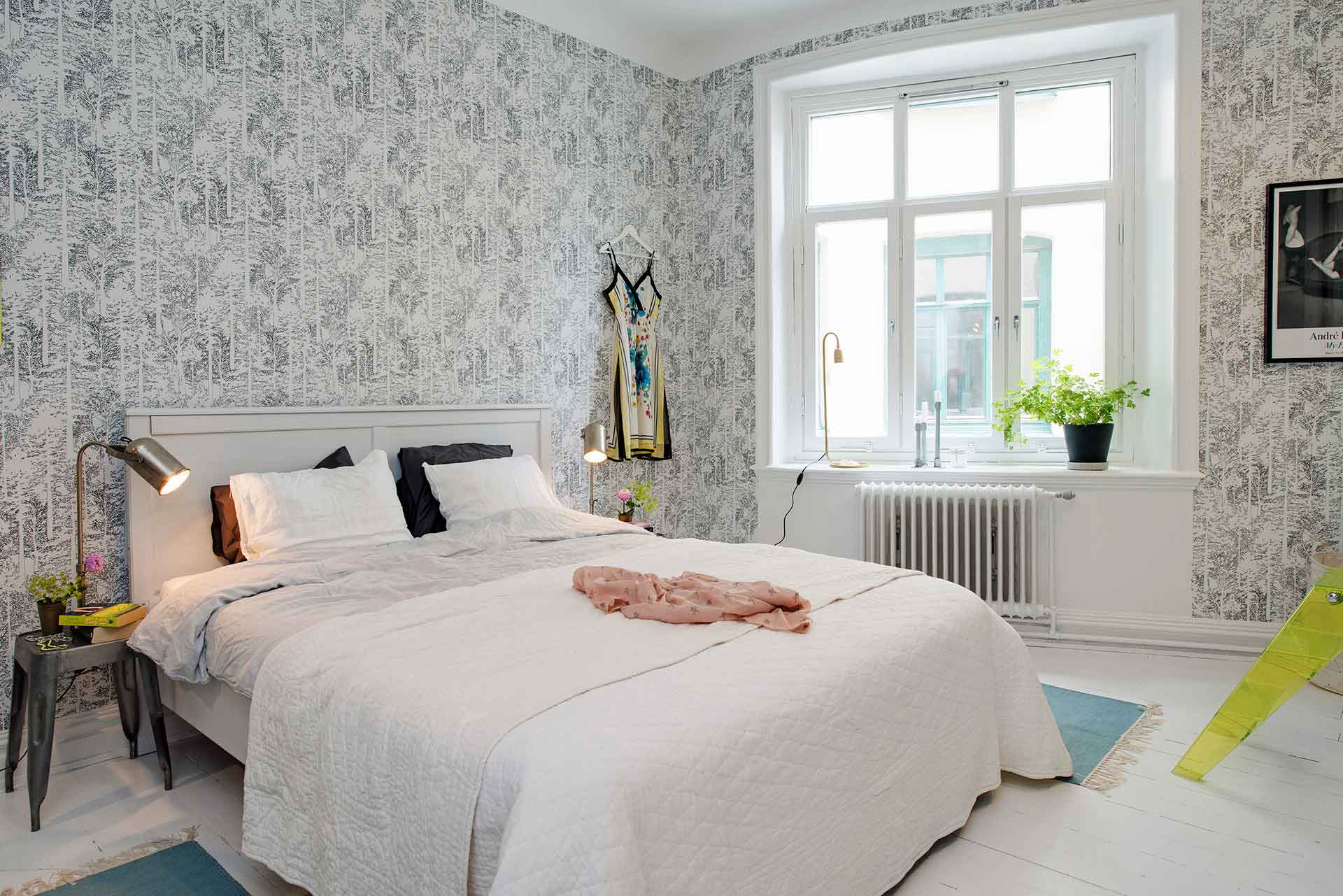 The bedroom should look like the most comfortable space in the home. A large comforter layered with a contrasting textile is ideal for the bed.
Light fixtures with unique designs can be used to create focal points. Also, lightings with soft glow complement the variety of other light-colored elements in the room.
Scandinavian HDB/condo bathroom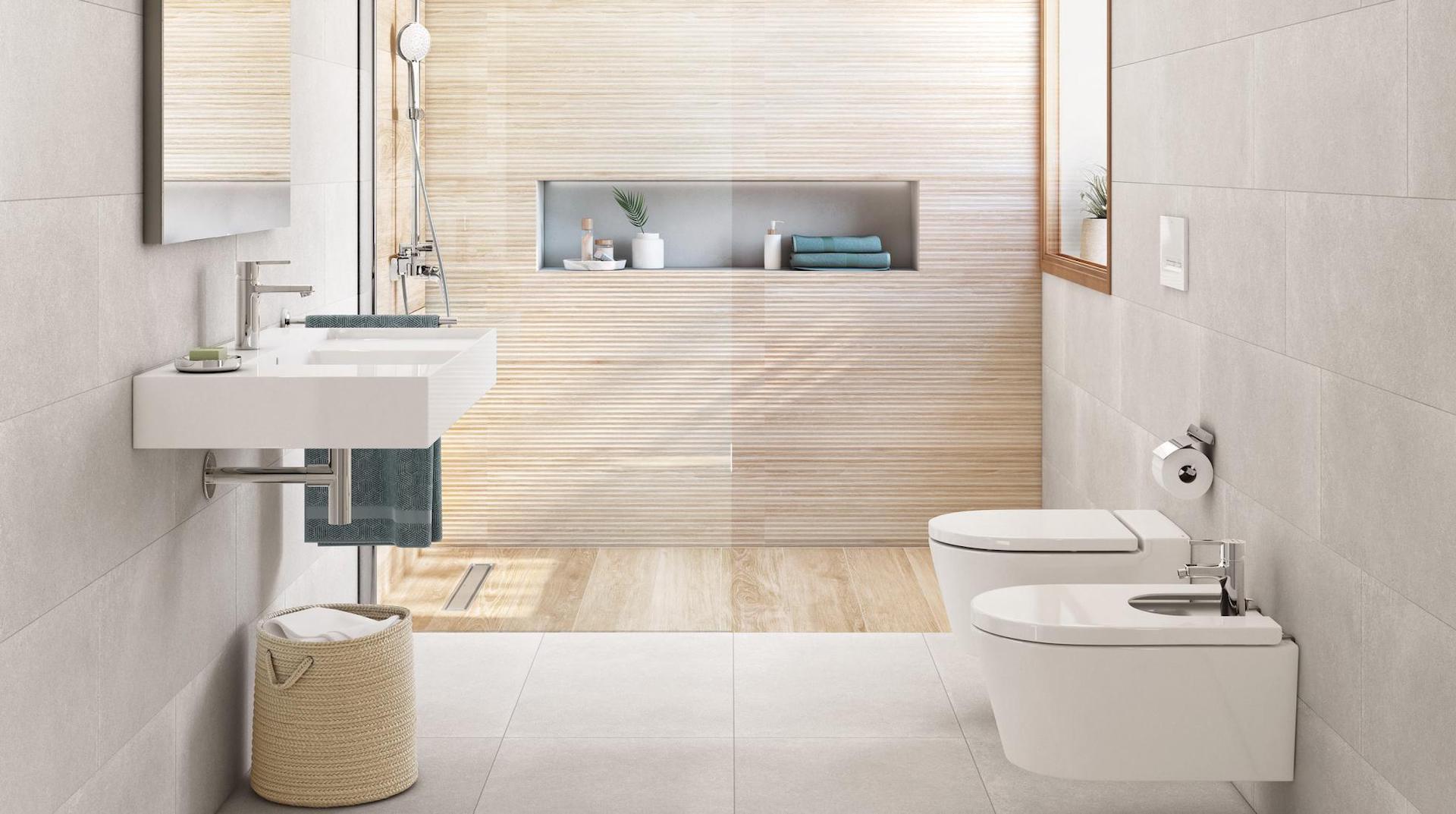 Bathroom walls can be more than just plain white tiles. Nordic-inspired bathrooms usually have an accent wall too. 
Scandinavian designers use creative ways to put up a durable accent wall, even in a moist bathroom. For example, faux wood planks made of peels and stick vinyl are pasted over the wall surface to mimic a natural wood accent wall.
Scandinavian house living room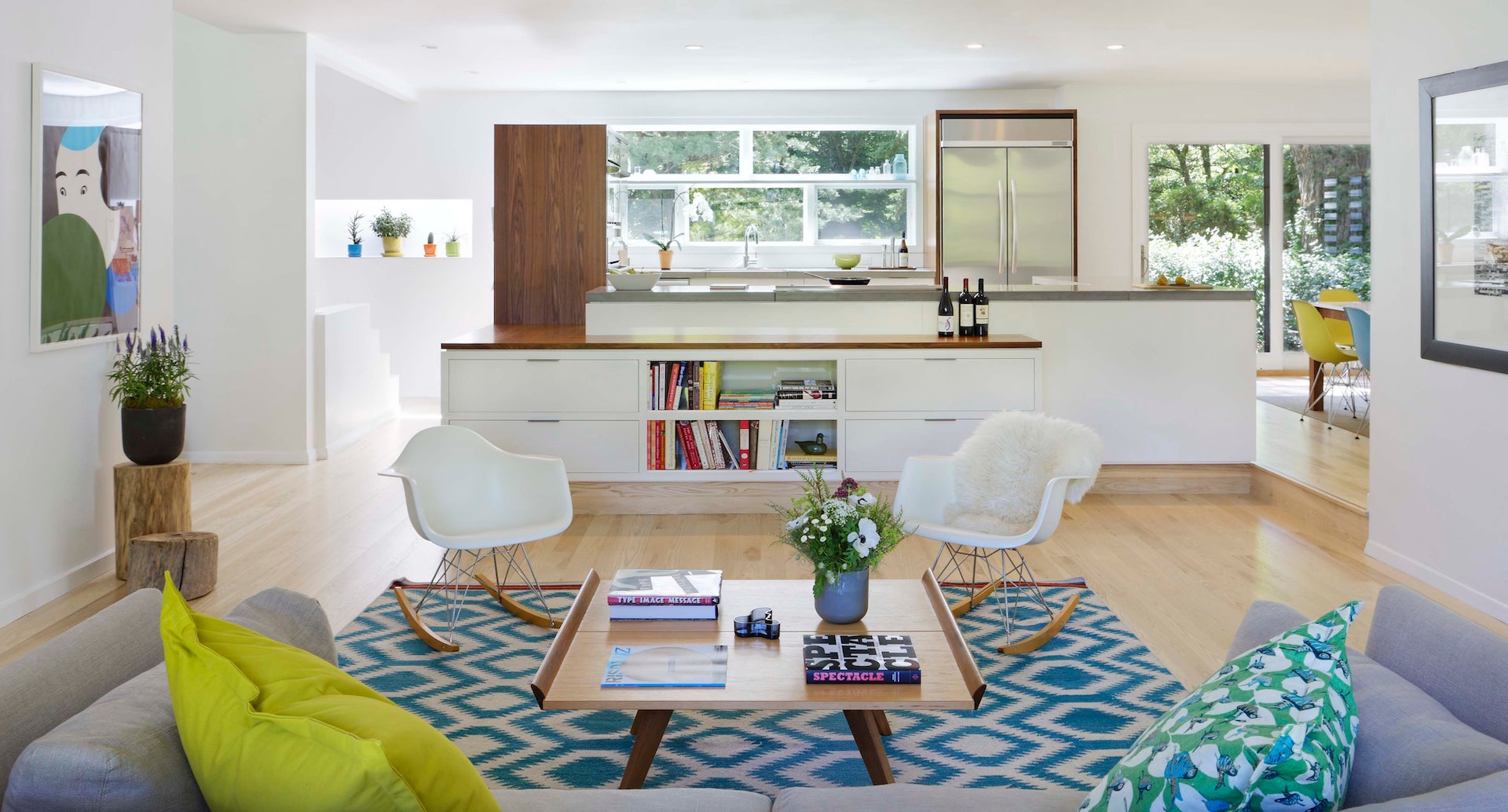 In a large house, there are many more ways to let natural light into the house. Aside from windows, designers use skylights or clerestories to create a unique look. 
There's also more space in a large home for purposeful decor such as a portrait or wall clock. However, it's important to remember not to go overboard. Less is more in Scandinavian design.
Scandinavian house kitchen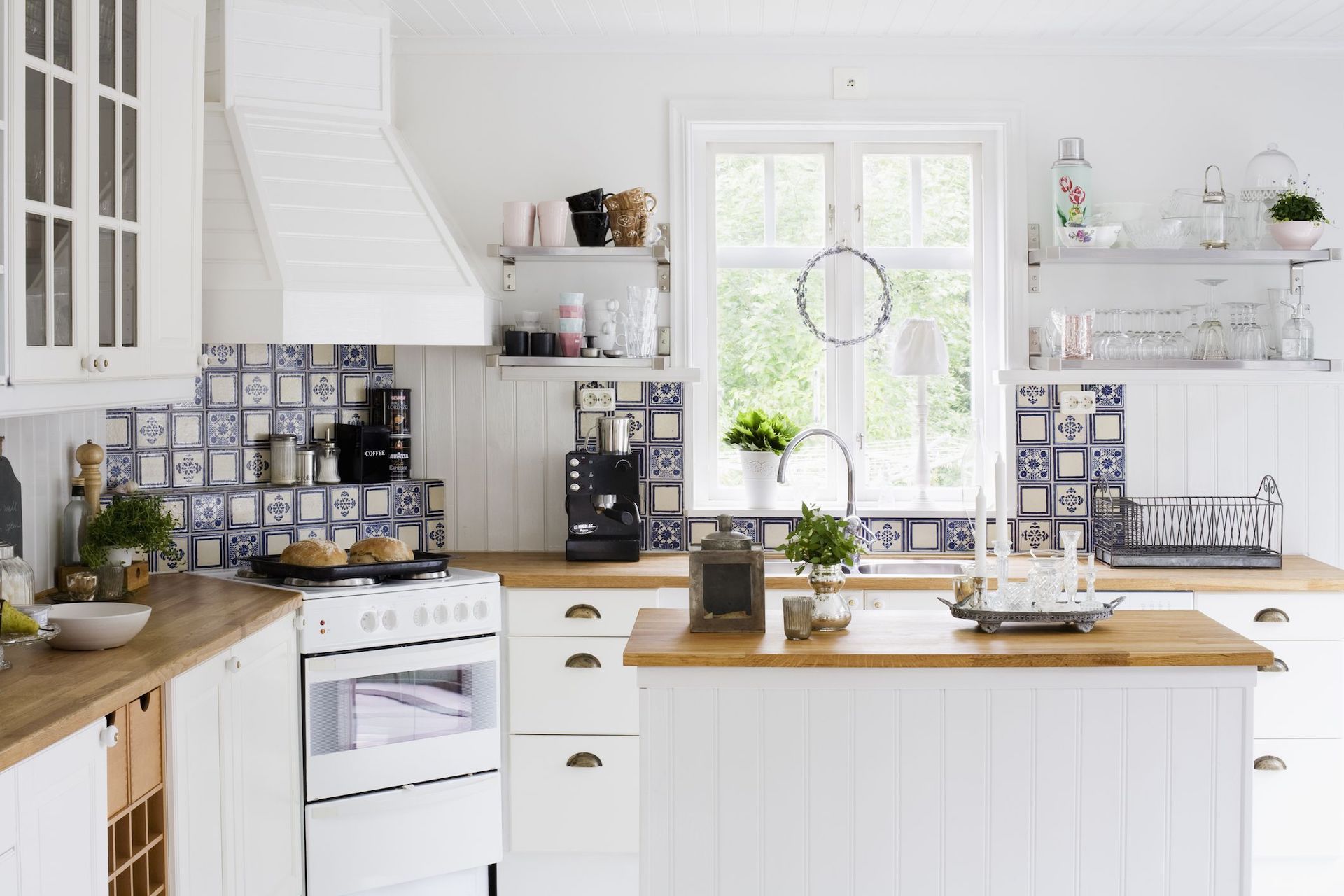 In a larger house, the kitchen usually receives lots of natural light. Designers can get away with using lesser whites while still keeping it bright.
Lots of textures are used here to make the kitchen stand out from the rest of the house.
A sleek island bartop in the kitchen gives a modern look, on top of serving many functions.
Scandinavian house bedroom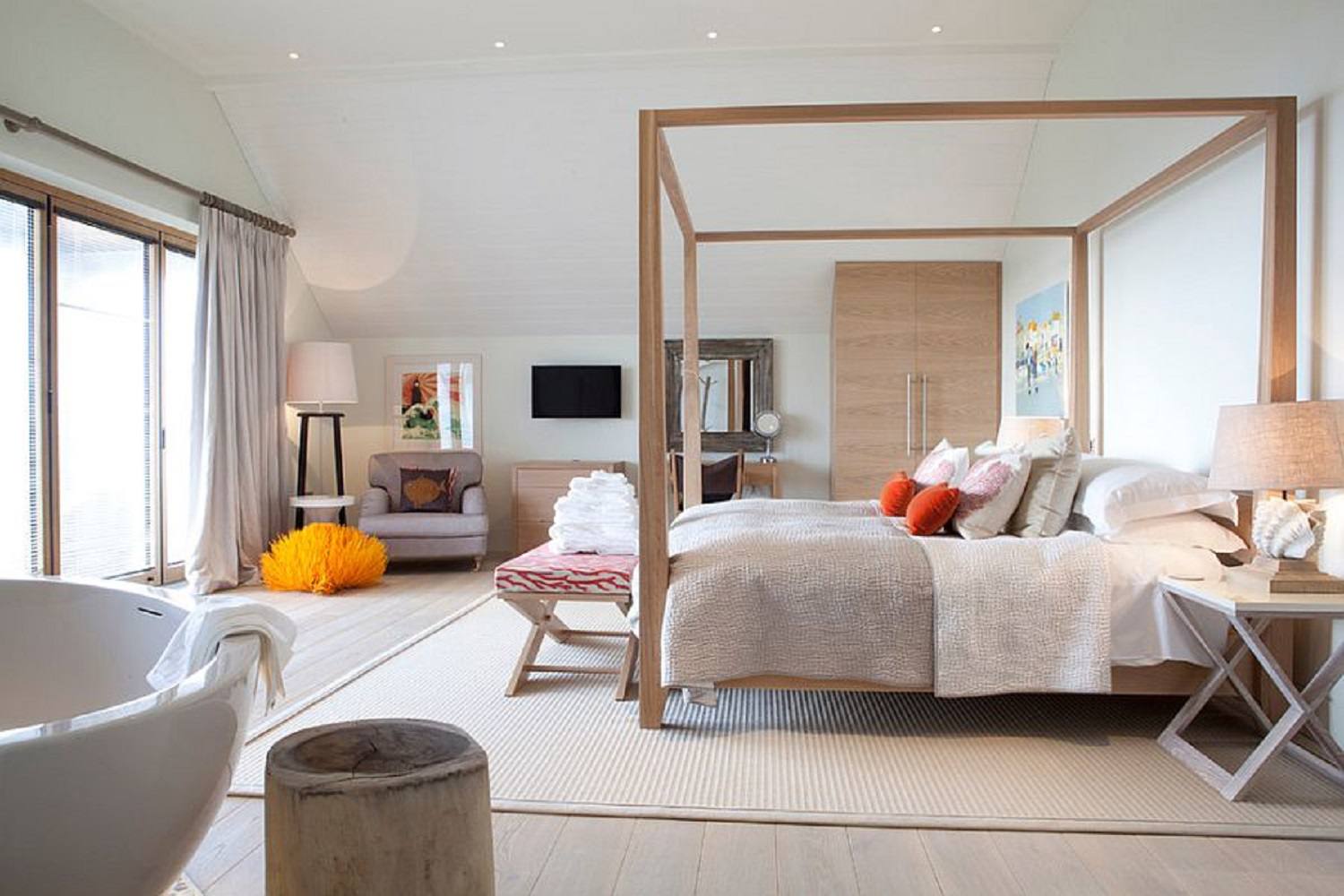 In a large bedroom, it can be challenging to tie up individual areas into a cozy space. Essentially, the design principles are similar to the HDB/condo bedroom.
Wooden accents should be used throughout to give the room a cozy feel. A pale color palette would fit this area better than plain white. 
Designers also take advantage of the larger space to create a cozy corner in the bedroom. 
Scandinavian house bathroom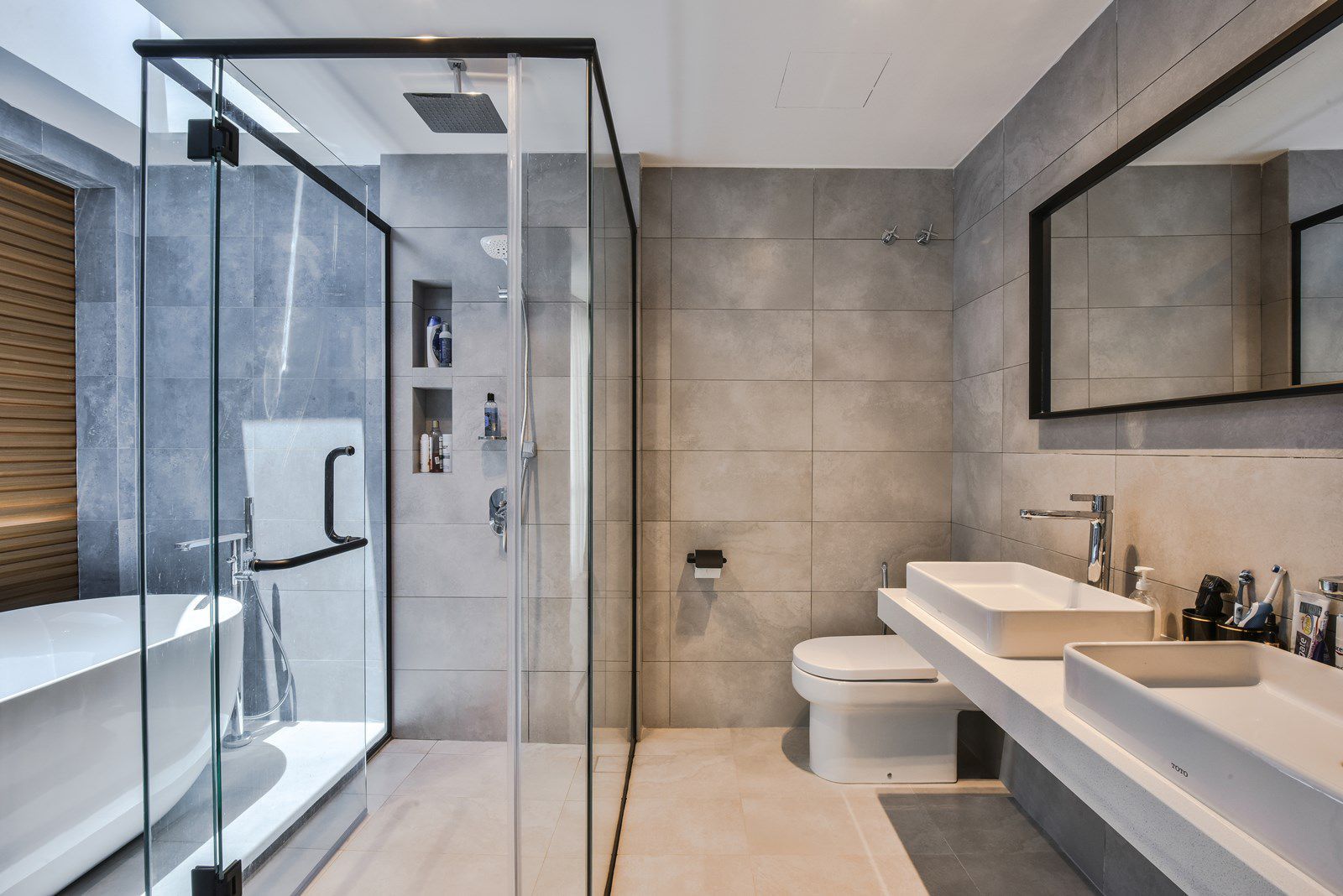 Large windows bring plenty of natural light into the home. With the flexibility of large bathroom space, skylights can be a great design feature to have. Skylights can be beneficial to homes because of their ability to bring in natural light directly from above.
As most bathroom fixtures tend to be white, designers mix in slightly darker tones to help balance the influx of natural light. This retains that cozy and relaxing experience within the bathroom.
Fusion tips
Scandinavian is a style that has been shown to fuse well with many other modern styles. Some combinations have become so popular that people even created new names for them.
Combining Scandinavian with Industrial
Scandinavian Industrial (a.k.a. Scandustrial) is a modern fusion of two styles and is very popular in Singapore.
Scandustrial typically combines the white walls and wood furnishing from Scandinavian design with the raw and metallic elements of Industrial furniture.
This combination works well in reverse too. Brick or concrete walls form an Industrial backdrop that matches well with Scandinavian furniture and lighting.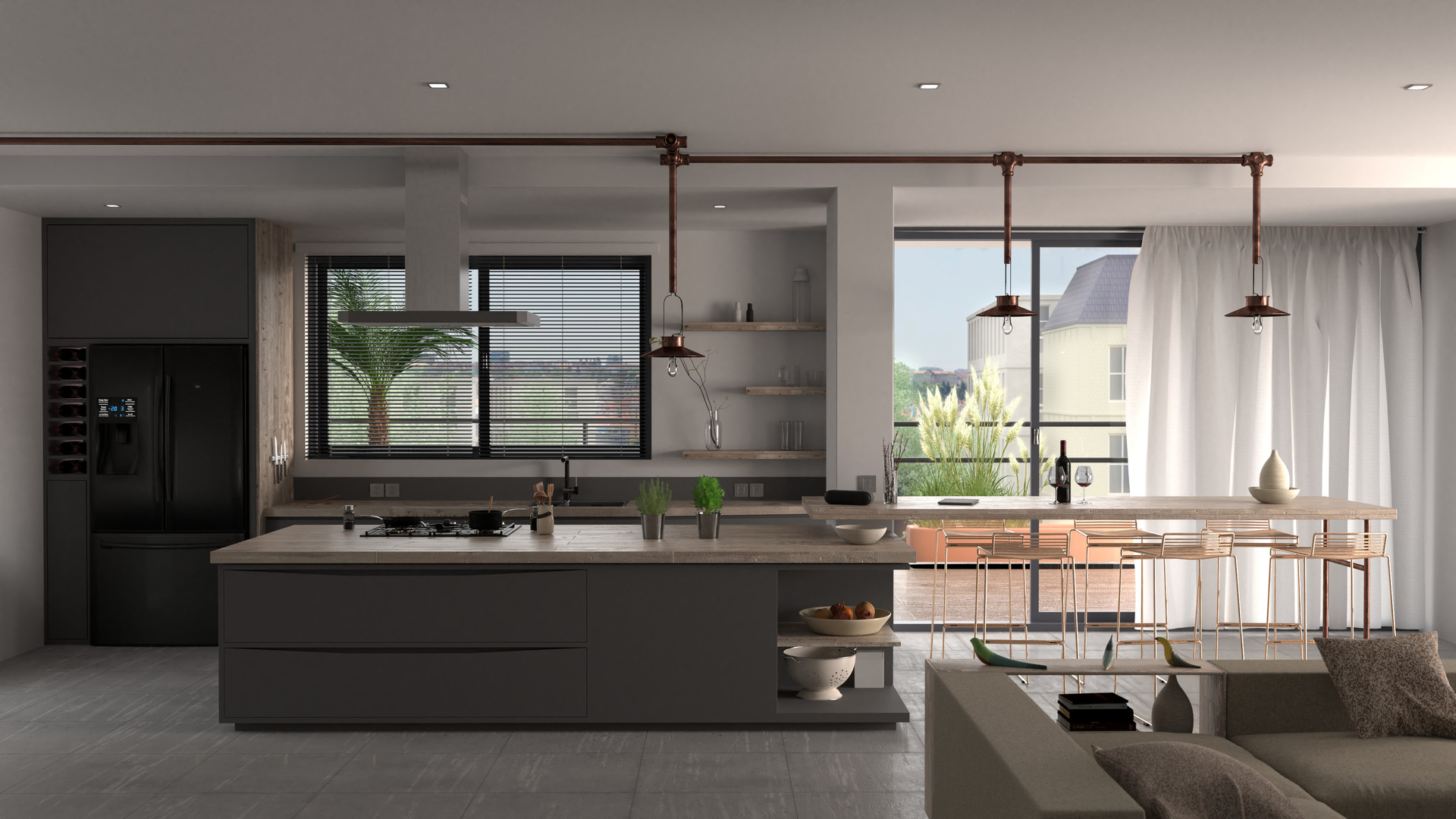 If you're a fan of this style, you'd want to add black track lights to the ceiling. It's a distinct feature of Industrial design. It also creates nice contrasts against the light colors of Scandinavian design. 
A feature wall made of brick or cement works well for contrast too. 
Opt for plenty of metallic elements in your furniture and lighting. Wood combines well with metal for the Scandustrial look. 
Brass and copper pendants can add some extra shine to rooms decorated in this style.
You'll end up with a space with a raw elegance unique to Scandustrial.
Check out our Definitive Guide to Industrial Interior Design Style.
Combining Scandinavian with Contemporary
Contemporary is a style that continuously evolves. It lives in the present.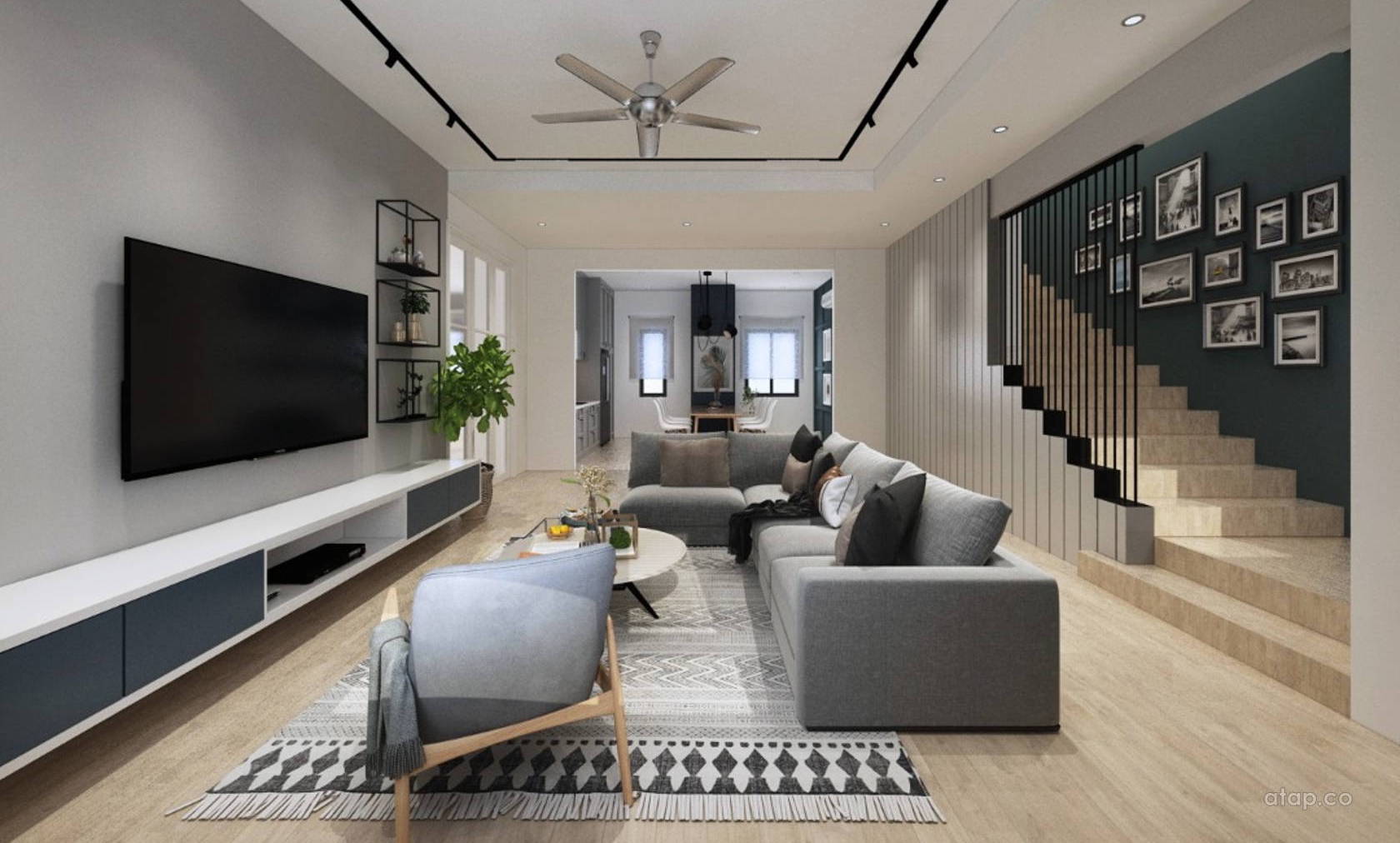 The combination of these two styles typically involves a Scandinavian base splashed with Contemporary elements. The walls, ceiling, and floor follow Scandinavian design principles of being light-colored. Furniture and decor follow Contemporary ideas instead. 
Black and gray are common in Contemporary styles, so consider utilizing these colors more. 
Alternatively, bold colors can be used to accent certain pieces of furniture or decoration. This is a great way to brighten up space without affecting the overall Scandinavian atmosphere.
Check out our Definitive Guide to Contemporary Interior Design Style.
Combining Scandinavian with Japanese
This fusion of east meets west is called Japandi. Though originating from opposite sides of the world, both styles share many design principles. When the two styles are combined, it results in a beautiful space that is unique yet familiar.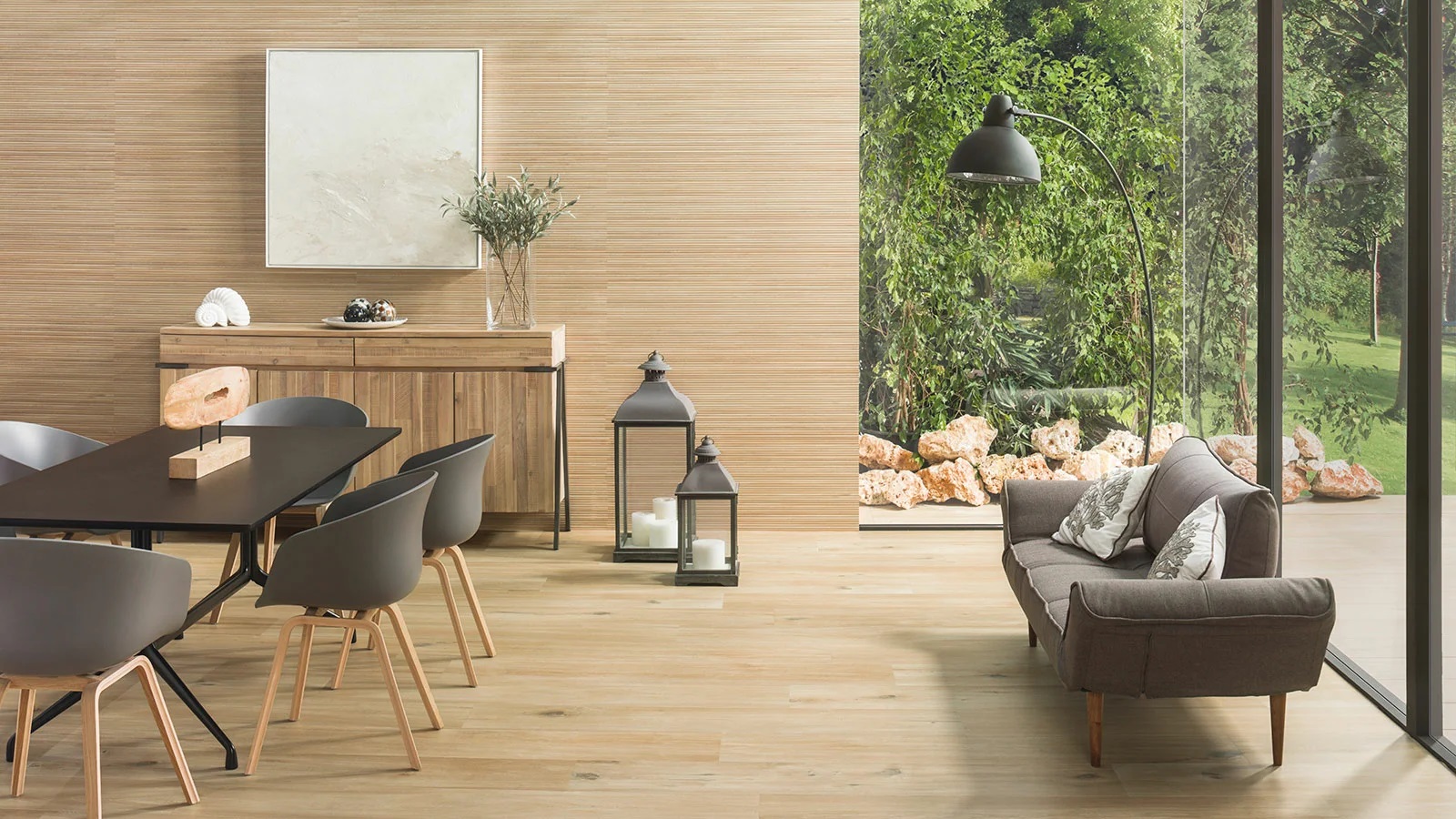 In Japandi, minimalism is apparent. Spaces are clutter-free, containers and folding screens are used to hide excess stuff. Decorative accessories are few and intentionally present where used. 
Plants play a huge part in connecting with nature, so they are always present in a Japandi home. 
Japandi is about craftsmanship. When choosing furniture, select pieces that last. They're not meant to be throwaways. 
Adding a Rustic touch to Scandinavian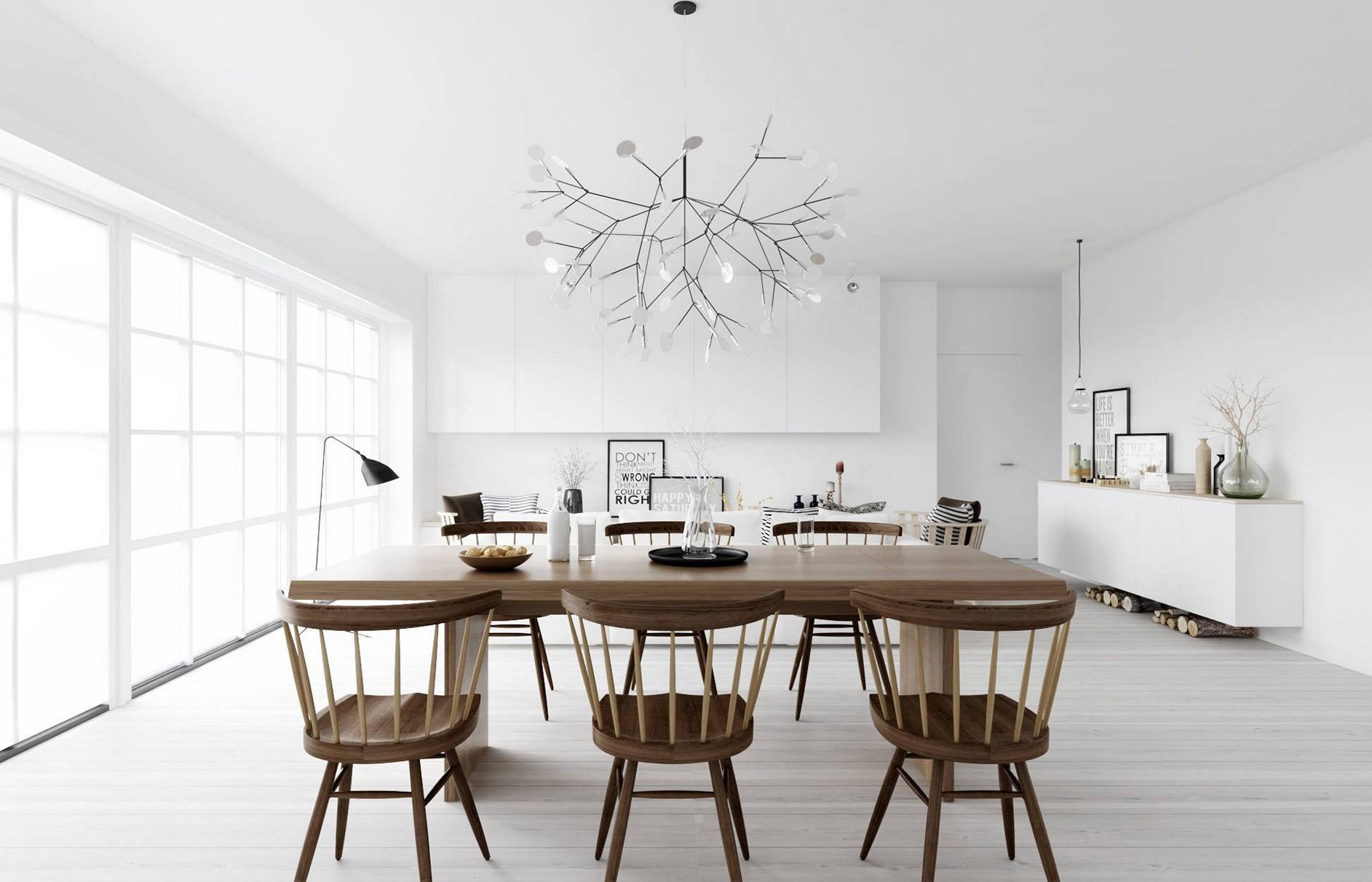 Rustic designs emphasize the use of natural materials, mainly wood and stone. Wherever possible, these materials are used in their most natural state. 
You'll find plenty of unfinished woods and stones in Rustic adaptations of modern styles. 
Adding a Rustic touch to Scandinavian style works because Scandinavian already focuses on natural elements. Placing plants with Rustic furniture will better integrate the rawness of the wood and stone with the rest of the house.
Flexibility of Scandinavian
The wonderful thing about Scandinavian design is that it's not a rigid concept. As shown in our Fusion Tips, there are many ways you can mix Scandinavian with other styles. 
Should your home need a style refresh, you can spice up the look of your house by adding or changing elements. A full-fledged renovation is not necessary.
Summary
Scandinavian Interior Design has a long history. It's simple yet functional. The rooms are calm and inviting, with lots of clean living spaces. A well-designed home is remarkably pleasant to visit, and even easier to live in because they are easy to maintain.
Scandinavian styles are popular in Singapore for good reason.
Excited to apply this style to your own home? Get in touch with our interior design consultants to know more about the latest Scandinavian interior design ideas. We'd love to share.
To get more inspiration, you can check out our portfolio stories.
Check out the rest of our Definitive Guides here: 
Also, be sure to check out our Interior Design and Renovation Terminology Guide.
Good luck with your renovation project.